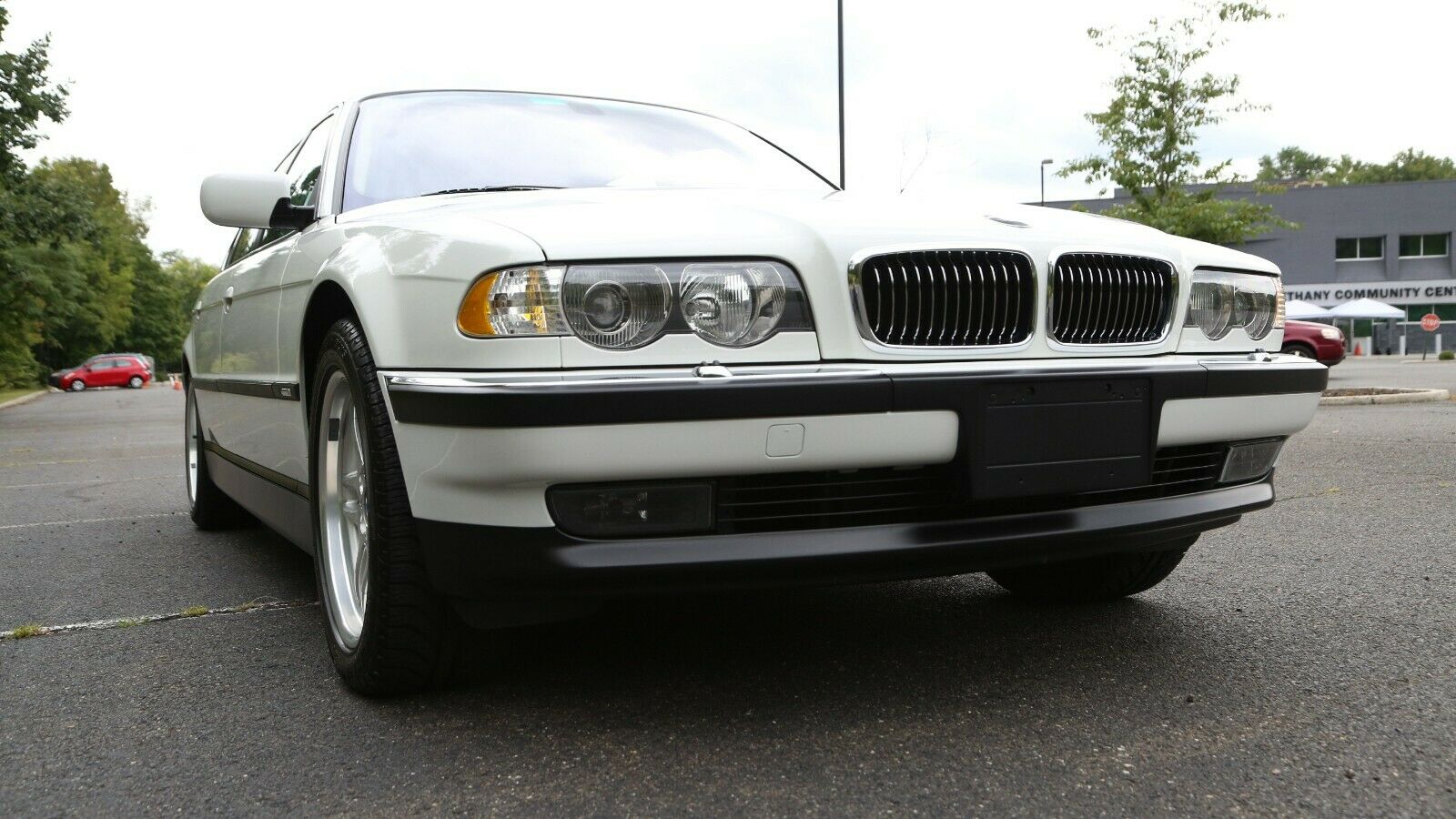 For many, the E38 represents the zenith of large German executive sedans. It took the best ingredients of the E32 and E34 designs, slimmed them down a touch visually, updated the power plants and equipment, and Voila! Instant classic. It didn't hurt that the E38 also played a starring role in two pretty popular movies in the period, either – but let's be honest, you'd have loved it anyway.
As with Audi's D2, early examples of the E38 were already in production in 1994, but the best of the bunch came towards the end of production. LCI models hit showrooms in 1999, and the refreshed look is what you see here. The long, low package was best expressed with the optional M Parallel wheels, which had carried over from models like the E31 8-Series and E34 M5. It imbued the 7-Series with just enough sport to look purposeful, but not so much as to masquerade as a Porsche. Lightly flared arches cut high in the front fenders were finally filled out, and the refreshed looks worked really well in light colors. Today's example is just that – an Alpine White long-wheelbase example. But the spectacular looks are not only its base attributes in this case, as this particular example has a scant 13,000 miles since new: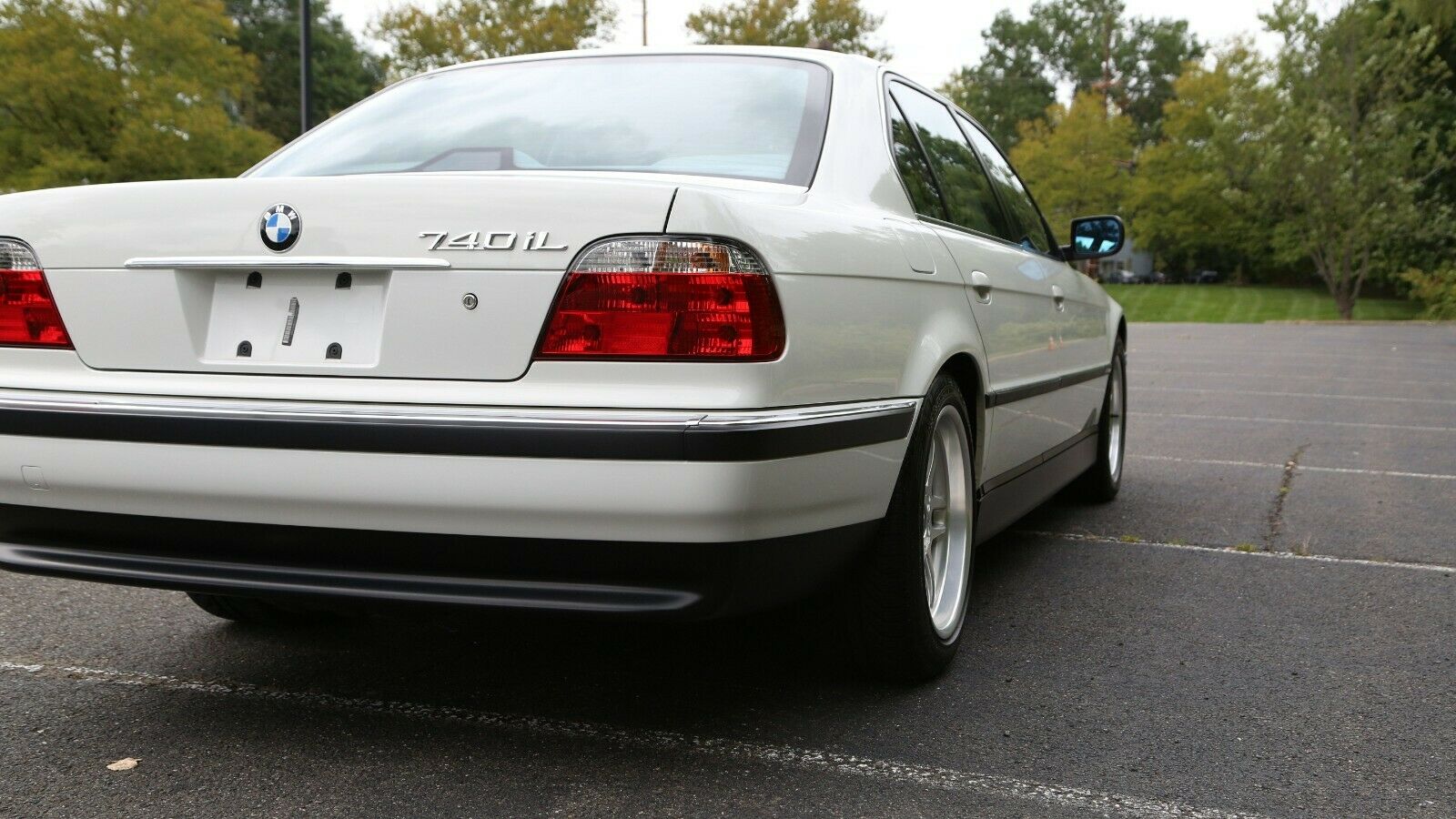 Year: 2000
Model: 740iL
VIN: WBAGH834XYDP10867
Engine: 4.4 liter V8
Transmission: 5-speed automatic
Mileage: 13,100 mi
Location: Township of Washington, New Jersey
Price: $79,500 Buy It Now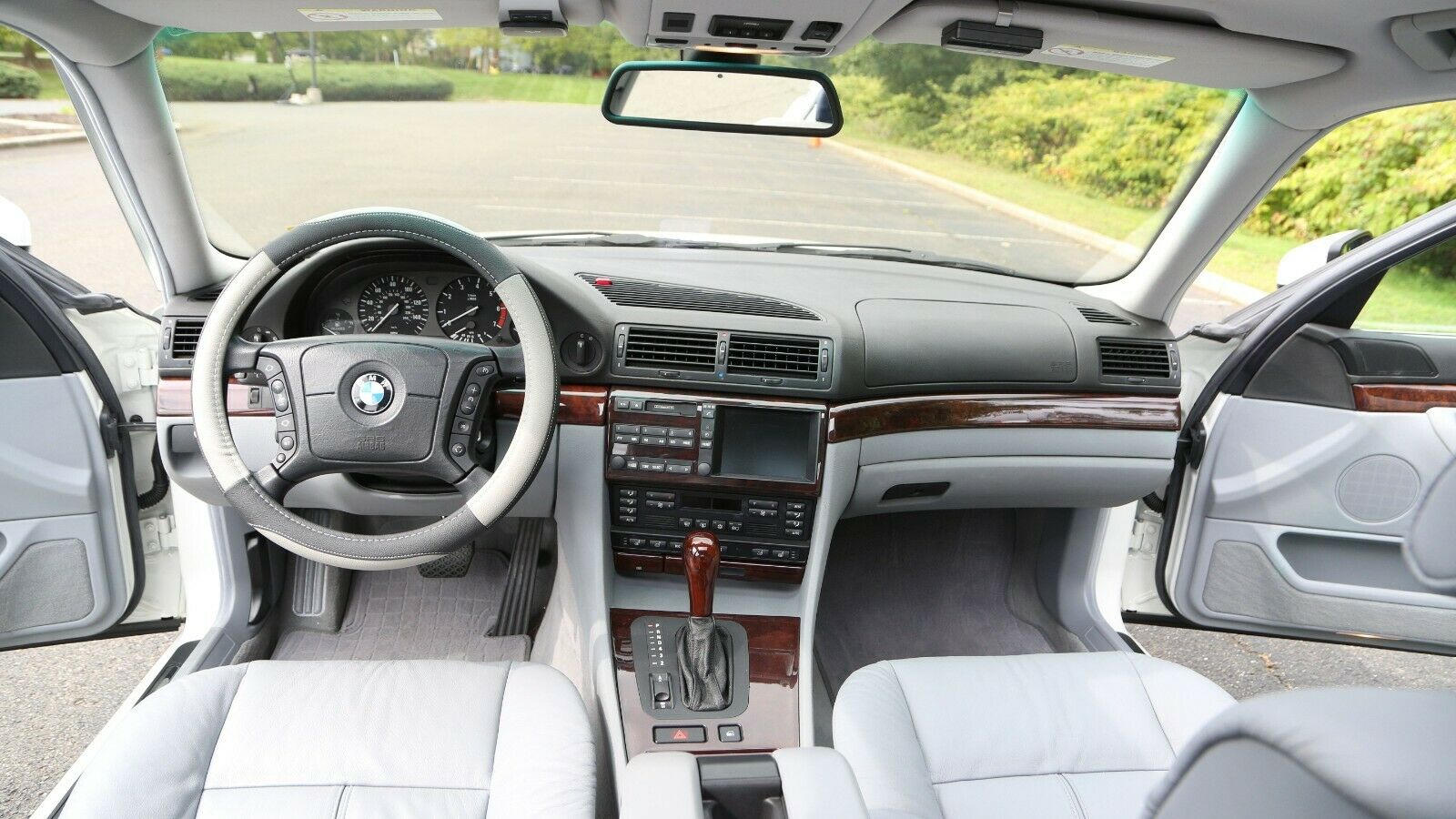 2000 BMW 740il. White exterior with silver interior. 13k original miles. Factory new condition.

*PLEASE NOTE: This is NOT a (2001) model. It is a 2000 model with 2001 lenses.

The very first thing that jumps out at you is not the brand-new looks of this 740il. Rather, it is the incredible new car smell that overwhelms you as soon as you open the door. It literally smells like the car just rolled off the showroom floor only seconds ago. The new car smell is that overpowering. It is as though the car doors have never been opened.

The car is 100% original except for the following "lenses" replacement: The 2000 yellow turn signal, 2000 yellow side markers and 2000 yellow tail lenses were replaced with brand-new 2001 clear turn signal lenses, 2001 clear side markers and 2001 clear tail lenses. With the sharp lower black panels (not found on 2001 models) and the clear turn lenses, clear side markers and clear tail lenses (found only on 2001 modes), the balance of the two combined makes for a sharp, strikingly handsome look. But if you are looking for ALL ORIGINAL equipment, do not despair. The original 2000 yellow turn signal lenses, 2000 yellow side markers and 2000 yellow tail lenses are in factory new condition and are in cushioned boxes (in the trunk) and come with the purchase of the vehicle. So yes, you can have this 740il in 100% original condition, if you so desire.

This is a one-owner car that I purchased in February 2018 from a collector in Salisbury, North Carolina. The car has been garaged its entire life. The underbody and engine (never steam cleaned) clearly demonstrate that. What have I done to the car since its purchase? As explained above, I changed the lenses to give the car a unique and strikingly dramatic look. That's it! I stored it immediately thereafter. I keep the battery fresh with a battery charger plugged into the electrical outlet in my garage. I also roll the car up and down my driveway twice a month (weather permitting) to keep the engine and tires fresh.

Again, the car still smells brand new inside and you will not be able to distinguish this car from a factory new car. The car never sits outside in the sun. The original paint is in factory new condition. There is no other way to describe the paint except for "gleaming, glistening and shimmering." When the car leaves the garage to go up and down the driveway, it looks like it just rolled off the assembly line. When people visit my house and look in the garage and see the car for the very first time, they are simply awestruck by its condition. The question repeatedly asked of me is, "Don't you ever take that car out and drive it?"

The tires were replaced with the same brand-new Michelins that came on the vehicle. There was no reason to change the tires. But I didn't want any problems due to age. The engine remains completely unmolested. The interior is factory new. Again, there is no other way to describe it. Plus, I put on thin, plastic disposable seat covers whenever I back the car out of my driveway to keep it fresh.

If you are BMW enthusiast looking for a "unique look" in a 7-Series model and you are specifically looking for the e38 body style in the long version with incredibly low mileage, then you may want to consider this beauty. Is ANYTHING wrong with this car? Yes. But you won't find any flaws in the physical or mechanical condition of this vehicle. However, some pixels on the dash are (slightly) faded. Other than that, everything works and looks factory new.

I put a steering wheel cover on the car for the sole purpose of protecting the original steering wheel, which is in brand-new condition. As a matter of fact, even the steering wheel cover itself is in brand-new condition.

This car comes with all the paperwork from new. The window sticker, the books, multiple keys (with a factory protective leather pouch), full tool box, original factory car cover, etc. In fact, the car is so factory new looking that if it was put on a BMW showroom floor today, it would be indistinguishable from a brand-new BMW. Really. It is that nice. No surprises here.

Thank you for considering this impeccable 2000 BMW 740il.

FREE (ENCLOSED) SHIPPING within the continental United States.

Please write if you have any questions: faitaccompli@verizon.net. Serious inquiries only please. Thank you.

VIDEO: www.youtube.com/watch?v=WFMhIF0vyRE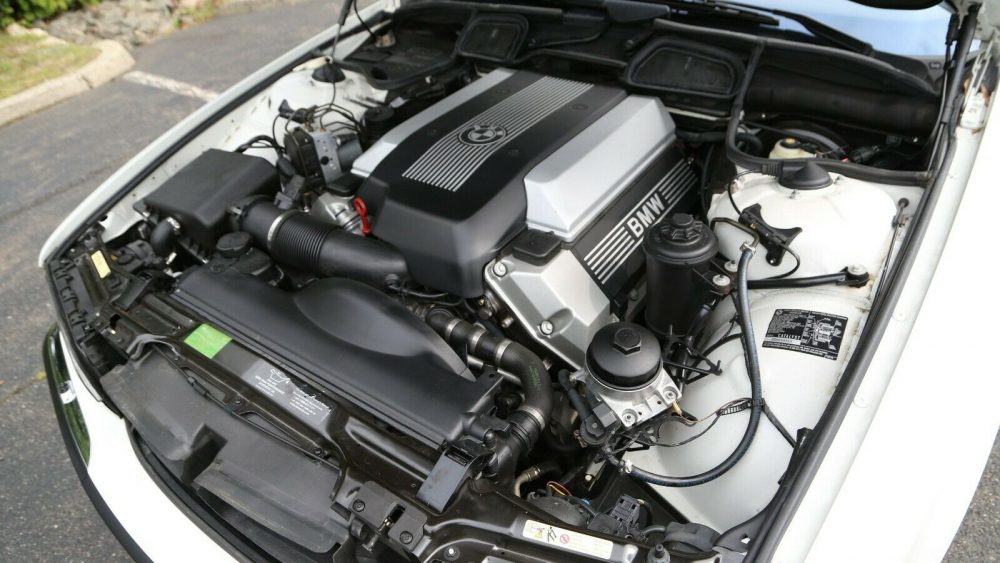 Amazing. Now, back almost a year ago I took a look at an absolutely pristine example that sold well over $100,000:
To me, this long-wheelbase with the M Parallels looks even better, though I admit I like the green more and the gray interior is not my favorite. But honestly you're not picking from the original brochure, so deal with it – this is your option. It's a lovely option as well, and to me overall is far more desirable than any 7 that's come since. Sitting here looking through the photos makes me wish to see a D2 S8 so lovingly presented, but otherwise? There's just not much to complain about. Is it a $80,000 car? About the closest comp I could find was a recent 28,000 mile Sport that sold for $42,000, and if some place is going to bring the money today it's Bring a Trailer. So it would seem the world isn't quite ready for this level of price on a clean E38 – but boy is it enticing to think about owning this one!
-Carter