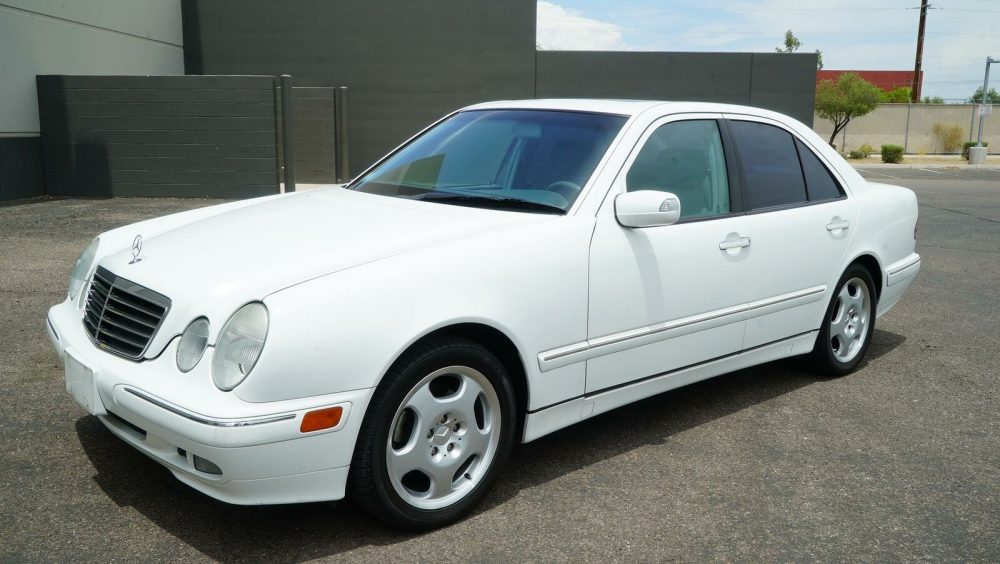 I think the days of V8s in mid-size sedans are numbered. With emissions regulations and fuel economy standards becoming more stringent as the years go on, you'll be seeing smaller and smaller displacement engines along with hybrid systems becoming the norm in almost every car except the ultra-high performance models. Look right now, the current Mercedes-Benz E-Class lineup lacks a V8 until you get to the top of the range E63 AMG, which starts at $110,000. Even ten years ago, you could get your E500 with a 5.0 V8 and call it a day. Not anymore, two 2.0L inline-fours and an 3.0L inline-six are what awaits your down payment. Buyers don't really care, as long as the car looks good and the lease numbers and performance are good, sign 'em up.
So rewind 20 years and head back to the new Millennium where the E-Class lineup was simple. There was the 3.2L V6 E320, 4.3L V8 E430, and 5.4L V8 E55 AMG. Done. The buyers for E320s and E55s were very different people, as the E320 was $47,000, while the E55 was a significant amount more at $72,000. Turns out its not cheap to pay a bunch of Germans in a small town to hand-assemble a car. So what about the E430? $53,000. Suddenly that extra six grand seems like a worthwhile upgrade over the E320. You had more than respectable numbers at the time with 275 horsepower and 295 lb.-ft of torque. Still, every time you saw an E55, which lets be honest probably never because of the extremely low production numbers, you wanted those 18″ Monoblocks and special body kit. Now that is 20 years later, does it still make sense to buy an E430? I think so, especially this one.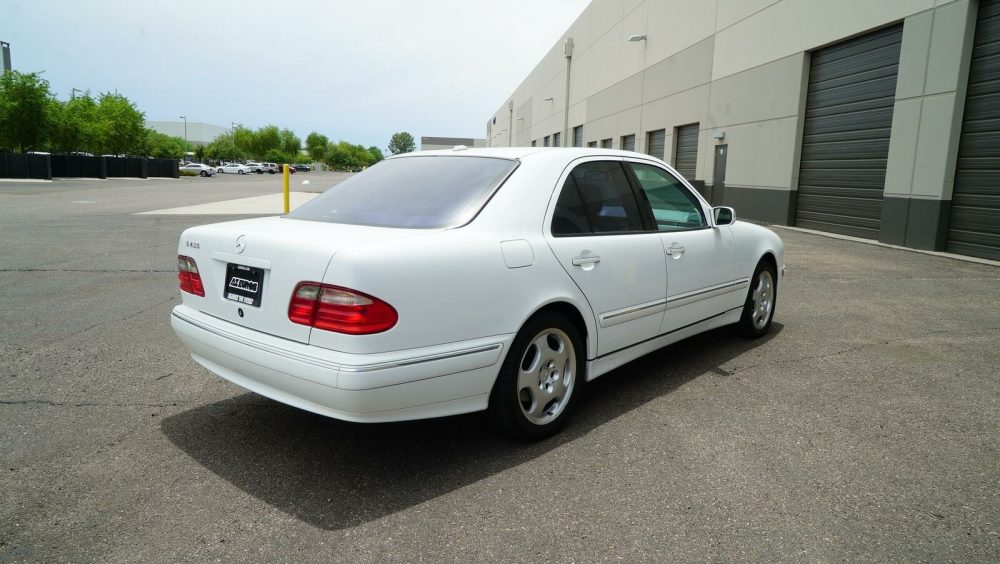 Year: 2000
Model: E430
VIN: WDBJF70J8YA968307
Engine: 4.3 liter V8
Transmission: 5-speed automatic
Mileage: 103,843 mi
Location: Mesa, Arizona
Price: $5,995 Buy It Now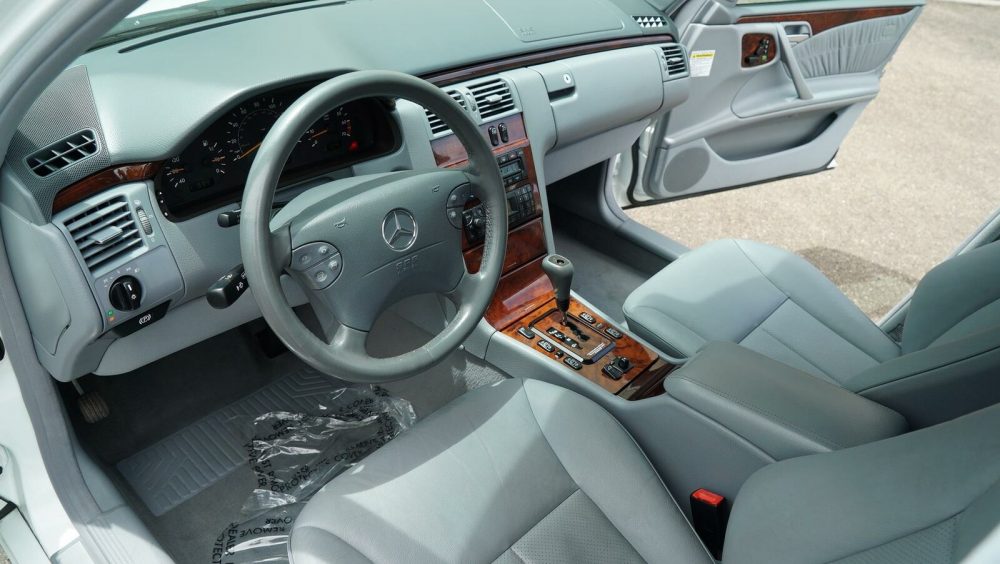 Just arrived! This 1 owner California car with clean carfax and extensive history of dealer service. Super clean cosmetics and nice running example of classic Mercedes build quality. AZ Euros has inspected, serviced and replaced motor mount, ac compressor and full synthetic oil change and the E430 is ready to hit the road.

Power memory seats, Elegance package, sunroof and two keys.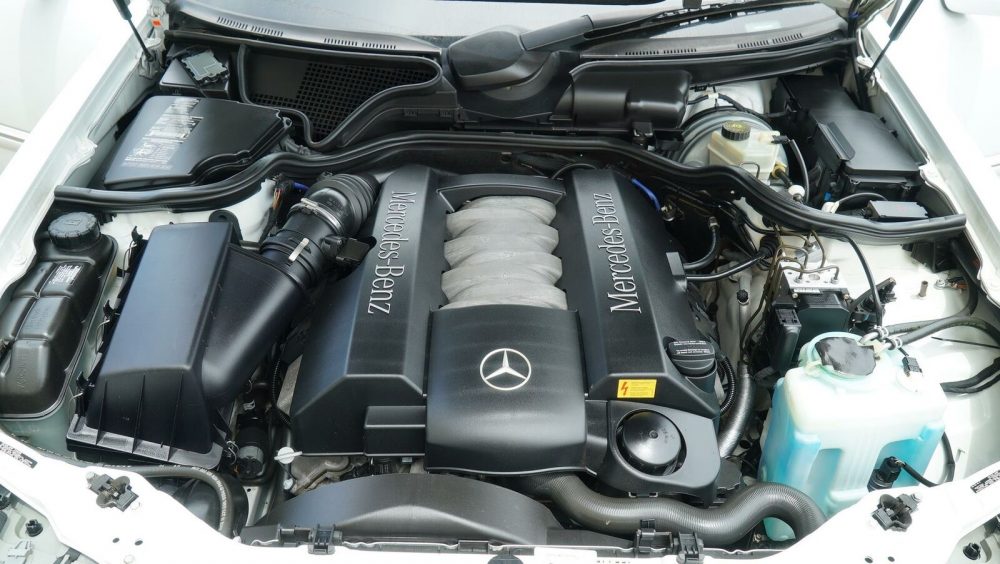 For 100,000 miles, this is a super clean example. Usually almost any W210 by now has had a hard life and is maybe on its last legs, but thankfully not this one. The seats looks great, and even the engine bay is spotless. Not a leaking valve cover gasket to be found. Kind of funny that this car wasn't optioned with heated seats, but I guess you had to pay to play back then. The only real flaw I see is the the missing badge on top of the shift knob, but that fixable with a dab of glue.
For $6,000, this is a good buy all day. You have slightly lower running costs than the big brother E55, while still having that torquey M119 V8. I think the thing here is that you have to be satisfied with it just being an E430 and not constantly reminding yourself it isn't the E55. I know you won't be touching a similar condition E55 for this price now.
– Andrew