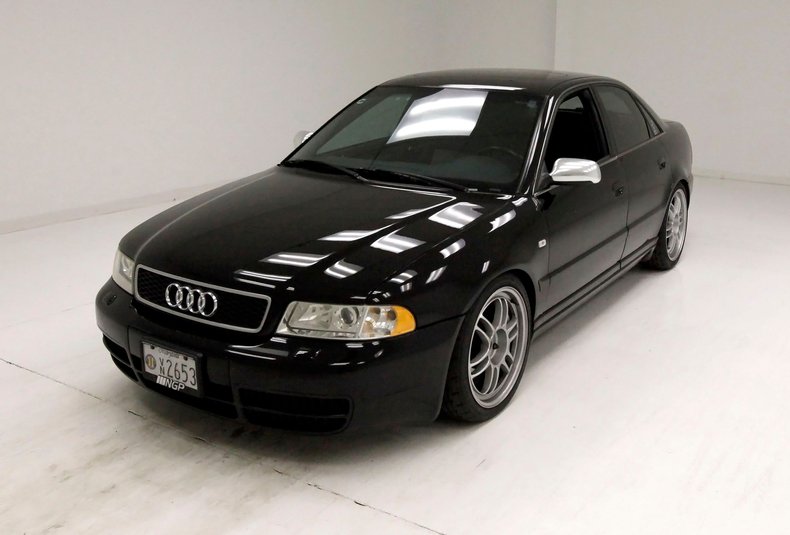 In just a few years as the century turned over, Audi went from only one S model with very limited production imported in the C4 S6 to three models. Top of the range was the S8, but it shared its running gear and sonorous V8 in a slightly detuned state with the new C5 S6. For Audi enthusiasts, though, big news came with the launch of the new S4.
It was unrelated to the first S4 because of Audi's renaming strategy in 1995. That meant that the new S4 was based on the small chassis B5, and U.S. enthusiasts finally got a taste of Audi's M3 competitor. Performance came in the form of a new 2.7 twin-turbocharged V6 30V and was mated to either a 5-speed Tiptronic transmission like its bigger siblings or a 6-speed manual. Like other B5s, the S4 made use of the 4th generation of quattro technology driving all four wheels. This utilized a Torsen center differential with open front and rear differentials, both of which employed the ABS sensors to electronically 'lock up' the slipping wheels when a speed differentiation was detected. Like other S models, some light revisions to the bodywork and more pronounced exhaust were present, along with polished mirrors and 17″ Avus-design wheels. Most notable was the large front bumper cover with 6 gaping grill covers which hid the twin intercoolers for the motor. With 250 horsepower and 258 lb.ft of torque, you had an all-weather 155 mph warrior – and one that could easily be turned up many notches: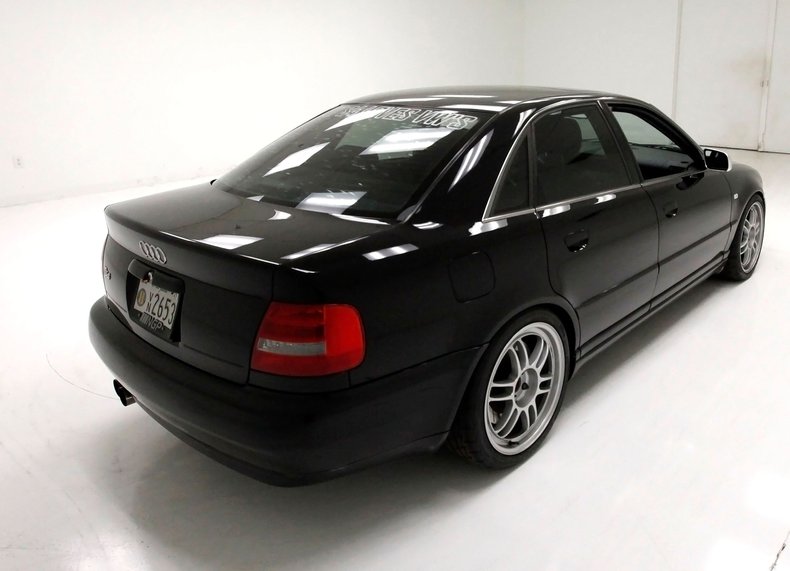 Year: 2001
Model: S4
VIN: WAURD68DX1A135422
Engine: 3.0 liter twin-turbocharged V6
Transmission: 6-speed manual
Mileage: 206,000 mi
Location: Morgantown, Pennsylvania
Price: Reserve Auction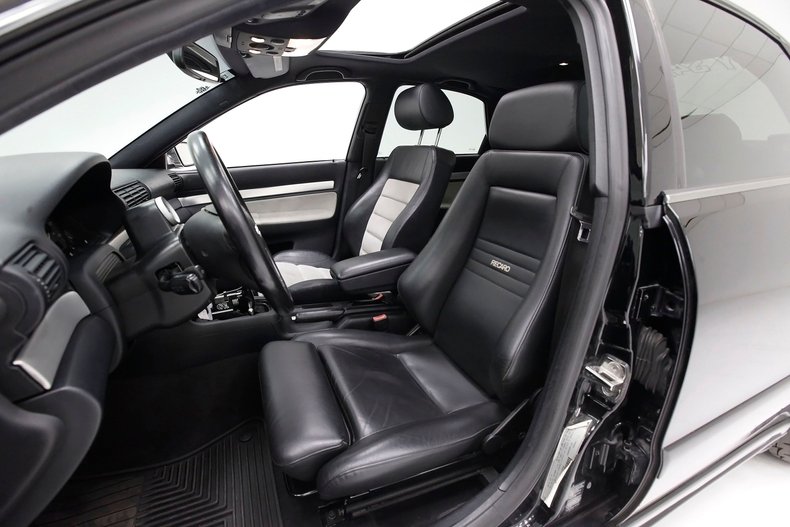 2001 Audi S4 Sedan

While the Horch automobile company and Horch himself, started on a wrong note, they decided to mend ways sometime in 1932. Audi decided to form the Auto Union with Horch company, DKW and Wandered. Each company got their own market segment, Horch for high-end luxury cars, Audi for deluxe cars, Wanderer stuck with standard mid-size cars and DKW decided to go with small cars and motorcycles. And hence four rings depict the Auto Union of 4 companies.

On the floor of our massive showroom that are now graced with the presence of our first AUDI, and this one happens to be a very special German wolf in sheep clothing. A mere 8,000 miles since a full rotisserie restoration with lots of added modifications and this car is extremely fast and nimble. Many hours spent on performance, and upgrades, and all I can say now is SCHNELL!!

Exterior
Draped in Brilliant Black, this car retains all of its original look. Integrated bumpers, aerodynamically designed headlights, a rounded front grille, swept back windshield, and perfectly aligned doors and wrap around rear quarter lets you cut through any Passat (and that does not mean VW!). A snazzy sunroof retracts to let the sky in on the roof, and sexy 18-inch Enkei wheels adorn all 4 corners.

Interior
Making the other two seats jealous, a Recaro all leather all black bucket seat is reserved for the pilot. Others are left with a snazzy two-tone gray insert tuck and roll with black bolsters and not to be too outdone, in leather and suede. Vibrant red instruments glow on a black background in front of the original steering wheel. This has an Aquamist gauge to keep track of the twin turbos underneath the hood in front. In the center of the seats is a CAE German shifter, and just above a Bluetooth sound system this is only out shouted by the engine. The headliner which frames the sunroof is nice and tight above, and the black carpet which floods the floor is tidy with no stains or fading.

Drivetrain
You are going to want to stick around for this on. At a consigner stated 724hp this new 3.0 Liter V6 with twin Tial 770R turbos is a piece of German engineering jewelry that adorns the engine bay and sports a mere 8,000 plus miles on it since being installed. This engine has been ported and polished and started out as a 2.8 Liter CS with 30V heads. Electronic fuel injection works with the Tial 770R twin turbos to feed fuel and fossils to the mill at an alarming rate. A C90 6-speed transmission in manual form is strapped to the back of this healthy mill and pushes power back to a 4.11 rear. This only scratches the surface and a complete build sheet will come with the car detailing every move made with the ultimate intention to be to race this car in an SCCA class.

Undercarriage
Unbelievably clean and rust-free underneath, with not even a hint of surface rust on any structural part. Porsche Cayenne disc brakes are all around and beefed up independent suspension is all around. The bottom end of the engine shows nary a drip of any oil and is dry as a bone overall. Obviously well cared for.

Drive-Ability
When someone says race car, I say we shall see, and this car did not disappoint. Started right up and let me tell you for free it has plenty of power! The car handles very well, slides into turns nicely, and has great braking, which with 724 horses going to all four wheels is extremely important. A goer and a shower it has won multiple awards, and is a nice comfortable cruiser to boot. Just don't let anyone fool with you or they will be very sorry.

This is German engineering on steroids, with its Recaro seat, healthy re-engineered mill, Tila racing shifter attached to the 6-speed, twin turbos, and Cayenne brakes we give you an Auto Union of parts that make up a respectable race car. Summit Point here we come!

VIN Decode
WAURD68DX1A135422
W-Germany
A-Audi
U-Passenger Car
R-B5 Platform
D-2.7L V6 Bi-Turbo
6-Manual Belts, Front, Side & Head Airbags
8D-S4
X-Check Digit
1-2001
A-Ingolstadt Assy Plant
135422-Sequential Unit Number

Classic Auto Mall is a 336,000-square foot classic and special interest automobile showroom, featuring over 450 vehicles for sale with showroom space for up to 1,000 vehicles. Also, a 400 vehicle barn find collection is on display.
This vehicle is located in our showroom in Morgantown, Pennsylvania, conveniently located just 1-hour west of Philadelphia on the I-76 Pennsylvania Turnpike. The website is www.classicautomall.com and our phone number is (888) 227-0914. Please contact us anytime for more information or to come see the vehicle in person.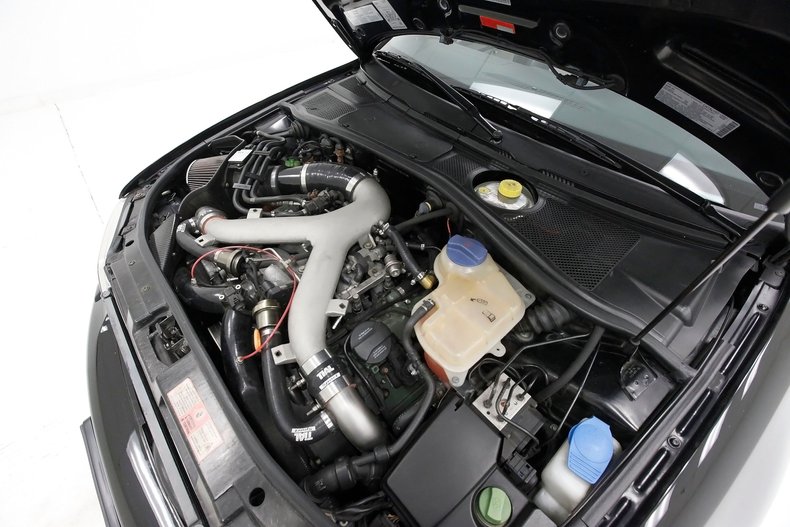 Seven hundred and twenty four horsepower worth of turned up. And the great thing about this car is that, outside of the wheels, lowered ride height, slightly larger exhaust tips and the menacing Brilliant Black paint, you'd not know it. Just like the origins of the model, this car is a sleeper. You also wouldn't know the car has over 200,000 miles on the chassis, but my guess is that's the cause for the Recaro driver's seat. The Alcantara has a propensity to pill and can stain, and with 200,000 underwear-changing miles under its belt you're probably happy there is all leather in that one spot. I like this car even more than the other 700 horsepower RS4 clone I looked at a few months ago – specifically because it's NOT an RS4 clone, perhaps. Personally, I'd slap some BBS RSII 18″ wheels on there and call it a day.
Pricing? Well, that similar RS4 clone sold for $29,000. No surprise, then, that the seller of this example is looking for the same amount. Given that the other car had the desirable RS4 mods, it's somewhat hard to see this car seeing the same amount. But for some, the presentation of this car is perhaps even more special.
-Carter