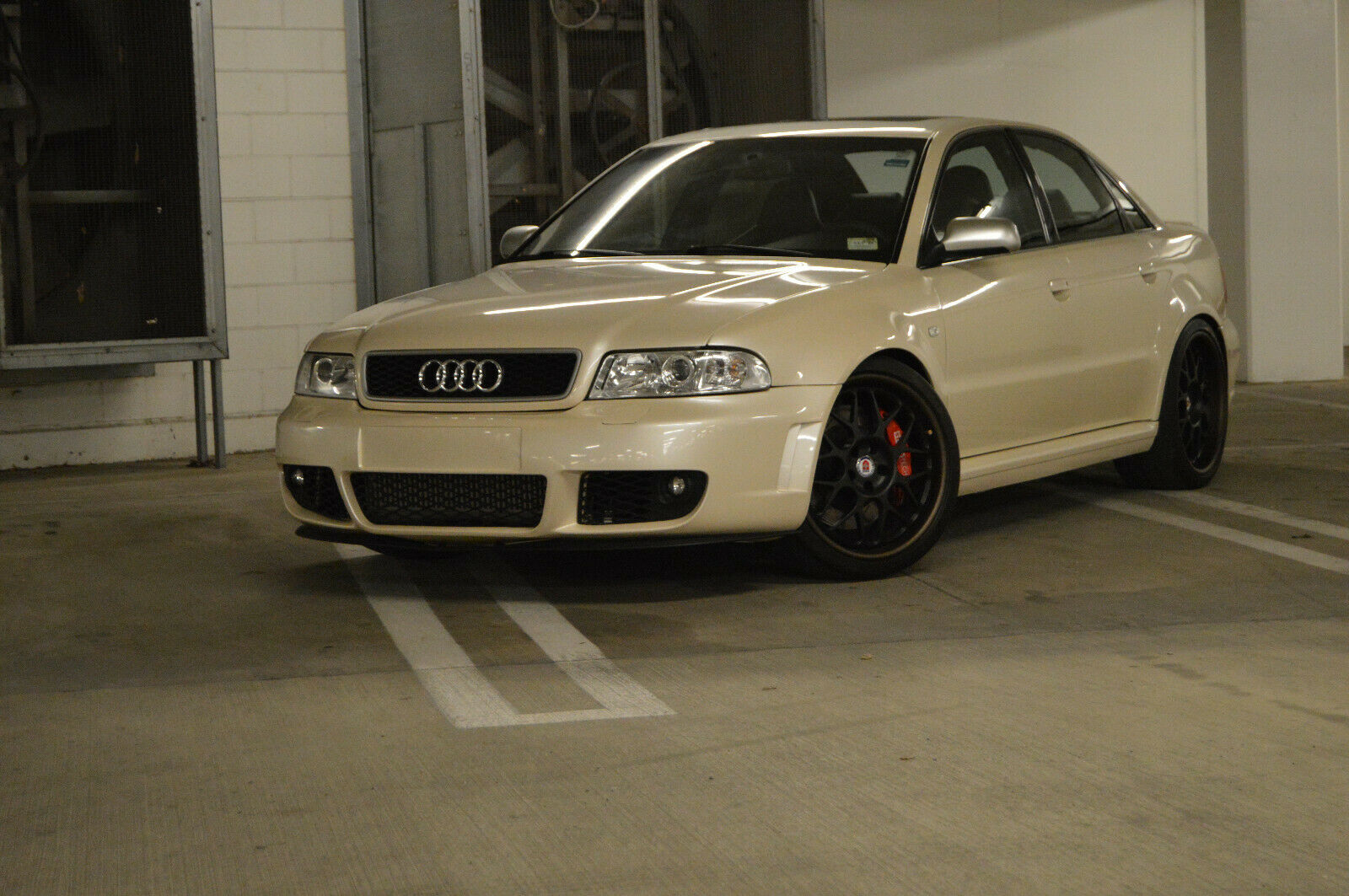 Update 11/13/19: Despite showing as sold for over $34,000, this RS4 clone was relisted with a $32,500 Buy It Now.
On the other end of the spectrum from Audi's U.S. spec B5 S4 was the monster which left me, and most fans of the marque, frustrated. That's because Audi skunkworks quattro GmbH partnered with corporate acquisition Cosworth Engineering to create the legendary RS4. The same 2.7T motor from the S4 suddenly developed not 250 horsepower, but 375. Arches flared. Mouth was firmly agape. Seats were huggier. Wheels were bigger. Suspension was lower. It was wagonier. It was all around a better car in virtually every way.
So it should come as no surprise that its lack of importation didn't stop enthusiasts from trying their own hand at the mods. And because of the turbocharged nature of the B5 S4, it was a little bit easier to achieve similar results to Audi. So here we have a B5 RS4 'Tribute', but one that not only added the OEM body pieces and turned up the motor. Because under the hood hides not 375 horsepower, but punched-out 3 liter V6 churning 700 horsepower – at the wheels, mind you. Welcome to 'The White Beast':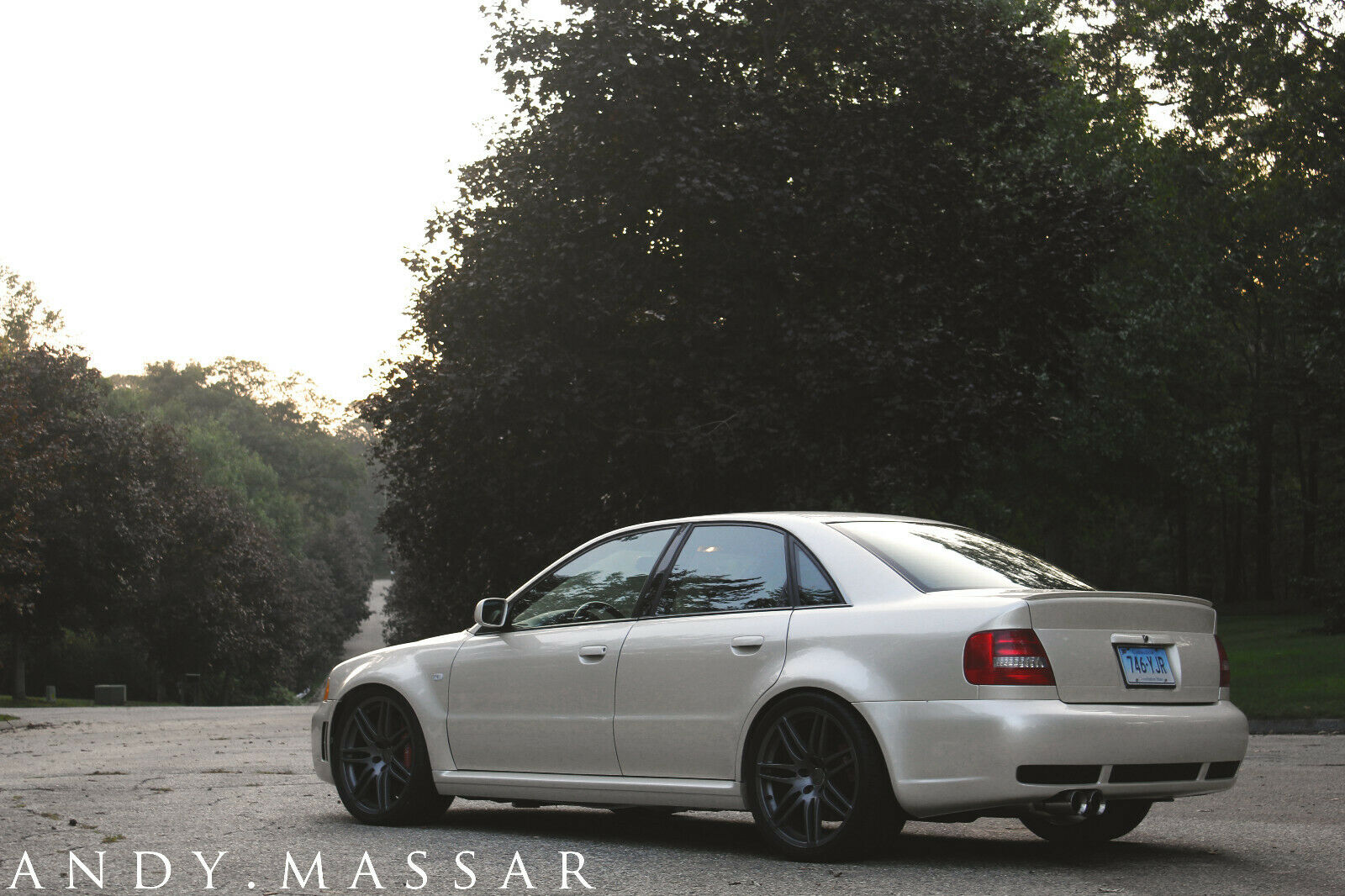 Year: 2001
Model: S4/RS4
VIN: WAURD68D01A140614
Engine: 3.0 liter twin-turbocharged V6
Transmission: 6-speed manual
Mileage: 28,200 mi
Location: Chevy Chase, Maryland
Price: No Reserve Auction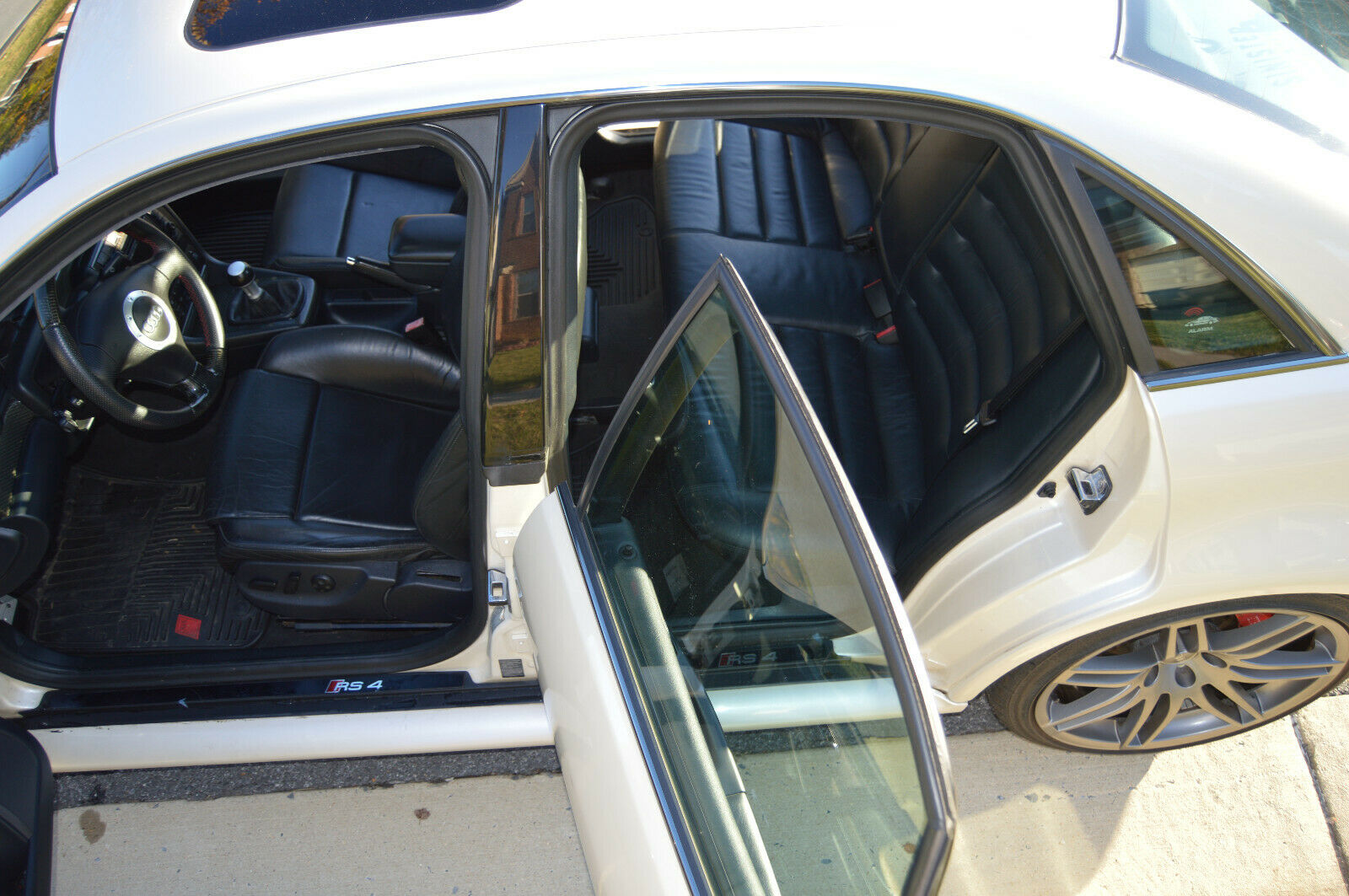 Up for sale is my beautiful 2001 Audi RS4 sedan: "The White Beast", as I call her. This car has a complete OEM Audi B5 RS4 conversion that was professionally installed with a monster of an engine to match.

This is not your average Audi. This is a 700 WHEEL HORSEPOWER car, not crank but wheel HP. This is a Monster when you want it and fairly civil girl when you drive her slow.

Although I swore never to sell the car a job opportunity came up that I can't pass up that plus a newborn (our second) and our need to move have made me put this Unicorn for sale.

History of the Car:

If you are a Audi B5 lover then you would know this car. This was the first Audi B5 that broke the 700 wheel Horsepower number. AutoSpeed Performance in NJ built the car and they threw EVERYTHING at this car. After the owner got 700WHP in all 4 wheels via 100 octane fuel then he did the complete OEM Audi B5 RS4 exterior modification. Every single panel in the car is OEM Audi B5 RS4, even the rear bumper.

As you might know Audi B5 RS4 were never sold in the US market and were produced in limited quantities worldwide. Since the Audi B5 RS4 only came in Avants (wagons) all the parts had to be carefully modified to fit the sedan. For this reason this car has become very unique as there are very few Sedan OEM Audi B5 RS4 tributes done to this caliber.

When I got the car the previous owner had spent over 17K to get the block replaced and honed to 3.0L with all of the necessary forged internals to match. For this reason the car mechanically was very sound, but I wanted to update the car to a more modern interior look with all OEM Audi parts, source all or any missing B5 RS4 parts, and make sure the car was running perfectly.

Over the span of over 1 year we had the car re-tuned with a very mild tune from VAG AutoWerkes specifically Daz. I had my mechanic rent a local 4 wheel dyno and they tuned the car with the sole purpose of reliability and to make sure the car did not run lean anywhere in the curve. Both the tuner and the dyno operator both told me the car still had plenty of timing left and we could extract more power. If I am not mistaken the car made around 600 wheel HP on pump 93 octane fuel and if I am not mistaken they did over 19 revisions. The car also has Anti-lag installed in the tune.

I have taken the car in trips of over 5-6 hours with no issues at all. This car is INSANELY fast, and the chassis is well balanced, but when those ball bearing turbos kick in, HANG ON.

The car currently has only 28,200 original miles on the odometer, as I only take this car when the weather is perfect and when I get spare time. For this reason I only put very little miles since ownership, under 3,000 if I remember correctly.

Maintenance and Service:

Since ownership I only use Royal Purple Fully Synthetic engine oil and change it every 6 months as I never have used the car for more than 3,000 miles of service intervals.

Bill the owner of Sinester Autoworks is the only mechanic that works in this car, he has a real B5 RS4 and is in the process of fully restoring the car so I knew this car was in the right hands, Bill was also the one that worked with the tuner, and the dyno to get the reliable results I always get when I floor the car.

The car gets a professional detail with paint correction at least 2 times a year using only 3M perfect it products and the paint shows.

Title:

Please note that this car has a rebuilt title, apparently the second owner lost control of the car and slid it against a guardrail, which required the front bumper, headlight and fender to need to be replaced. Since the car had already the OEM RS4 conversion done and the owner never insured it properly the cost of the OEM Audi RS4 parts totaled the car.

For this reason when I bought the car I was not concerned as I know very often cars get totaled when the replacement parts exceed a certain percent of the value of the car in the market. For this exact reason I had the car appraised by a professional so that I can have peace of mind that if something where to happen my investment would be protected. The appraisal of the car came at $32,500 as it sits. This takes into account the current state of the car and the mileage and depreciation of all of the performance parts installed. I will include the appraisal to the winning bidder so that they can insure this beast and not be worried.

Also titling and registering a rebuilt title car is no different that registering a clean title car.

This is a NO RESERVE auction so highest bidder will win. A non-refundable deposit is due after 48 hours after the auctions ends. I will assist with shipping at buyers costs but only after all of the funds have cleared. Please feel free to ask any questions you might have and Happy Bidding.

Specs:

2001 Audi S4 6 Speed Manual Transmission with only 28,000 original miles.

-Factory Cold Weather Package

-Factory Navigation

-6 Speed Manual Transmission

-Factory 6 Disc Changer

Engine:

-Bore and Honed Engine Block from 2.7 to 3.0L

-Twin GT2871 Garret Ball Bearing Turbos

-Custom Wiseco Forged 3.0L Pistons and Rods

-3.0L Audi Crank

-2.8 Audi Heads Port and Polish

-2.8 Audi Cams

-Ferrea Valvetrain (intake and exhaust)

-AutoSpeed front Mount Intercooler

-Autospeed Silicone Hoses all around

-AutoSpeed Oil Cooler

-AutoSpeed Stainless Steel Exhaust Manifolds

-AutoSpeed 3 inch Stainless Steel Downpipes

-AutoSpeen 89mm Stainless Steel Catback Exhuast

-AutoSpeed Aluminum Crank Pulley

-Tilton 2 Stage Clutch and Flywheel

-Dual Spal Radiator Fans with Painless Fan Controller Management

-Dahlback Racing Blow-Off Valves

-TialSport 38mm Wastegauges

-Custom Billet Aluminum Oil, Radiator and Brake reservoir cap powedercoated Black

Intake and Fueling:

-OEM RS4 B5 Y Pipe and Hoses

-OEM RS4 B5 Intake Manifold and Port and Polish

-OEM RS4 B5 Throttle Body

-OEM RS4 B5 Cast Throttle Body Boot

-Autospeed Stainless Steel Bipipes

-OEM RS4 B5 Fuel Rail Intake Spacers

-Upgraded 760cc Injectors and HPX MAF

-034 Motorsport Coil Conversion & ICM Delete Kit, with OEM Audi Coilpacks

-Custom Dyno and Tune for 93 Octane Fuel

-Nitrous Express Direct Port Nitrous Injection (never used under my ownership)

-Fuel Pressure Regulator 5 bar

-Bosch High Flow External Fuel Pump

-Braided Fuel Lines

Brakes:

-Stoptech ST-60 Front Brake Kit with 2 Piece 355 Aero-Rotors

-Stoptech ST-40 Rear Big Brake Kit with 328 2 Piece Aero-Rotors and ST-10 Perking Brakes

Suspension:

-H&R Race Coilovers in all four corners

-Hotchkin Sport Swaybars Front and Rear / Anti-Roll Bars

-AutoSpeed Trans Stabilizer Bar

-034 Motorsport Billet Aluminum Cross Member / Differential Carrier Upgrade

Transmission:

-OEM Audi 3.0L Transmission with Upgraded Synchros

-B&M Short Shifter

-AutoSpeed Engine and Trans Competition Series Mounts

-AutoSpeed Transmission Stabilizer Bar

Interior:

-OEM S4 B7 Front Recaro Bucket Seats (fully functional, with no Airbag lights)

-OEM RS4 B7 Shifter Knob

-OEM RS4 B7 Pedals

-OEM RS4 B5 Door Sills

-OEM RS4 B5 Carbon Fiber Interior Trim

-OEM RS4 Steering Wheel wrapped in Carbon Fiber to match interior trim with perforated leather

-OEM RS4 B5 Instrument Cluster in MPH (UK), with the immobilizer light disabled

-OEM RS4 B5 Euro RNS-D Navigation Head Unit

-OEM Audi Funk Button cover for traction control

-OEM Audi B5 All-Weather Floor Mats

-Sinister Autoworks Custom Audi B6/B7 seat adapter brackets, this allows for non-permanent install of Audi B6/B7 front seats

-Dension Bluetooth Adapter for streaming music without any cables

-Defi Triple Gauges measuring Boost, Exhaust Temp and Gasoline Pressure With Control Unit Behind Dash

-Zeitronix Wideband Monitor Screen located in Glove Box

-OEM MK1 TT Steering Wheel Air Bag

-Custom Billet Aluminum Dead Foot pedal Cover

Exterior:

-Complete OEM B5 RS4 Widebody Conversion: 2Bennett Audimotive 530-758-7325

-OEM RS4 B5 Front and Rear Bumber (rear bumper modified to fit Sedan)

-OEM RS4 B5 Front Fenders

-OEM RS4 B5 Rear Quarter Panels

-OEM RS4 B5 Rear Doors

-OEM RS4 B5 Front Doors

-OEM RS4 B5 Fender Liners in all 4 Wheel Arches

-OEM RS4 B5 Gas Cap

-OEM RS4 B5 Aluminum Mirror Caps

-OEM RS4 B5 Front Grille

-OEM RS4 B5 Fog Lights

-OEM RS4 B5 Euro Headlights

-Aftermarket Rear trunk lid Lid Spoiler

-OEM Audi Front Cupra Lip Spoiler Installed to Front Bumber

Wheels and Tires

-OEM Audi B7 RS4 Titanium finish Rims 19×9 with center caps

-10mm H&R Hubcentric spacers in the rear with extended wheel bolts

-255/35/19 Continental ContiSport Contact Tires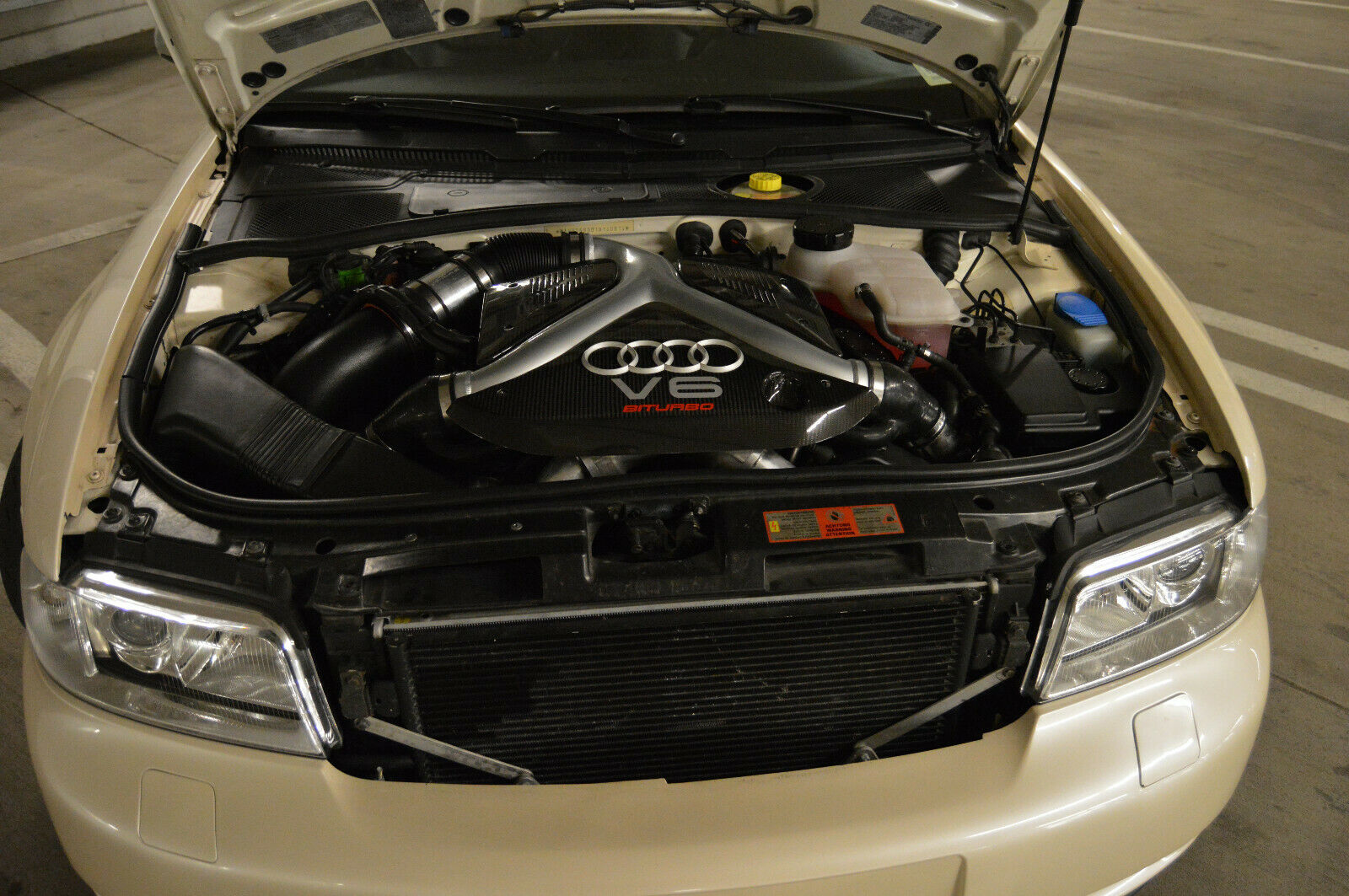 The Pearlescent White Metallic paint was a signature of the late 80s and early 90s Audis, but it continued into the early 2000s as an expensive option. Notoriously difficult to paint match, this one looks tidy thanks to the RS4 conversion carried out by 2Bennett – one of the most expensive tuners of Audis out there, but also quite thorough in their presentation. The motor simply 'goes to 11' with a crazy build resulting in a claimed potential 700 wheel horsepower (though it'd be nice to actually see the dyno results that back it up) and a current 'only' 600 horsepower from the 3.0/2.8/2.7T hybrid with lots of custom and factory RS4 bits. That this was done on a chassis with a scant 28,300 miles currently is even more astounding, and as the seller notes RS4 sedan builds are harder to come by than Avants.
The result is one very impressive package with few peers. And, perhaps as no surprise, bidding has been quite active – though if you haven't yet clicked to see the number you might want to move the coffee away from the keyboard. Right now, with a few days to go, bids sit at just over $29,000. If you're immediate reaction is "Hang on, that money buys me an ACTUAL RS4 Avant" you're right. But there is some precedent for the high humber. Back in 2016 I covered an Imola example that was pretty similar and sold for $20,400. More recently, earlier in 2019 I wrote up an Avant swap that hit $26,677. This one looks poised to easily best those numbers and hit a new high for custom Audi B5s. But the takeaway is that these superb swaps are ultimately massive loosing propositions – you simply could not come close to building this car properly for anywhere near the current bid. And to some, perhaps that the motivation to shell out a lot of money for a one-off.
-Carter