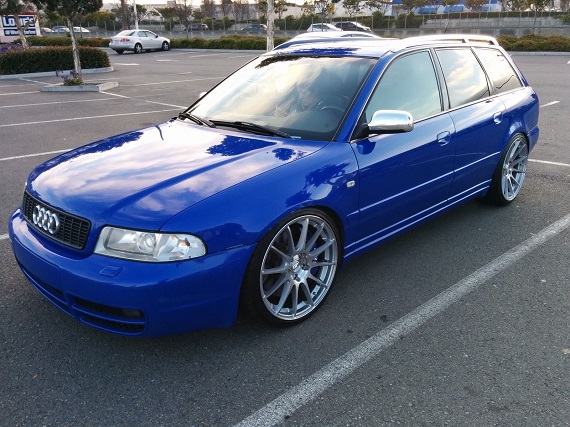 I've recently done some comparisons on the sport editions of the B6 and B7 chassis Avants, asking whether packages like the B6 Ultrasport or B7 S-Line Titanium Package justified the premium they commanded over similar non-sport models. There's another Avant that commands a serious premium in either B5 or B6 form, but in this case it's not anything to do with being more or less sporty. Mechanically and physically, these specimen are identical to the other models in the run, but it is the color that stops people in their tracks, generates clicks and opens wallets – Nogaro Blue Pearl Effect. The lineage started with the RS2 and its signature shade "RS Blue" which was then continued with the S6 Plus and the B5 S4. It was the color of speed for an entire generation of wagon lovers, so what does that equate to today?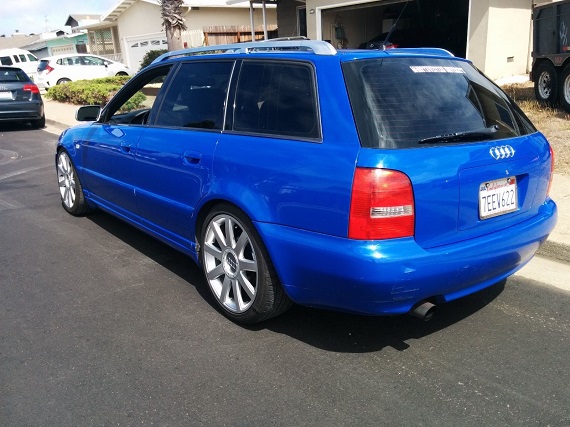 Year: 2001.5
Model: S4 Avant
Engine: 2.7 liter twin-turbocharged V6
Transmission: 6-speed manual
Mileage: 225,902 mi
Price: $13,000 Buy It Now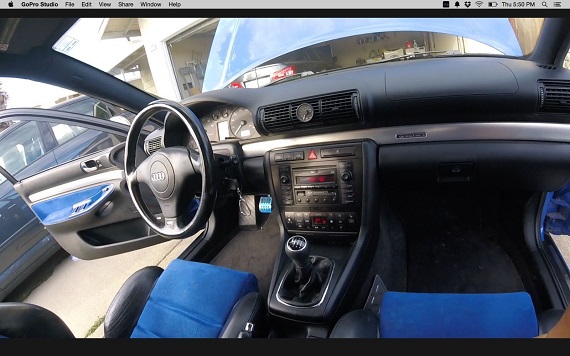 This car is in great condition for being almost 15 years old. The car has almost every service record, dating back to its first owner and at 53,000 miles. Comes with 2 switchblade keys, 1 valet key, 1 plastic key. The previous owners and myself have kept everything, including an Audi owners VHS and hardcover welcome booklet (see pictures). I bought the car in July 2014 with 222K miles.
In terms of current specifications and performance modification done:
-Daz Dillenger Stage 2 tune (91 octane, 18 PSI, EGT coded out)
-Ceramic APR Bi-pipe
-18Z 350mm 6-piston Brembo front calipers with slotted rotors
-Stainless steel brake lines
-MRR Groundforce GF06 19×8.5 Front (ET35); 19×9.5 Rear (ET40) ; car can be sold without for lower price (to be discussed prior to final sale)
-OEM Audi Ultra-sport RS4 style wheels 18×8 (ET 43 with 5mm spacers for front)
-AWE Drive train stabilizer
-Baileys forged diverter valves
-Custom SS exhaust with single pipe muffler (very silent)
-Raceland Ultimos coilovers (<1000 miles); also have the used H&R coilovers that came with the car available (installed at 182K) -034 heavy duty tie rods -034 heavy duty strut mounts -heavy duty transmission mount -AWE-tuning vent mounted boost gauge -Parrot bluetooth integrated phone and media -35% tint in rear; 50% tint in front -All pixels work on LCD (replaced at 200K) -K&N air filter -RS4 Alcantara shift knob Important maintenance done and mileage done at: -All control arms (done at 182K) -NGK spark plugs PFR6Q (191K) -Transmission mount (199K) -Timing belt, water pump, tensioner damper, roller, idler bearing (done at 207k) -LUK OEM S4 clutch (done at 213K) -Heavy duty tie rods (done at 224K) -4-wheel alignment (done at 224K) -New coilover suspension and heavy duty strut mounts (done at 225K) Misc: -Sport package - polished aluminum mirrors, alcantara blue suede interior and door cards, aluminum door trim -Cold weather package - heated front power seats and ski boot Other: -Driver side front fender has some paint chips (see picture). -Rear bumper has scratch and indent from minor accident in 2006 from original owner not serious enough to fix (see picture). -Small rock chips on hood by grill.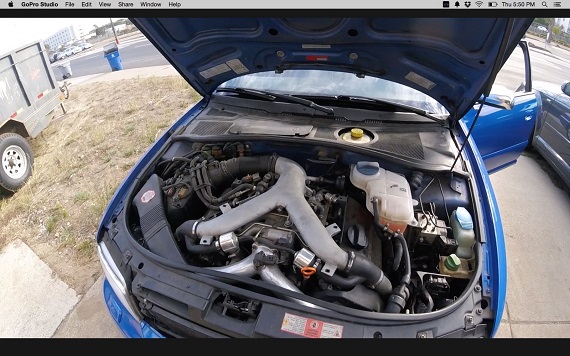 Two hundred and twenty six thousand miles. And, to be honest, this isn't the first Nogaro Avant that I've seen with serious miles accrued and a pretty high asking price. There's one near me that has (no lie) 3 different colors on the front end, an incomplete 6-speed swap and a $8,000 asking price. Granted, this car has a fair amount of upgrades and recent maintenance as well as documented records for most of its life. But, I bet a fair amount of you will look at the asking price and scoff when considering the miles. For argument's sake, you could get a similar silver Tiptronic Avant with around half the miles for also about half the asking price. This S4 was as close to loaded as you could make one around 2001, with both the Extended Sport Package Alcantara color-keyed in Nogaro and the Cold Weather package. And, generally speaking, I think the Ultrasport wheels work okay with the design, as they look quite similar though not as aggressive as the real RS alloys. Some of the items are nice, like the Brembo color-matched brakes, but others I could do without – Raceland coilovers don't have a great reputation, for example, and the tint is far too dark. And then there are chips, scratches, some title issue and…did I mention the miles? But something about the combination of a manual 6-speed Avant in double Nogaro will have many screaming "SHUT UP AND TAKE MY MONEY", which is what this package generally seems to do.
We're odd creatures, automobile enthusiasts.
-Carter