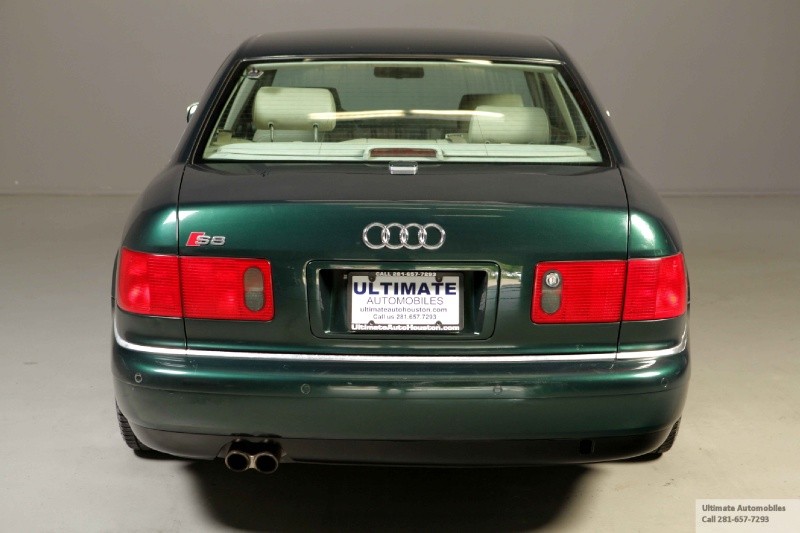 "We need something very fast – Audi S8". The line from Ronin still gives me chills, and the driving footage of the big car power sliding through the cobblestone streets completely sold me. I decided shortly thereafter that I needed one of these S8s to help me navigate all of the sticky situations in my life, too. Of course, that car was the first run of the S8, not available for sale in the U.S. until 2001. When it did come here, the face lifted S8 surprisingly arrived with more power than the early European version in a strange turn of historical trends; but it also arrived without the 6 speed manual as an option. This dampened sales of the D2 S8 to enthusiasts and they remain a fairly rare sight on the roads today. Even more rare among with the 2001 S8s are the Racing Green Pearl Effect copies, like this Ronin-ready 2001 on eBay today: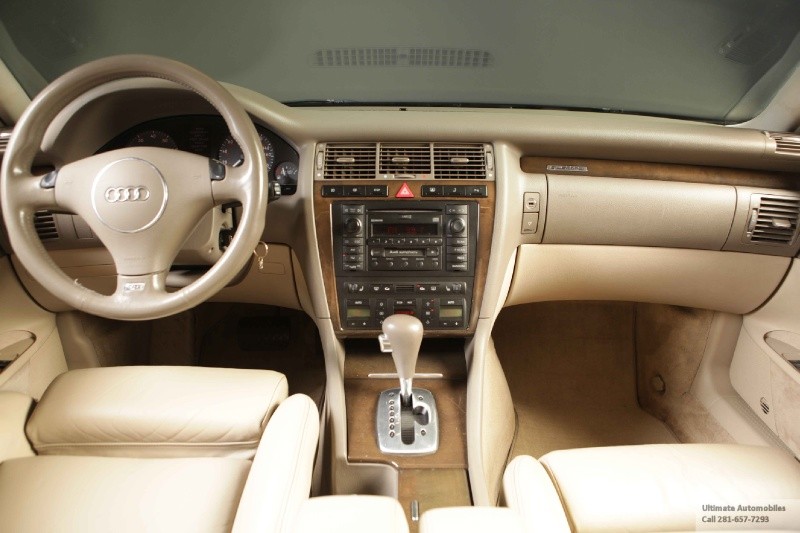 Year: 2001
Model: S8
Engine: 4.2 liter V8
Transmission: 5-speed automatic
Mileage: 122,414 mi
Price: $8,480 Buy It Now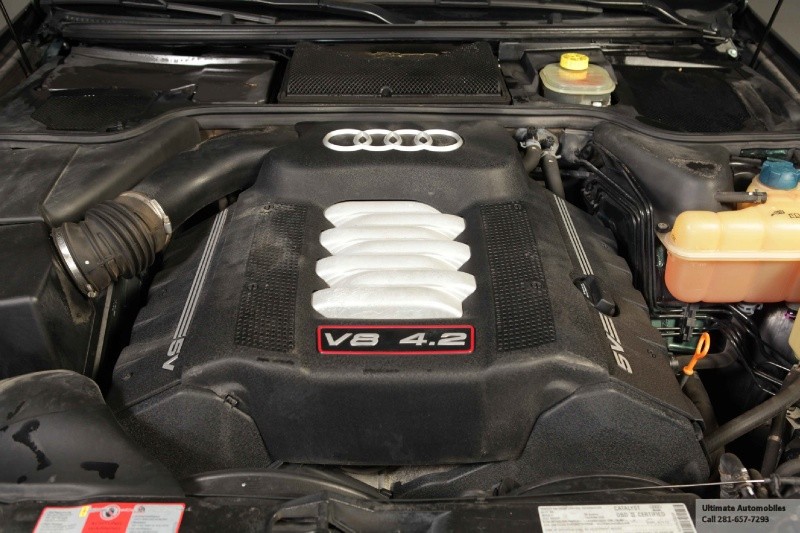 2001 Audi S8 Quattro

Ultimate Motorsport Presents

2001 AUDI S8 QUATTRO
ALL WHEEL DRIVE

SUNROOF ! LEATHER ! ALLOYS ! PDC !
COLD WEATHER PACKAGE !
ALL WHEEL DRIVE !
LOTS OF TREAD ON TIRES !

CARFAX & AUTOCHECK CERTIFIED
NO ACCIDENTS
Click Carfax or Autocheck logo above for free full reports !!

ADD A 3 MONTH 3,000 MILE WARRANTY
FOR ONLY $ 295
ASK US FOR DETAILS ON A 4 YEAR UNLIMITED MILES NATION WIDE WARRANTY !!

PEACE OF MIND ! BUY WITH CONFIDENCE !!

CLICK HERE FOR DETAILS ON
UNLIMITED MILES NATIONWIDE WARRANTY

70+ PICTURES BELOW AFTER DESCRIPTION

THIS CAR IS LOADED WITH THESE OPTIONS:
SUNROOF WITH POWER SLIDING GLASS
STEERING WHEEL WITH CONTROLS
CRUISE CONTROL
DUAL ZONE AC AND HEAT
ALARM SYSTEM WITH KEYLESS ENTRY
FULL LEATHER AND WOOD TRIM INTERIOR
HOMELINK
PARK DISTANCE CONTROL POWER HEATED LEATHER SEATS WITH MEMORY AND LUMBAR
PREMIUM SOUND SYSTEM WITH CD CHANGER AM FM CASSETTE
POWER WINDOWS AND MIRRORS
FOG LIGHTS
TRACTION CONTROL
PREMIUM ALLOY POLISHED WHEELS
ALL WHEEL DRIVE

MUCH MUCH MORE SEE IT TO BELIEVE IT !!!

Beautiful RACING GREEN PEARL on
TAN LEATHER WITH FULL WOOD TRIM Interior!!

Low Buy It NOW or Make us an Offer NOW!!

100% Positive Feedback
OWN THIS BEAUTY at a Fraction of the
Original $ 72,000 Price!!!

If You are Looking for a AUDI S8 QUATTRO ALL WHEEL DRIVE with all the options with LOW MILES, You Don't Have to Look any Further!!!
DON'T SLEEP ON THIS ONE!

NOTE: JUST LIKE ANY USED VEHICLE FEW VERY MINOR NICK NACKS DUE TO NORMAL WEAR AND TEAR AND ROAD DEBRIS.
REMEMBER: YOU ARE BUYING A TOP LOADED USED VEHICLE IN CLEAN CONDITION NOT A BRAND NEW ONE!

Bid with Excitement & Confidence!!!
Only at ULTIMATE MOTORSPORT !!
Good Luck & Happy Bidding!!!
FOR ANY QUESTIONS FEEL FREE TO CALL US AT 281-657-7293

So, If you are in the market for a LATE MODEL, VERY AFFORDABLE AUDI S8 QUATTRO ALL WHEEL DRIVE, then you owe it to yourself to take a closer look

LOW BUY-IT-NOW or MAKE AN OFFER!!!

FOR ANY QUESTIONS OR CONCERNS FEEL FREE TO CONTACT @ (281)657-7293 or email sales@ultimatems.com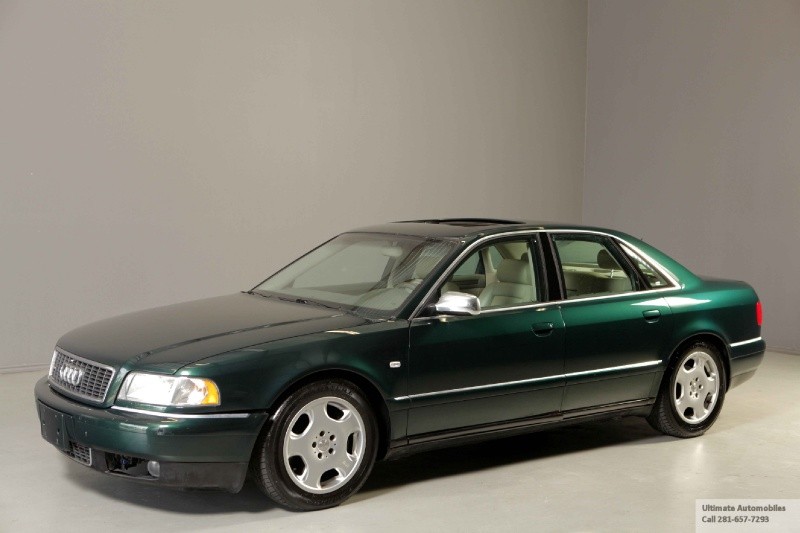 Like all Audis of this vintage, fears of repairs past 100,000 miles have pushed the values down quite a bit. That's partly justified, as the A8s have a reputation for going through transmissions right around this mileage. The S8 doesn't seem as prone to this transmission failure with the recalibrated ZF, but a rebuild or replacement should probably be on your radar if you are seriously looking. Otherwise, the motors are pretty reliable through 200,000 miles as long as properly serviced and there isn't much worry about rusting with all of that aluminum there. This particular model has some of the few options that were available on the S8, like the solar roof and Alcantara package, but is missing the original Avus alloys, and the two missing side grills up front probably point towards an encounter with a curb at some point. The OZ wheels are high quality but look out of place in my opinion.
Still, at $8,500, this is just about bottom of the market for an S8, so there is some room for repairs in the budget. Seeing the car in green immediately makes me think of the Ronin car and renews my love affair with this model in general. It's a low, sleek, fantastically imposing shape, and if you talk to those that own them, they absolutely love them. I'd personally hold out for one of the very rare 2003s (especially in the Avus Silver Pearl Effect), but surely for less than $10,000 someone wants to pretend they're driving around Robert De Niro and Jean Reno for bit.
-Carter