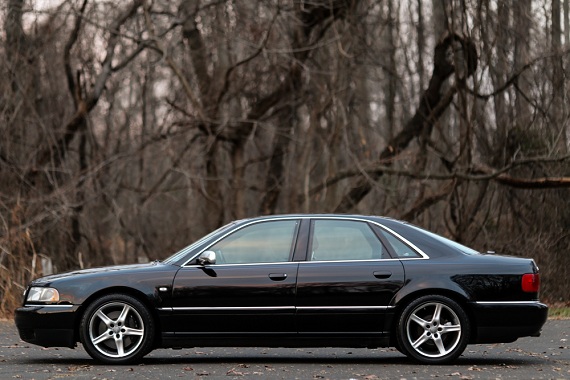 I've recently been engaged in an email exchange with one of our readers comparing the V8 quattro that I love with the later D2 A8/S8. As much as it pains me to admit it and I love that early D11 V8, the reality is in nearly every measurable way the A8 and S8 are probably just a better choice. First, they're the best part of a decade newer, and while the styling isn't DTM worthy the D2 is certainly a great looking car in pretty much everyone's book. The dimensions are right, the stance is great, and the presence is enormous. The D2 also benefited from the developments of the D11 chassis, and while it's missing the virtually unstoppable Torsen setup of the V8 quattro, the D2 gained in pretty much every other department; refinement, quality, ride comfort, performance, fuel economy and safety. The top of the heap is one of our favorite cars, the S8 – touting 360 horsepower and a stiffer suspension, this is the one to have: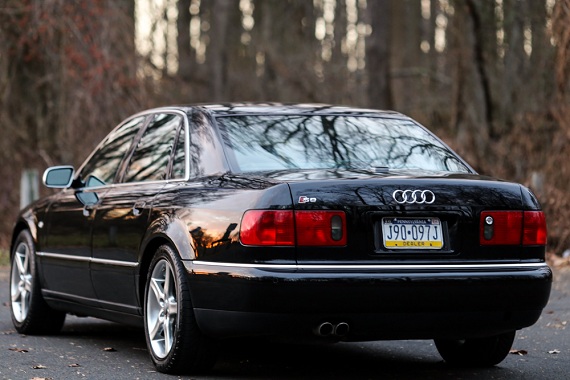 Year: 2001
Model: S8
Engine: 4.2 liter V8
Transmission: 5-speed automatic
Mileage: 84,014 mi
Price: $14,950 Buy It Now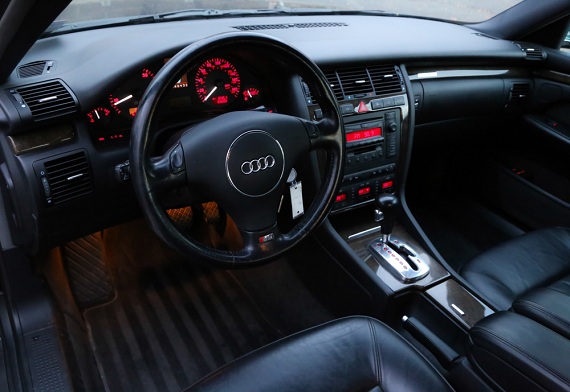 360 HP!

MORE POWER THAN A8, STIFFER BRAKES AND SUSPESION!

ESP -Electronic Stabilization Program!

PREMIUM PACKAGE!

CARFAX CERTIFIED!!!
Fully serviced by AUDI dealer (see service records on the bottom of the listing)

~~~ LOW MILEAGE ~~~
ONLY 80,014 Original Miles!
Black on Black – most desirable color combo

Four matching "MICHELIN" tires
Tire size: 245-45-ZR18
Recently Inspected by the STATE!

FRONT BRAKES – BRAND NEW
REAR BRAKES – BRAND NEW
FRONT ROTORS – BRAND NEW
REAR ROTORS – BRAND NEW
($900 just invested – GREAT VALUE !!!)

BOOKS AND MANUAL! AWD Quattro! All around heated seats! NAVIGATION SYSTEM! ParkTronic! Dealer Serviced!
You are looking at a fully loaded luxury car that has been well kept; it's an all around great looking vehicle. This gorgeous S8 has been highway driven. The history report is clean This is a great car which combines superior luxury and comfort and sport sedan performance. This is a-never-smoked-in beauty that looks and smells new. The car was garage kept.

The cars exterior is black that's got a deep sparkling shine to it and combined with black leather interior make this car look great!

The engines is one of the finest German engines ever created – a 4.2 liter V8 that runs and feels smooth and provides abundant power. The transmission shifts like on a new car, no skips or slips on shifts.

The famous Quattro all wheel drive provides superb traction weather its winter fall or summer. Rain or dry – you will get superior traction and security.

The interior is spotless while the leather shows almost no wear at all (the pictures clearly show the interior is good condition). The interior also has REAL WOOD trim! The front seats lean all the way back to the rear, so you can actually sleep rather comfortably in the car!

The seats are extra comfortable with 16-way driver and passenger seat adjustments including Power driver + passenger 4-way lumbar adjustment provides variable lower back support.

All electrical systems seem to be in good working order, while the engine compartment clean, and void of any leaks. First-rate running condition of everything!

Audi S8 rates very high in safety, it's not a light car, and has a lot of specially engineered alloys along its frame to dampen any possible impact. The SIDEGUARD Curtain and Rear Side Airbags provide the safety you and your family require.

A very good climate control system is present in this car, with not only front seats control, but you also have ice cold A/C blowing directly at the back seats, while the passengers are able to adjust how much airflow they want!

Heated seats are all around, this model having heated seats in the front as well as the back. The car is equipped with the premium BOSE Audi Symphonic 16 speaker audio system as well as a factory installed Navgation system! The vehicle is also equipped with an original Audi Navigation system!

As you can see from the pictures, the rims are in good condition and the tires on this auto have been rotated, balanced and still have plenty of tread left. The car is also equipped with projector headlights and the high pressure headlight washers add a nice luxury touch. The washers also de-ice in the winter.

The trunk is very clean and roomy as you can see from the pictures. The previous owner used it sparely and it looks as if it were new.

This is a unique hard to find automobile, has every option available, and the most popular black on black color combo makes it even more attractive.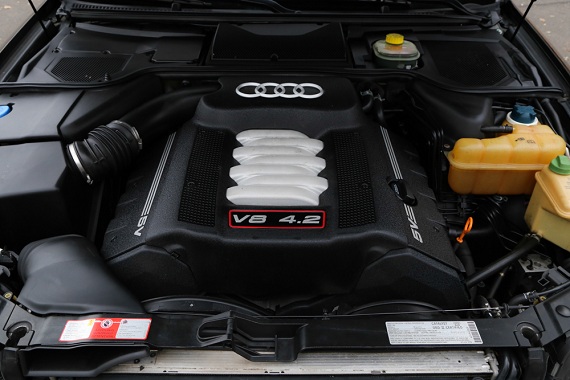 This seller is no stranger to Ebay or our pages; I'm always drawn to the great photographs they take of some of the best condition late 90s/early 00s Audis that they come across. This example is no exception – looking ready for both the racetrack and the cruise to the black tie event in double black, this S8 shines like few 2001s do these days. Gone are my favorite thin-spoke 18″ Avus alloys, replaced by what look to be Moda wheels with Audi centercaps. Though not what I'd choose, they look pretty good overall and give a more aggressive appearance. About the only thing I see out of place is the slightly askew front S8 badge. Recent brake work is a plus but as many will note you should look for timing belt service and transmission services on these cars, or expect them soon into your ownership. Miles are lower for a 2001 these days and condition is great for sure, but the pricing puts it squarely into the more desirable 2003 model year price range; if you can deal with a few more miles and less pristine condition, you can get into a 2001 S8 for well below $10,000 these days. Still, cheaping out on a complicated luxo-cruiser like this isn't the way to go – if you're in the S8 market, buy the best example you can afford. This particular one looks like one of the better ones.
-Carter