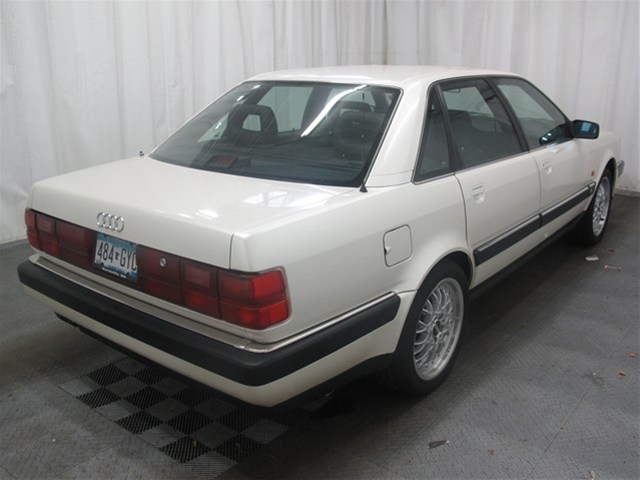 The Audi V8 quattro; where do I begin? Few cars that I've owned have cost me as much, caught fire, had the throttle stick open, had all of the window lower and sunroof open in a rain storm, were in the shop more for fixes, suffered brake failure, suffered power steering failure, and randomly filled with water. But, few cars that I've owned have generated as many smiles and kept me wanting more. Call it masochism if you'd like, but I really enjoyed my V8 quattro (especially in hindsight). This was the car that revolutionized the large executive sedan market and set the blueprint not only for most larger future Audis, but even those of its' competitors. It was also (arguably, but in my mind) the best looking and last hurrah of the Type 44 platform. Headlights, hood, grill, bumpers, flares and lower sills left the V8 looking decidedly more aggressive than the 200 had been, but also more modern.
To match those looks, Audi built an all-aluminum 4-cam high revving V8, coupled to the company's first automatic capable of working with the quattro drive train. Utilizing a multi-clutch center differential and a Torsen rear differential, the V8 was surprisingly less nose heavy than the 200 had been which resulted in out of the box better handling, especially at higher speeds. Audi was even able to utilize these cars in shockingly stock form (minus some trick cranks) to win the DTM Championship against the venerable M3s and 190E 16V Cosworths. The car underwent several changes in it's short lifespan, gaining a manual option in the U.S. in 1991 only and new colors, climate control and greater displacement in 1992. It wasn't enough to save the V8 from Audi's woes in the U.S., though, and by 1994 less than 100 V8 quattros were imported, leaving it a rare site on the roads then and even more rare today. Today's example is one of the first of the run imported, a 1990 in Audi's ever-popular Pearlesant White: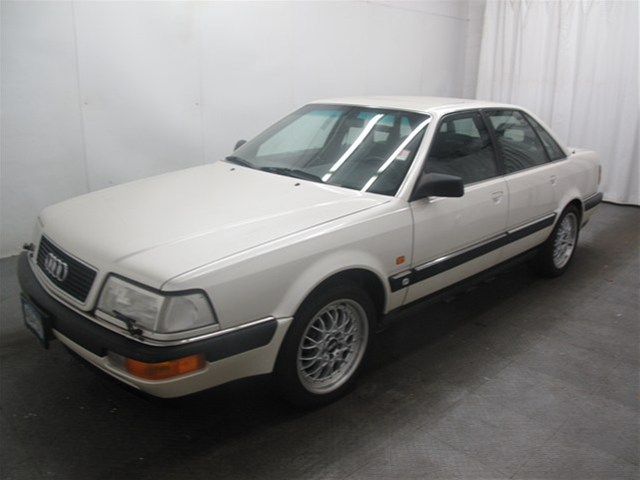 Year: 1990
Model: V8 quattro
Engine: 3.6 liter V8
Transmission: 4-speed automatic
Mileage: 117,938 mi
Price: $8,000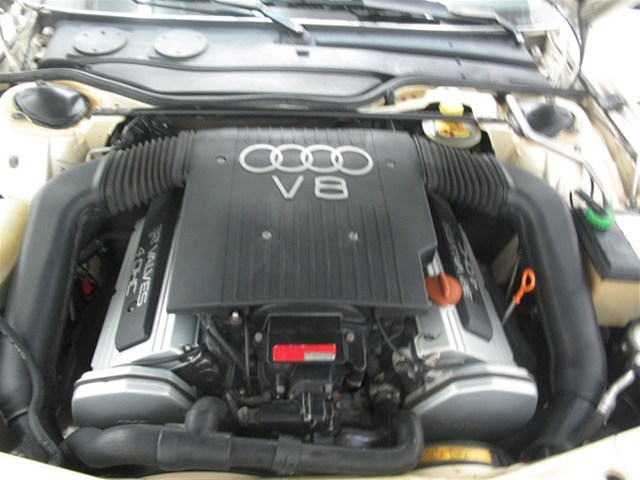 Big grins!! In these economic times, a terrific vehicle at a terrific price like this Vehicle is more important AND welcome than ever. Includes a CARFAX buyback guarantee*** All Wheel Drive* It has nice features like: Alloy Wheels, Heated Seats, Leather Seats, Sunroof… With our Best Price First, No Haggle Needed! We'd also love to see your trade, and even if you don't buy from us, we'll give you a no obligation bid for your car! This V8 is an AS IS Bargain at only $8,000! – See more at: http://parkchryslerjeep.com/1990-Audi-V8-Burnsville-MN/vd/16294523#sthash.mG56zs9a.dpuf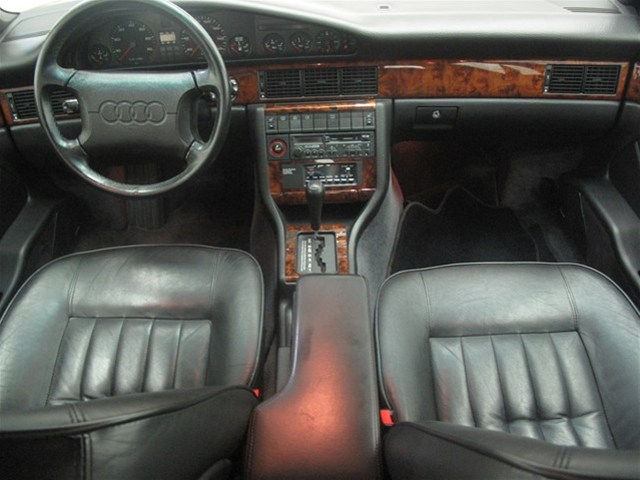 You could look for one of these for months or even years, and then you find one at a Jeep dealership (really?). This car looks quite clean and well cared for both outside and inside, with the Connolly option leather comfort seats showing little wear and the Pearlesant paint appearing to be original and free of major defects. The BBS wheels are upgrades from the stock 15×7.5 "aero" wheels which, correctly, would have been body color Pearlesant. Look closely in the album, and there they are in the trunk with what look like snow tires. I ran snow tires on my V8 quattro, and it was simply amazing in snow, and at a few winter driving schools absolutely blew away all of the newer Audis, including S models. These cars are really amazing and carry their weight well.
Despite this, they're also quite complicated cars that require a healthy dose of regular and expensive maintenance. Chief among this is the timing belt service which is very expensive and required; Audi replaced many of the early 3.6 engines after mis-labeling the timing belt service at too high miles. It is possible to swap in earlier transmissions from 200 quattros; though it's pretty complicated to do so, it has been done. The 3.6 cars are notable for having transmission issues, something Audi fixed partially with a transmission cooler on the 4.2 cars. Even so these transmission issues usually only happen with higher miles, so if this was the car for you, you'd likely have some time before needing to address it. The 3.6s are also notable for having the "UFO" floating rotors; great at stopping the heavy car from high speeds; but prone to warping in heavy stop and go commuting. Fixes for this and other common problems on the V8 are well noted by the enthusiastic community that supports them. The asking price – $8,000 – is one of the higher ask prices on a 3.6 that I've seen that wasn't a manual. Though the vehicle's condition appears to be very good, I'd wager the top value for this car is $5,000 – $6,000, and even then I'd like to see some serious service records. Still, it's hard to find a nice V8 quattro for sale anywhere in the U.S., so if you really want to have one, this is one of your few options.
-Carter