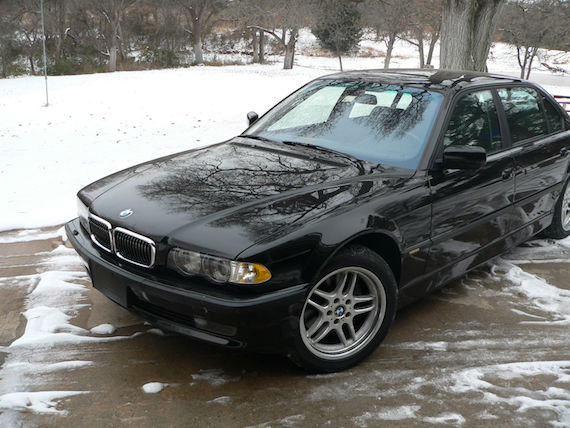 In the past year, we've featured a lot of E38 BMW 7 series. Most have been the 740i Sport, but whichever the model, these are a perennial favorite amongst BMW enthusiasts and lovers of large executive sedans. Now it's time to shed some light on the big daddy of the group, the V12 engined 750iL. The year 2001 was the end of the line for the E38, so this low mileage example for sale in Oklahoma represents the zenith of this generation of 7 series. Black on black with the M Parallel wheels gives this car a menacing, dictatorial presence.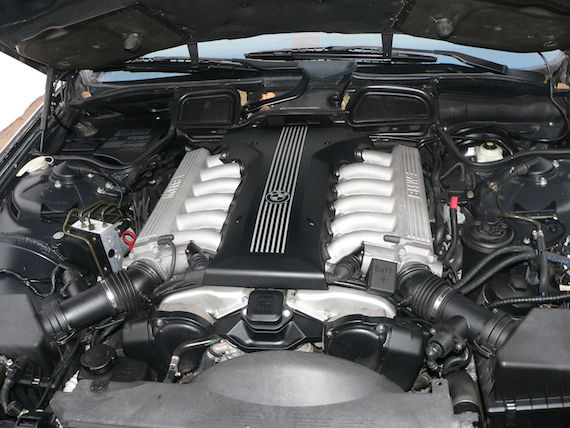 Year: 2001
Model: 750iL
Engine: 5.0 liter V12
Transmission: 5-speed automatic
Mileage: 29,845 mi
Price: No reserve auction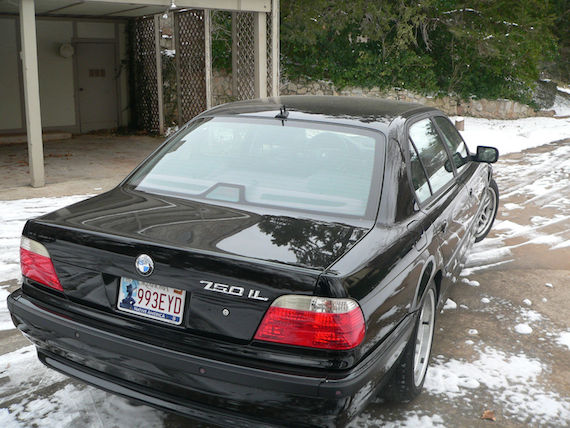 Yes, the mileage is correct. This was the last year for the older body style. Purchased it on 24 December 2001 as a Christmas gift for my wife. The dealership delivered it with a red bow and several bottles of wine. My wife loved it. She has had several BMWs before this one.

Why are we selling it? We never drive it. We have six cars for three drivers. Two of our cars are Honda CNGs Civics. CNG is big business in Oklahoma City, a dollar a gallon. We have most, it not all of the maintenance invoices. The car is always under cover. We usually have the oil changed every year by the dealership. The BMW maintenance system has never called for maintenance, we have always done it ahead of schedule. This car has the monochrome option. All of the chrome is black, it actually looks great.

This car has the Sports Option. I would not have ordered this option. The ride is a bit stiff. Not bad, but love the normal suspension. It also comes with the M wheels, sport seats, and steering wheel. Not sure what options this car does not have installed. It has the HID headlights, etc. It stickered for $98.000.00. We paid, $81,000.00 for it. It gets approximately 16 to 17 miles per gallon. It has never been above 100 mph, but I am guessing, that it will easily go to the 155 mph limit. The computer will not allow you to go faster. It is a stately car, gathers itself up and goes. Quiet mufflers, etc.

Feel free to contact me for additional information. I can forward photographs, etc. We will miss this car. I drive it at least every two weeks. The UN used a simillar car to this one, as the car for the Secretary General of the UN. He was chauffered around in it. The back seat is huge. Truck likewise. I am guessing that they had the armored version. Feel free to contact me for additial information. Leather, etc., all look brand new. Paint good or better.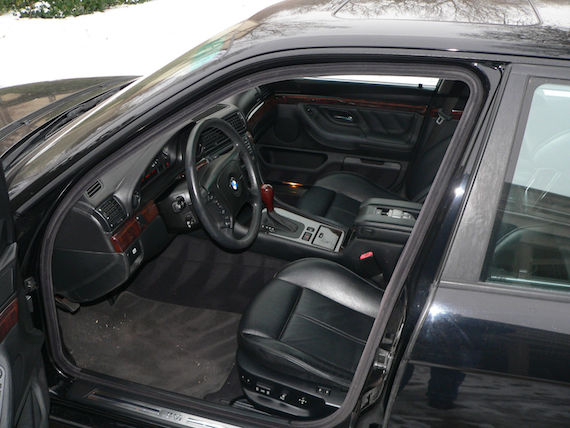 Every time I return home to Philadelphia, I see a lot of these black E38s running around, mainly on Bustleton Avenue, parts of which happen to be a Russian neighborhood. If anyone has seen the Bourne series of movies, it's apparently these big brutes are not just popular here, but in the mother country, as well. Want to look like an Eastern European bad ass? Here's your car, then.
Even though this is a low mileage E38, one couldn't expect any V12 engined vehicle to be cheap to run. With bidding where it is at the moment, I'd suspect this one will probably glance $20,000, which is big dollars for an E38. But for the executive that just can't get down with current BMW styling and wants something a bit more conservative, a low mileage 7er like this would certainly be attractive.
-Paul