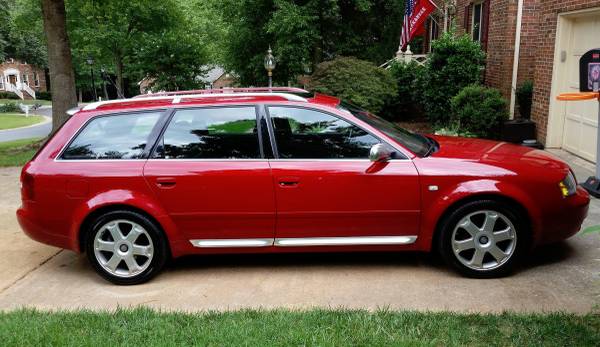 The Audi C5 chassis was a unique time when the American market got virtually all of the options that were available in other parts of the world. There were many different engine configurations; starting with 2.8 liters and working its way to 3 liters was the naturally aspirated V6 in either sedan or wagon form. Stepping up a notch got you twin turbos on the V6, which could be had with either a manual or automatic gearbox, again in either sedan or wagon form (albeit only in Allroad configuration). The Allroad introduced a concept pioneered by Volvo and Subaru and was hugely successful if hugely complicated, with an adjustable air suspension meeting a host of other electronic gizmos. V8s were optional as well, in the widened and lightened near-S-specification A6 4.2 sedan, or as we see here the full fat S6 Avant. Turn it up a notch further and you could twin turbocharge the V8 and get your 450 horsepower jollies in a RS6, though we only received the 4-door. Granted, we did miss out on some great TDi configurations and the V8s came as automatic only, but simply the option to have the 340 horsepower wagon was a novelty at the time. I, like most die-hard Audi fans, was both mystified and disappointed by the C5 S6 Avant. With no manual option and the much hotter RS6 only coming in a sedan, it felt like even with the plethora of options available that the top-of-the-heap Avant wasn't really all that could be offered. Expensive and overshadowed by options cheaper that were nearly as quick but more gimmicky (and basically looked the same), they didn't sell particularly well – but most were coveted by those that bought them, and when they do arrive to market they're usually a far cry from the tired look most C5 Avants have assumed: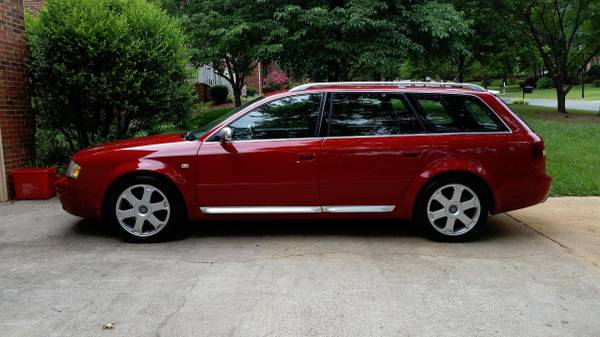 Year: 2002
Model: S6 Avant
Engine: 4.2 liter V8
Transmission: 5-speed automatic
Mileage: 136,000 mi
Price: $11,750 Buy It Now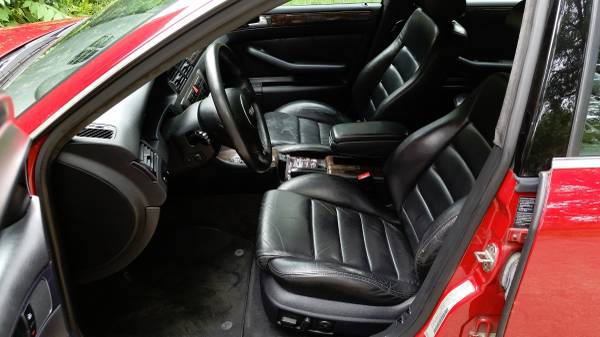 Very rare RED S6 wide body with Black Alcantara interior! This car was purchased from the service manager at Kinney Audi, 176 US 7 Rutland Town, VT 05701; where the car has been serviced its entire life. That's right all service has been completed on schedule by the same dealer for 16 years. The car is in impeccable shape and is in need of nothing! I absolutely love the car and driving it is bliss, all new suspension in the last 7000 miles. 340 hp 4.2 V-8 sounds amazing and does not have a single leak. Shifts are smooth and on point. With our third child here it is time to thin the fleet of Audi C5 wagons (3) and pick up a Q7. It is definitely my loss here as I may never get the chance to own another, if I was not so upside down on performance modifications to my allroad I would keep the S6. Good for sub-7-second 0-to-60 acceleration runs, the S6 rides on a more muscular suspension structure to temper the 340-horsepower V8. See: edmunds.com/audi/s6/2002/wagon/features-specs/
These cars were only imported during 2002-2003 due to high volume sales in Europe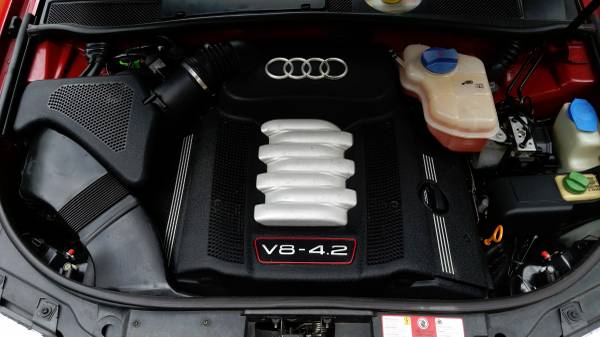 Our reader Garrett spotted this one, and indeed Amulet Red is quite rare on the Avants, probably tied with Goodwood Green for least seen. It looks great with the black Alcantara interior and it's always nice to see the S6 retain its model-specific Avus wheels, 17″x8″ ET35 as opposed to the 45mm 17″x7.5″ S4 wheels of the same time, or the 18″x8″ wheels the S8 wore. They're a subtle change that stand out the more you see them. Condition is overall very nice, and these steel-suspended, belt drive V8 Audis have stood the test of time a bit better than some of the other engines from the period. The weak spots, as always with this generation Audi, are the automatic transmissions; Coventry Motorcar has just finished a swap to a 6-speed manual on one and all in it was about $5,000 worth of work. While that increases the price of the S6 Avant precariously, you'd be left with quite a unique and quick sleeper to enjoy hauling the family around with.
Thanks to Garrett for the great spot!
-Carter