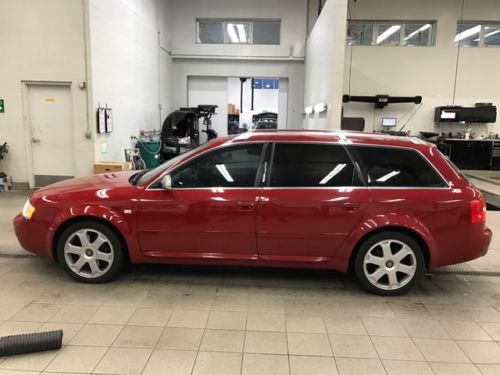 Perspective is an interesting thing. Just a few days ago, I looked at an S6 4.2 Avant – a car that never came to the U.S.. It was certainly potent, with 285 stomping V8 horsepower. Even more potent was the Plus version linked in the article, with enough power to match rivals from Mercedes-Benz and BMW. But here in America, we bemoaned the lack of importation of these models; worse still, Audi's U.S. lineup went decidedly soft following the discontinuation of the 20V turbocharged inline-5 S6 in 1995. Indeed, another S model wouldn't appear here until 2000.
But only a half decade after the most potent S-car had launched out of quattro GmbH, Audi gave us a reason to celebrate. The S6 Avant returned to U.S. shores, and it was even more powerful than the Plus model had been. Now with 5V technology, the BBD 4.2 V8 cranked out 340 horsepower. Like the 4.2 sedan we just looked at, the flares were widened and door blades made the stance more aggressive. Special interior details abounded; sport seats and steering wheel (comfort seats were a no-cost option), Alcantara headliner, and carbon fiber trim let the driver know they were at the wheel of a special model. Audi's signature Avus wheel design appeared in 17″, but uniquely 8″ wide and in lower offset than either the S8 or S4 models' wheels. The 1BE sport suspension was 20mm lower and 30% stiffer than the standard models. And though it looked like the rest of the subdued, understated early 2000s lineup, the Avant scooted; 0-60 was gone in 6.5 seconds, the standing quarter mile in 14.5, and the S6 could pretty effortlessly brush against its electronically limited 155 mph top speed. Reviews and owners alike chime in with the same song: like the E39 M5, this is a car that does everything, and does everything well.
So why the hell didn't we buy them?
5 Comments