Warning!
This post is in our archives. Links in this post may have been updated to point to similar cars available to bid on eBay.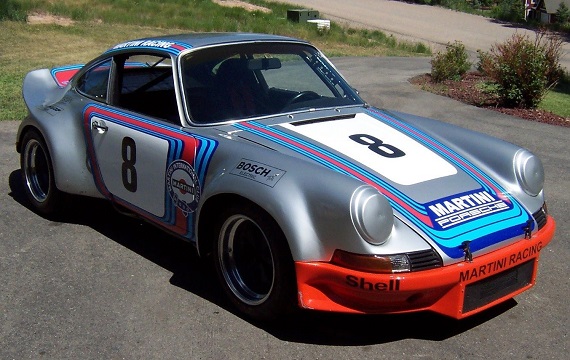 On the verge of three years ago I took a look at a neat 911 Carrera RSR tribute. Rather than take the typical path of copying the IROC cars, the builder of this particular car chose the "Mary Stuart" Martini Racing example to clone. The car was named because the wrap around rear duck-tail spoiler reminded some of the high collars which were the vogue during Mary, Queen of Scots' reign. With its unique tail offsetting those iconic colors, it is certainly an attention getter. However, the seller has now attempted to shift this car more or less continually since 2013 – first at an asking price of $165,000, then dropping in 2014 to $135,000, and now back up to $165,000 presumably to try to capitalize on the current 911 market. It is without a doubt a neat build and unique execution, so even though it's unlikely to trade this time around again I thought it was worth another look:
The below post originally appeared on our site September 9, 2013: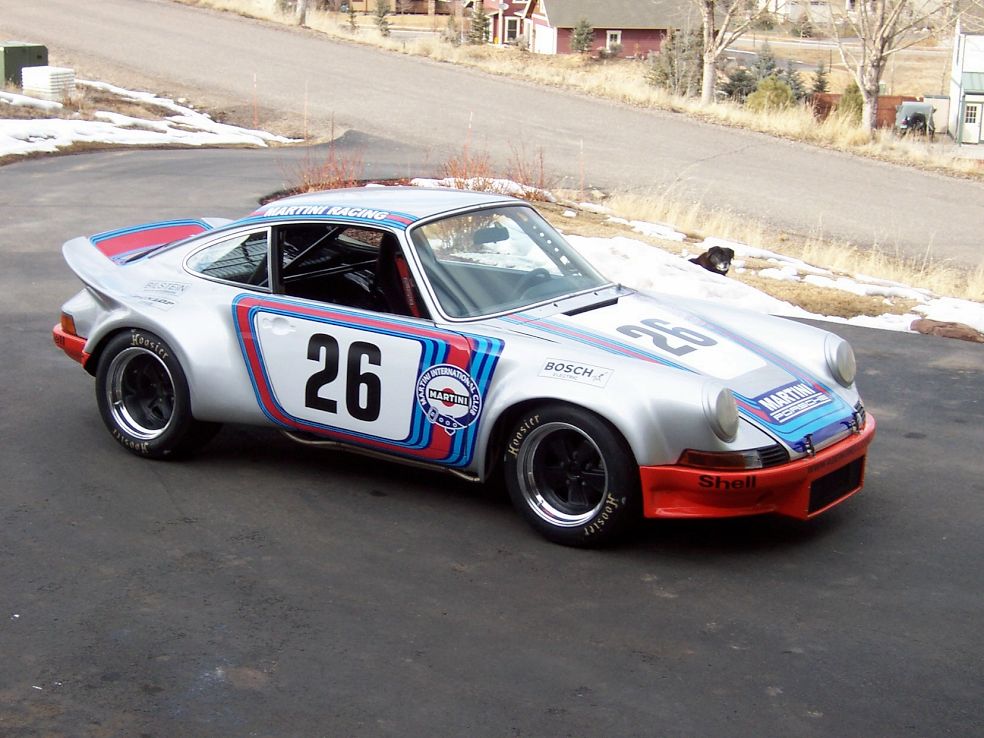 I think I've made it pretty clear that I think Martini Racing colors are just awesome. Some people insist everything looks better in "Gulf Blue", but for me, it's those Martini stripes that made some of the best looking race cars (and in a very few cases, even improved road cars). Case in point is today's example; perhaps one of the strangest downforce attempts of the 1970s on a Porsche – the Mary Stuart tailed Martini Racing RSR. While a neat design in some ways, it certainly looks odd from other angles. Today's 1971 911 is a recreation of the original, but you can't deny that it looks fantastic in the proper Martini Racing colors of the 1973 RSR: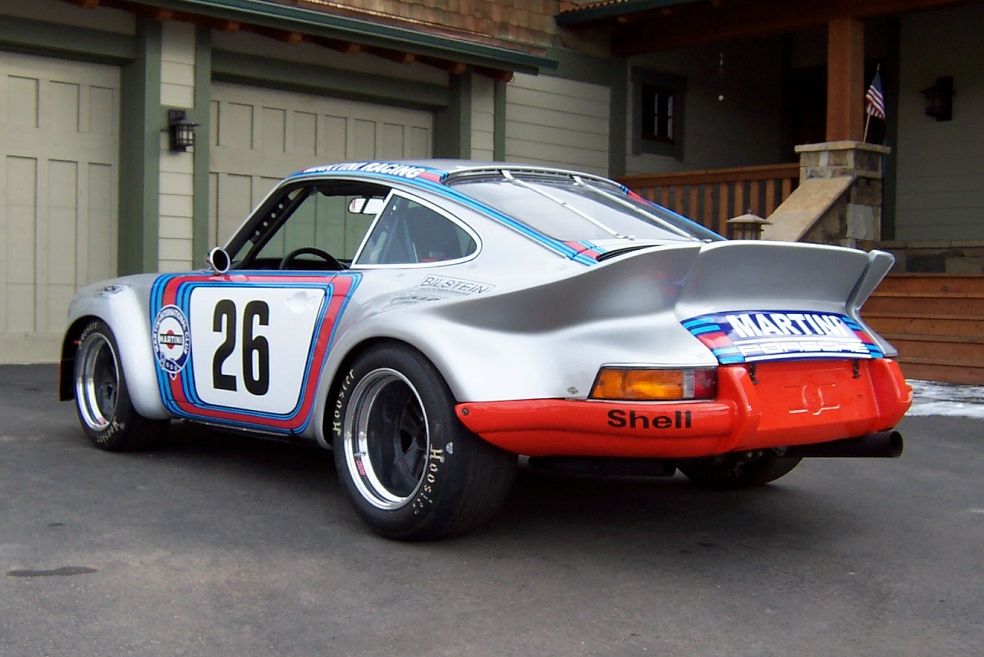 Year: 1971
Model: 911
Engine: 2.7 liter flat-6
Transmission: 5-speed manual
Mileage: "900" mi
Price: $165,000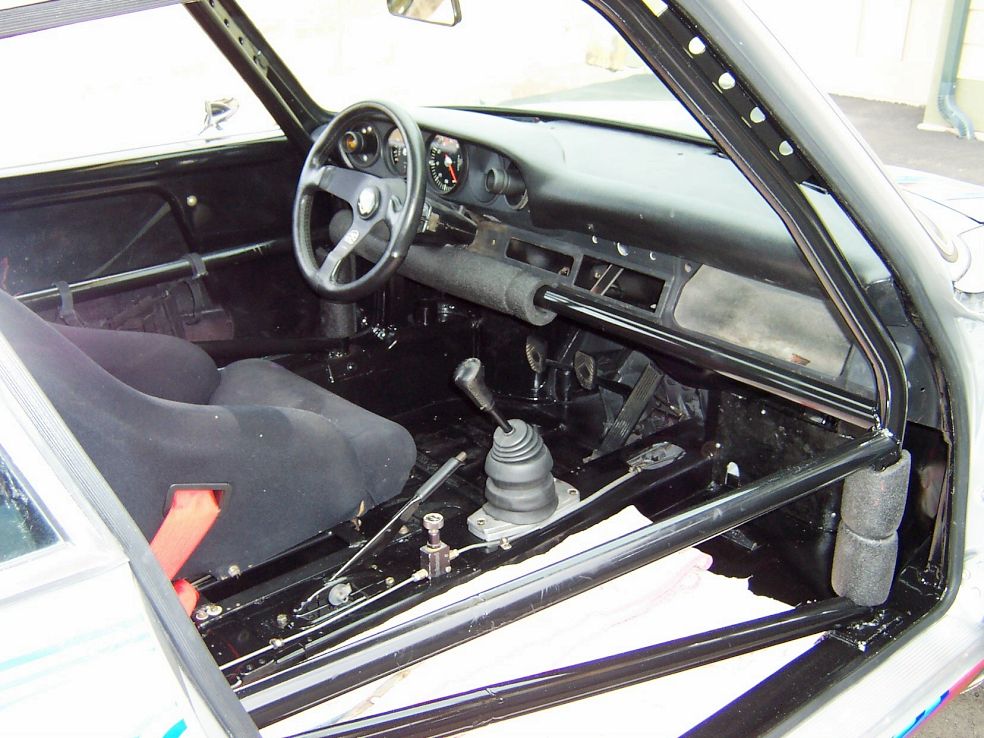 New Description

Offered for sale is a one of a kind tribute to the 1973 Targa Flora winning Martini Racing Porsche 911 RSR Supper Carrera. This vintage race car started life as a 1971 Porsche 911 T. It is a completely rust free chassis from the south west. It was fully restored in 2011 and has a clear title, here is its story:

I have been racing in IMSA since 1977 and competed in the Daytona 24 hr until 2000, fielding Porsches for many of those years. I purchased this car in August of 2009. At the time, I thought it was just an old race car sitting in a warehouse in Glendale AZ. The seller told me he bought it for a project for himself and his son. His son had since gone on to college, and had subsequently moved away, without the racing project ever getting underway.

At the time I was driving a street car for Porsche club Drivers Ed events and was in the market to build a track car that was fast, reliable and had a low hourly operating cost. I was also thinking of racing in some vintage events. After talking to the seller, he told me that he knew nothing about the history of the car. He did have a title for the car and it was still in a past owners name, because he felt there was no need to title a race car.

The car was perfect for what I was looking for (a vintage Porsche race car that needed a home). At the time, the car was painted yellow red and black. For some reason I thought the car seemed familiar to me but I could not put my finger on it. We started the restoration with the hope of tracking down some history along the way, and bringing the car to a perfect period correct racer.

The car came with a couple of 2.7's and 915's, so it was logical to go in that direction. I decided that using 2.7 RS pistons would give the reliability I was looking for, as well as being able to run on premium pump fuel if so desired. I built up a 2.7 block with racing cams and Weber carbs, sparing no expense in the process. Every detail of the engine assembly was done by the book, with the benefit of 30+ years of living, breathing and racing these cars.

The car was already equipped for the 915 transmissions so we did a full rebuild on a limited slip 915, and installed that in the car. The car was already equipped with Bilstein coil overs in the front with a proper sway bar. Bilsteins were also installed in the rear of the car.

Keeping with my vintage racing plan I decided to use Hoosier DT's 24 X 8.5 – 16 in the front and 25.5 X 10 – 16 for the rear as the tires of choice. The wheels were custom fabricated by utilizing 6 inch Fuchs alloys as the rim center while adding inner and outer BBS halves for a period correct result. Every inch of the car was gone over with a fine toothed comb, if a component was suspect, it was replaced.

Mechanical restoration complete, it was time to test the car on the track. The car ran and drove incredibly well. The down force from the rear fenders is fantastic. On my first outing I thought there was something wrong with the other cars on the track, as they were going so slow. As it turns out, I just had a completely dialed in car.

During the mechanical restoration process, I had sent out many, many inquiry letters to anyone I could think of in my Porsche circles. I was trying to find out anything at all about the providence of the car. Months went by and I got a phone call as a result of one of my letters. The letter had made its way to the owner of the car when it was painted yellow, red and black. He said he had a few Porsches raced them a bit and built the car. He was not using the car at the time and the UPS driver kept asking if he would sell it. One day he did and that was the last he has heard of the car and he should have never sold it. He went on to tell me that the body is a one of a kind that was made during the restoration of the 1973 911 RSR that won the 1973 Targa Flora and it could never be replaced.

After that call I knew precisely what livery to run on the car. I dismantled the car and set about making as true a tribute as humanly possible to the 1973 MARTINI RACING Porsche 911. After months of research, hundreds of calls, and many more hours of labor, the result is what you see here. Faithfully replicated to the smallest detail, this is a true time machine. Perfect for any collection, vintage event or PCA DE.
Old Description

This is a 1971 Porsche 911 race car that has been restored to be a replica of a 1973 Porsche Martini Racing RSR. The tub is 100% rust free. The engine is a 2.7 with RS pistons and race cams. The transmission is a 915 with limited slip. After finding the person that built and owned the car it was discovered that this car was replicated from a original 1973 Martini RSR. We were told that the panel are made from one of the original Mary Stuart cars. This car is all 1970's. the front has Bilstein coil over struts,aluminium S calipers and ajustable sway bar. All body panels are fiber glass. the rear panels are removable. No side windows,wipers or head lights. The engine is a very reliable track engine. At this time there are about eight hours of Porsche Club Drivers Education on the car. The car is fast and is very fun to drive. We are open to offers.
History
none avalible

Performance Data

Weight: 1980 lbs

Engine

Engine Builder: Porsche
Manufacturer: Porsche
Type: 911
Displacement: 2.7
Horsepower: 225
Induction: Webbers
Heads: Porsche
Block: Porsche
Pistons: 2.7 RS
Total Time: 2 hours

Fuel System

Fuel Cell
Manufacturer: ATL
Age: unknown
Capacity: 15 Gal
Fuel Pump: Holley

Transmission

Manfacturer: Porsche
Type: 915

Body

Construction: Fiberglass
Color: Silver
Condition: new

Interior

Color/Finish: black
Fire System: none
Guages: VDO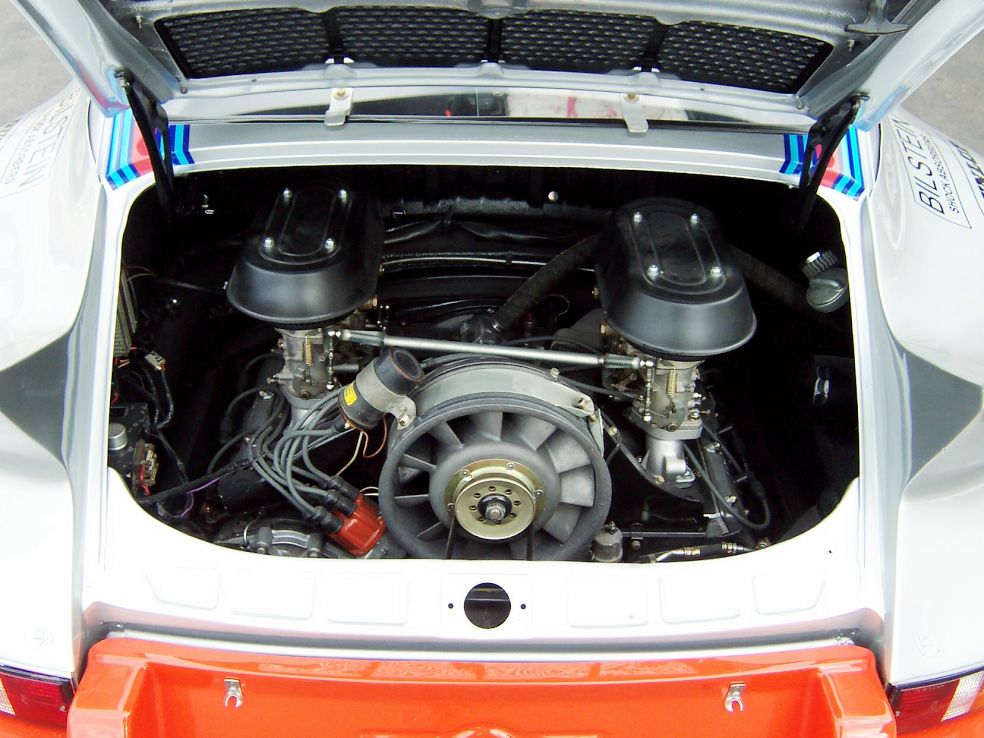 Anytime the numbers are sub 2,000 lbs and over 200 hp, you're guaranteed to have fun. While not as potent as the original RSR and running a more subdued 2.7 power plant, this car will be certainly much cheaper to run. Add to that the fact that the price of the original is a million dollar plus car, and running a replica makes a lot more sense. This car wouldn't likely be eligible to run in vintage events, but would certainly draw a crowd at local Porsche Club Racing events, or you could blow everyone's mind at your local club Driver's Education. Older 911 race cars aren't cars for beginners, but aren't to be quite as feared as their reputation, either – sticky rubber helps keep them planted.
In regards to value, a normal 2.7 race car would struggle to bring $50,000, even if it was a clean car. Like the 1974 RSR replica I wrote up a few weeks ago, the value in this car is in the build – though I think this car is relying a bit too much on the paint and unique tail carrying the value. All in all, I really like the 1974 car was a better, cleaner build with more speed potential for around the same money. It wouldn't be very hard to add the Martini stripes to that car, either. But, if you really must stand out from the crowd, why not do it with the craziest duck tail ever?
-Carter