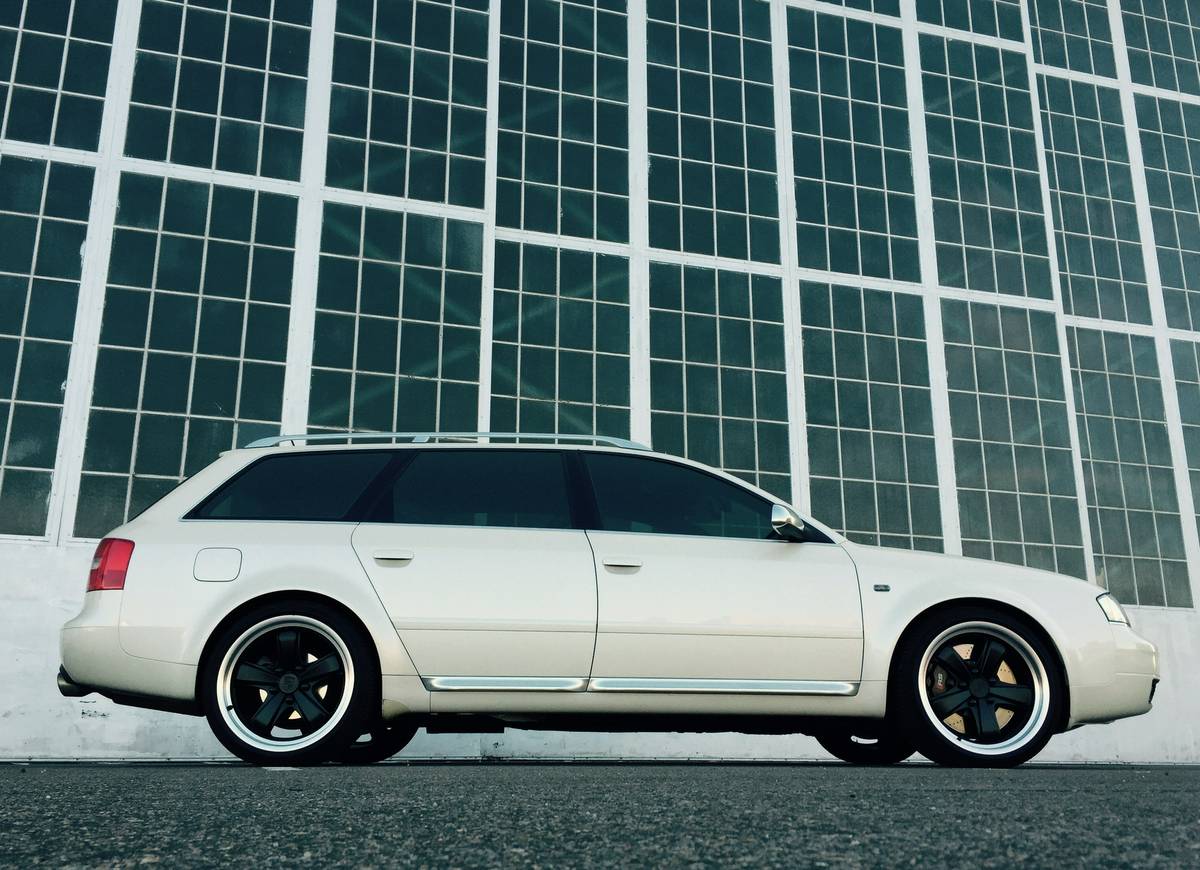 Seriously, what's the deal? Almost immediately after completing expensive 6-speed manual swaps, both S6 and S8s come up for sale. Today's example, having covered about 9,000 miles since its swap, might be one of the most traveled examples with a manual swap that I've seen. Are the results not what people were expecting? That the manual was combined with the S4's similar V8 in a package that many enthusiasts love would tend to be an indication that the output of this equation should be quite good. Yet, it's frankly not all that uncommon to run across a manual swapped C5 or D2 that, after several thousand dollars worth of work and programming, is now up for sale. There's even one near me for under $4,000 – complete!
So what do you think the deal is?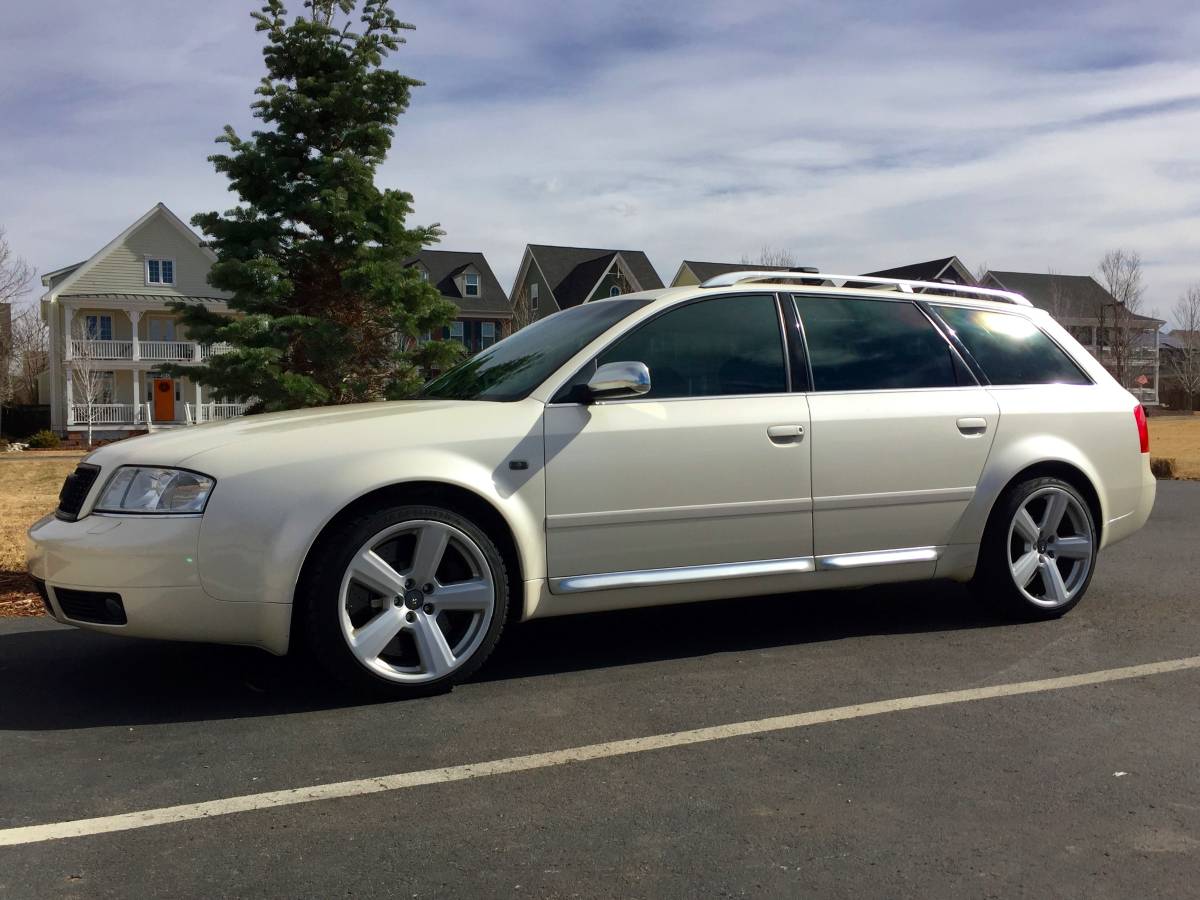 Year: 2002
Model: S6 Avant
Engine: 4.2 liter V8
Transmission: 6-speed manual
Mileage: 110,152 mi
Price: $14,975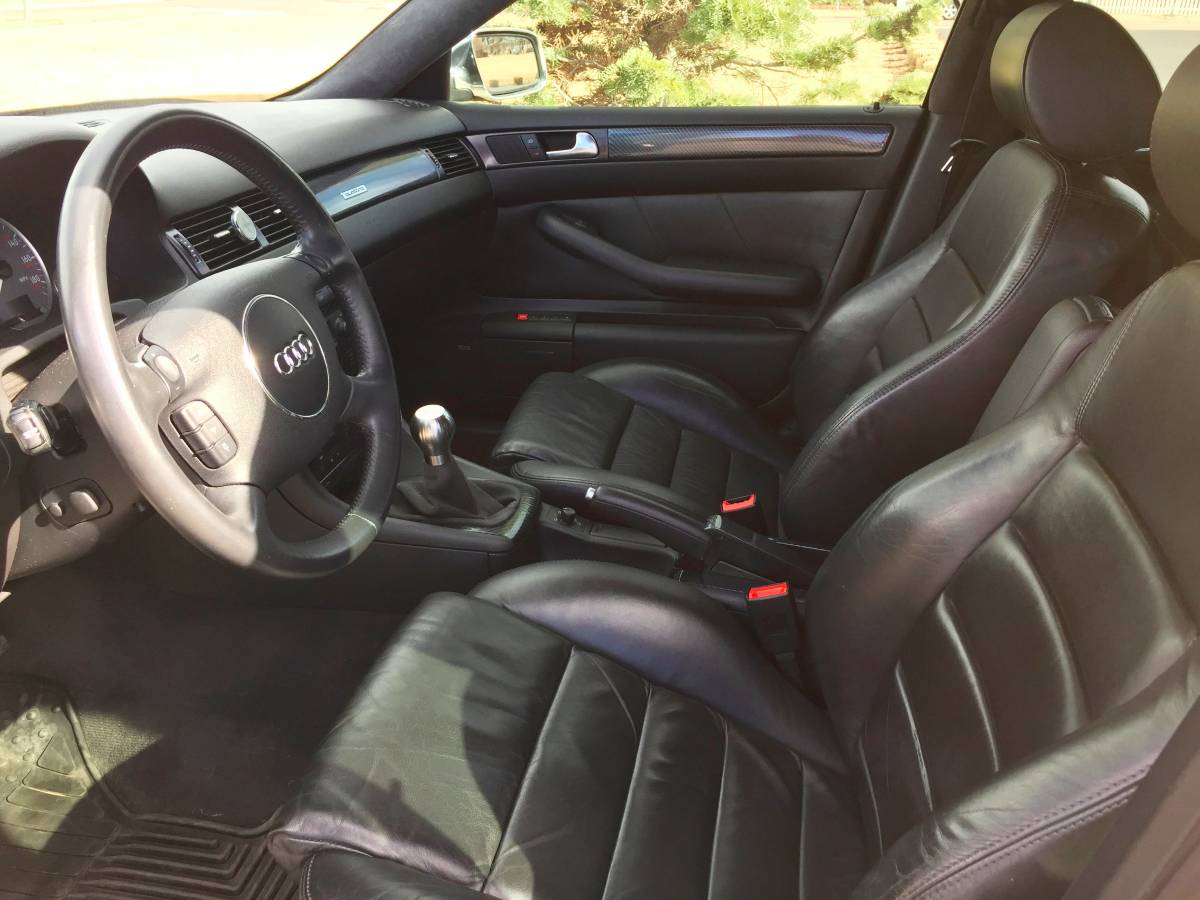 Rare opportunity to own a "turn key," well sorted and maintained '02 S6 with a recently installed 01E 6 speed conversion. See the very end of the post for an explanation on pricing.

History:
– First owner was/is a technician at Ed Carroll Porsche / Audi in Fort Collins, CO. Sold (thru Ed Carroll) for a B7 S4
– Second owner purchased and owned briefly before being transferred overseas, consigning it at Ed Carroll to expedite the sale
– I purchased it in May 2012 with about ~59k miles from Ed Carroll
– All service performed before I purchased completed by Ed Carroll
– All service performed while in my possession completed by Berg Performance in Denver

Vehicle highlights:
– 110,xxx miles (will increase modestly since I drive daily)
– 4.2L V8 40 valve engine (340 HP)
– Pearl white exterior / Ebony leather interior
– F/R heated seats and steering wheel
– Multi-function steering wheel
– On*Star (never subscribed but assume it works)
– Alcantara headliner
– Full size spare
– Bose audio
– Factory HID (xenon) headlamps
– Factory head unit with 6 CD changer
– Power / memory sport seats (driver and passenger)
– Sunroof
– Rear park assist
– Factory carpet and all-weather (rubber) floormats
– Memory driver and passenger seats
– Homelink system
– Switchblade keys
– All books and records (while in my possession)
– LATCH system installed on passenger side; have hardware for driver's side

Service:
I can provide every repair order for the vehicle since I took ownership in May 2012 and can truthfully say that there is no "deferred maintenance" on the car. If Berg Performance (Aaron) felt like something needed attention, it was addressed.

– Oil and filter services performed every 5K miles with 5W40 full synthetic, OEM filter and crush washer.
– Timing belt service (t-belt, serp belt, water pump, thermostat, rollers) completed at 67,596 miles and will not need to be addressed again until 140K.

An example of the services/repairs for the past 20K miles are:
– 108,464 miles — replacement of bank 2 valve cover gasket
– 108,464 miles — replacement of power steering line
– 107,199 miles — replacement of purge valve
– 107,199 miles — installed LED fog lamps (H3 Nite-Lux LED bulbs)
– 107,199 miles — replacement of battery (Deka AGM)
– 107,199 miles — 4-wheel alignment
– 106,657 miles — replacement of OEM cats with 200 cell high flow cats
– 104,925 miles — replacement of leak detection pump
– 104,925 miles — rebuild of RF outer CV joint
– 104,925 miles — replacement of pollen (cabin) filter
– 102,087 miles — JHM solid short thrown shifter installed w/ JHM weighted shift knob
– 102,087 miles — hydro dipped carbon fiber trim installed
– 101,605 miles – replacement of front brake pads — HAWK HPS for TTRS calipers
– 101,230 miles – 01E 6 speed installed with RS4 clutch kit (B5) and dual mass flywheel
– 101,230 miles – 4-wheel alignment
– 101,230 miles – replacement of LF outer CV boot
– 101,230 miles – replacement of power steering pump and return hose
– 101,230 miles – replacement of front torque mount
– 99,140 miles – replacement of both LF and RF upper rear control arms
– 99,140 miles – replacement of LF inner tie rod
– 99,140 miles – 4-wheel alignment
– 99,140 miles – replacement of fuel filter, air filter, and rear cross-over coolant hose
– 99,140 miles — rear diff fluid exchange
– 92,583 miles — replacement of coolant reservoir
– 90,879 miles — replacement of rear brake pads and rotors

Performance / Upgrades:
– 6 speed 01E transmission from a B5 S4, inclusive of new OEM (old style) 1st and 2nd gear synchros and shift collar deburred)
– RS4 clutch kit with OEM dual mass flywheel
– Milltek exhaust
– 200 cell high flow cats
– TTRS 370mm Front Brake Upgrade Kit with cross-drilled, vented rotors
– K&N panel filter
– JHM solid short throw shifter
– JHM weighted stainless steel shift knob
– Custom alcantera shift boot (OEM material to match headliner)
– Wood interior trim hydro-dipped with custom carbon fiber vinyl overlay
– Full LED fog lights (headlamp switch modified to work without headlamps)
– OEM headlamps cleared of amber reflectors
– LED reverse lights
– Smoked side markers
– NEO audio GROM Bluetooth hands free phone and music connectivity (integrates with multi-function steering wheel)
– Chrome delete on upper and lower front grilles (plasti-dipped black)
– OEM C5 Allroad stainless door blades (also have originals)
– Full front bumper clear bra including headlamps

Condition (Exterior / Interior):
– Overall, above average
– Leather on seats in great shape with minimal wear on driver's seat bolsters
– Smoke free
– No holes, stains, tears throughout interior
– No missing pixels in cluster, climate controls, or head unit
– Front right, lower bumper is cracked
– Typical, minor dings/scratches for a 15 year old car, but nothing significant
– Minor peeling on interior trim (damn that "soft touch" material)
– Small card pocket on drivers side door inoperable, but in "closed" position
– Minor curbing on 3 of 4 Hartmann wheels

Pricing:
Based on feedback, I'm providing several options insofar as wheel/tire set ups and accessories included with the car. The base price of $14,795 includes the summer set up consisting of –
– 19 x 10 Hartmann HPO-310 Porsche Fuch replicas
– 255/35/19 96W XL Dunlop Signature HP tires (~10K miles on them)
– H&R Trak Spacers (required to convert from 5×130 or 5×112 bolt pattern
– Black lug bolt covers

Add $500 to base price for the winter set-up (currently installed) consisting of –
– 18 x 8.5 RS6 replica wheels (curbing on all wheels)
– 225 40 18 Nokian Hakkapeliitta 4 tires with no less than 8/32 of tread
– 3 extra 225 40 18 Nokian Hakkapeliitta tires with between 8 and 6/32 of tread
– ECS 10MM spacers with extended bolts (required to clear BBK)

Add $300 to the base price to include a set of 19 x 9 RS6 replica wheels (anthracite in color – no tires – curbing)

Add $200 to include custom fitted Whispbars and ski rack

Title is clean and in hand. Ideally, would love to see this car go to another enthusiast who will appreciate it. It's extremely reliable, a tank in the snow, turns a lot of heads, and gets nods of respect from others who know how rare it is. I'm not interested in trades and would like to move this vehicle quickly since I've already found and purchased its replacement.

See below link for pictures. Happy to provide more specific pictures on request. Just let me know what you're looking for.
• https://www.icloud.com/sharedalbum/#B0S532ODWLJG57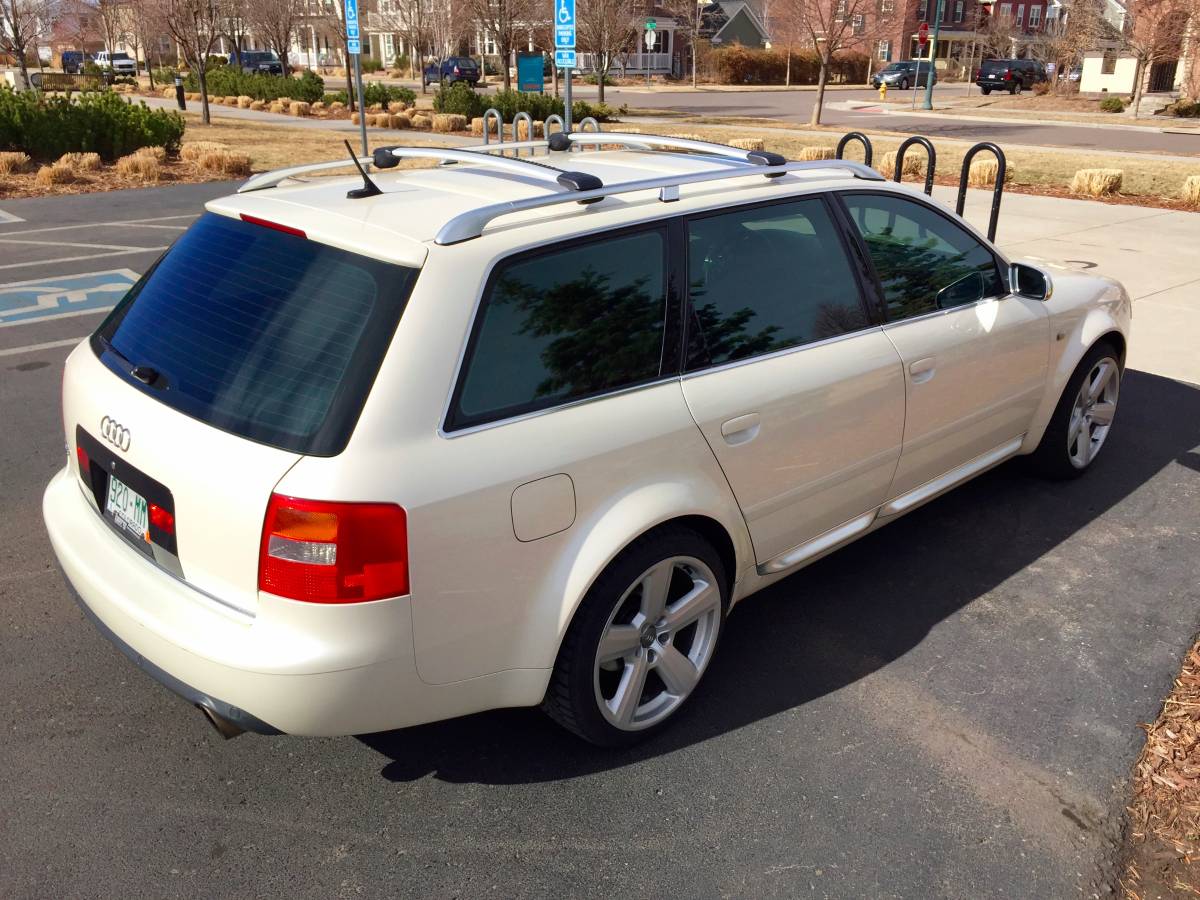 Originally this car was part of a duo that came up for sale at the same time that our reader John spotted, and I posed the same question to him. In fact, everyone I've asked has said the same thing – that it's strange to go through the effort of the swap only to trade the car. Such is the cost of the undertaking – nevermind the underlying cost of the original model – that there can't be much of any return on investment. Perhaps it's that, with a blown transmission, all residual value is gone, and even with a rebuilt unit the car isn't worth a tremendous amount more? The delta between the manual swap and a rebuilt ZF 5-speed automatic isn't very big according to some estimates; Coventry Motorcar recently swapped a C5 and claimed about $4,000 worth of work, if memory serves me correctly. I suppose there's an argument that, once complete, a greater audience of enthusiasts are willing to enter into what was otherwise a niche Audi market. For those of us on the sidelines and not intimately involved, it will continue to be a strange call.
Regardless of motivation, this Pearlescent White Metallic 2002 looks to be quite nice overall. The maintenance and, in general, the modifications are well done. At first the Hartmann wheels looked neat to me, but it's unfortunate that for such a high-dollar example all three sets of wheels offered are replicas. Despite this, 18″ Audi wheels aren't hard to come by or particularly expensive so that shouldn't hold many back. The same price as this car gets you into the flashier, but higher mileage, S4 Avant from the other day. The BBD has the advantage of a timing belt and despite similar construction, the belt-driven S6/S8s seem to fair better at high mileage than the BBK in the B5/B7. The C5 is also quite a bit more roomy than the B-series cars, making it truly a viable family ride. Undo some of the black-out bits and stick some subtle factory RS6 wheels on, and you'd have a 340 horsepower family rocketship ride for entry level economy car money.
Thanks to our reader John for sending this one in!
-Carter