Warning!
This post is in our archives. Links in this post may have been updated to point to similar cars available to bid on eBay.
Pretty though it may be, it was not the appearance of this Ming Blue Metallic Audi C5 S6 Avant that won me over. I think pretty much all C5s look good, Avant or Sedan, 2.7T or RS6, they're all visually pleasing in my book. No, the reason I'm writing this car up is because the seller has equipped the car with a 6spd manual transmission. The automatic Audi stuck us with here in the United States probably didn't seem so bad when it debuted, but in 2015, the 5 speed ZF 5HP24A can go suck an egg. These enthusaist focused machines deserve 3 pedals, shame Audi didn't feel that Americans did when they sold it new. On the upside, it seems more and more folks out there are stepping up and plunking down the money to make the change to a manual. While it's not the most expensive procedure in the world, it's by no means cheap, especially if you do it the right way. It seems this is one of those jobs where no expense was spared, as the parts list below reads like an Audiphile's Christmas list.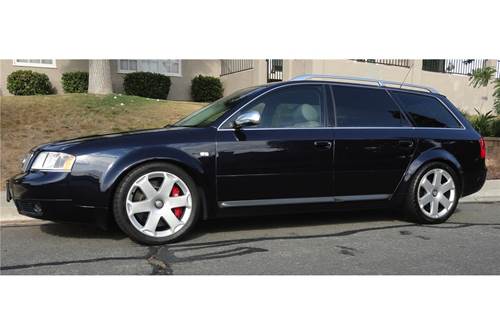 Year: 2002
Model: S6 Avant
Engine: 4.2 liter V8
Transmission: 6-speed manual
Mileage: 85,000 mi (1,200 mi on transmission)
Price: $21,000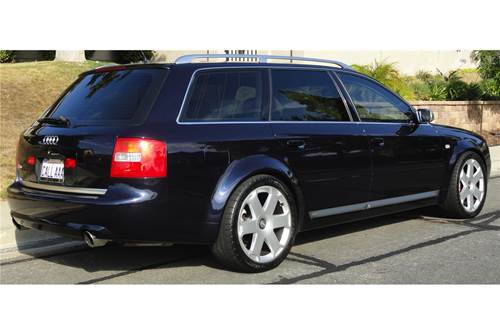 2002 Audi S6 Avant w/ TDI 6-Speed conversion
Ming blue metallic

85,000 miles (1,200 on new transmission)

6 speed TDI transmission, rebuilt by Scotty at Advanced, cryo-treated 1st and 2nd gears, main shaft
RS4 Clutch
Reconditioned prop shaft from Advanced
Dual mass flywheel
B5 S4 shift knob
JHM short throw shifter
leather shift boot color matched to interior
18 inch Ronal 18×8 ET45 (from B6 S4) Avus style wheels repainted in (close to) original silver
Michelin Pilot Super Sport 265/35-18
Brembo GT 355mm 6 piston front brakes, 2 piece rotors
H&R spacers F-20mm/R-25mm
H&R coilovers
H-Sport Swaybars
Milltek exhaust
Denison audio iPod cable (iPhone 4 style plug)
Yakima crossbars and wind deflector. Crossbars cut to fit roof rail width.
Retractable cargo cover and retractable cargo area divider thing
Elastic cargo net
Rear seat cover for dogs
Tint front 50%/rear 15%
Heavy duty winter floor mats included
C5-specific sunshade
Telematics/On-Star
Cold weather package
Always garaged
No smokers. Smokers aren't even allowed NEAR it.
Bentley manual
Probably some extra Audi propaganda thrown in

Maintenance highlights
Timing belt (2011)
Upper control arms (2012)
Valve cover gaskets (2013)
Replaced evap canister and purge valve (2014)
No problems passing CA Smog
Maintained by Pure Motorsport, San Diego, CA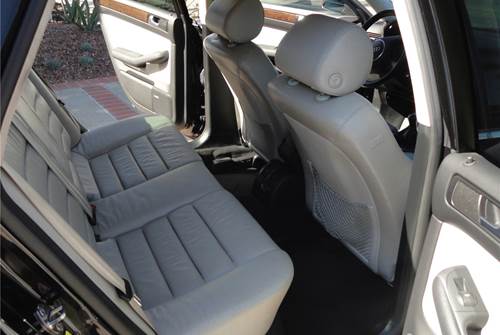 Are you thinking about getting in touch with the seller yet? I know I was after scrolling through the parts list. There's so much good stuff in there, 6 piston Brembos, Milltek exhaust, JHM short throw shifter, the goodies go on, and on. However, there are a few things missing in the post information wise. The seller does not note what kind of TDI the manual transmission came from, a question that's easily answered by contacting them, but it would have made sense to include this in the post in my eyes. There's also not a single photo of the front seats or center stack. This could be an error since there are two of the same photos of the backseat, but I don't see how you can make a post live without shots of the front seats. These are pretty minor annoyances, both easily remedied by contacting the seller, but it still irks me.
What doesn't upset me at all about this car is how much the seller is asking for it. $21,000 isn't all that much for a clean S6 Avant with 85k on the clock, but throw in the fact that it has a 6-speed manual with just 1,200 miles on it, and I think you're looking at a great value. The only question lingering in my mind is why is the seller looking to let the car go? Perhaps he's had it long enough and enjoyed those first 1,200 miles with the manual, and is now ready for something different. As someone who would switch cars every couple of months if possible, I could certainly understand if that was the case. If everything checks out with this S6, I think someone is going to take home a really special car at a good price.
-Andrew