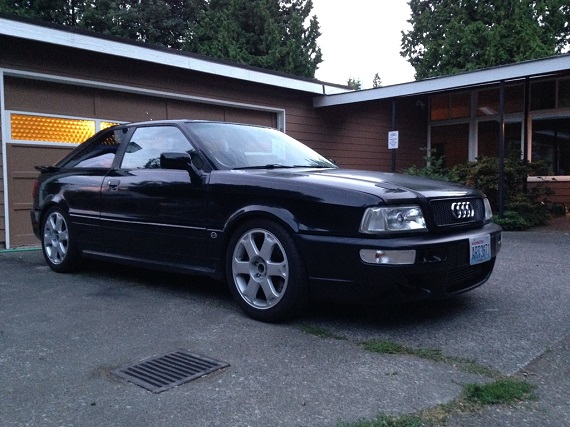 In my recent "Gimmie Five" 10K Friday, I charted some of the developments of the venerable Audi powerplant. Though the Eurovan would continue using I-5s in some applications, ostensibly 1997 would see the end of the line for the original configuration with the discontinuation of the S6 even if it's returned in spirit in the new 07k turbocharged 5 seen in the TTRS and RS3. Those cars are the successors of the original small turbocharged Audis; the Quattro and the S2 coupe and Avant, and while we briefly got the 10V Quattro, none of the later small turbocharged variants came to the U.S.. For enthusiasts that were unwilling to wait for either the new models to launch or the European models to become legally eligible for importation, a popular pursuit has been to recreate the turbocharged package in the small chassis. Adding the turbocharged motor in 20V form instantly transformed the B3 and B4 into performance machines, and with plenty of tunability in the package it was possible to create a really serious package. That tuning has been taken to another level by an entire generation of new electronic fuel injection management which exploits the longevity and stout construction of the inline-5 and makes absolute monsters. Sure, it was impressive that Audi produced versions that managed the best part of 1,000 horsepower in certain tune in the 1980s – but that, of course, was a major manufacturer with near unlimited budget. What's more impressive is that small tuning firms subsequently have been able not only to match but to exceed those power levels, with companies like 034 Motorsport and Dahlback Racing making 1,100 – 1,200 plus horsepower variants on their own. Even though the B3 chassis is fairly heavy, if you can turn up that boost to high levels you've got yourself a rocketship – and this S2 replica certainly has the right ingredients for that recipe: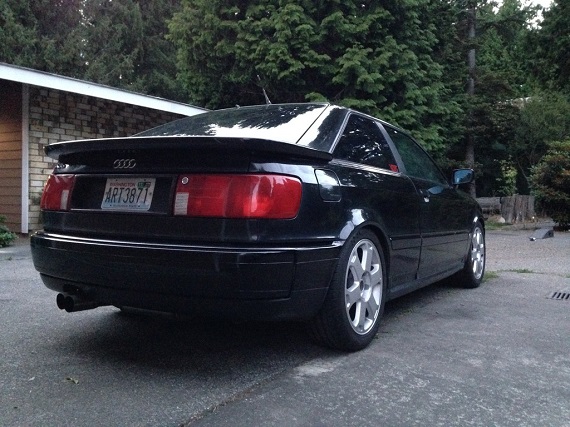 Year: 1990
Model: Coupe Quattro
Engine: 2.2 liter turbocharged inline-5
Transmission: 5-speed manual
Mileage: 179,000 mi
Price: $13,500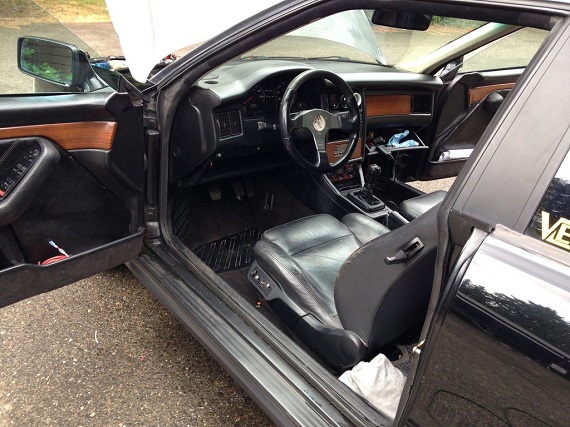 Time to put up a "feeler" Have put over 2 years of my life and ALL of my money into resurrecting this car and it's been a very bumpy road .Time to part ways and work on something else.
Wont take any less than 13,500. Wouldn't trade for anything except an Ur-Quattro.
Can be contacted at 02s4avant@gmail.com
Located in Bellingham, Wa
If you have been following my thread, you know I have over 2 years, countless hours and a house down payment worth of money into this, last year after finally getting the swap completed and engine running the rod bearings failed. So I took that opportunity to upgrade to I-beam forged rods and so some light head work, all new top and bottom end gaskets, new oil cooler and lines, countless other parts. Almost every part for this build was sourced brand new and I have a spreadsheet to track where everything was purchased and #'s.
Everything in the engine is well sorted and new. Have a lot of hours into the tune and the car runs great, pulls very hard, and gets great mileage. The car is tuned to run .95-1.0 Lambda at idle and light cruise, but drops to .85 lambda under heavy throttle or boost, peaking just over 20 PSI. The car has not seen any boost since firing up with the new engine as the boost is disabled right now (unplugged N75) to allow some easy time for engine break in. Does not burn any oil.
As far as needs, there are a bunch of small things listed below

http://motorgeek.com/viewtopic.php?f=11&t=826″ onclick="window.open(this.href);return false;" onclick="window.open(this.href);return false; <-- Most of the build is documented here. The AAN was used for a number of reasons and I chose to retain the use of the stock intake manifold with the "Hank mod" (TB moved forward to facilitate side mount radiator fitment), also used an AAN serpentine belt setup which makes working on anything in front of the engine really nice and easy. less belts involved. Suspension/Brakes - Koni/Ground control coils with Eibach springs (I think 350/380#) - Urs4 rotors/hubs front and rear - Porsche 993 Brake Calipers - New A8 323x30 rotors - Milled to fit RS2 Caliper carrier brackets - Stock rear coupe caliper - Rear B5 A4 drilled rotors, New - Braided steel lines up front Wheels -B5 S4 Avus 17" -NEW 235/35/17 Michelin Pilot Super Sport tires Engine Rebuild (done in 05-06/2015 All parts brand new unless mentioned otherwise:) -All bottom end gaskets and seals replaced, lower end rebuild kit from EFI Express -All top end gaskets and seals, top end rebuild kit from EFI Express -Head: Leakdown test, Valve grind, new valve stem seals -7A cams from original 180k coupe engine -New MLS head gasket -Block was well within factory clearance, but had it cleaned and Honed -New Goetze piston ring set -New DM Forged I-Beam connecting rods -Used Crankshaft from INA engineering, polished -New Calico dry film coated main and rod bearings -Sent out the Rods, Crank, clutch, flywheel, crank pulley, pistons, and rings and had everything balanced -New timing belt kit, water pump, thermostat, tensioner roller. -7A valve cover, powder coated red -7A oil pan. Transmission/Clutch -5-speed 01A trans. ~190K miles -Spec SA233F stage 3+ clutch. Good for 450 lb/ft torque and very DD-able (full disc not pucks!) -034 Aluminum single mass flywheel -New pilot bearing and circlip -New accessory belt tensioner -New Bosch alternator -Short Shift kit (034?) Performance, etc. -VEMS AAN PNP ECU -EGT Probe -Wideband 02 sensor -VEMS display round gauge (displays EGT and AFR real time) -HKS shallow style 100mm air filter -Tial Sport "Q" BOV -Tial MVR 44mm Wastegate -034 Tubular header - Cerakoted in "black velvet" -034 3" Downpipe - Cerakoted in "black velvet" -Tig'd stainless 3" exhaust running one Magnaflow 3" single in/dual out muffler -Garrett GT3071 0.63 A/R, 4" Anti-surge inlet 3" V-band outlet - new from 034 MS -034 coolant and oil supply and return lines -034 Aluminum flywheel -Spec 3+ Feramic clutch -034 Fuel rail - used -034 MS fuel line kit -Aeromotive FPR -Bosch "Green Giant" 42#/hr injectors -Bosch 044 fuel pump -GSP v taper FMIC - 2.5" in/outlet 15x12x3.5" core 500 HP -Mishimoto X'line 3 row aluminum radiator MMRAD92CIVX -Perma-cool 1,200 CFM fan, wired to a switch under the dash -New upgraded oil cooler, custom made high pressure oil hoses from Industrial Supply Co. -OEM AAN Alternator and tensioner- brand new from Audi -1995 Audi 90 PS pump to facilitate Hydro Brake boost and ABS delete -Audi 4000 brake booster to facilitate Hydro boost/ABS delete - sourced from parts car -New interstate battery MTP-91, relocated to trunk -034 High output coil kit -Autometer oil pressure gauge and sender, from the AUX gauge location in the engine block Exterior/body -Rieger RS2 Bumper- ABS plastic not fiberglass. -Porsche 993 fog light/brake cooling duct inserts -OEM Porsche 993 Turn signals -Fiber images carbon fiber B4 hood (was damaged and then repaired at one point- shape is perfect but needs paint [see pics]) -Rs2 ellipsoid headlights -HID kit installed in RS2's utilizing a seperate VLEDs Relayed harness to avoid power issues -Euro rear license plate section -Stubby antenna -Rear wiper delete Cons: - One very small dent on the front fender, hardly noticeable unless you're me - Odometer doesnt work, bought a used cluster today (7/16) that's had all the gears replaced to use as a fix - Power windows, door locks, or sunroof aren't working at this time. - No AC -drivers seat bottom and bolster are torn -some of the plastic pieces in the interior arent installed but I have them -door panels were delaminating and someone before my ownership stapled it in place. -Hood latch mechanism, at some point before I got the car did not hold, so the fiber Images carbon fiber hood flew up and sustained some damage. this was then professionally repaired but has not yet been painted. At this time, the P.O. added some nice flush mount hood pins. They work well! -Front bumper is not painted - Somewhere in the last year or so I started getting impatient and some of the small brackets, fab work is bare metal and not painted.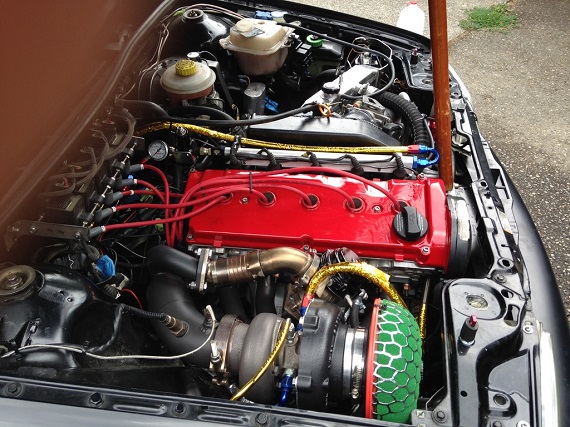 Externally, this car mimics some of the styling of the S2 and RS2, with the B4 hood conversion and ellipsoid lights along with the Porsche-turn signaled RS2 replica hood. Lowered on Ground Control coilovers and Koni shocks, the ride will be pretty stiff but offer a lot of body management. The B5 S4 Avus wheels might be a generation too new, but they actually channel the later S2 Avus wheel design and are a good overall fit – with awesome Porsche/A8 brakes hiding behind, braking should be much better too than the stock G60 calipers and look better. But you're not buying this car for the look; the real value here is in the heavily developed inline-5 20V turbo motor, running VEMS EFI and with a host of upgraded parts from 034 Motorsports. It should be capable of some pretty serious numbers and is freshly rebuilt, plus is really cleanly executed and looks professional. The asking price represents what, only a few years ago, companies like 2Bennett were asking for swapping in a stock 20V Turbo – nevermind the RS2 bits, upgraded suspension and brakes, and even the base car itself. There's clearly a lot of time and effort, along with expensive parts, that make up this build. Certainly there are finishing touches that could really put it over the top, but that's exactly the way I'd rather have a car like this – mechanically sorted with some minor cosmetic needs. There's certainly nothing that will offer the amount of performance and style that these Coupes offer for any less than this package.
-Carter