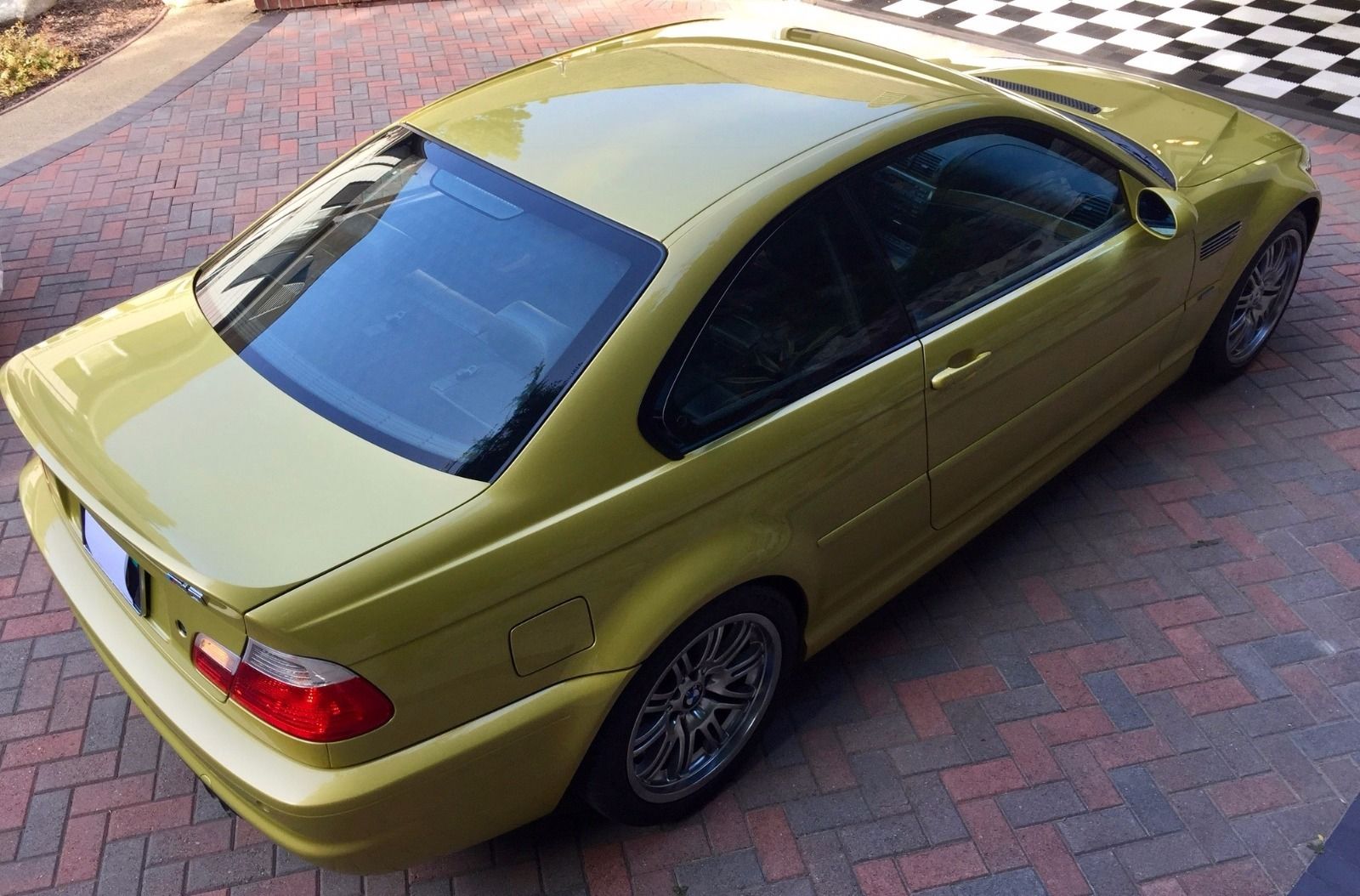 A familiar face popped into my usual searches this week. It was a 2001 BMW M3 in Laguna Seca Blue. What stood out immediately were the wheels (okay, and the color); BBS CH and near faultless condition throughout pointed towards the example I looked at twice in 2014. Three years later, it's still for sale and though the price has dropped, the seller is still looking for the best part of $60,000.
In the future, that price may not seem quite that outrageous. After all, finding a perfect condition, 10,000 mile M3 in one of the two signature colors isn't something you come across everyday, right?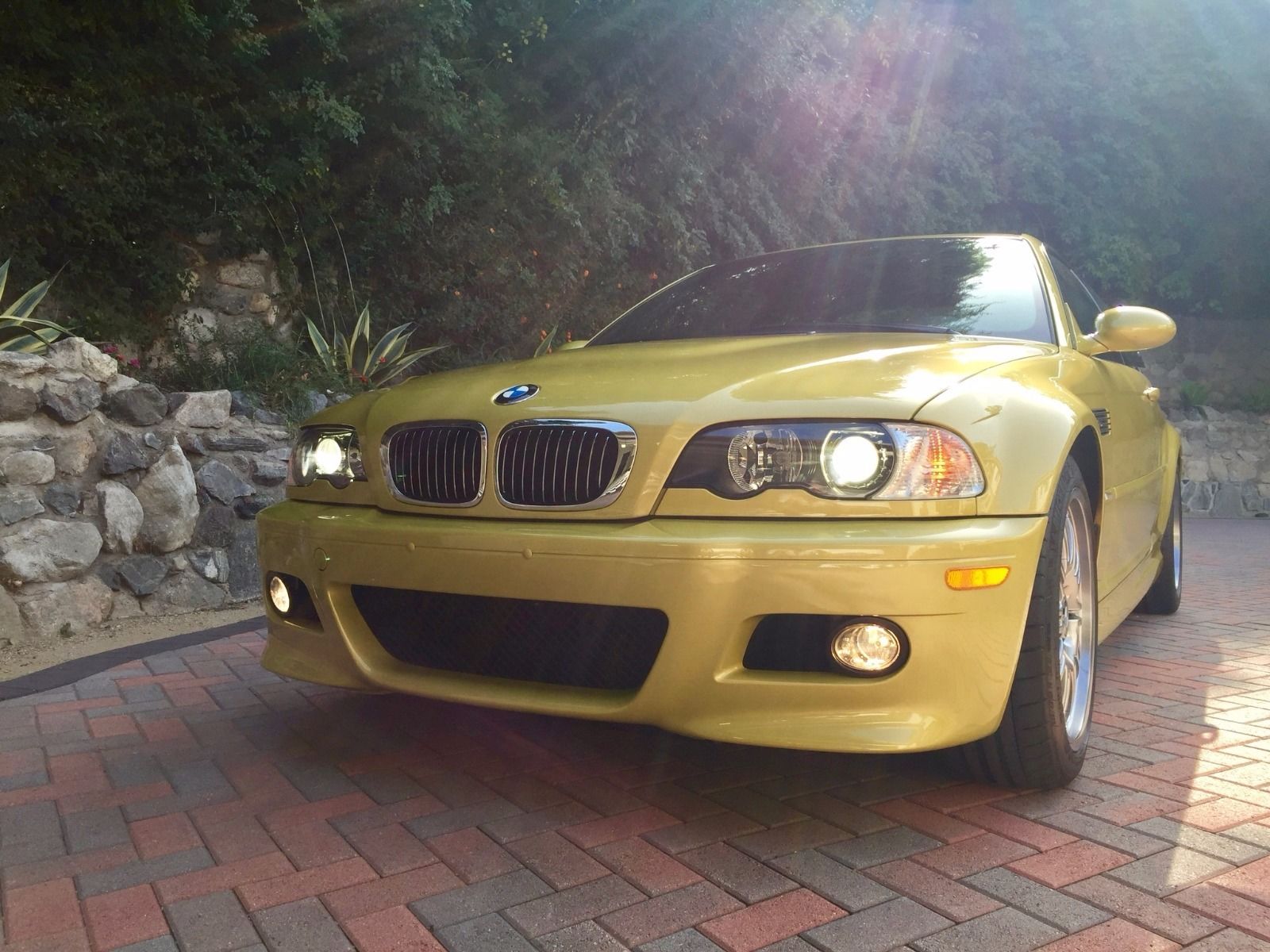 Year: 2002
Model: M3
Engine: 3.2 liter inline-6
Transmission: 6-speed SMG semi-automatic
Mileage: 11,692 mi
Price: $32,995 Buy It Now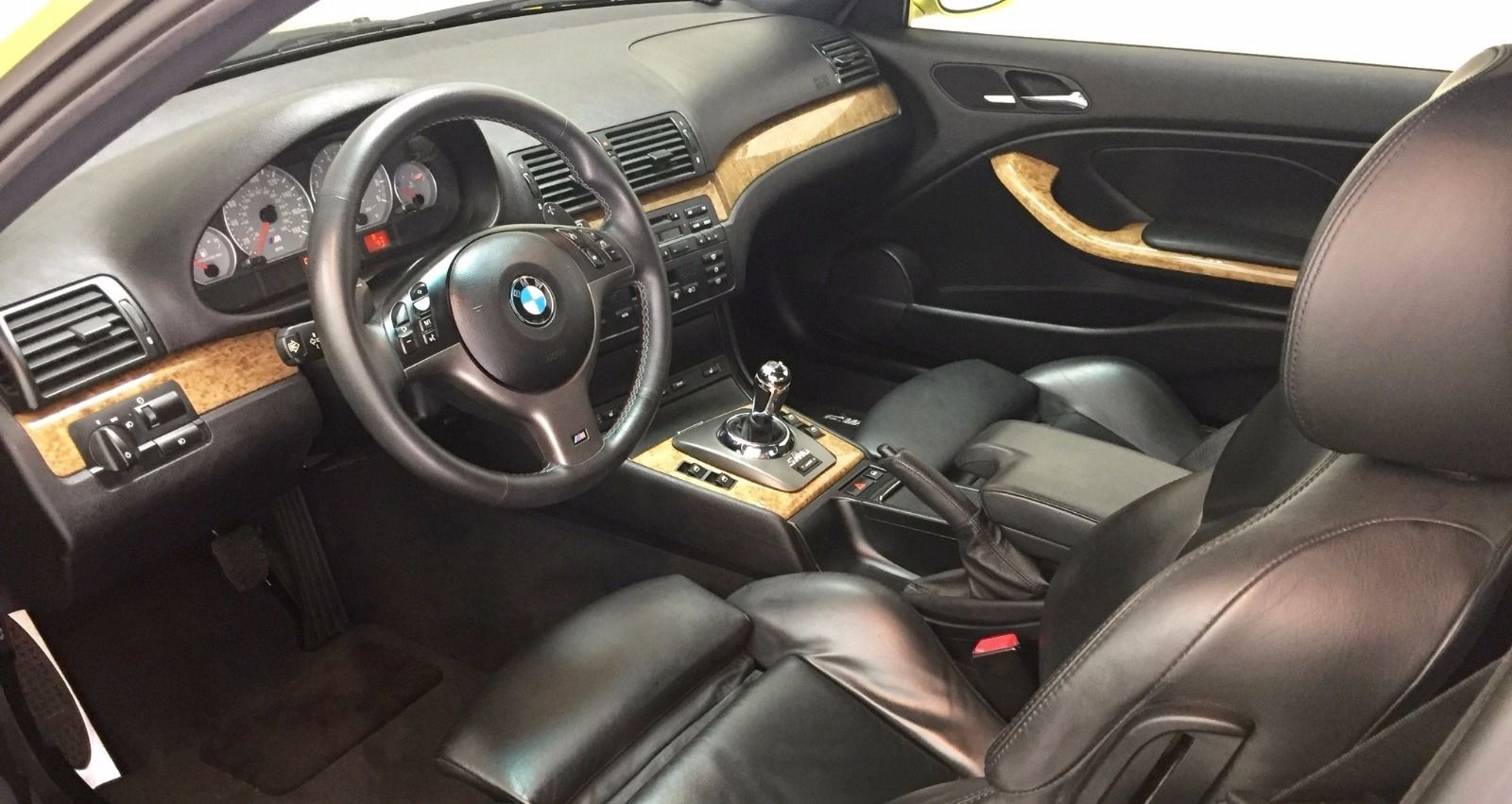 11,692 MILES
RARE MOONROOF DELETE ("SLICKTOP")
RARE PHOENIXGELB METALLIC
OEM CSL TRUNK
OEM CSL REAR VALENCE
BLACK NAPPA LEATHER INTERIOR
NO ACCIDENTS
CLEAR TITLE
ADULT OWNED
NON SMOKING
GARAGE KEPT
ONLY DEALER SERVICED
UNMODIFIED ENGINE/SUSPENSION
OEM STYLE 67 18″ WHEELS (NEW)
OEM STYLE 219M 18″ WHEELS (NEW)
MICHELIN SS TIRES (2 SETS OF 4, NEW)
RECENT OIL CHANGE
RECENT CA REGISTRATION
RECENT CA SMOG (PASSED)
SUBFRAME/RTAB'S INSPECTED (PERFECT)
ALL BOOKS/RECORDS
BOTH KEYS

CALL 646-217-9225 FOR MORE INFO
NO DEALER SOLICITATIONS
THIS IS A PRIVATE OWNER SALE
WILL CONSIDER COLLECTOR CAR TRADES

The E46 M3 Coupe was discontinued by BMW in 2006, making this low mile example perfect for collectors and investors alike. Similar to the Porsche 911, the E46 M3 is an instant classic whose value will no doubt keep climbing into the future. Hagerty Insurance recently listed the BMW E46 M3 as a Top 10 Classic Car to Buy in 2017. In fact, it was #1 on the list.

This 2002 E46 M3 "Slicktop" Coupe comes in rare Phoenixgelb Metallic with Black Nappa Leather interior has been ADULT-OWNED since new. It is a wonderful blend of sporting/luxury German engineering that is light, tight, powerful and responsive. This M3 is super clean and nearly flawless in every way—it always turns heads and gets immediate attention.

This M3 has not been modified mechanically, nor has it been raced, auto-crossed, driven hard, nor launched. It is essentially new and stock with the exception of a few tasteful aesthetic/convenience modifications. Of the few modifications that were made, ALL WERE PROFESSIONALLY INSTALLED (NOT DIY)—I cannot stress this fact enough and it absolutely shows. All the body gaps are perfect. No sagging headliner. Everything functions perfectly. There are no issues, no damage, no repairs, no wheel curb rash. This car still smells new!

PROFESSIONAL MODIFICATIONS

Genuine BMW CSL Decklid installed (new)
Genuine BMW CSL Carbon Fiber Rear Valence installed (new)
Genuine BMW Eucalyptus Malt Wood Interior Trim installed (new)
BAVSOUND Stage I Audio Upgrade installed (new)
BAVSOUND Subwoofer Upgrade installed (new)
Sirius Radio enabled (new)
iPhone Dock/Bluetooth installed (new)

EXTRA PARTS INCLUDED IN SALE

Original OEM M3 Decklid (excellent)
Original OEM M3 Rear Valence (excellent)
Original OEM M3 Titan Grey Interior Trim (excellent)
Original OEM M3 Harman Kardon Speaker System (excellent)
OEM 219M "Winter" Wheel Set w/ new Michelin PSS Tires (new)
Strassentech Roof Spoiler (new)
2 Car Covers (Indoor/Outdoor)

This M3 benefits from the 3.2L S54 engine delivering a 333 hp and 273 lb-ft of torque, featuring a 6 speed SMG II Drivelogic transmission with BOTH a Stick Shifter AND steering wheel-mounted Paddle Shifters (European rally-like).

SMG II was a $2,500+ option that was first developed by Ferrari for BMW and was the only transmission you could get on the legendary race-purpose CSL.

Do your research on SMG II and you will read conflicting opinions. Many enthusiasts will sing the praises of manual-only cars having never stepped foot in an SMG II car. I have driven both and noticed no performance difference. In fact, SMG II gives you more options—Automatic or Manual—Paddle Shifting or Stick. Both of these are useful and fun! If you live in a heavily populated metro area, SMG II is the way to go.

BMW FACTORY INSTALLED OPTIONS LIST
S441 Smoker package
S459 Seat adjuster, electric, with memory
S473 Armrest front
S490 Adjuster, backrest width
S494 Seat heating driver/passenger
S508 Park Distance Control (PDC)
S522 Xenon Light
S640 Preparation f tel.installation universal
S650 CD player
S674 Hi-Fi System Harman Kardon
S692 Preparation, BMW 6-CD changer I-bus
S793 Sequential M transmission Drivelogic
S210 Dynamic stability control
S249 Multifunction f steering wheel
S354 Green windscreen, green shade band
S431 Interior mirror with automatic-dip
S520 Fog lights
S534 Automatic air conditioning
S550 On-board computer
S645 BMW US Radio
S661 Radio BMW Business (C43)
S710 M sports steering wheel, multifunction
S775 Headlining anthracite
S785 White direction indicator lights
S845 Acoustic belt warning
S853 Language version English
S876 Radio frequency 315 MHz
S992 Control of number-plate attachment

This combination of mileage, provenance, treatment, condition, options, color, and extras put this M3 in an elite class of collectible automobiles.

My goal is to make this transaction totally safe and secure for both parties. I will happily assist with PPI's, requests for info, and shipping via Buyer's transport company of choice.

TERMS & CONDITIONS
$1,000 non-refundable deposit is due from the Buyer upon auction end or upon winning bid.

Full payment is due from Buyer within 3 business days of auction end or winning bid.

Buyer is responsible for transport (set up and fees) within 5 business days of payment clearing.

On Day 6, storage fees of $25 per day begin and must be paid before vehicle will be release to transport or Buyer.

Bank or money transfer fees are the Buyer's responsibility.

Tax, title, and tags are the Buyer's responsibility.

Seller will not "hold" the car for purchase on the promise of payment.

Do not Buy unless you have full funds available or financing already approved.

If Buyer reneges or breaks any of the deal Terms & Conditions, Seller will file a formal complaint through eBay, take full legal action as allowable by law, and block bidder.

Car is owned outright by Seller. Clean and clear title in hand.

Car is sold as-is where-is.

Seller strongly recommends/welcomes a comprehensive pre-purchase inspection (PPI).

Priority will be given to those seeking/executing a PPI.

CALL 646-217-9225 FOR MORE INFO
NO DEALER SOLICITATIONS
THIS IS A PRIVATE OWNER SALE
WILL CONSIDER COLLECTOR CAR TRADES

Thank you!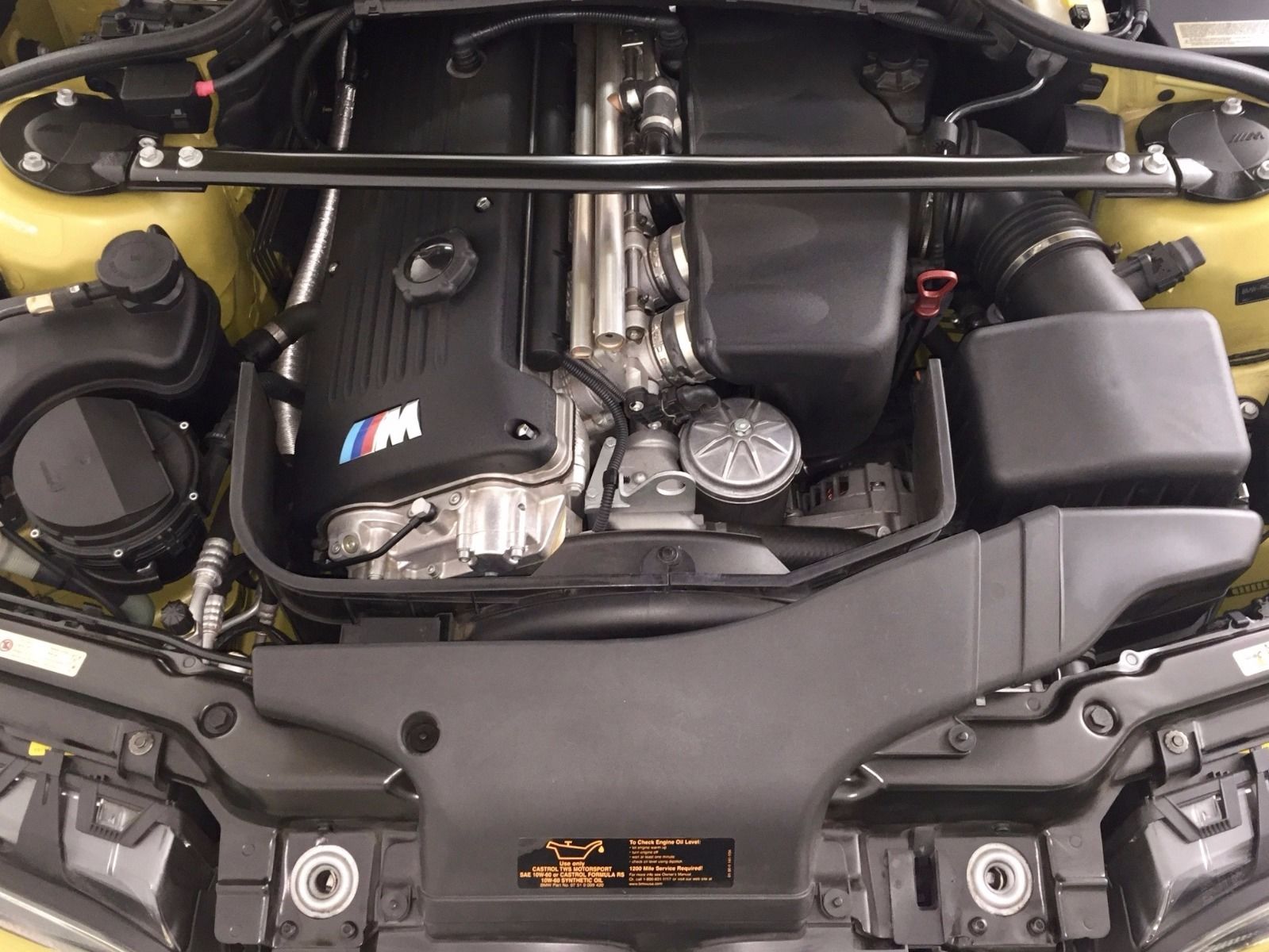 Phoenix Yellow is just outstanding to look at; in the sea of blacks, grays and silvers that populate the "M3" search criteria (occasionally punctuated by a red or blue, admittedly), Phoenix is a beacon of individuality. Obviously, it's my preferred color as well; this example is a near copy of my car. The black leather shows nearly no wear to match the outstanding exterior condition. This car also combines the rare exterior color with some quite desirable options that help to further distinguish it; a non-Navigation example, it's otherwise well equipped with standard luxury features. However, there's no sunroof – infrequently seen. The seller has also added nearly the full compliment of factory CSL bits and includes the original items. The shadowline Style 67s are correct and when in near perfect condition like these still look fantastic, but if you don't like them there's a set of the newer E9x 219M wheels included. Of special note, and again quite rare to see, is the lovely inclusion of the Eucalyptus Malt Wood trim kit. One critique I have of my car is that, even with the bright brushed aluminum trim, the interior is quite dark and nearly all-black. The wood really livens up the tonality of the cockpit.
Condition is top and commensurate with the ultra-low mileage. Yet unlike the Laguna Seca Blue 6-speed car with similar mileage (and, also notably not original with the Dinan bits), the asking price is about half at $32,995. As with my car, the SMG transmission is both a blessing and a curse; On the latter side, it keeps value slightly lower in today's market but for an enthusiast, that means you get much more car for your money. Having now spent two years with the SMG, it really is a fun car to drive and I never have thought that it diminishes the experience of M3 ownership. There are, of course, those who will immediately pass over this car solely because of the transmission; for those individuals, a deal like what this car represents simply won't be coming down the line in my opinion, since lower mileage 6-speed manual coupes are already fetching at least this asking price if not more.
-Carter