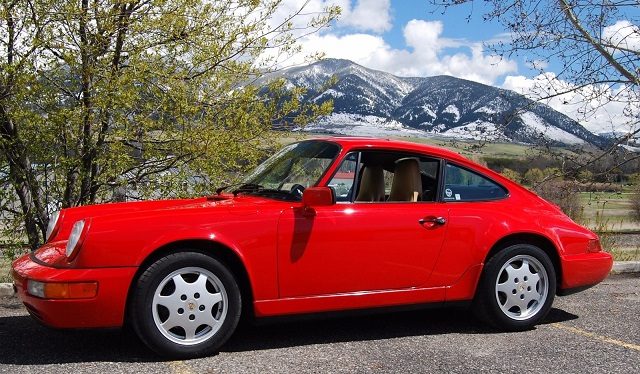 I've mentioned a few times the 964 Carrera 4 that lives up the street from me. It's the only 964 I see with any frequency and it is always a joy. I know it is approaching by its sound and it always looks great in a way that modern Porsches do not. But, ultimately, it's not what I would consider ideal were I in the market for a 964. First, it's a Carrera 4 and I'd prefer a Carrera 2. That's partly just a general preference between the two models, but also related to some of the teething issues we find with Porsche's first Carrera 4. If I really wanted an air-cooled Carrera 4 I think I'd look at the 993. Second, it's white and while I do think it's very nice looking that's not really the color I'd like.
Well, the one we see here solves both of those problems. Here we have a Guards Red 1991 Porsche 911 Carrera 2 Coupe, located in Montana, with Beige interior and 87,800 miles on it.
Year: 1991
Model: 911 Carrera 2
Engine: 3.6 liter flat-6
Transmission: 5-speed manual
Mileage: 87,800 mi
Price: $51,995 Buy It Now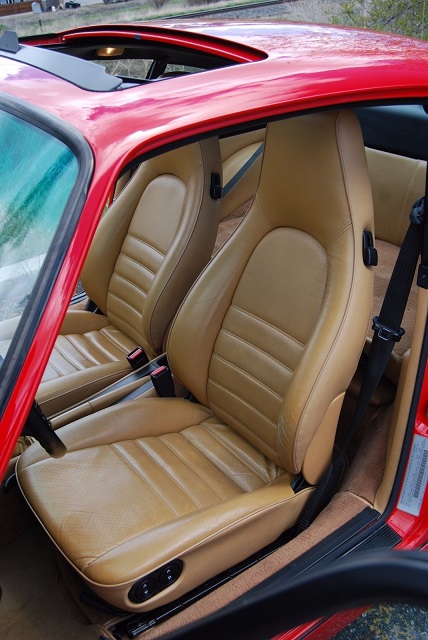 Up for auction is an excellent fully documented 91 C2 5 speed coupe. Full service history from new, always garaged, never a daily driver fully serviced car, all documentation and books. No engine oil leaks, no issues with head to cylinder oil leaks. New tires and fresh service, ready to be driven anywhere. Very few 964 5 speed coupes available, even fewer very nice original cars. Have original radio and other misc parts.
There's certainly a lot to like with this 964. We don't get to see much of the interior, but what we do see looks good. A broader view of the dash and associated components would be nice to have. The seats look in good shape though and everything we do see looks very clean. The exterior also looks good and we're told the paint is mostly original. Some clarity on the "mostly" would be good just to be sure there isn't an accident lurking in its history that we need to be concerned about. Its service history is said to be fully documented and we are shown a large pile of receipts. Overall this looks like a good honest Carrera 2 with quite reasonable mileage and good documentation. Will that get it all the way to $52K? That I'm less sure about, but I'm certainly curious. 964s have never really shown the value of their successor, which usually would make them a nice air-cooled 911 value. This one strives to be a little more than that and we'll have to see if it can garner enough attention to achieve such a price.
-Rob