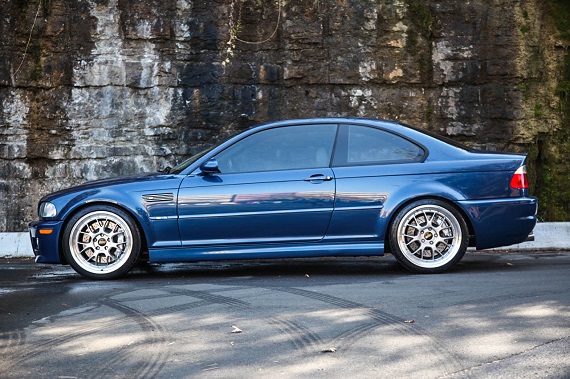 The BMW M3 was a massively successful car in terms of sales for the most recent chassis iterations. For the U.S. specification E46 Coupe, that meant some 26,202 were sold. Yet, when I was searching for a nice one to buy, finding a lower mileage, great condition and fully original car was extraordinarily hard. It wasn't that they weren't out there – pop on to EAG's site, for example, and all you need to do is pony up. Pony way up, that is, as most of their E46 inventory is priced above $30,000. However, the delta between really exceptional examples and really poor examples of the model is substantial. Even when not in stock form, such as the 2001 I looked at a few weeks ago, the asking price can be quite strong. However, drop the miles way down and present the car in a rare color, such as this Topaz Blue Metallic example, and sprinkle with some top-dollar modifications, and you've got an asking price that'll get you the much more powerful E92 replacement: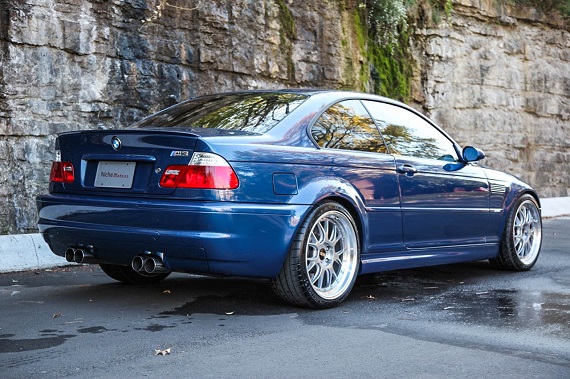 Year: 2002
Model: M3
Engine: 3.2 liter inline-6
Transmission: 6-speed manual
Mileage: 45,419 mi
Price: $32,900 Buy It Now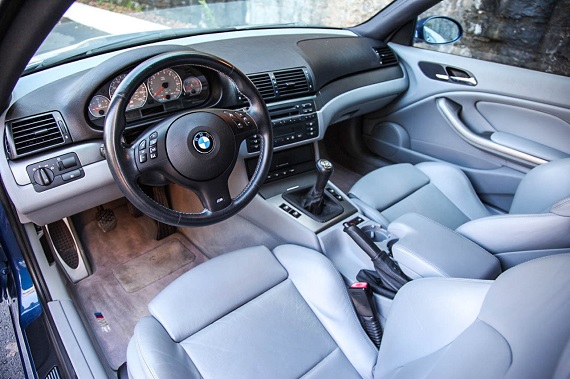 Up for sale is this stunning 2002 E46 M3 Coupe 6-speed! Extremely rare color combo of Topaz Blue over Gray interior. Topaz blue was only offered for 2 years before being replaced by Mystic Blue. This M3 was fined by 1 sole owner from new through May of this year when he sold it to his neighbor. I acquired the car from the neighbor and have all of the supporting documentation. This M3 has a 100% clean Carfax and auto check reports. The carafe shows were the car was first leased, and then the original owner purchased the car off lease but Carfax counts that as an additional owner, but I have paperwork to prove it was the same owner. ZERO accidents and still wearing 100% of its original paint on all metal panels! Both bumpers have been refinished due to small imperfections, but the paintwork was done to an extremely high level and looks superb! The interior is 100% original right down to the floor mats! Never smoked in, no kids, and no animals. The windshield is clean and free from any cracks or rock stars. This M3 comes with ALL books, paperwork, 2-keys, complete service history, etc. In the last 500mi this M3 has received a complete service including correct 10w60 Castrol Motorsport engine oil change, transmission fluid service, rear differential fluid service (correct BMW OEM fluid), fuel filter, spark plugs, and a fresh set of Michelin Pilot Super Sport tires less than 100 miles ago! This M3 is 100% ready to go! In 2008, just 5,000 miles ago, the original owner spent over $24,000 on some top-shelf premium bolt on upgrades. These upgrades include a 19" set of BBS LM-R two-piece lightweight wheels, Brembo Gran Truism BBK front and rear, Bilstein PSS9 fully adjustable suspension all the way around, and Meistershaft exhaust from the headers all the way back. LCI updated taillights have been added and the stock taillights are included in the sale. I have owned a handful of E46 M3s and driven plenty of others and this one takes the cake! It is so smooth, tight, firm, but not harsh. The exhaust note is spot on, and the brakes have enough bite to stop WW3. THIS is how an E46 M3 should look and drive. You would have a hard time finding another E46 M3 with this history, rare color, and primo upgrades. Whoever ends up with this car will have one hell of a nice E46 M3! Please refer to the pictures for the exact condition. This car has not been heavily wet sanded and buffed, no interior touch ups or replacements. There are a few very very small imperfections here and there, and only 1 notable scratch on the exterior near the driver's taillight that has been touched up. Wheels are clean, bumpers are clean (no scrapes) drivers seat shows a little wear, but no more than you would expect for a 45k mile car. This car looks, smells, and feels like a well maintained 45k mile car in every sense. Nothing to apologize for! Please call or e-mail with any questions. *** ——————————————————– Disclaimer: *** Mandatory Doc Fee of $250 must be collected and is not included in the sale price.*** We do our very best to represent the vehicles we sell both cosmetically and mechanically. Our best advice to potential buyers is that if you aren't sure of something or have a question, PLEASE CALL. Our stellar eBay reputation over the last 15-years should put anyone at ease, but please do your research, ask questions, and buy all means feel free to have any of our vehicles inspected prior to purchase. All the vehicles we sell have been serviced and inspected to some degree (please refer to description for details) BUT, with all that being said, all our vehicles are being sold AS-IS and WHERE-IS unless otherwise stated in the description. These are used vehicles so please expect there to be small blemishes, imperfections, and some repairs needed. If you need help making inspection or transportation arrangements, please contact us and we will gladly help! We are not like other car dealers! We are 'Car Guys' just like you and aim to please all of our customers to the best of our ability! Please call with any questions or concerns today!

Car is listed for sale locally and the auction can be ended at anytime ***Mandatory Processing Fee of $250 Must Be Collected and is not included in the sales price*** Please inquire about transportation quotes!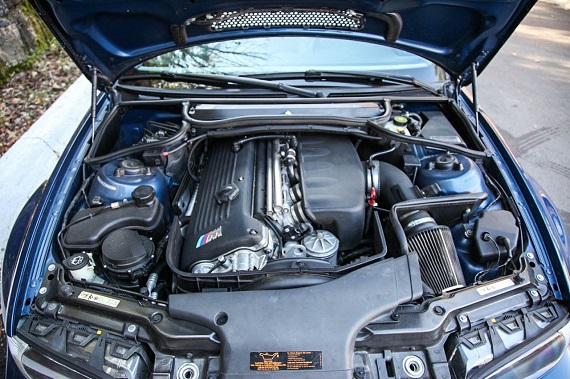 For those counting, Topaz Blue is quite rare – more rare to come across than Laguna Seca, for example, and nearly as infrequently selected as Phoenix Yellow. There were a total of 615 Topaz Coupes imported before it was replaced by Mystic Blue in 2003, meaning there are no (or very, very few) LCI Topaz models. You can tell immediately this was not one with the hood popped; missing is the strut brace, and careful eyes will note the ABS pump on the passenger side rather than driver's side. This car wears the updated LED tail lights, though. Otherwise, this car was pretty standard in options: 403 Sunroof, Glasdach, 441 Smokers Package, 459 Power Seats, 473 center arm rest, 521 Rain Sensing Wipers, 522 Xenon Lights, 640 Car Telephone Preparation, 650 Cd Player, 674 Harman Kardon, and 692 Cd Changer I-bus Preparation. In short, it's just about identical to the car I bought in terms of rarity and options.
However, the big difference comes in the modifications. While my car was 100% stock (right down to having the original air filter still in place), this car has modified suspension, exhaust, wheels, brakes and intake. Now, they're all very high quality, top notch items – the BBSs, for example, sticker well over $1,000 each. Also, a bit unlike my car, this car has a serious amount of expensive service just completed. Between the new tires, fluid changes and plugs, you've got a few thousand dollars of necessary maintenance completed. Lastly, it can't be said enough how impressive it is stepping into one of these cars that has such low mileage – coming from never before purchasing a car with under 100,000 miles, I was floored at how much like a new car mine was when I bought it. At $33,000, it looks expensive and is for an E46 – but, if you like the color combination and aren't as concerned with an original example, this car is well priced for what it is.
-Carter