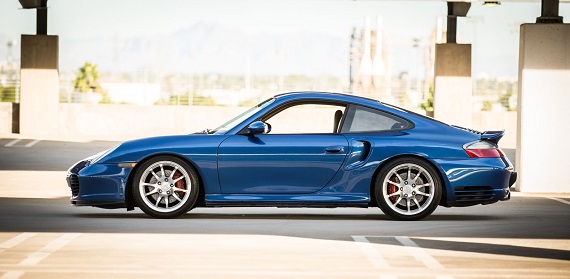 I wasn't 100% sure I wanted to feature this 911 Turbo when I first came across it, but there's enough to draw me in that I figured others may want a look as well. My hesitation is that we really don't have much to go by to assess the car and, given that we're not exactly dealing with a low stress family cruiser, uncertainty is far from desirable. But such is the world of modifications and eBay hunting. This 2002 Porsche 911 Turbo, showcasing a beautiful Cobalt Blue exterior, is now far from its stock configuration, as most notably it now delivers all of its power to only the rear wheels. We're also told there's much more and factory upgrades, but what those are isn't terribly clear. My hunch is that they're not of much significance. Of interest to me is the rear-wheel drive conversion anyway and while even that aspect resides in some mystery here it's straightforward enough to figure out and (hopefully) the other details can be worked out through a phone call. Any 911 Turbo is going to provide spirited and attention grabbing driving; with this much rear wheel power drivers must really maintain their focus.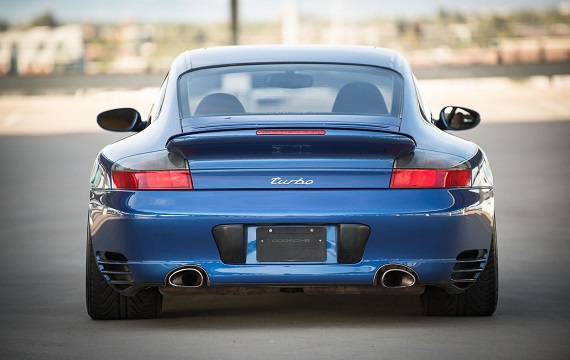 Year: 2002
Model: 911 Turbo
Engine: 3.6 liter twin-turbocharged flat-6
Transmission: 6-speed manual
Mileage: 55,000 mi
Price: $46,950 Buy It Now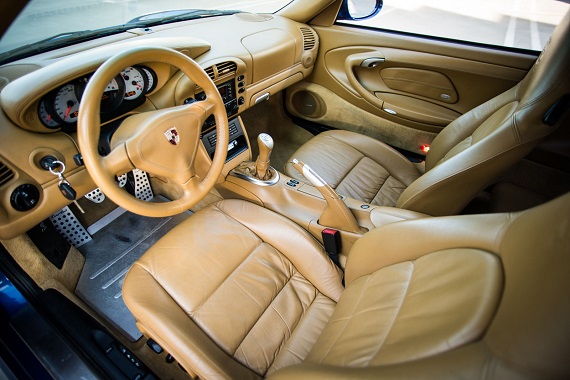 BEAUTIFUL 2002 PORSCHE 911 TURBO

Here is your chance to own a SUPER CLEAN and BEAUTIFULLY modified PORSCHE 911 and SAVE yourself THOUSANDS!! This PORSCHE is built with the best parts for a truly adrenaline rush ride of a lifetime with super LOW ORIGINAL MILES. ALL Upgrades have only 2K miles, Chassis of the car has 55K miles. Still drives like a new Porsche Super smooth, Super powerful, and Super Fun. DON'T miss your chance on owning such a well built and maintained car. A MUST SEE AND DRIVE!!! Viper comes with a great list of modifications Modification list includes:

GT2 Rear Wheel Drive Conversion
Custom 19′ Wheels w/NEW Tires
Short Shift Kit
GReddy Boost Controller
Leather Seats in Perfect Condition
Leather Trimmed Interior
High Density Discharge Headlights
Vanity Mirror/Light
Rain Sensing Wipers
Anti-Theft System
Factory Custom Upgrades
Full Serviced
+Much More…

The Porsche currently is tuned PERFECTLY for daily driving and runs super smooth with zero issues. No leaks, No smoke, and Never drag raced. Car was built for intention of show quality and craftsmanship and the modifications and reliability speak for itself. Car has never been involved in any accidents and has a perfect and clean carfax. I can assist with any shipping needs. Call or Text (480) 246-0125 if you have any questions or concerns.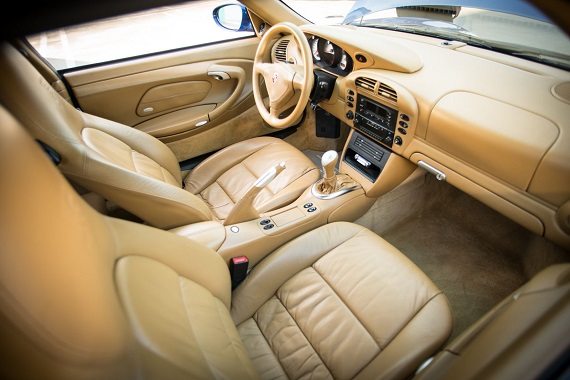 I don't know enough about this sort of conversion to access its difficulty, but even if it's an easy job as a buyer I'd want to give this car a thorough mechanical inspection by someone I trust. Without the conversion it's still a pretty interesting 996TT. The color is rare and certainly one of the better options and the mileage remains quite reasonable so long as it has been well maintained. The RWD conversion just makes it that much more interesting. The two biggest questions I'd have: 1) Is it now running an open differential or has an LSD also been added? That it says it's a GT2 RWD conversion could suggest there's an LSD. 2) Has the suspension been addressed? The suspension needs for an AWD 911 Turbo and a RWD 911 Turbo won't necessarily be equal, especially depending on intended usage. I would assume most owners who seek such a conversion are also seeking a certain rawness in the car's driving. This should deliver that, but a properly tuned suspension will help. Though perhaps that's something the next owner might prefer to tackle himself. If this Turbo was intended as a show car – as the ad states – then its other modifications may not have been carried out in the spirit of maximizing performance. So this 996 may be aimed at those who wouldn't mind finding a nice example that's already had some work, but which could use a little more personalization. Or perhaps someone who simply prefers a rear-drive setup and is less concerned about the other modifications. Either way, it's a very pretty example and not priced too badly.
-Rob