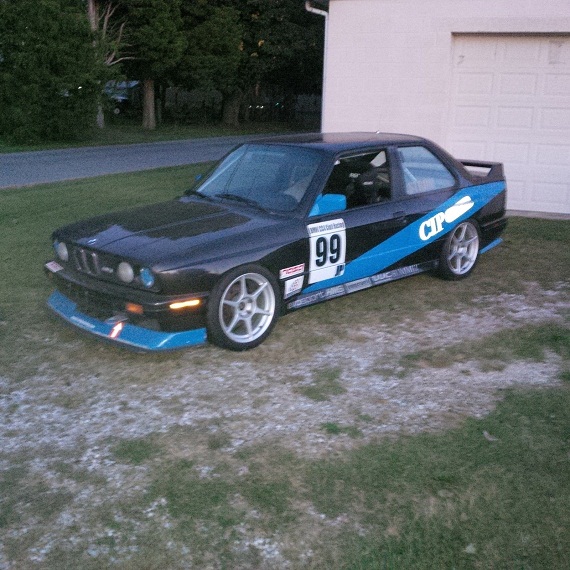 Going to the track is like any other addiction; it has its highs and lows. You may start going with a stock car, but soon you'll feel the need to modify the suspension, beef up with wheels and tires, throw on some racing brakes, strip the interior and all of that heavy stuff that slows you down like air conditioning, sound deadening, and seats. Then you drop a cage in and hit the track; all smiles, no doubt, but it's been an expensive journey and your track weapon is really only good at fast laps for a small percentage of its existence; the rest of the time, it just sits or is exceptionally uncomfortable and inconvenient as a daily driver. Plus, modern cars have gotten so expensive and complicated, with enough computer aids that they can nearly lap themselves. What is an enthusiast to do, then? Well, you can look towards some perennial favorites that helped to establish the reputation of BMW; the M3. In this case, I have two examples that are set up to hit the track – a racer E30 and a street-drivable but track-biased E46. Which is your flavor?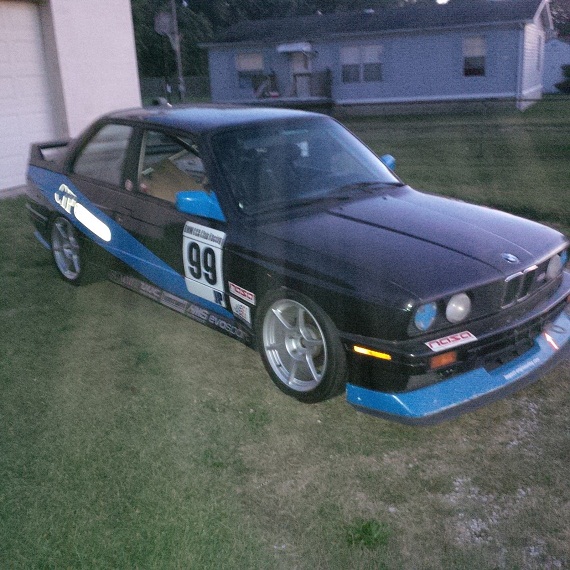 Year: 1987
Model: M3
Engine: 2.5 liter inline-4
Transmission: 5-speed manual
Mileage: ~175,000 mi (TMU)
Price: Reserve Auction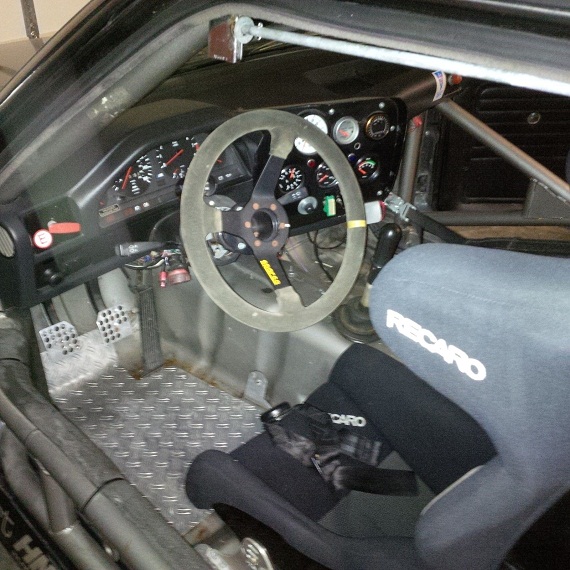 1987 Euro M3 VI# WBSAK010300843180
Diamantschwartz
Dedicated track car, not easily converted back to street use. Dented passenger floorboard due to prior owner incorrectly lifting car. Was a sunroof car that has had panel filled. Paint is popping at seam on roof.Graphics are being removed as we speak.
Been a Cali car since it was imported so no rust.
Carfax shows no accidents but does show odometer issue.
Cluster shows 118k but Carfax showed 174k some years ago.
Engine in the car now has 80k miles and came from a street car per Bullet.
Aluminum Radiator (C&R)

Ground Control Advanced Design Double Adjustable Dampers
Rebuilt 1 race ago
Ground Control Camber Plates
Bump Steer Adjustment Blocks
The rear subframe is reinforced and has camber and toe adjustment.
PF01 pads all the way around on stock calipers (I have another set of pads for this car but I am unsure of what compound)

Recaro Pro Racer SPG Vario Seat that will need a backbrace to actually be raced. Most driving schools including NASA HPDE don't require that.
Cage by Impact Engineering – passed both BMW club and NASA tech.
SPA Fire System
Factory Bumper and Evo lip
Has the original euro auxiliary gas tank in the trunk
To race you need to update the safety equipment, to do track days you should be fine as-is.
Car was a frontrunner in BMW CCA JP class with a built 2.5 and BBK.

The stock instrument cluster works and the extra gauges are for fuel pressure, volts, an extra tach (no idea why the previous owner installed this) and oil pressure. It has an AFR gauge that I believe needs a sensor. I am not going to figure out why it doesnt work.

Stock S14 that has 180whp and compression was good with all cylinders over 200psi.
Recently rebuilt 4.10lsd, spare set of Kosei's. I know I'm forgetting some stuff and will add as I recall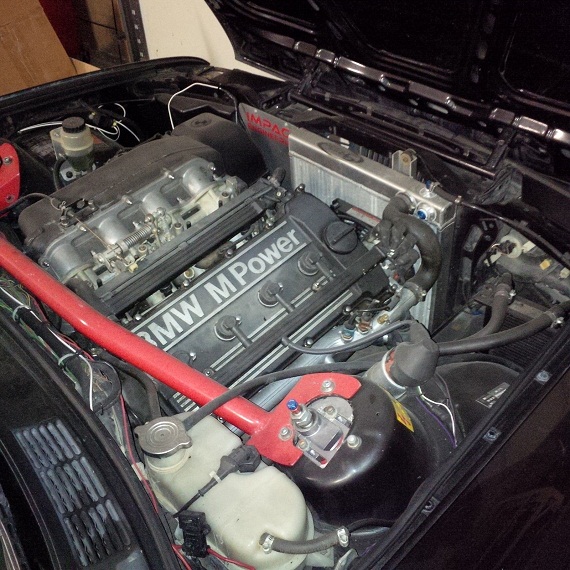 I have to say, it's not entirely clear in this car is a built 2.5 or 2.3, since the listing specifies the original motor but then the 2.5 is mentioned later – it does seem like the listing points towards the smaller displacement though. Either way, the car retains the original but expensive to rebuild S14 motor. Having spent some time driving a J-Stock E30 M3 on track, they're simply a joy – perfect balance, near telepathic responses when properly set up, and plenty of scoot to give you thrills. Plus, the soundtrack brings you back to the heady days of the DTM; suddenly, you're Roberto Ravaglia bouncing off curbs and clipping apexes. I really like that the car isn't a perfect show queen – for under $2,000 you could have the car vinyl wrapped in your choice of livery. I'd suggest a slight departure from the normal Warsteiner colors and do a John Player Special livery, personally. I also really like that the owner took the time to show the compression readings on the cylinders – nice touch. Pricing on these racing E30s is substantially lower than the pristine street versions; you'll need a trailer to get it to the track, but you'll also own a piece of history.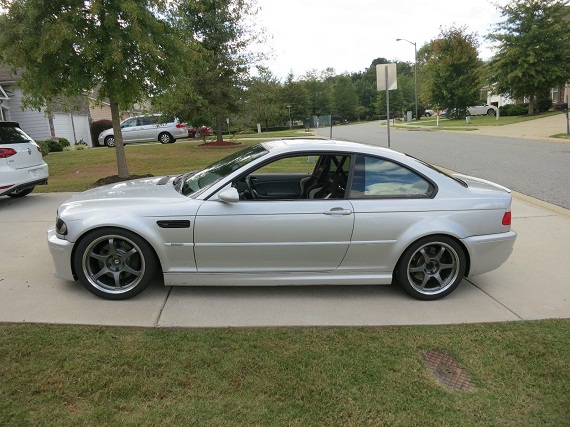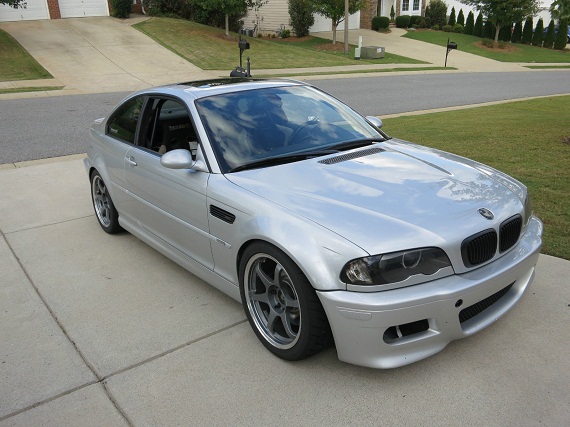 Year: 2001
Model: M3
Engine: 3.2 liter inline-6
Transmission: 6-speed manual
Mileage: 118,500 mi
Price: $23,000 Buy It Now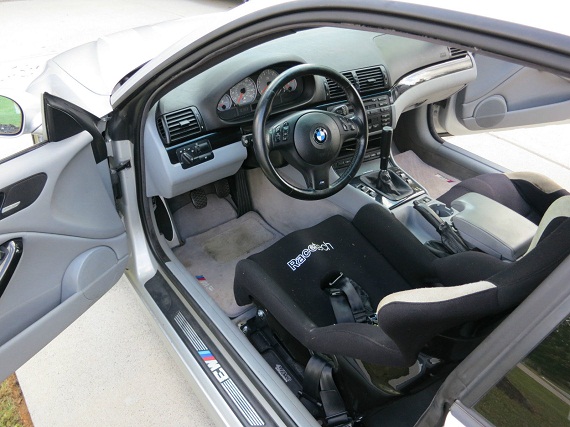 2001 BMW M3 TIAG silver on dove grey interior. Currently the car has racing seats installed and the rear seats and panels removed. All parts are sitting in my garage and can be put back in if the new owner wishes. The stock interior is in excellent condition, no rips, tears, or marks. The front seats are power & heated. The car has just over 118k miles on it and 99% of the work and parts listed below have been done within the last 2k miles. Within the last 500 miles I also sent an oil sample out to Blackstone laps for testing. Everything reported excellent! $23,000 As she sits with both sets of wheels and tires. The Dunlop DZII's are 2 weeks old on freshly refinished SSR Comp wheels. Willing to keep the SSR wheel/tire combo and the seats/belts to help lower the cost. Overall this is a well sorted out car that is ready to rock. The only reason I'm thinking of selling is to build a Spec e46 car. If I don't then I'll keep it!

Valve Adjustment – Nov 2013
Valve Cover Gasket
Valve Cover Grommet Set
A/C Belt
Oil Constant Pressure Valve
Thermostat
Connecting Pipe O-Rings
Vanos Sealing Plate
Vanos Solenoid Beisan Systems Pack
Vanos upgraded bolts
Oil Cap
Rear Subframe Reinforcement Plate Kit
Rear Subframe Welded
Rear Subframe Bushing Set AKG Poly
Differential Bushing Set AGK Poly
RTAB Bushings AKG Poly
NGK Spark Plugs
Guibo
Re-Timed engine after vanos was removed, cleaned, upgraded, and inspected.
Markert Motor Works Tune
OEM LED Tail lights
AutoSolutions Short Shift Kit
Ground Control Rear Camber Arms
Stoptech Steel Braided Brake Lines
PSS9 Coilovers
Turner Motorsports Camber/Caster Plates
Front Upper Spring Perch with Bearing
CSV Delete
Royal Purple Tranny Fluid
AFE Intake
Exhaust – Resonator replaced with AR20 resonators & rear muffler delete.
D-Force 18×9.5 et35 wheels
Nitto NT01 275/35/18 Tires
SSR Comp 18×9.5 et35 wheels
Wheel Studs & Nuts
Dunlop Direzza ZII 275/35/18 Tires
Hotchkiss Front Sway Bar
Mason Engineering Aluminum Front Strut Bar
Kirk Racing 4 Point Roll Bar – Bolt In
Racetech RT4009W Driver Seat
Schroth Profi II Belt Driver Side
VAC Motorsports Floor Mount Adaptor Driver Side
VAC Motorsports Lap Belt Brackets Driver Side
Rachtech RT4000 Passenger Seat
Schroth Clubman III Passenger Side
VAC Motorsports Floor Mount Adaptor Passenger Side
VAC Motorsports Anti-Sub Mounting Bracket Passenger Side
VAC Motorsports Lap Belt Brackets Passenger Side
Performance Friction PFC08 Front & Rear Brake Pads
New Front Blank Rotors
New Rear Blank Rotors (Not installed still in box)
Euro Crossdrilled/Floating Currently Installed on Rear
Liqui Molly 10w60 Motor Oil
Mahle 187D Oil Filter
External Temperature Sensor – Wired in and tied up so it break again.
2005 M3 Bumper w/ New Mesh Grill.
Paint Matched Bumper Reflectors
Black Kidney Grills
Black Fender Grills
Fog lights removed but in 100% working order – will come with the car.

If interested I can take pictures or any video needed. I think I got everything in the list above but as usual I'm probably forgetting something, oops!

Contact me if you do not want all of the track goodies and I can put the stock interior back in and sell it for cheaper. If you contact me I can just remove this listing and create another for cheaper without all of the parts.

Thanks!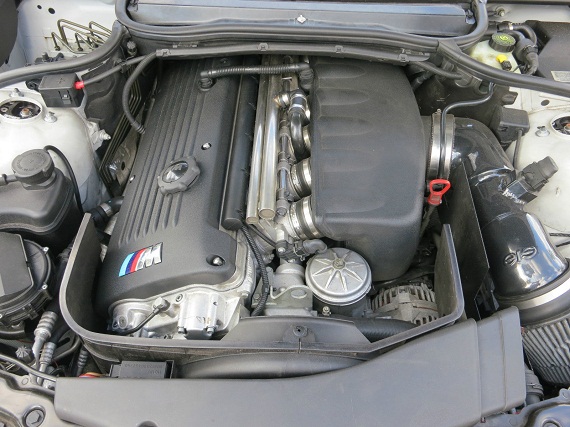 Talk about a well presented car; if the compression test above wasn't enough, this owner has gone so far as to ship the oil out for metal testing. The build looks just about spot on; safety coupled with upgrades. The PSS9 kit is an awesome suspension setup, coupled with some of the most popular track wheels out there. But this car isn't over the top – just well built, maintained, and with the original bits to turn it back into a road car if your priorities change.
Which is the winner? As much as I'd love to grab an E30 M3 for the track, the reality is that for me the E46 makes much more sense. The logistics of owning or borrowing a truck and trailer combination just to head to the track are too much for my current budget. On the flip side, being able to drive the E46 there – while it'll be a loud, bumpy ride – mean that this car is a smarter choice that will give you nearly as many thrills and as much speed as the E30. Reality trumps the dream here, but it's hard to say you'd lose with either, given the supreme driver involvement and low entry cost compared to new models.
-Carter