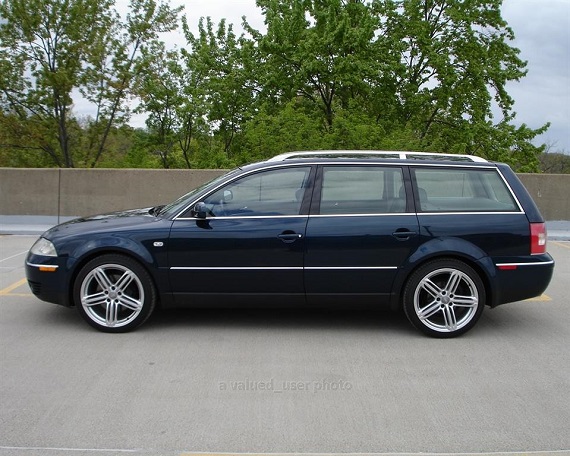 Volkswagen is really great at theory, but not so much at execution. They've had a long line of really strange marketing decisions which have at times left the company in dire straights. One wonders how Volkswagen will emerge in the wake of the recent diesel scandal, for example, though many other manufacturers like Mitsubishi (you forgot they still made cars, didn't you? Me too.) are doing their best to usurp VW's crown as a manufacturing pariah. Yet, Volkswagen has so many debacles it has run its customers through that it should be amazing they come back for more at all. In the early 1990s, they mis-rated the timing belt service intervals on the early V8 quattros. The result was, predictably, a bunch of engine replacements. The 1.8T became notorious for turbo sludge problems, too – rectified with larger filters and synthetic-only oil, but a fair number (including my Passat) had factory turbo replacement. The 3.0 V6? A timebomb of metal shards working their way from the passenger rear of the motor through the engine, thanks to what appears to be an oil starvation design flaw. The 2.7Ts, 4.2s and all of the FSi motors? Known issues, sometimes very large and expensive. Coil packs, unnecessarily complicated PSV systems, transmissions made of glass and clogging sunroof channels? All the norm in your VAG experience. But Volkswagen really outdid themselves by making a complicated system even more complicated when they introduced the 4.0 W8 into the Passat. Sure, it was a test bed for later W12 models, and viewed in that light it makes some sense. But then, the Passat shown here is much more rare than the Bentleys and even some of the A8 W12 models that derived experience from the B5.5. Volkswagen could simply have taken any one of their proven engines and provided the answer to whatever question they were posing when they conceived this vehicle. Instead, they did things differently. That's both something to celebrate and something to point out as an inherent character flaw: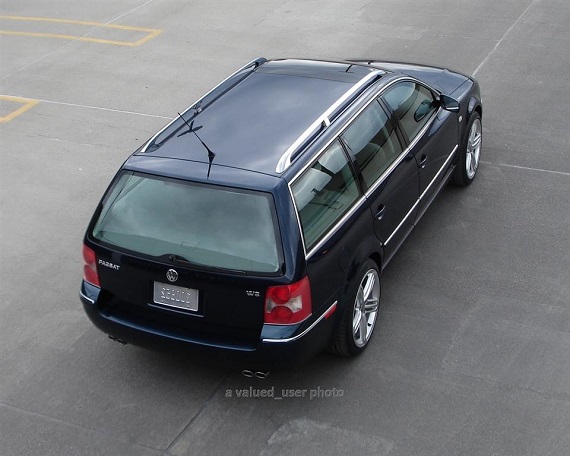 Year: 2003
Model: W8 4Motion Variant
Engine: 4.0 liter narrow-angle W8
Transmission: 6-speed manual
Mileage: 105,400 mi
Price: No Reserve Auction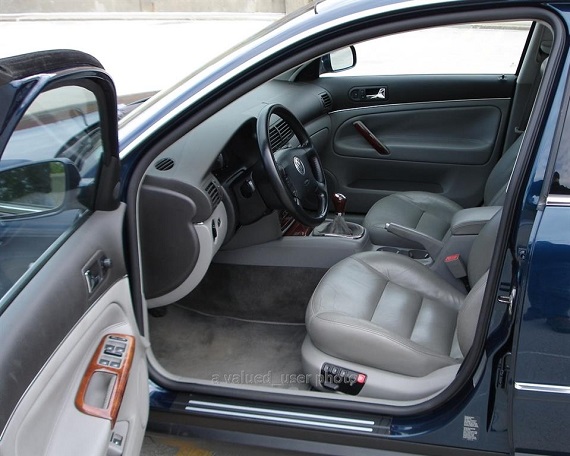 2003 Volkswagen Passat Wagon W8 6-speed

VIN: WVWLK63B83E466273

One of only 424 Passat W8s with manual transmission claimed sold in the US

Pacific Blue Pearl exterior offered on W8 only

Offered by the second, long-term adult enthusiast owner

Few modifications from new

Never abused in any way

Extra clean

Never smoked in

Offered with NO RESERVE above opening bid. There is no "Buy It Now" price. Auction will not end early. Car will be sold to the highest bidder.

Please note: more than 200 photos follow. On slow Internet connections, they may take time to load.

You can also Click here for high-resolution slideshow
About the Passat W8:

AutoWeek

Volkswagen AG has stopped producing the Passat W8 model because of slow sales, says CEO Bernd Pischetsrieder. It was the only vehicle to use the compact W8 engine, which was championed by former VW CEO Ferdinand Piech…

U.S. sales of the Passat W8 fell far below VW's goal of 5,000 units annually. The company sold 2,182 W8s in 2003 and 268 through the first eight months of this year. The W8's 2004 base price is $40,735, including a $575 destination charge…

The Passat W8 was intended to bridge the gap between V-6 versions of the Passat and the Phaeton luxury sedan. But since 2001 only 11,000 units of the W8 have been built…

Volkswagen denies the Passat W8 was a flop…

By JENS MEINERS | Automotive News Europe

Read more: http://autoweek.com/article/car-news/volkswagens-passat-w8-model-discontinued-due-slow-sales#ixzz48kDvI5fI

PassatWorld

Only 4,931 W8's in the US. Of those, 1,227 are variants and 3.704 are sedans. Also, you're looking at 424 M/T and 4,507 tips.

http://www.passatworld.com/forums/volkswagen-passat-b5-discussion/190984-official-production-numbers-my00-thru-my05-passat.html
Options as built:

· Engine Code BDP

· Transmission Code FRR

· Paint Code LB5W Pacific Blue Pearl

· Interior Code VB Flannel Gray

· Options

· X9A National sales program USA

· B0D Component parts set, complying with vehicle type for USA (without California), various parts

· CG6 Alloy wheels 7.5J x 17

· G0L 6-speed manual transmission for four-wheel drive vehicle

· HG9 Tires 225/50 R17 94V (polymer coating)

· J0R Battery 380 A (80 Ah)

· M3E 8-cyl. gasoline engine 4.0 L/202 kW 32V WR8 base engine is T9H

· Q2J Comfort front seats

· 1AT Electronic stabilization program (ESP)

· 1G9 Space-saving spare wheel for temporary use, radial tire (5-hole)

· 2ZB Leather multi-function steering wheel

· 5RR Right exterior mirror: convex (US)

· 5SH Left exterior mirror: flat (US)

· T9H 8-cylinder gasoline engine 4.0 L unit 07D.1 (aluminum)

· 3F3 Alloy spare wheel with original equipment tires (with support ring)

· 3S1 Bright roof rails

· QG2 No possibility of activating service interval prolongation

· 8US Radio "Premium" (double-size standard radio)

· 8GR Alternator 150 A

· 9VG Sound system with subwoofer "branded" design 2

· 1ZG Disc brakes, front (Geomet D)

· 0JL Weight category front axle weight range 11

· 0YS Weight range 17 installation control only, no requirement forecast

· 1BE Sports suspension/shock absorption

· 0GM Emission standard LEV 1
Current owner since November, 2007:

· Built: May 22, 2003

· First leased: August 27, 2003

· Selling dealer: Burnsville Volkswagen; Burnsville, MN; Dealer Number402-415

· Sold at dealer auction: October, 2007

· Purchased by current owner/seller: November, 2007

· You can see the CARFAX free here

· Note: CARFAX is incorrect, stating one owner. There have been two owners

· You can see there are NO open recall campaigns here

· Always adult-driven

· Never smoked in

· No child seats or pets

· Heated garage storage since 2007
Engine:

· 4.0 liter W8, 270 horsepower, 273 foot pounds torque

· EPA MPG 17 City/ 24 Highway

· Starts, idles, runs, drives and stops as it should

· Never modified in any way

· New balance shaft belt 2012

· Gauge shows normal coolant temperatures

· No oil consumption, noises or smoking concerns

· No fluid leaks of any kind

· No Check Engine light on or faults stored in Engine Control Module

· Always run on 91 octane fuel, or better, without fail, by current owner/seller

· Full maintenance services always per VW schedule with genuine VW parts

· Oil changes always per VW schedule with Mobil 1 or Castrol Syntech oil meeting VW spec

· Original, stock exhaust
6-Speed manual transmission:

· Shifts smoothly up and down to all gears with no noises

· JH Motorsports short shifter and delrin bushings, 2007

· Gear oils changed with genuine VW, 2010 and again, 2015

· No leaks

· Clutch operates as it should, with no shudder or slipping
All-wheel drive:

· 4MOTION all-wheel drive system

· Torsen center differential and all other components work properly

· Never modified in any way

· Maintenance services always per VW schedule with genuine VW parts

· No fluid leaks

· No clunking or shuddering

· All CV joints and boots in good condition
Suspension, brakes, steering:

· Sports suspension, as-built

· Front and rear suspension never modified

· Original shocks and struts all firm with no leaks

· ABS, ESP and brake assist all work as designed

· New pads and rotors all around, 2014

· ECS Tuning stainless steel brake lines

· DOT 4 brake fluid with full flush, every two years

· Brakes are firm with no pulsation, warning lights or faults in control module

· Parking brake operates properly

· Nexen N'fera SU1 tires, size 255/35-ZR19 96W

· 7/32" of original 9.5/32" tread remaining on all four tires

· 4 genuine Speedline Audi S4 19" wheels, part number 8K0601025AK, with center caps

· Does not pull or have uneven tire wear

· No noises or looseness. No steering vibration.

· Steering wheel is level when driving straight ahead
Body:

· Pacific Blue- offered on W8 only

· All paint is believed original. Certainly, no paint work has been done since 2007.

· No body or other structural rust whatsoever

· All panel gaps as-new. Doors and lids all open and close easily and with no noises or rubbing.

· Hood and hatch gas struts are original-type with aluminum bodies and all function correctly

· Super clean top and bottom

· Undercarriage and wheel wells are undamaged

· Lower engine cover is 100% complete with all fasteners

· Windshield wipers and washers front and rear work as-new

· HID Headlights and all other exterior lights operate properly

· Power windows operate correctly

· Power sunroof operates correctly

· Power, heated, folding mirrors work correctly

· All glass is original and in good condition

· All seals in good condition

· All bright trim in very good condition
Interior:

· Flannel Gray/Anthracite trim

· Flannel Gray Leather

· Minimal wear on seats

· Steering adjustments for reach and tilt work properly

· All plastic, vinyl and wood trim in good condition with no damage

· Carpet in as-new condition with no fraying

· Original gray front and rear floor mats in good condition with correct hold-downs

· Headliner is near-perfect

· Cargo area carpet and trim shows little wear

· Cargo cover in very good condition operates correctly

· Climatronic climate control A/C cools cold, heats hot, functions as-new

· Rear defroster and side mirror defrosters work properly

· Seat heaters heat backrests and bottoms of both front seats as-new

· All instruments work properly

· All interior lights work properly

· All seatbelts clean and undamaged

· Self-dimming mirror is undamaged and functions as-new

· Homelink built-in garage door opener works as-new

· AM/FM/cassette/CD sound system with Monsoon amplifier, as-built, functions as new

· Diversity antennas in quarter windows work correctly

· Three removable rear headrests fitted, as-new

· Turn signal switch operates and self-cancels properly

· Speedometer and both odometers accurate as compared to GPS on road tests

· Cruise control operates correctly

· All four 12V power outlets work

· Ashtrays have never seen ashes

· No warning lights on

· New battery 2014
Modifications:

· JH Motorsports short shifter and delrin bushings, 2007

· ECS Tuning stainless steel brake lines

· 19" Audi wheels and tires
Also included:

· Clear Michigan title

· You can see the free CARFAX here

· Complete set of original gray carpet floor mats, installed

· Complete set of original gray carpet floor mats, new in box

· Complete set of gray Cannon rubber winter floor mats

· Weathertech gray fitted cargo liner

· Original BBS 17" Madras wheels with center caps and winter tires

· Two keys with built-in remote

· Owner's manuals, complete in binder

· Radio security code

· Front license plate mount

· "4 Motion" emblem, removed from tailgate

· Complete tool kit

· Original wheel locks with key

· All parts for original shifter

· Receipts since 2007

"The large print giveth and the small print taketh away"- Tom Waits:

Please remember, this is a used car, which, as nice as it may be, is not perfect. I strive to deliver accurate descriptions, but it is possible to miss small deficiencies and will not be held liable for these minor misnomers. This vehicle is sold AS IS/WHERE IS and comes with no warranties by the seller, expressed or implied, whatsoever.
Known issues:

· Stone chips, scratches and dings around the car from 14+ years and 105,000 miles of careful use

· Front and rear bumper covers scuffed on corners

· Front license plate holder has been installed and removed. Holes plugged, plus some scuffing.

· Original windshield has one stone chip at center right from years ago. Some light pitting. No cracks or delamination.

· Bright trim around the windows has some water-spotting/stains

· Chrome bubbling on roof rail at right front

· Clear protective decals on rear bumper cover and both rear fender "doglegs" are bubbling. Paint underneath is not damaged.

· Audi wheels have been touched-up. Some scratches on all four wheels. Wheels are all straight and balanced. See photos.

· BBS wheels scuffed and clear coat peeling all over. Wheels are straight and balanced. See photos.

· Driver's seat left bolster worn from entry/exit. See photos.

· Driver's seatbelt is slow to retract completely, but otherwise operates correctly

· Some wear to driver's floor mat, shifter and interior trim from normal use

· All four door panel armrest inserts have pulled away from backing foam. No rips/tears/loose edges

· Wood trim on inner door handles cracking lightly

· One small damage to headliner at cargo area, right side

· Exhaust leak at right flex joint. Cannot be heard when in car with windows up, but it is obvious under car.
Not included:

· NO ADDITIONAL PARTS OR RECORDS ARE INCLUDED

· NO PARTS ARE AVAILABLE THAT ARE NOT IN PHOTOS, SORRY
Pre-purchase inspection is welcomed. Please contact me through "Ask a question" to arrange inspection and for any additional information.

Offered with NO RESERVE. There is no "Buy It Now" price. Auction will not end early. Car will be sold to the highest bidder.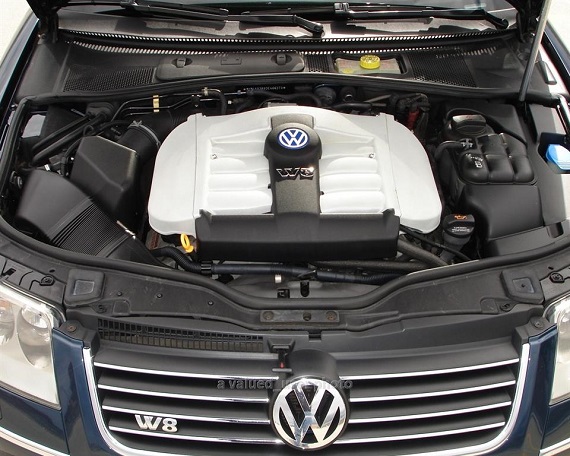 If you're like me, you probably err on the side of appreciating a thorough description. However, you might also be like me if you were slightly annoyed at the formatting of the listing's description and how ridiculously long it was with some unnecessary information included. In fact, it's almost as unnecessarily long and complicated as the timing chain routing on the W8. Haven't seen it? Look here, then think about whether – with the history VAG products have – this was a good idea. VAG top-tier designs tend to be akin to watching the Castle Bravo test – amazing, captivating, beautiful in a way – and something that you're really glad you didn't experience first hand. What's interesting to me is that the seller takes the time to go partly through the rarity scale of this car, but doesn't complete it. Of the 424 6-speed W8s correctly identified above, only 95 are wagons. This particular example is one of the six Pacific Blue/Gray leather examples imported to the U.S. in 2003; beige and black interiors are more rare in this exterior color and only account for one each. The W8 has traditionally held a special status among enthusiasts, though the reality is that for about the same money as this car is currently trading (it has already hit $10,000 on the no reserve auction) you can look at a sportier S4 6-speed and even (if you look hard) some manual BMW wagons. The W8 6-speed is this strange creation that haunts the No Man's Land of value; the 1.8T 5-speed 4Motion Variant is probably a much smarter choice for an enthusiast, as are the S4 Avant, 328xi Touring or 535xi Touring. Heck, if you don't mind the much better later automatics, any number of cars thoroughly outperform the W8 for less money, including it's own replacement in the B6 3.6 4Motion. If you like the look and must have complexity, you could even look at the Allroad 2.7T 6-speed as a more viable option. Yes, I said that. This car is lovely, but it didn't sell well new for a reason. Aside from being complicated and expensive but not sporty enough to justify the pricing, inside and outside it's effectively no different to 99% of consumers from my front wheel drive 1.8T 5-speed. I can list all the details that are different and if you can you're part of the 1% too, but then I would have never bought one new and you probably didn't either – I would have bought the exact car I ended up with. The 1.8T FWD 5-speed is less complicated, significantly less expensive, more reliable, cheaper to fix, not much slower and effectively equally as capable. I seriously love Passats, I genuinely cheer for underdogs, and I have had my share of complicated, ridiculously over-engineered VAG products roll through my hands – and I simply can't contemplate long term ownership of this car at this price.
-Carter