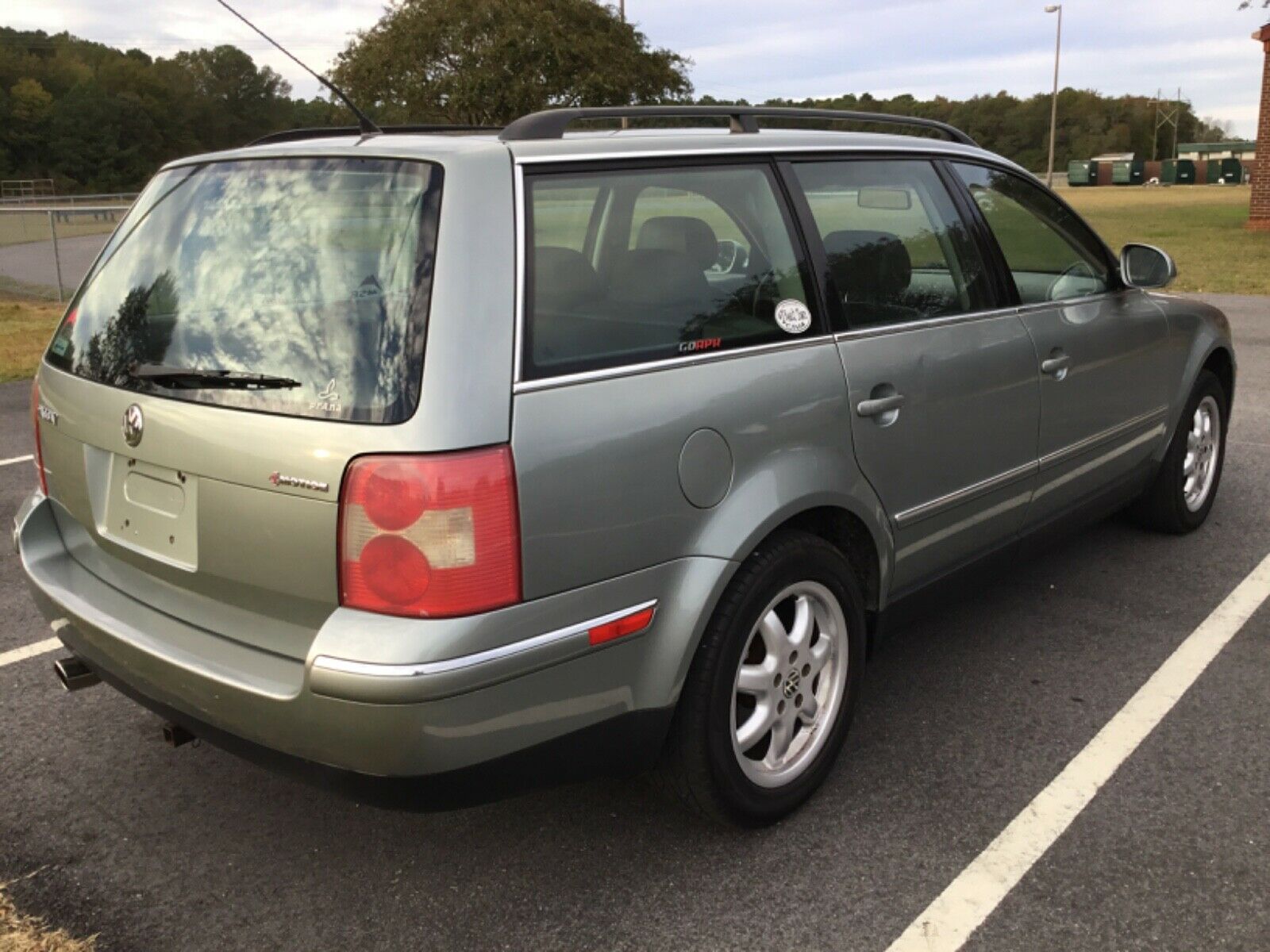 One of the reasons that I felt the B4 Passat I just looked at wasn't a great deal was that there are just a lot of other great models you can get for less. Case in point, today's 2004 B5.5 1.8T 4Motion Variant 5-speed. Sure, you loose the great growl of the VR6 – but what you gain far outstrips that auditory shortcoming.
Produced only for the 2004-2005 model year, Volkswagen linked the 4Motion all-wheel drive borrowed from Audi to the AWM 1.8T. Rated at 170 horsepower, it was down a few ponies on the 30V V6 GLX 4Motion that preceded it. But while the GLX focused on luxury and was only offered with the Tiptronic transmission (unless you stepped up to the W8), you could opt for the 5-speed manual with the 1.8T. It was something few people did; a scant 2,333 manuals were sold in North America, with just 657 of those being wagons. 516 made it to the United States, and this is one of 16 Stonehenge Gray over Anthracite leatherette 2004s originally sold:
Year: 2004
Model: Passat GLS 1.8T 4Motion Variant
VIN: WVWVD63B14E185923
Engine: 1.8 liter turbocharged inline-4
Transmission: 5-speed manual
Mileage: 200,500 mi
Location: Willis Wharf, Virginia
Price: $3,450 Buy It Now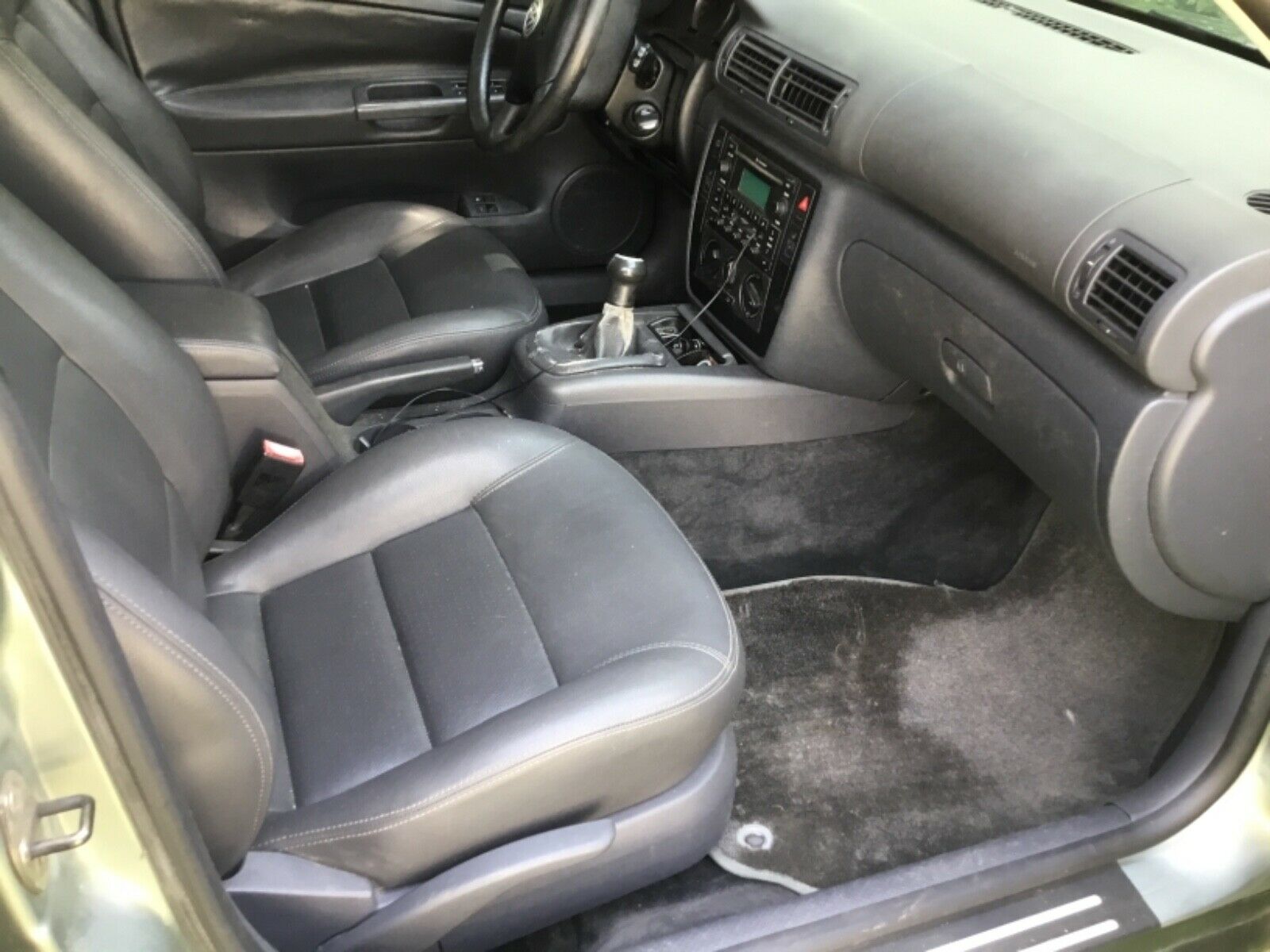 2004 Volkswagen Passat GLS 4Motion Wagon 1.8 turbo 5 speed manual. Very rare wagon. There were just a few hundreds imported with 5 speed and 1.8 turbo motor. I am the second owner. All options except leather. Very well maintained. Bilstein shocks, red coil packs. APR 91 octane chipped, 2.5" exhaust from down pipe back, 2 silencers, one muffler. Cold A/C. Trailer hitch. Timing belt done at 155k. Miles. Recent oil and filter, Mobile 1 and NGK plugs. Just installed new calipers, rotors and pads in rear. Runs strong and handles well. Everything works except RR window, which needs a regulator. Rear hatch opens with key only. Car comes with extra parts. High flow down pipe, used starter, rebuilt left front caliper, oil filter.. It is amazing in the snow. Please contact me with any questions.
Unlike most of the prior generations, the B5 and B5.5 Passat brought a level of owners much more interested in keeping up their cars. On top of that, the wagon enthusiast crowd latched onto these cars – and the German-built wagons genuinely seem to perform better long-term than the sedans. Perhaps that's a function of the build quality which was stepped up in the 5th generation, perhaps that more a sign of the type of people who owned them; regardless, you can feel a lot more comfortable – literally and figuratively – stepping into a used early 2000s Passat than a mid-90s example.
On top of the rarity of this package, the seller's upgrades are thoughtful and enthusiast friendly. The upgraded shocks are necessary on the fairly soft Passats, while the APR software and upgraded exhaust help to wake up the potential of the 1.8T. The 16″ Ronal 'Swing' wheels are a nice addition too as these cars originally wore 15″ alloys. Admittedly, it has over 200,000 miles – but the condition looks to be great and there seems to be a good history on this one. At half the asking price of the B4, this one looks like a great winter driver for someone who enjoys a rare package and rowing-their-own.
-Carter