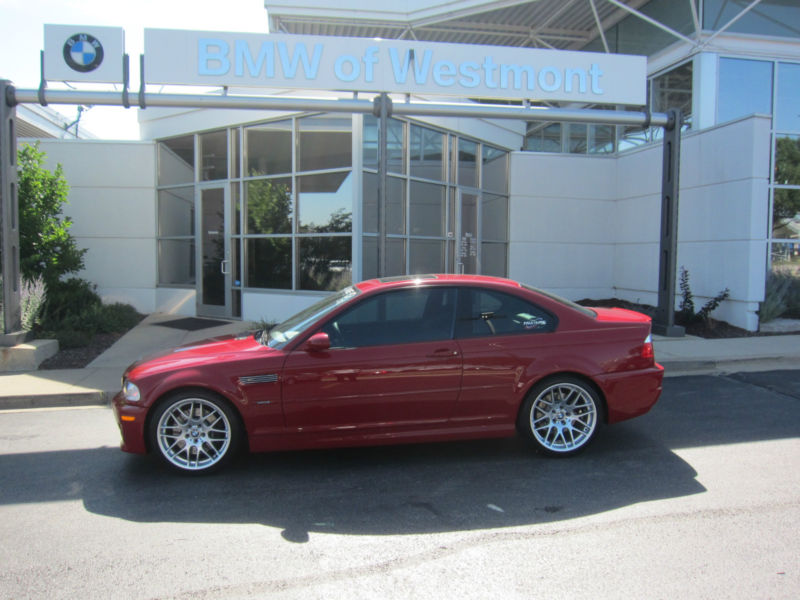 When I wrote up yesterday's 2002 Dinan S3-R M3, I wanted to find an equivalent model to it for sale for value comparison. Naturally, I think the best counterpoint would be a lower mile late build E46 M3 equipped with the ZHP competition package, the hardest-edged M3 available without modification in the U.S.. To my surprise, I found an even better comparison; a ZCP equipped M3 with enough modifications to get a Dinan registration, but without the supercharger and suspension rework of the S3-R. Today's example looks ready to race in Imola Red: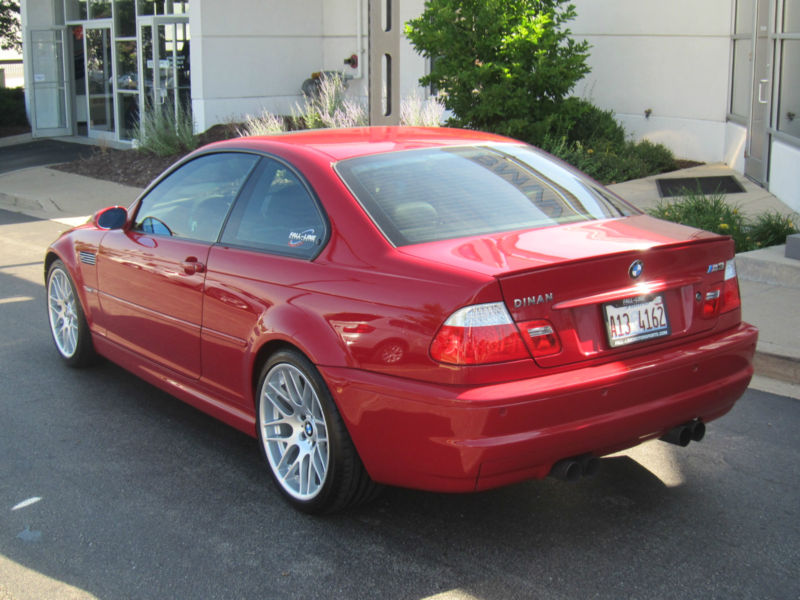 Year: 2005
Model: Dinan S M3
Engine: 3.2 liter inline-6
Transmission: 6-speed SMG semi-automatic
Mileage: 39,003 miles
Price: $35,991 Buy It Now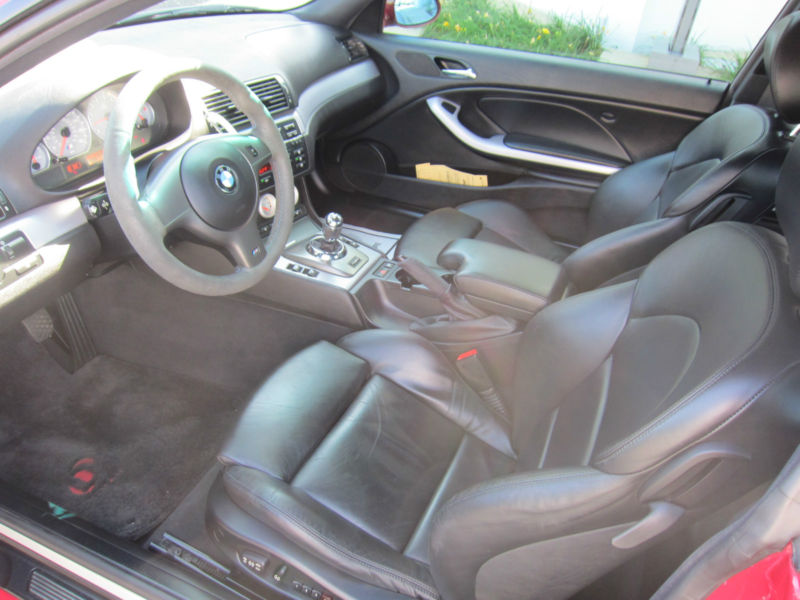 2005 BMW M3 Coupe w/ $20K in DINAN upgrades!
1 Owner! – Low Miles! – Never Raced! – Creme Puff!

Call Laurel BMW Sales – 630.537.0311

Over $20,000 in DINAN upgrades include:
— Performance Exhaust
— Air Package
— Throttle Bodies
— 3.9 Rear End
— Additional Oil Cooler
— Water and Oil Guages
— Stainless Stainless Steel Brake Lines
— Stiffener Braces front and rear
— Cam Shaft
Dinan Registered
 
VIN:   WBSBL93495PN62120
  Chassis Number:   PN62120
  Line Make:   01 – BMW 
  Model Year:   2005
  AG Model Code/Desc:   BL93 – M3
  NA Model Code/Desc:   0537 – M3   

Exterior Color Code:   405  (Imola Red)
  Interior Trim Code:   N5SW (Black Leather)
  MSRP:   $59,740.00   

Vehicle Production Date:   2005/02
  Motor Type:   S54 
  Platform/Engineering Series:   E46   
        

   
   Original Options
   0ZCP  Competition Package 
  01CA  CO2 relevant vehicles
   0403  Moonroof
   0459  Power front seats 
  0473  Center armrest
   0494  Heated front seats  
 0508  Park Distance Control
   0521  Rain sensor and auto headlight
   0522  Xenon headlights
   0640  Phone preparation 
  0650  In-dash CD player
   0676  Hi-fi sound system 
  0692  CD changer preparation
   0793  SMG-Sequential Manual Gearbox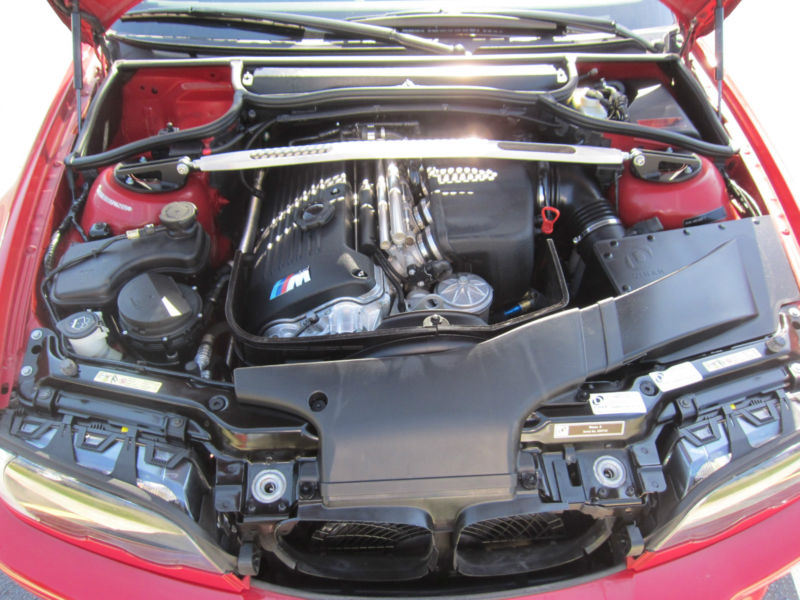 The ZCP Competition Package on the M3 added some nice details, but in my eye the best of those is by far the wheels. Those BBS 19" wheels transform the car's look to be both prettier and more aggressive at the same time. There are some modifications to add some power – the exhaust sounds great, the throttle bodies add a few horsepower, and the 3.91 rear end gives you a bit better acceleration, but to me these modifications don't really alter the M3's basic characteristics, unlike the supercharger addition in the S3-R. Imola Red fits the character of the M3 well and is one of the prettier reds available on any car, although I still don't understand why anyone would spec a car with black leather. This car with caramel leather, or better yet Imola leather, would just put it over the top in my opinion. As is, though, the car presents very well and looks to be in fabulous shape.
Both the 2002 Dinan S3-R M3 and this car are priced right at the top of the E46 market. One of the long term benefits of not having the supercharger is less wear on the transmission (in my mind, a big benefit with the SMG) and perhaps a less expensive engine rebuild/replacement if you owned it long enough. To me, that's probably a good enough trade off for the loss of acceleration. I don't think the Dinan registration helps the value short or long term on this vehicle, but I also don't really think the modifications detract from the value and are pretty easily reversible if you wanted to revert to stock specification. Which would you rather have?
-Carter