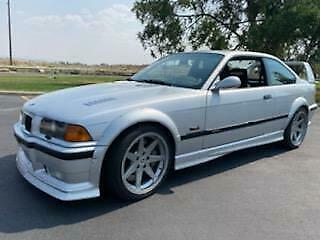 For those who aren't immediately familiar with iDing Power, you're forgiven.
The M3 GTR launched in 1994, and the United States did (technically) see it in the form of the Prototype Technology Group-run team in IMSA race series. The same year in Japan, iDing Power revealed the plans for their turned-up E36 M3. They had acquired an early production second generation model; production started for the E36 M3 in February, 1992 – and the particular example you see here was produced on February 3, 1993. iDing then added a plethora of unique touches, from upgraded suspension, wheels and brakes, special interior items, and some body modifications. By "some", of course it's hard to look past the W201 190E-Evo inspired rear wing and massive tacked-on flares. iDing also took the S50B30 European motor, rated at 286 horsepower stock, and modified it to a claimed 330 horsepower. iDing widebodies are pretty rare finds, with a claimed 17 produced.
Today's car we've seen before; I wrote it up back in 2017 when it was still in Japan. It was also the prototype test car, apparently, and is highlighted on the company's history page.
Well, it's traveled across the sea to Wyoming and an additional 1,500 miles since we last saw it, and it can now be yours again…for a price.
3 Comments