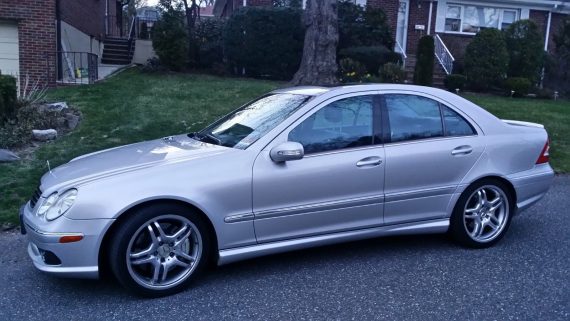 I'm not afraid to say that the W203 is my one of my least favorite Mercedes ever made. The design was soft, the entire interior was a plastic mess and even the wheel design sucked. These were geared towards entry-level buyers and the lease deals on them were targeted towards anyone who had a pulse and a solid proof of couch ownership with coins under the cushions. This left us with a mass sea of used W203s for sale that you can pick up for mere peanuts. Seriously, I think some buyers on Craigslist are accepting bags of peanuts to take away their 2001 C240s. But one model out of all the miserable cars stood out and actually was worth driving and hey, maybe even buying. Allow me to reintroduce the C55 AMG.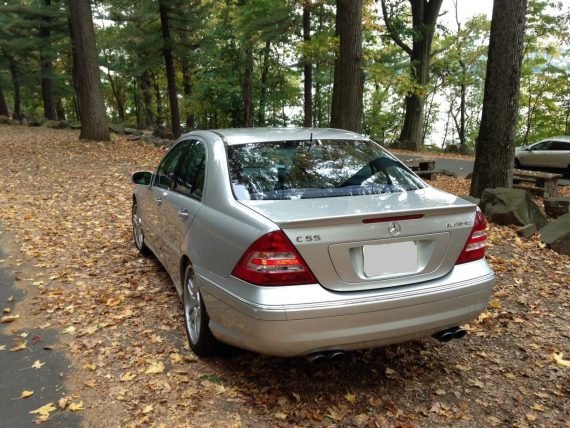 Year: 2005
Model: C55 AMG
Engine: 5.4 liter V8
Transmission: 5-speed automatic
Mileage: 117,977 mi
Price: $11,800 Buy It Now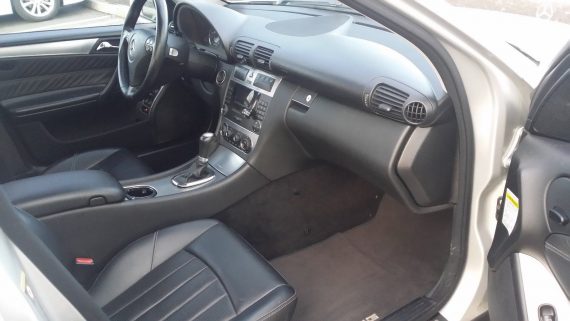 2005 beautiful C55 AMG. Selling the car for my parents who have had this car for over three years. The car is in fantastic condition, it's been very well maintained ($5,400 of receipts), mechanically the car is pristine, it's never been abused, molested or tracked. All mechanical parts are in fantastic shape, engine, transmission, suspension, everything works like a clock and you can feel that the engine is in a perfect condition, unlike some of the 40k mile cars you drive and they drive terrible because young people drove them. Cosmetically, the car is a good condition and it is to be expected to have a few minor imperfections here and there, but nothing major. The tires still have a lot of life left and are in great shape (we bought brand new tires about a year or so ago). Leather inside is in a perfect condition. It has original factory suede inserts on the side to prevent the body from sliding on cornering. The gearbox also shifts very well and all modes work (comfort, sport, manual – paddle shifts like in a formula 1 behind the wheel). The back seats recline for those who need more space, so the car is very usable. The engine is V8 5.4L naturally aspirated and produces 362hp and 376lb of torque. Below is the attached review of the car by MotorTrend. I agree with their conclusion of a killer powertrain and superb power delivery and performance. The car has a sunroof, all electrical equipment works perfectly. We've also spent $5,400 on maintenance (we have all the receipts). Some of the things that have been done are: new filters, A/C recharge, water pump, expansion tank, tilt wheel motor, steering column motor, brake pads, new tires, crank position sensor, electronic control unit repair, pilot bushings. Clean CarFax and shows no accidents, no damage, no paint jobs. Only two owners before us. The car has been very well maintained and is most likely better than most C55 AMGs on the market, irrespective of mileage. You are welcome to come and inspect and drive the car for yourself. No lowball offers, car is priced appropriately for its condition. Only serious buyers only. There are plenty of abused, painted, and tracked C55 AMGs with lower miles for $10k that you can buy from a dealer. This car is all original, no modifications, all factory, clean and very well taken care of. Please call or text 917-968-5001. Thanks.
Now the C55 wasn't the first AMG car in a W203. In 2002, the C32 was launched with a supercharged V6 M112 and it was, well, there's a reason why they went back to the drawing board to make the C55. The engineers didn't mess with success and grabbed the trusty M113 AMG engine from the E55 only to proclaim "Es wird nicht passen!" (It will not fit.) So what did they do? You might notice that the C55 looks a different than a normal W203. Since they had clearance issues dropping the engine in, they simply took the front end off the C209 and bolted it right up since the C209 is based off the W203. That gave them the extra clearance they needed and it made the front end appear a little longer and sleeker. With that taken car of, they added some different seats, bigger AMG brakes, a 200 mph sticker for the speedometer, tweaked the suspension and finished it off with quad exhaust outlets to show Linda down the hair salon that you mean business. Yeah, the dash is still a mess and the glove box is still probably broken but you can't ask for everything from a lowly W203.
This 2005 in New Jersey looks like a winner. Adult owned who didn't abuse it, doesn't have a bunch of body issues, doesn't need $2,000 in backed maintenance and generally looks like a nice car.  The price of $11,800 is on the high end for these as you can scoop them up for under $10,000 all day long, but you are getting what you paid for with this one. A C55 is a little more budget friendly than bigger brother E55 of the same year as you don't have any added cost of what the M113K brings nor the Airmatic suspension. At the end of the day, Mercedes really nailed it with this car. Big V8, regular suspension, does 60 mph in under 5.0 seconds, won't bankrupt you if something fails (maybe the calipers or rotors) and still looks good.
– Andrew
P.S. If you are ever bored, go search the C30 CDI AMG. It was a W203 with the OM612 5-cylinder diesel that AMG worked to put out 398 lb·ft of torque that was only sold in Europe from 2001-2004. They didn't sell many at all and it is still to this day the only diesel that AMG produced.