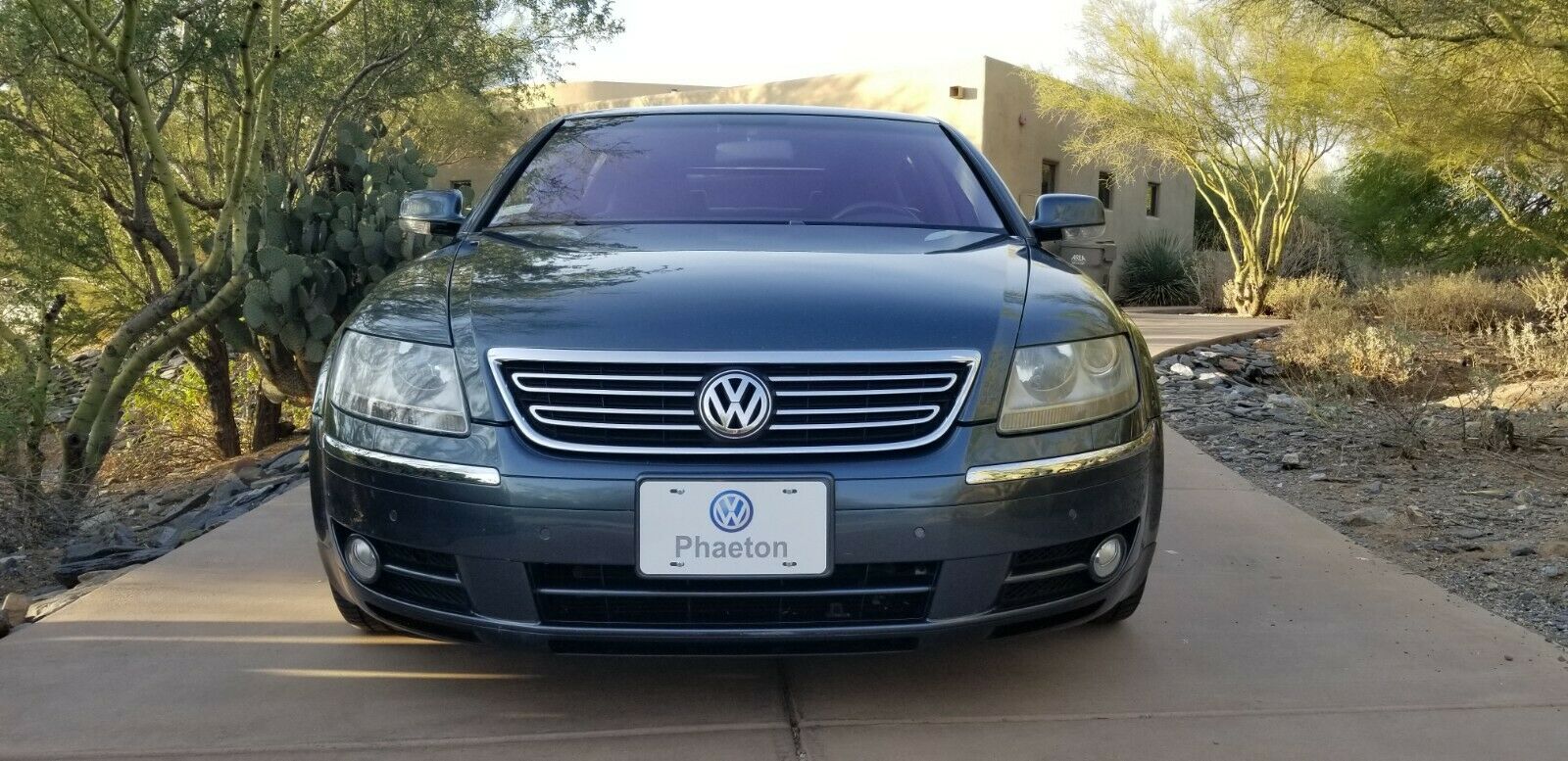 Let me start by saying this: Are you really going to drop $15,000 on an about-to-be 15 year old needlessly complicated Volkswagen? Then you must be looking at a R32, because they're simply no way you're contemplating this car.
Volkswagen piggybacked on the success of its B5, C5 and D2 platforms with a decidedly upscale move in the late 1990s. The headlines seem preposterous, but then so was the result; Volkswagen Siamesed two 2.8 liter VR6s together on a common crank, then stuck them in the middle of an all-wheel drive supercar. Still utilizing the Syncro moniker, all four wheels were driven by the 414 horsepower W12 and with a body from Giugiaro's ItalDesign, it looked poised to take on just about anything. Volkswagen wasn't done, as they punched out the motor to 6.0 liters and raised the specific output to a shocking 591 horsepower. It was renamed the W12 Nardo, and it then went to its eponymous track and produced staggering results. It's easy to overlook the achievement now, but in 2002 VW managed to lap a W12 Nardo at 200.6 mph…for 24 hours. That's right, in 24 hours a Volkswagen became the fastest car in history over that distance, covering an amazing 4,815 miles. That's one fifth of the world's circumference, if you're counting.
What VW did next was perhaps even more shocking. The world was used to upscale market brands of popular marques; after all, what were Lexus, Infinity, Acura…heck, you could even lump Audi into that group. But Piëch gambled that you'd pass over all those brands and…BMW…and Mercedes-Benz…to plunk down over $100,000 on a W12 Phaeton. Few did. Specifically, only 482 did, and it seems like more than half of those are black. Here's one that's not, for a change. And, it's no reserve!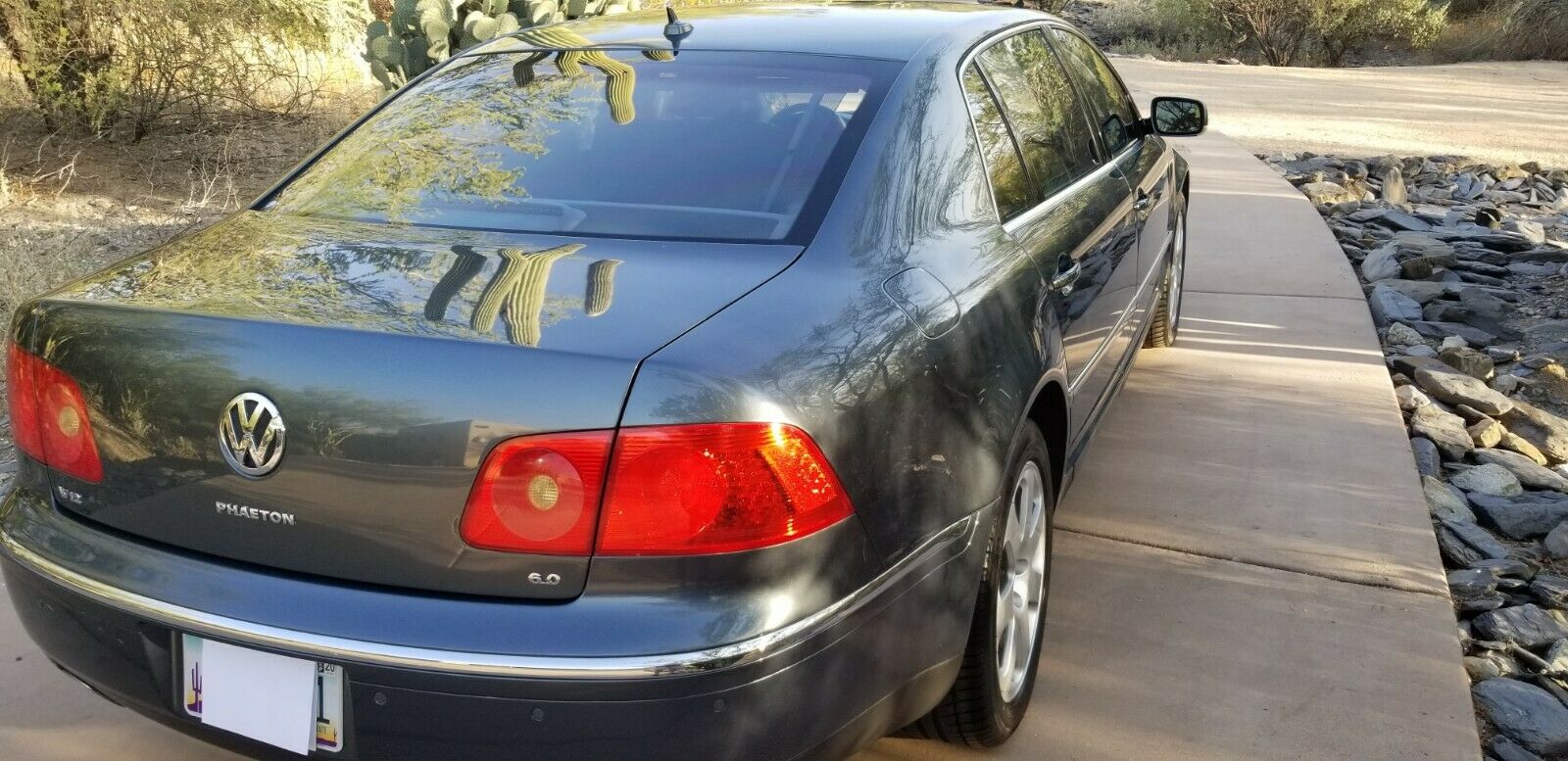 Year: 2005
Model: Phaeton W12
VIN: WVWAH93D458002326
Engine: 6.0 liter W12
Transmission: 6-speed automatic
Mileage: 109,800 mi
Location: Carefree, Arizona
Price: No Reserve Auction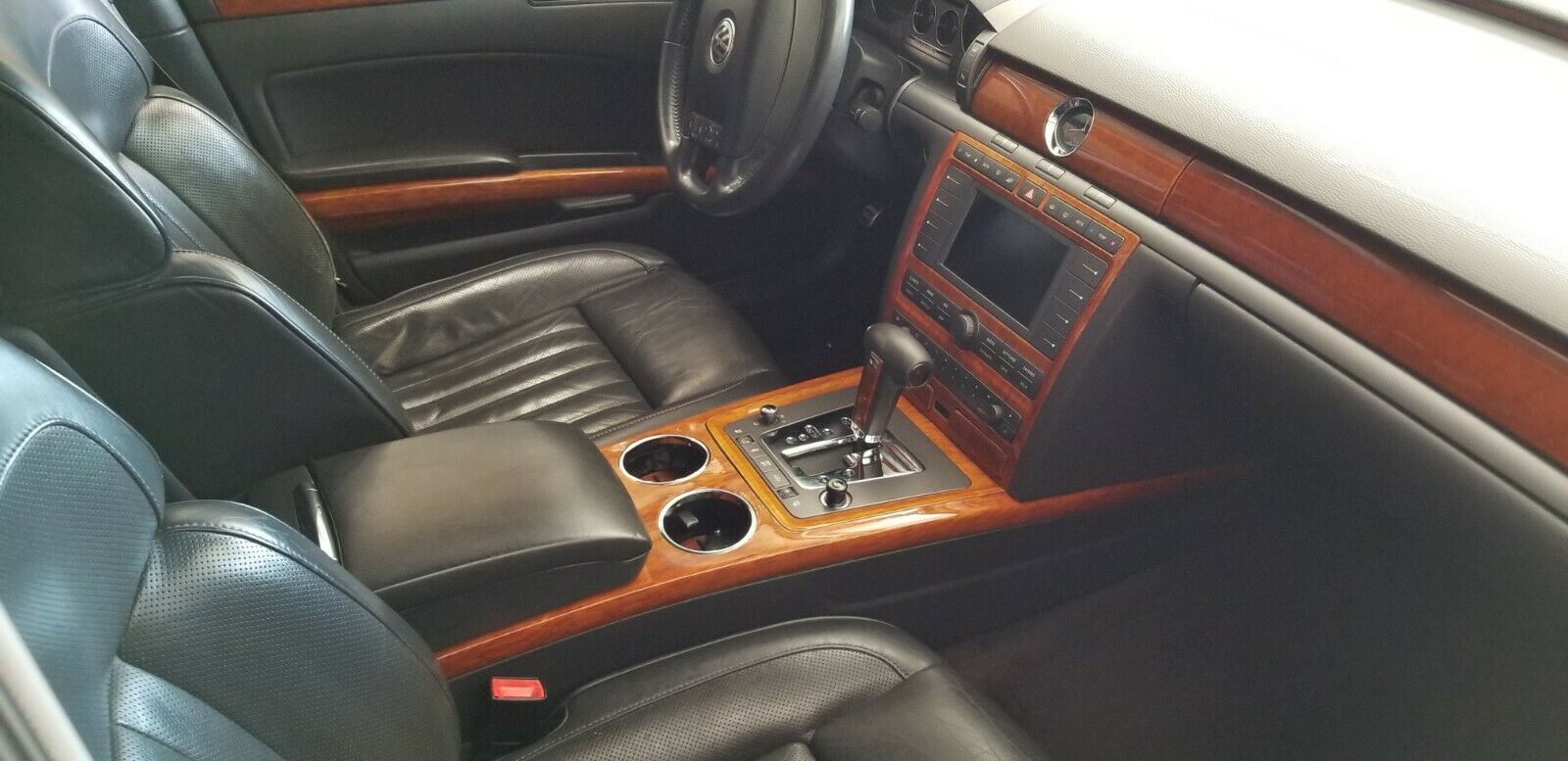 RARE 2005 Volkswagen Phaeton W12 in Coucou Grey Metallic with black Anthracite interior. All original, fully loaded with every option offered, and never smoked in. Mechanically sound, runs and drives like butter. This vehicle is built on the same platform and shares equivalent components and build quality with Bentley Continental GT & Flying Spur. Original sticker was around $100k.

Features:

· 6.0 liter, 12 cylinder engine

· All-wheel drive

· Heated, air conditioned, message seats: front and rear

· New accessory and start AGM batteries

· Keyless (touch handle) entry with auto trunk opening

· Heated steering wheel

· Soft-close doors

· Air suspension – front air struts have been replaced with new-design Arnott struts

· Parking sensors

· Original OEM carpet mats plus set of rubber winter mats

· Original books and manuals. 2 key fobs

· Rear window shades (left, right, and rear)

· Low miles: 109,XXX miles (about 7000 mikes per year)

· No dash fault lights, and everything seems to work as it should

· Clean Carfax

Notes:

This Phaeton is the much-more desirable W12, similar to the Bentley (minus the problematic turbos, of course!) In addition to having significantly more power and being much, much more fun to drive than the V8 version, the W12 engine has a timing chain rather than the very expensive-to-replace timing belt of the V8.

Car is fantastic for its age, but keep in mind it is now 15 years old. If you are expecting a new car, please buy a new car. The paint is original and shows some fading and expected normal road rash. There are a couple of minor parking lot dings. Refer to pictures for overall condition.

Engine runs strong and transmission shifts smoothly. Just completed oil service.

Michelin Primacy HP tires are smooth and have plenty of tread life, but they older. Interior is super-clean. Car has the rich leather smell that you expect from a Bentley or Rolls Royce. Normal wear on the driver's seat. Passenger and back seats are very nice. You would be hard-pressed to find another W12 in this condition.

Please ask questions and do your due diligence prior to bidding. The Phaeton is located in Scottsdale, AZ (Phoenix area), and inspections are welcome. Car is being sold as-is without warranty.

$500 non-refundable deposit due at auction close. Balance paid via cash, wire transfer, or certified funds due within 7 days. Car may be stored inside for up to 30 days for an additional $200.

I would feel comfortable (literal comfort!) driving car cross-country, but professional transport is always a good idea. I can assist in arranging transport at buyer's expense or picking buyer up at PHX airport if flying in.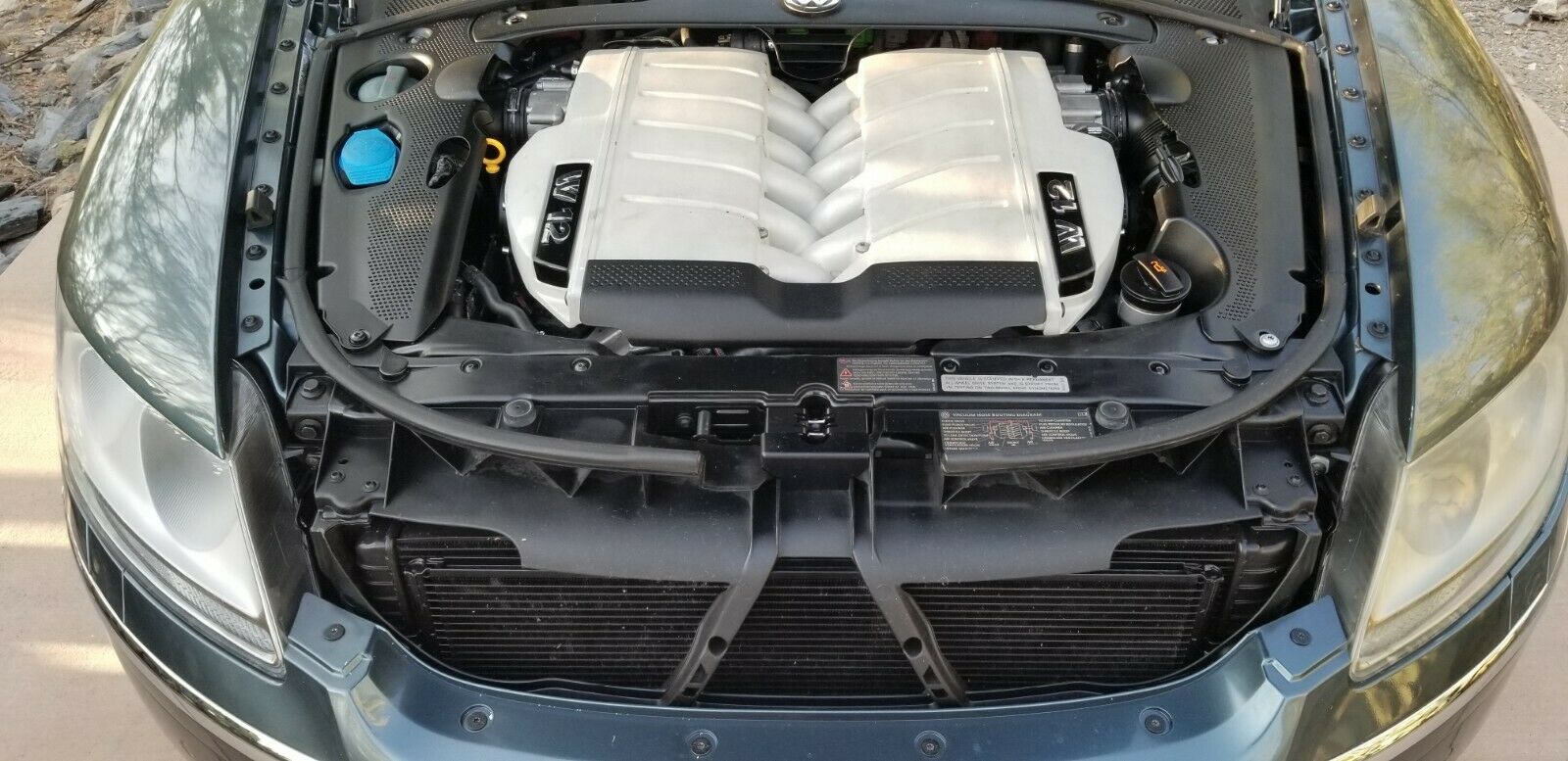 Okay, first things first – as large executives go, this one is gorgeous. Yes, it's gray like a fair chuck of large German cars from the Naughts, but the color is beautiful and matched so well by the bright wood interior and chrome splashes. You really do see Piëch's triumph of will over this design, and while some may snub their nose at the badge this might have been the best-built car in the world at the time. The BBS Challenge wheels are a great match for the look as always and condition appears to be really very good with some updates to the suspension. So what is there to watch for on these cars?
Well, you have probably heard of the reputation of VW electrics even if you haven't owned one. The best example I've owned is my current example, and yes…sometimes it just does weird 'Close Encounters'-type behavior. Of particular note are the number of computers controlling things everything on this car. For example, there are five computers that need to agree you want to shift the car out of park. And it's those type of niggles that will get you. The W12 itself seems to be, perhaps shockingly, the most reliable aspect of this car. But tracking down electrical faults on a car that most dealers, nevermind independents, haven't seen in person and one that effectively no one stocks parts for? You'll have to be ready for this car to sit for months while parts are shipped from Germany.
Bidding so far is just shy of $12,000. I don't have to tell you what else that buys, because you likely already know. But it's safe to say you're passing up a plethora of other options if you buy this car. It makes no sense, but there's a slightly morbid curiosity in contemplating the Phaeton. Like sticking your hand into a fan blade, you know what the outcome will probably be. But maybe you pause to consider it for a moment. And maybe you look up on YouTube who's already done it.
And just in case you're curious, the W12 Nardo still holds the FIA world speed records for 500 miles (203.4 mph), 1000 miles (202.5 mph), 5000km (201.9 mph), 5000 miles (200.7 mph), 6 hours (202.3 mph), 12 hours (201.9 mph), and 24 hours (200.635 mph). Someday they'll probably be broken – maybe by VW themselves with their new and similarly impressive I.D. R electric vehicle. But that won't diminish the seriously impressive achievement to me, and I'll always look on these W12 creations in awe.
-Carter