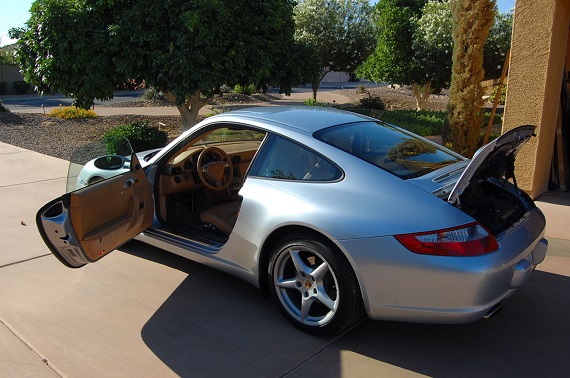 This one kind of snuck up on me. Not necessarily the car itself, but the price. I write about a lot of Porsche 911s, but rarely about the 997 and when I do feature a 997 it is almost always one of the cars with GT in the moniker. Now, $40k doesn't really make for an inexpensive second-hand car, but in relative terms there is a lot to like here. With values of air-cooled 911s steadying, but still remaining high and in an upward trajectory, those who desire a 911 with which they can spend some quality driving time must either accept quite a few faults or they must risk degrading the long term value of their investment. With the water-cooler 911s we don't face such a conundrum. They are still fairly new and neither the 996 nor the 997 has yet to receive significant love from buyers. There also is surely more depreciation to come. But with a 6-speed manual, more than 300 hp, and a lot more refinement than most any air-cooled 911 as a driver these have lots going for them. Added to that, the 997 mended many of the design elements that were so despised on the 996, leaving us with a 911 that possesses classic 911 aesthetics combined with modern performance. While the example here is a fairly straightforward 2006 Porsche 911 Carrera Coupe it does have a couple of nice options to help it stand apart.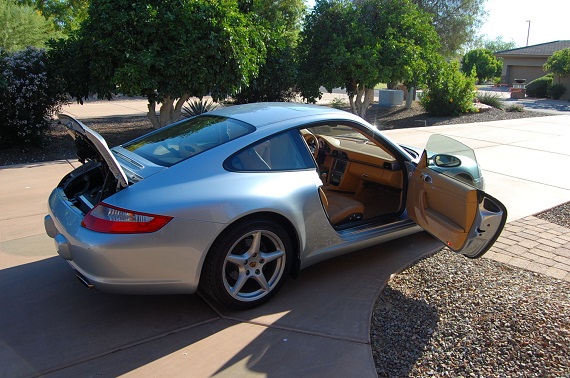 Year: 2006
Model: 911 Carrera
Engine: 3.6 liter flat-6
Transmission: 6-speed manual
Mileage: 33,918 mi
Price: $39,500 Buy It Now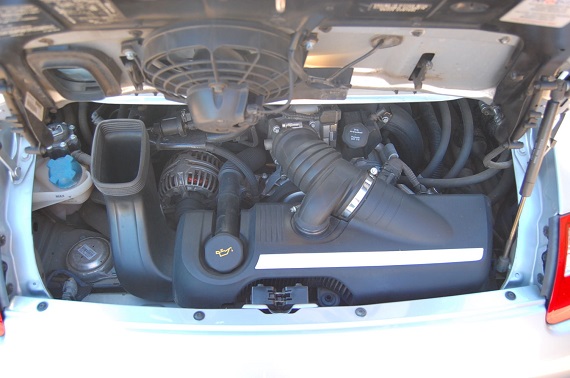 Low mile weekend driver always garaged 24/7 and babied. Arizona car, no rain/snow and no potholes. Overall excellent condition- see pics. Private party sale, clean title in hand.

Unique factory options:

FULL LEATHER and suede headliner- excellent interior condition, just see pics of seats!
special order Porsche paint Polar Silver primarily found on 993 models, this might be the only 997 in Polar Silver.
PASM adjustable suspension soft and firm settings. This is normally only on S cars and a great feature
steering wheel controls for phone and audio, fairly rare option on the 997.1 cars
Bose, Porsche crest in headrests
This is a great car, no issues ever. Amazingly no door dings since it sits in garage never in parking lots. There is a scratch along driver's side, mostly driver door, that existed prior to my ownership, it bothered me for about one day before I realized it is not significant. I've included photos of all panels so you can see the overall paint/body is excellent. Has 3m bra, so no paint issues on the front clip either.

Reason for selling- starting a new business so reluctantly selling what is a 3rd car and getting very little, occasional use- 2500 miles in 4 years.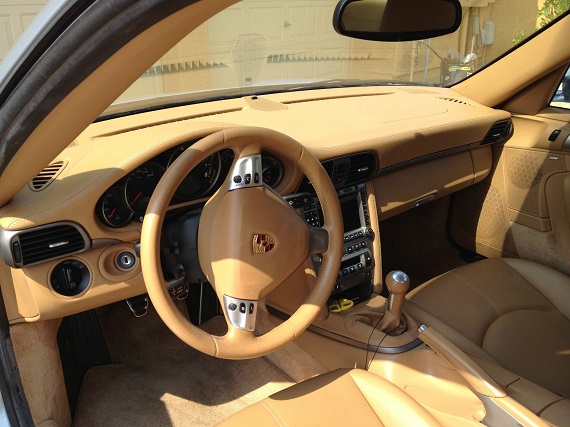 This isn't the lowest priced 997 out there nor is it priced the highest. Here we're sort of in the territory we might expect to find a Carrera with this mileage, which is quite reasonable at 33,918 and indicative of a weekend driver. Silver became an extremely common color on 911s, or almost any German car, in the 2000s but this one separates itself through its specially ordered Polar Silver paint, a more dynamic variant that garnered quite a few fans when it was used on the 964 and 993. I would be surprised if the owner's supposition regarding this being the only Polar Silver 997 were true, but it certainly will be rare. I also enjoy the interior color though with the full leather treatment in one color it's been left somewhat monochromatic. It needs more contrast, but overall it still looks pretty good and appears in very good shape. So that's where we're at: a good car that appears well maintained, came with a couple nice options, and that should be great fun to drive. I suppose there isn't too much more to ask for.
-Rob