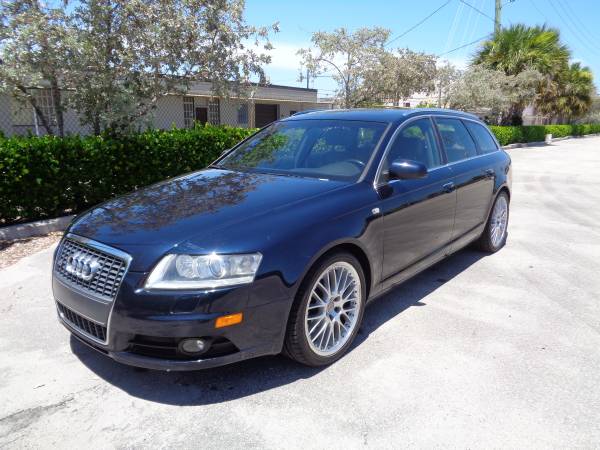 We tend to focus on the faster or the more unique wagons here at GCFSB, a habit which leaves out a huge swath of competent and quite nice automobiles. A great example is the Audi C6 chassis – the swan song, at least for the time being, for the large Audi wagon in the U.S.. It ended three generations of large Avants here, and while it was ostensibly replaced by a car I love – the hatchback A7 – its presence is still missed. There were only two basic configurations that the C6 Avant was available in here; from 2006-2009, you could get the A6 in wagon form only with the 3.2 V6 and the 6-speed automatic Tiptronic transmission. For enthusiasts, that was a bit of a letdown after the plethora of configurations in the C5; no less than 5 different layouts had previously been available. It was strange given the sales success that the C5 enjoyed; Audi chose not only to not bring the go faster V10 S6 and go fastest twin-turbo V10 RS6 here, but the new Allroad also didn't make the excursion across the seas. Why? Well, quite simply, the sales model in the U.S. had thoroughly changed. While German manufacturers had resisted the temptation to fully delve into the "Sport Utility" market in the early 2000s, but the end of the decade that was just the opposite. Today Audi offers only one wagon option; the A4-based pseudo-offroad Allroad Avant is only available in 2.0T 8-speed auto configuration. Compared that to the early 2000s, when Audi offered fully 6 different wagons with a myriad of different transmission and engine combinations. Only a few short years later, Audi's model range contained only two wagon options; the A4 Avant remained a popular option, while the A6 seemed to fade into obscurity. You just don't really see them much, and I live in an area that really loves Audi Avants. Perhaps Audi priced itself out of the market; the base price on a 2006 A6 Avant was a pretty staggering $46,870 before options. Spec one out fully and you were at $60,000 for your family hauler. But for that amount you got a tech-heavy and attractive big wagon that offered pretty respectable performance. The 3.2 V6 had advanced over previous versions considerably; now all-aluminum and offering 255 horsepower, despite the over 4,000 lb. curb weight the Avant scooted to 60 in just a tick over 7 seconds. Opt for the S-Line package, and you got some serious Bologna skins to keep it planted, too – 255-35-19, in the case of this example. Inside was pure luxury, making for a discrete chalet sheppard for you and your four friends: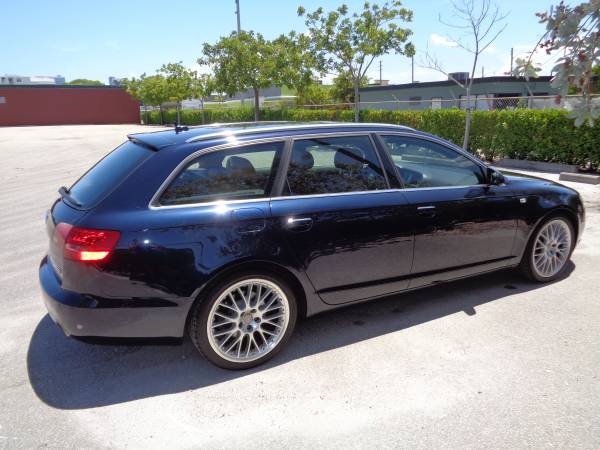 Year: 2007
Model: A6 3.2 quattro Avant S-Line
Engine: 3.2 liter V6
Transmission: 6-speed automatic
Mileage: 133,000 mi
Price: $9,500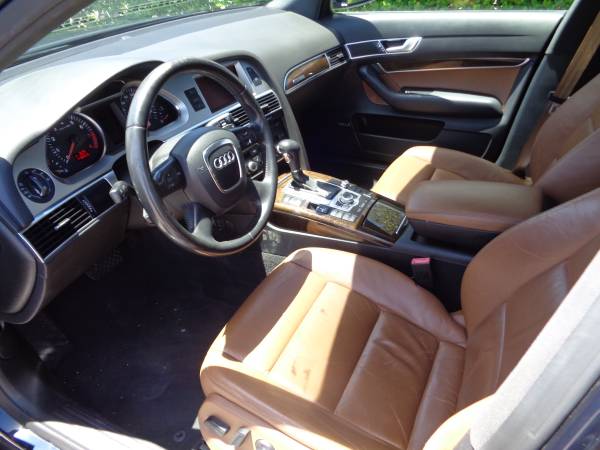 2007 Audi A6 S Line Avant 3.2 FSI Quattro!! Fully loaded, Every Extra Possible! 133000 miles. Navy Blue, Saddle Brown Interior. Bose Sound System, Navigation, Dvd Player, Moon Roof, 19 Inch Alloys, Full S Line Sports Pkg. Imaculate Condition, Just Serviced, Good tires All Around! Drives Like A Dream. Clean title in hand! $9500. Call John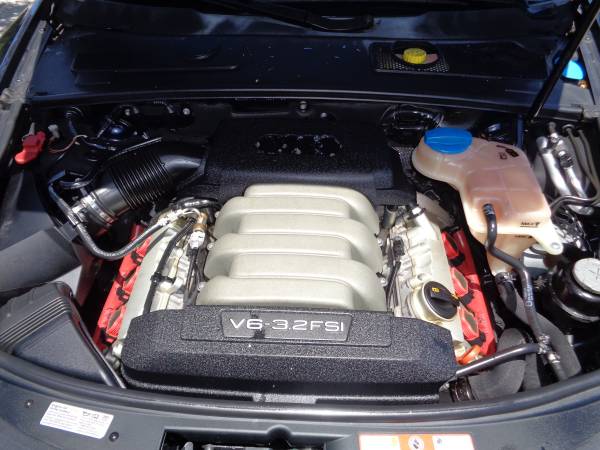 This example appears in the more rare to find Moro Blue Metallic with Saddle Brown leather. It's a lovely combination that really sets off both the interior and exterior. It was also heavily optioned; the Convenience Package (PPX) at $2,750 yielded Bose along with Homelink, auto dimming mirrors and a few other gizmos. With Navigation, it may have the Technology Package (WTC) for a staggering $4,000, which also gave you voice recognition – though Nav was a stand alone option as well. It certainly had the S-Line Package optioned, and the more expensive of the two (WQD, $3,350), with the quattro GmbH BBS/Speedline 2-piece 19″ wheels being the highlight there. That also included the 1BE sport suspension, paddle shifters, Birch trim and aluminum S-Line door sills. It's hard to tell if the rear seats are heated (part of the Cold Weather Package (PAW, $550)), but if so that would have meant this was effectively as loaded as you could make a A6. Condition appears to be excellent throughout, though there is something funky going on with the inboard rear lights; they don't look quite right. Mileage is slightly above average, but the asking price is slightly below average, so in my mind it balances out. I asked a Audi tech about the 3.2 pitfalls, and like the rest of the FSI motors it suffers from carbon buildup and the camshaft actuators can go bad. Otherwise, this appears to be a nifty and tidy sport wagon on a budget, and one of the more attractive overall packages that was on the market in the late 2000s.
-Carter