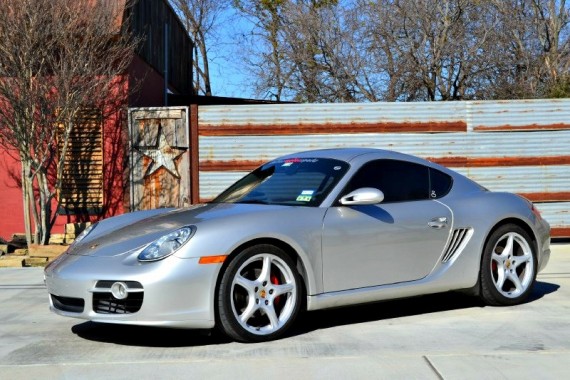 I don't like to make assumptions, especially within the automotive community as doing so is often met skepticism as to your intelligence and overall ability to function as a human being. That being said, I'm going to make two assumptions right now.
One: You were online yesterday and saw the new Porsche Cayman GT4 which you instantly fell in love with.
Two: You cannot afford the Porsche Cayman GT4.
I think these are fair assumptions to make because I'm a German Cars For Sale Blog reader and so are you. I'd love to have the fully clapped out brand new Cayman but given that I'm an automotive blogger, that's just not in the cards. The first gen Cayman S on the other hand is well within the reach of many an automotive enthusaist and not just the high mileage beater ones either. Many a nicely equipped Cayman S can be found with around 50-80k miles on the clock for a reasonable price. For example, this one down in Dallas, TX has all the options you need and none that you don't.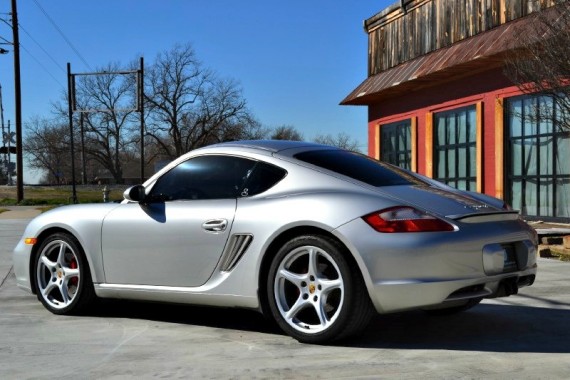 Year: 2007
Model: Cayman S
Engine: 3.4 liter flat-6
Transmission: 6-speed manual
Mileage: 77,212 mi
Price: $24,900 Buy It Now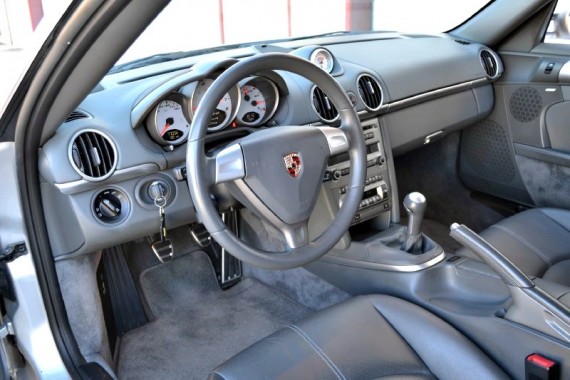 2007 Porsche Cayman S Sport Chrono, Service Records

Jared Orem (214) 893-4482 Email: jorem@dallasmotorsports.com

2007 Porsche Cayman S – 6-Speed – Sport Chrono – Extensive Service Records

FRESHLY SERVICED – PCA MEMBER OWNED – GREAT IMPROVEMENTS

This 2007 Porsche Cayman S would make a great daily driver, or a weekend DE track car for any Porsche enthusiast! This Cayman S is being offered in Arctic Silver Metallic, over Stone Grey Leather to create this stellar example seen here! To complement it all, this car has the following attributes:

FACTORY OPTIONS:

– Heated Seats

– Sport Chrono

– BOSE High End Sound System

– 19″ Carrera Wheels

– Automatic Climate Control

RECENT SERVICE INCLUDES:

– Motul Brake Flush & Oil Change

– Clutch Replaced at 59,000 Miles

– Michelin Pilot Sport Tires Recently Replaced

ADDITIONAL IMPROVEMENTS:

– GT3 Front Sway Bar

– KONI Dual Adjustable Front Struts

– Tarrett Adjustable Front Drop Links

Serviced every 3,000 Miles, services up to date. Extensive Service Records. Comes 100% Complete with books and two master keys!

Jared Orem (214) 893-4482 Email: jorem@dallasmotorsports.com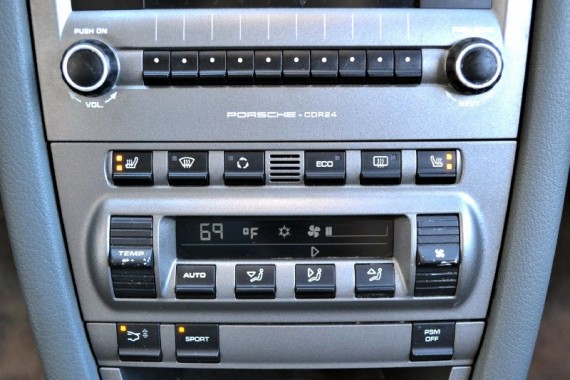 For a car with 77,212 miles under its belt I think this '07 Cayman S is pretty damn clean. Yes there's a little wear clearly visible on the TEMP and Fan toggles but that was very common with these cars. After all, they're part of the VAG family and we all know how prone everyone of their vehicles are to button issues. Apart from that and the fact that some people would for some reason want navigation in there, I don't think there are any downsides to this car. It's got the very desirable Sport Chrono package and while some people say that silver cars are boring I think silver Porsches are quite the opposite. Besides, you can always vinyl wrap the car in any finish you can dream up so knocking a good deal based on the exterior color just doesn't make sense. Aside from that you have heated seats, the very stylish 19″ Carrera wheels and added bonus of this vehicle having been owned by a PCA member.
One of the most important things to consider when buying a used vehicle, no matter what it looks like is what kind of life it lived. I think it's safe to say that given the condition of this car and that it was owned by an Porsche enthusaist its lived a good life full of regular maintenance and care. The addition of the GT3 front sway bar, KONI adjustable front struts and Tarrett adjustable front drop links are smart upgrades, leading me to believe the owner did not recklessly hoon this thing but rather drove it aggressively as Mr. Piëch so intended. Besides, it's not cars with suspension upgrades that you have to be wary of, it's the ones with ECU and power plant modifications that you really need to do your homework on.
So would I spend my hard earned dollars on this future classic? You bet I would. If it were closer I'd already have scheduled a time to go check it out. Maybe I'll fabricate a reason to go to Dallas in the next couple of weeks, perhaps a meeting with Cuban or something of that nature.
-Andrew