A few alumni from these pages popped up on eBay again, giving us the rare opportunity to compare two generations of Volkswagen Sciroccos for about the same money. The first is the original Scirocco; a 1978 example which has been thoroughly gone through and restored with some light modifications. The second is a second generation Scirocco in what appears to be all-original condition, but with total mileage unknown and a less desirable automatic. The last time the '78 popped up, the auction ended at just over $7,000; strong money for an unoriginal car, but a witness to the large amount of work performed. The second was a no-sale, not surprising given the high opening bid price at $5,500. The recent sale of a first generation Scirocco with desirable modifications for over $22,000 has given some weight to these sporty coupes; will that sale help pull this '78 up to a higher price than before? And the '87 has been lowered to a "Buy It Now" of $4,500 – is that the right price?
The below posts originally appeared on our site October 29, 2013 and November 14, 2014: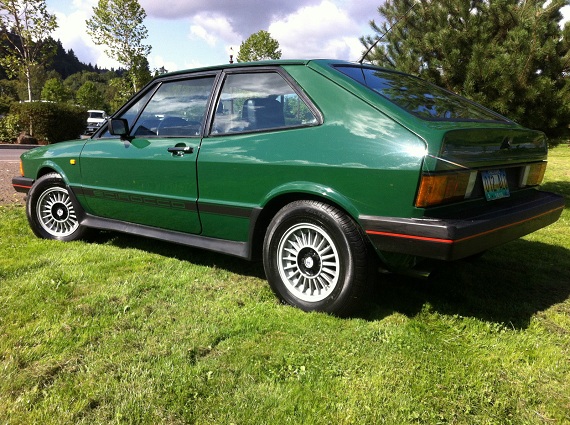 Last week's Euro-inspired 16V converted Scirocco was a car that I really enjoyed looking at as it was tastefully and fairly subtly modified. But as big of a fan as I am of the second generation Scirocco, I have to admit that I really find the first generation to be a much better looker. Finding clean original Sciroccos is pretty hard these days, but since I'm not the only one who really likes them there are a few that pop up from time to time for sale in good condition. Like the 16V car, today's example has undergone some desirable modifications to make it a better looker and more enjoyable to drive while still retaining most of the simple, clean and good looking original design. Take a look at this British Racing Green 1978 model: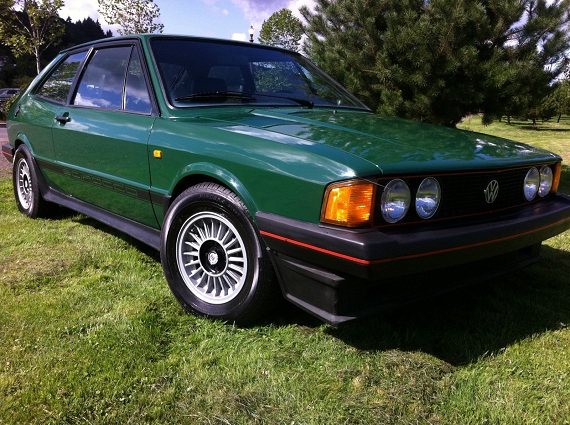 Year: 1978
Model: Scirocco
Engine: 1.8 liter inline-4
Transmission: 5-speed manual
Mileage: 150,000 mi
Price: No Reserve Auction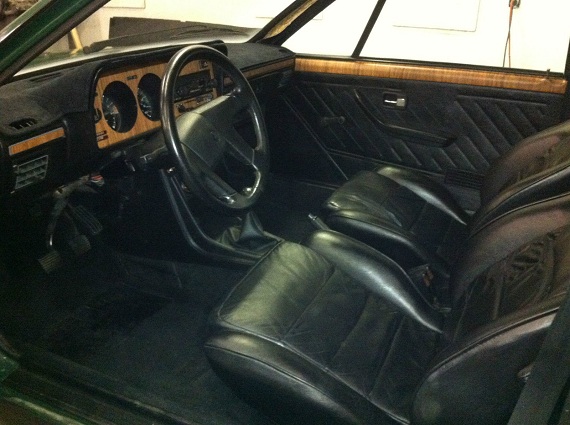 PLEASE CLICK ON THE FIRST PICTURE TO ACHIEVE GALLERY MODE AND GOOD CLOSE UPS OF THE CAR. I THINK EBAY HAS CHANGED THIS FUNCTION.

Available is my 1978 VW Scirocco, offered with No Reserve. I have acquired a Porsche 912 project, & I can't allow either of these to be rained on. I must make room, & the Scirocco will be sold to the highest bidder.

My VW has been an excellent classic, and a joy to own. The car has been drama free, which is rare with classics. Just get in, turn the key and enjoy an afternoon on your nearest country road. I don't want to write a book as the car speaks for itself. The biggest issue I find with the car is everyone wants me to stop and discuss it with them. I'll just comment on some of the main topics of the deep refurbishment/sorting the car has undergone.

Body:

-Body was stripped to shell "please review photos"

-Car was thoroughly probed for rust, and taken to bare metal in many locations to insure the integrity of the body. This is as solid Mark 1 as I have seen.

-Professionally painted with glass out in BRG. Using PPG products

-Large amount of money & time spent reinstalling glass with brand new gaskets, suspension systems, fuel systems, mechanical systems, sorting etc.

–Nice period correct Zender body kit with matching front spoiler "these are almost impossible to find"

-Body is very straight, and the paint has a deep gloss. People love the car

Interior:

-As you can see from the photos the interior is very well put together

-Recaro seats, full leather from scirocco "S". These make the car a much better driving experience over the average scirocco seats.

-Very hard to find "NOS" carpet kit sourced

-Door cards look as new

-Dash does have some cracks, has custom made suede dash cover

-All interior gauges work as new, even the original clock works, and all gauge lighting works

-Rear leather seats look to have never been used

Suspension:

-The entire suspension has been overhauled

-New KYB shocks all for corners-Fresh Eibach springs

-New bearing all 4 corners

-Rebuilt calipers all 4 corners

-OEM ball joints and tie rods

-Upper strut mounts with bearings.

–Brand new Falken Tires

-A arm bushing's, and much more I cant remember. Drives very straight & tight

Drive Train:

-Original 1.5 & 4 speed have been removed. Replaced with low miles 1.8 JH with 5 speed.

-The Bosch CIS was replaced by a very simple Weber/mechanical fuel pump set up. This makes the car a breeze to own with pure reliability & simplicity. I have the complete CIS and would be easy to refit if needed.

-Stainless long tube header with all new exhaust

-Motor was refreshed with new timing belt, water pump, and several gaskets before install

-With the 1.8 and 5spd the car is a joy to drive, maintains excellent mpg "30+", and is pretty quick (much quicker than my 2.0 914 or 912). Cruises down the HWY at 70 all day

-Larger radiator fitted from latter model Jetta, runs very cool.

Negatives:

-As with any classic there are few negatives that have never bothered me in the least. I know the potential buyer may have the car shipped so I want disclose these so the buyer knows exactly what they are purchasing.

-The passenger seat adjustment "forward & back movement" adjustment gets stuck. Never bothered me as the passenger always prefers that seat to be all the way back. Driver seat adjustments works well.

-Front windshield has typical fogging in the lower corners. Not a big deal, caused from light delamination between the glass.

-Painted over a year ago, looks great, but has occurred one small door ding from parking lot, and maybe a few very light scratches.

-Original Radio was sourced for the car and does work. Never bothered to hook up as the new owner will likely upgrade anyways "wires are marked for radio"

-Horn is missing under hood, never got around to finding one for the car

-Previous owner noted he performed a rust repair to passenger side floor. The repair was not noticeable from the top side of the floor. It is noticeable from underneath the car as a portion of the box beam was replaced. This repair is located under the passenger seat & was the only rust on the car. It was caused by a leaking rear quarter panel window "reason for all seals being replaced during paint". Looks to have been a strong solid repair so I did not bother with it and neither will you.

In summary this MK1 Scirocco is a rare find. The vast majority of these have been hacked up or simply rusted away. I would love to keep the car, however both of my Porsches require attention. This is by far the most reliable classic I've owned, and should serve its new owner very well. Please keep in mind you are not buying a brand new car. The car has seen extensive work, and is well sorted, but it is not brand new & does have minor flaws. I hold a clean title in my name. I welcome calls but do not call to "just discuss", only if you plan on bidding on the car (503-369-0459). Thank you for viewing.

Non refundable deposit of $500 due with in 24 hours of auction end.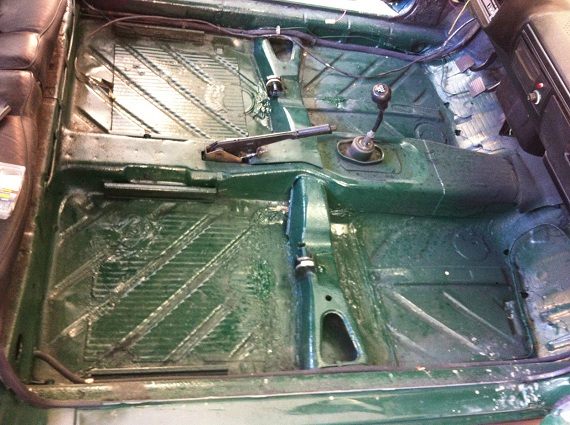 This car seems pretty honestly represented – there are some things still to sort though they're minor, and a vast majority of the big expenses both bodywork wise and mechanically have been taken care of. This is the best way to get into one of these if you like the color combination. There is obviously a tremendous amount of work that has gone into sorting the car. The green is offset nicely by the "S" red striping, though all indications are this wasn't originally an S. As a period piece it's quite nice; I could do without the Zender kit and would probably change the wheels to something a little different – such as these neat Momos up on Ebay now (click the picture to link to the auction):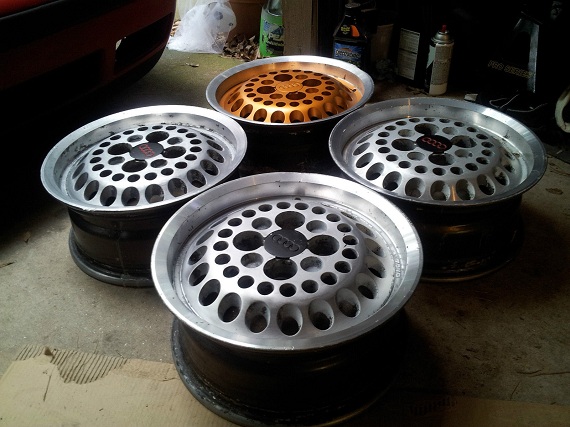 Otherwise, it seems ready to enjoy and is offered at no reserve. The GTis and second generation Sciroccos we've shown lately have varied greatly in price, but I would expect this car to end up between $4,000 and $6,000. At that price, it's a future classic that can be really enjoyed on a budget!
-Carter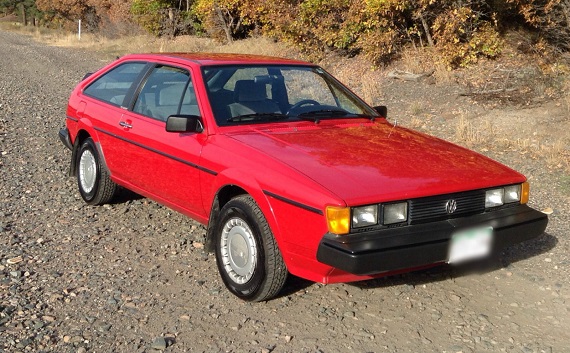 There always seem to be cases of survivors that pop up when you least expect it; cars that you just never see and think you'll likely never see again. Yet, on a fairly regular basis we find excellent condition Sciroccos and Porsche 924s. What is it about these two models that set them apart? Compare the number of mint condition Sciroccos that you find to mint condition Mk.2 GTis, for example. I can't really even think of the last time we saw a great condition 85-89 GTi, but Sciroccos? I bet we've seen 10 excellent examples in the past year. It's the same thing with 924s; there always seems to be one "survivor" car floating around. The other thing that seems to link these packages are that the asking prices always seem to be a bit…well, ambitious. But if survivor Porsche 924s always seem to be a bit overpriced with no market to support them, we've seen a few Sciroccos change hands above the $10,000 mark recently. That's some serious change for the Karmann coupe, and usually reserved for the later 16V models – although there was one virtually new 1983 Wolfsburg edition that broke into 5 figures. Today we have another excellent condition Scirocco – will this one be a market stunner too?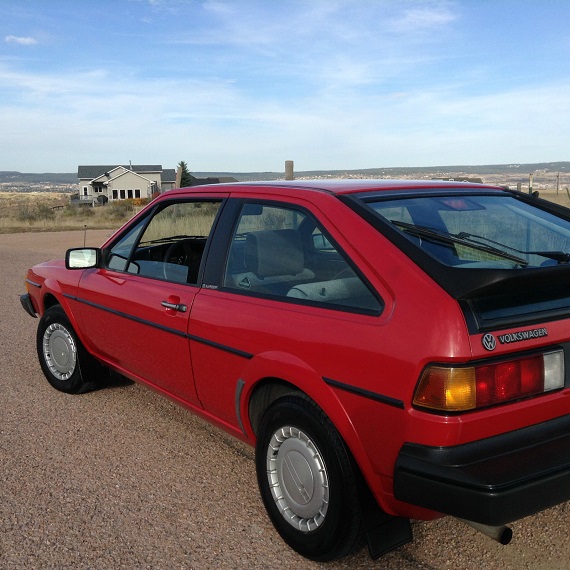 Year: 1987
Model: Scirocco
Engine: 1.8 liter inline-4
Transmission: 3-speed automatic
Mileage: TMU "75,000" mi
Price: $4,500 Buy It Now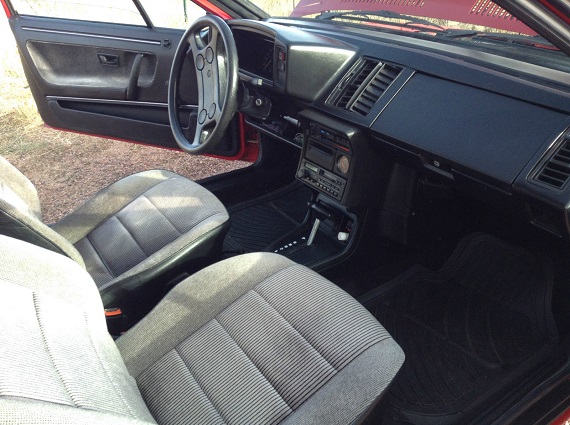 Beautiful 1987 VW Sirocco.

Odometer reads just under 75K, but exact mileage unknown.

All stock/Original.

I have owned this car since 2008.

The car is driven regularly.

Transmission shifts smooth.

Car does not smoke.

New tires and front struts.

Original spare and jax in good condition.

All lights, and gauges work.

Original radio/cassette works great.

All original glass including front windshield.

All original interior is incredible. No rips or tears, the dash is in excellent condition, headliner is perfect. (Missing the plastic knob that fits on the passenger seat adjust lever and I cant find the cig lighter)

Exterior is above average; Normal wear from driving, no dents, never wrecked, a couple tiny dings but very hard to see, paint is blistering on the driver side door (see pics), plastics are in great shape, wipers work, all lights work, original rear spoiler is very nice.

Engine is super smooth, no smoke, does not over heat, no knocking or weird sounds. Starts without any problems. The car does drip a drop or two of oil every once in awhile.

A/C is not working.

Great heater.

Oil always changed every 3000-4000 miles since I have owned.

I have always garaged the car and wiped it down any time it has been rained on.

The car does not leak when it rains or snows.

I would drive the car anywhere without worry.

The car needs nothing to be enjoyed.

Car comes with original manuals and a uncut original key (pictured).

I have never had pets in the car, and the car has never been smoked in.

I will try and find the cig lighter…I removed it to connect my ipod.

This is one of the nicest old sirocco's I have ever seen. I hate to sell and hope it is purchased by someone who will take great care of it.

Car is for sale local and I reserve the right to end the auction at anytime.

Car is sold in 'as is' condition.

I am happy to help with shipping/transport.

I have clean title in my name.

Winning bidder to pay non refundable $300 deposit within 24 hours of end of auction through Paypal.

The remaining balance can be paid by cash, or cashiers check (car will not be released until funds are verified and are cleared by my bank).

Thanks for looking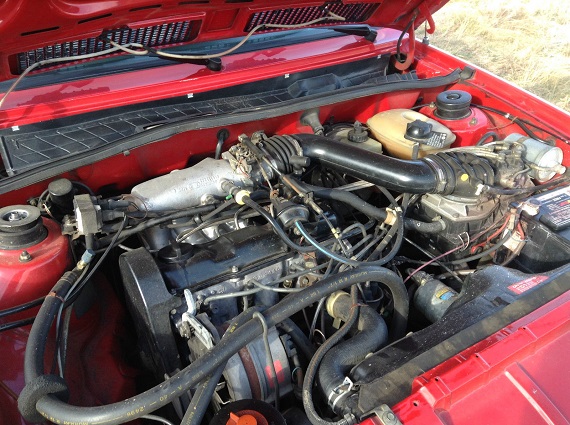 Does it look great? Yes. Is it as desirable as others we've seen? No. The Tornado Red paint looks like it could use some time in detailing, but it does appear to be all there and is claimed to be all-original. The interior and engine bay also look quite tidy, but the non-functioning air conditioning will likely cost a fair amount to get functioning if you'd like it to. In that interior, we see the big let-down – the automatic transmission. Plus, the cluster has been broken so we don't have actual mileage documented on the car. While some who want to show the car won't care, the reality is that limits the appeal. Further, this is effectively a base model of the Scirocco; yes, it was pricey originally, but the models that seem to attract the most attention are the higher-spec Wolfsburg and 16V models that are more desirable. That doesn't stop this car from being an honest, original survivor – but the seller has opened the auction at $5,500 – where I'd think the car would at most end, not begin. It's nice to see and fun to reminisce about when we saw these cars more often; but that asking price gets you into a budget Corrado VR6 – and you'd be hard pressed to say that wouldn't be a more fun drive and a better long-term investment.
-Carter