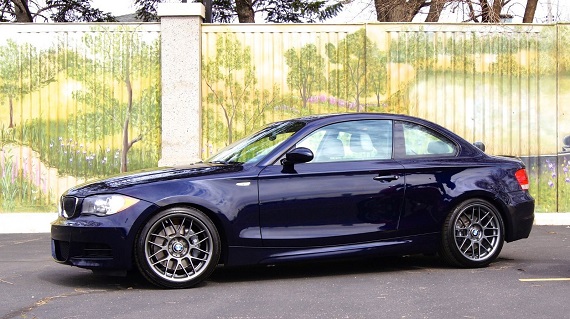 In my search for an E46 M3, there was a nagging voice in the back of my head. As I looked at high prices of nicer examples of the M3, the voice kept saying "what about the E82?" So, what about the E82? In 135i guise, you got some of the styling from the M3 in a smaller chassis even though, generally speaking, it makes the E46 look pretty huge. In overall length, the E82 shorter than even the E30 as amazing as that sounds. But the standard roof height meant that visually the 1 series looked slightly out of proportion. Dynamically, though, that S54 must be a massive trump card, right? Well, again, not so fast, as the N54 twin-turbocharged inline-6 lay under the hood. Sure, it was at a slight horsepower disadvantage, but it makes up for that 33 horsepower deficit with 38 lb.ft more torque – and unlike the S54, that torque is available from under 2,000 RPMs. The result is that at least on paper, the 135i can run step in step with the E46 M3 acceleration to 60, 1/4 mile and 100 are all within a few tenths of each other – certainly enough that the driver could make a difference. And properly equipped, the E82 is a pretty neat looking car, like this 2009 M-Sport package: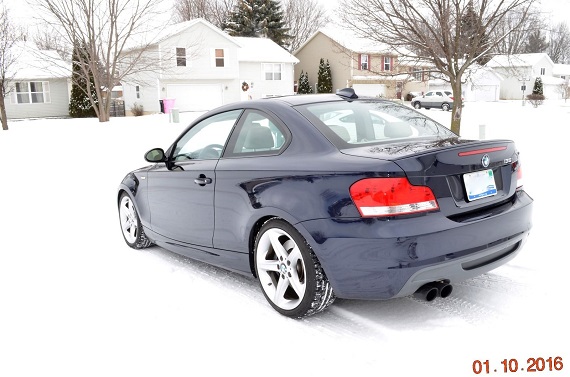 Year: 2009
Model: 135i M-Sport
Engine: 3.0 liter twin-turbocharged inline-6
Transmission: 6-speed manual
Mileage: 97,400 mi
Price: $14,400 Buy It Now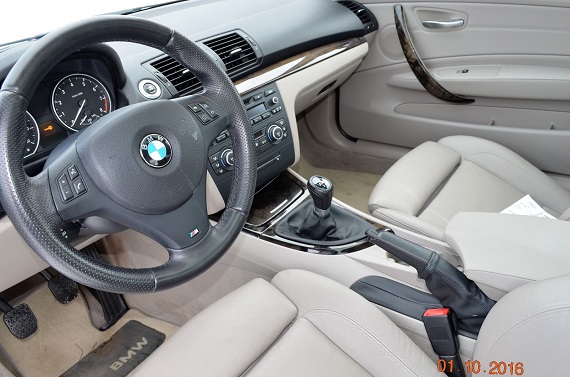 Please email for a link to the high-resolution album with more photos.

BMW 135i

– Monaco Blue, Taupe Boston Leather

– Cold weather package, premium package, and M-sport package.

2 owners, both non-smoker, clean title, no accidents. Carfax included.

The first owner and I have kept receipts of all maintenance and chronologically organized receipts.

Has a transferable Route 66 Extended Warranty plan through Pentagon Federal Credit Union.

It includes free roadside assistance, car rentals, and other benefits till June 2017 or 110,000 miles, whichever comes first.

Replaced the window regulator and water-pump with this warranty plan.

I believe it will replace the twin turbochargers, AC condensers, and many major items as well.

Maintenance and repairs have been done by at BMW/ certified dealerships.

Labor performed by Turn-In Concept, Ohio or At Speed Motorsports, Maryland.

Maintenance:

January 2016

– New front rotors and OEM pads

– Oil change and full interior/exterior detail

– Complete brake system fluid flush

July 2015

-New OEM water pump

-Cooling system/ radiator flush

-Alignment

-Oil change

Maintenance within past 24 months:

– Replaced low-pressure fuel solenoid and 6 new injectors.

H/P fuel pump replaced prior

– Intake valves cleaned, walnut blasting

– Oil filter housing gasket and vacuum lines

– Replaced the passenger window regulator and M-sport steering wheel

– Spark plugs, air filters, cabin filters, AC-recharged

– Differential and transmission fluid flush

Aftermarket parts were installed at a Dinan dealer by 1st owner.

– Dinan Stage 3 suspension ~$5,300

– Dinan springs, adjustable struts, front and rear sway bars and camber plates

– Dinan oil cooler ~$1,800

Aftermarket installed at Turn In Concept.

– BMS oil catch can

– TiC CD Valve

– M3 transmission mount and Whiteline rear subframe bushing inserts

As of January 2016, front and rear brake pads are at 6mm of thickness or more.

Tires at 7/32″ thread or more.

Comes with OEM wheels and winter tires.

I also have a set of summer Hankook tires mounted on 261M wheels for sales.

Both sets have the correct TPMS monitors in them as well.

Does not include the Apex Arc 8 wheels show on in first photo*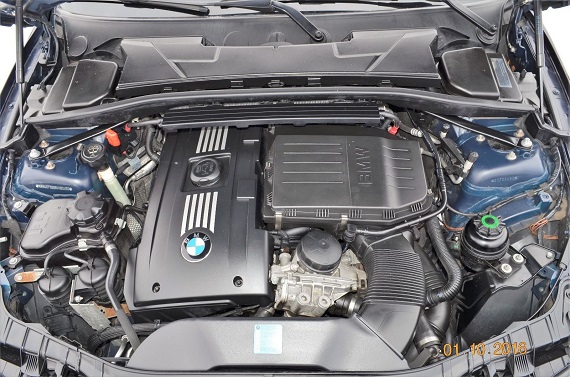 It's subtle, but I like the combination of Monaco Blue and the tan interior. The OEM wheels shown aren't the most striking look, but the optional 261M wheels look really awesome on this chassis. Dinan upgrades are both purposeful and desirable and should make this a more entertaining drive. Maintenance and care on seem to be right where you'd want them. But to me, if it comes down to desirability, the M3 still wins out – until you consider the price. At $14,400, you simply can't get an equivalent E46 M3. Under 100,000 in excellent shape? Asking price on the M3 would be a few thousand dollars more despite the older age. Heck, for that matter it's hard to find an equal E36 M3 for the same money. If you want a small, fast BMW and don't find the styling objectionable, these 135is are simply an amazing deal.
-Carter