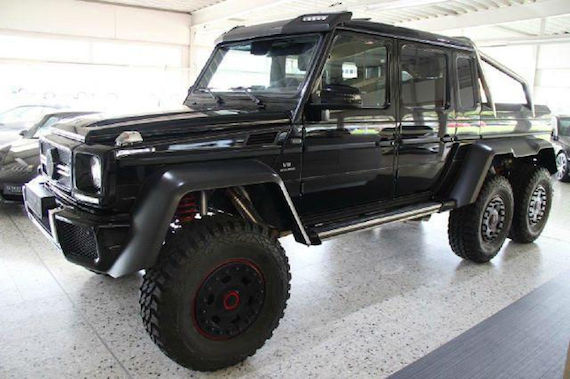 Sometimes a vehicle can be best summed up by numbers. There's a few to remember with this truck, the Mercedes-Benz G63 AMG 6×6:
6: Number of wheels
37: Tire size in inches
20: Capacity in liters of the four air tanks that inflate aforementioned tires
18: Ground clearance in inches
7.8: 0-60 mph time
561: Number of torques the 5.5 liter twin-turbocharged V8 produces
And most importantly, 9,050. That would be the curb weight of this beast. If any truck was going to make the Lamborghini LM002 look rather pedestrian, this modified G-wagen would be it. From the land that gave us the V8 Supercars race series, those nutters down under were partly responsible for this creation we see before us. Designed for the Australian military, the G-Wagen 6×6 went into low volume production last year, continuing on for 2015. I was well aware of the existence of this 6×6, but didn't know that any of them have made it over to the US. Amazingly, such a unique automobile has surfaced on Cars.com. Thanks to our reader Walker for passing along the tip!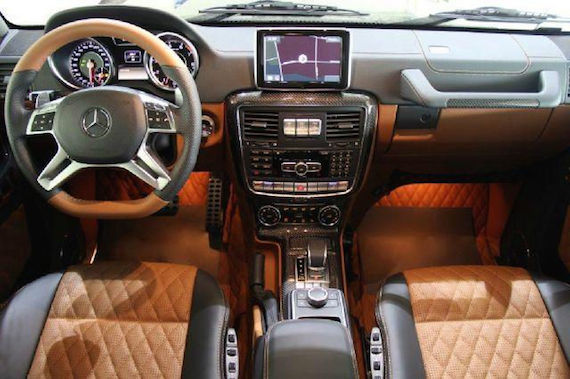 Year: 2014
Model: G63 AMG 6×6
Engine: 5.5 liter twin-turbocharged V8
Transmission: 7-speed automatic
Mileage: 50 mi
Price: $975,000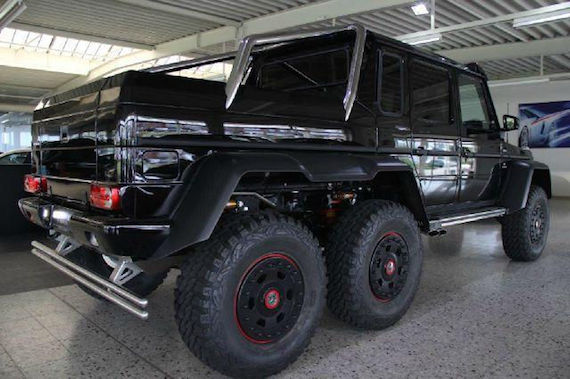 Mirabella Motors is proud to offer the ultra rare ultimate off roader the 2014 MERCEDES BENZ G63 6X6 priced at $975,000.00. This is one of only 60 hand-built 2014 MERCEDES BENZ G63 6x6s. This is the truck for the guy who owns a serious arsenal of toys and it can compliment any collection of 458's, Aventadors, Phantoms, or private Aircraft! This rare truck is finished in the best color combo of Black with a very clean Black and Tan complete Leather interior. It is powered by the AMG hand built massaged 5.5L twin turbo V8 engine (producing 536hp and 561ft lbs of torque) mated to a smooth shifting 7 speed transmission transferring power to 5 differentials, propelling this beast to 60mph in just under 8 seconds and 6 Big Brembo Brake Calipers stopping it quickly. It features all power items, power windows, power locks, power mirrors, power front and rear seats, power sunroof, Satellite Navigation, everything in the cabin is trimmed in leather or Alcantara, including leather flooring and floor mats, 18 beadlock wheels wrapped in 37 tires that can be inflated and deflated centrally in the cabin, it rides on 6 hlin gas bypass shocks, coil springs, portal axles, 39 gallon gas capacity tanks, wood trimmed bed, and much more!

You too can be the envy of all your peers in this 2014 Mercedes Benz G63 6×6 for only $975,000.00!! We also offer this ultra badass truck with special in-house financing to those that qualify! Please call 888-709-4698 or after hours call or text to 888-709-4698. Please feel free to stop in for a look. We are conveniently located next to Tampa International Airport at the Westshore entrance to the International Plaza. National and International shipping always available. Se habla espanol. Financing available with WAC! To get more nfo please go to our website www.MirabellaMotors.net enter your info, and make sure you put in your contact number! Family owned and operated with over 50 years in the automotive industry. At MIRABELLA MOTORS we specialize in premium, high quality, luxury, pre-owned vehicles at wholesale prices. We are centrally located in Tampa next to the Tampa International Airport. We have the luxury vehicle you have been looking for!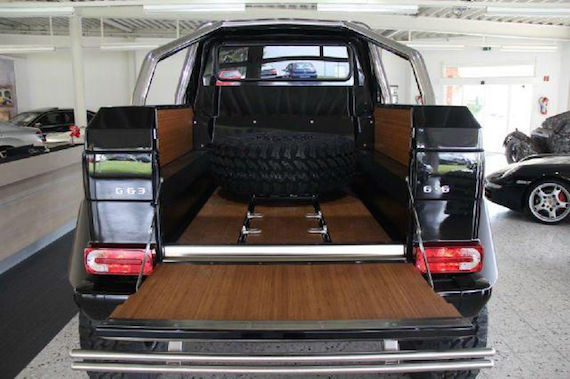 No doubt about it, the 6×6 G-Wagen is a rare beast amongst current Mercedes-Benz models, even more so than the cultish E63 AMG Estate. I have yet to see one of these outlandish trucks on US soil and I would be curious to learn more as to how this one made the trek across the pond. At almost $1 million, this one is priced way past the means of mere mortals. It is also priced way beyond the MSRP for 2015 models of $633,000. Is this thing necessary? Absolutely not. Do I want it? Totally.
-Paul