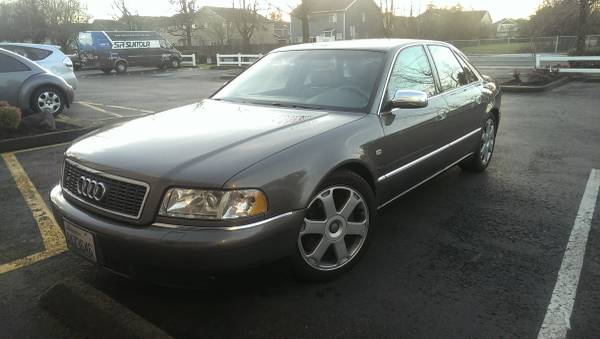 The D2 S8 is without a doubt one of my favorite cars, but even I'll admit that the color pallet that the car was offered in was rather sedate. In fact, by 2003 you could only select from three colors. The typical silvers, dark blues, and blacks are all too common to see on the uncommon sporty large executive, but if you look at the specification sheets for the car you find that there were actually several colors that were very rare to see. Strangely, that's not necessarily because they were ugly or very unusual colors – in fact, the example of today's color was quite popular on other models like the Allroad. Yet, here is an Alpaka Beige S8 quattro – a color only available in 2002: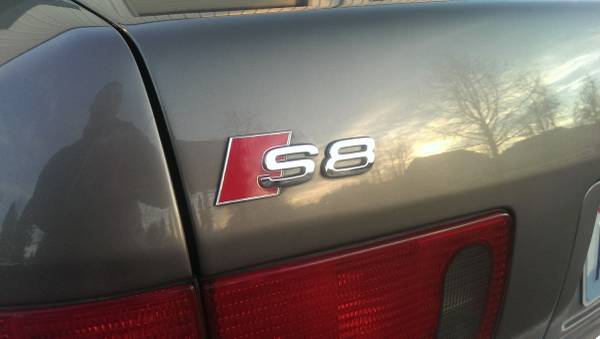 Year: 2002
Model: S8
Engine: 4.2 liter V8
Transmission: 5-speed automatic
Mileage: 126,000 mi
Price: $12,000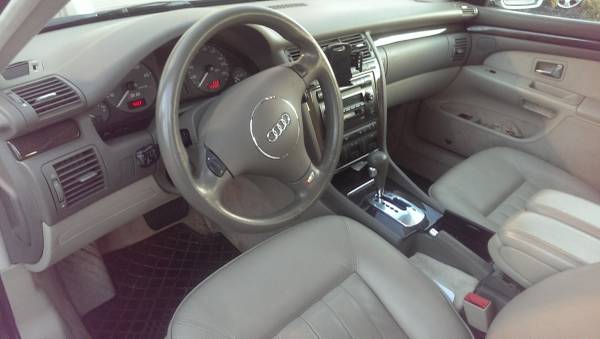 Time to part with this incredible piece of machinery. Ultra rare Alpacca Beige colored S8. This has been the most reliable rewarding car I have ever owned. I am the second owner and all of the weak stuff for this D2 have already been attended to. I have all records since car was new including dealer brochure etc. I just installed new Brembo pads and rotors. Timing belt done at 94k. Rear chain tensioners inspected at that time. New Bilsteins. Oil cooler pipe replaced. New wiper assembly. Drains cleared cleaned etc. Transmission replaced by dealer Sonnen Audi at 89k!!! This car is exquisite. Dual pane glass all around. This car was $82k when new in 2002! It still looks beautiful to this day. Very timeless design. Awd and almost 400 hp for less than a used Kia! My mpg is 27 on freeway and 17 around town. Very respectable. Clean Carfax no accidents. Everything works as it should. The only repair I would recommend is to replace front driver side control arm bushing.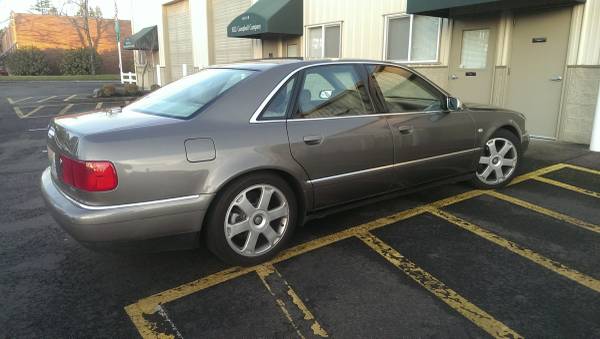 Strangely, Alpaka Beige was one of three tan/brown colors that were available in 2002 – joined by Espresso Brown and Canvas Beige, two other quite rare colors to see. There are nice aspects of this particular model; despite the higher miles, it had a dealer replaced transmission at 90,000 miles – generally considered the big item on these older Audis, though a less common failure on the S8. With the timing belt done, new brakes and what appears to be all records from the second owner, this is probably one of the better cars to consider if you like the color combination. Admittedly, it's probably not the shade that most would choose – obvious, since there aren't many floating around. If there's something that I'd consider unfortunate, it's that the original buyer ticked option box Q1A – the no-cost comfort seats in Ecru to replace the standard sport seats. But overall if you want to stand apart in a car which already stands a bit apart, this is an excellent alternative.
Thanks to our reader John for a great spot!
-Carter