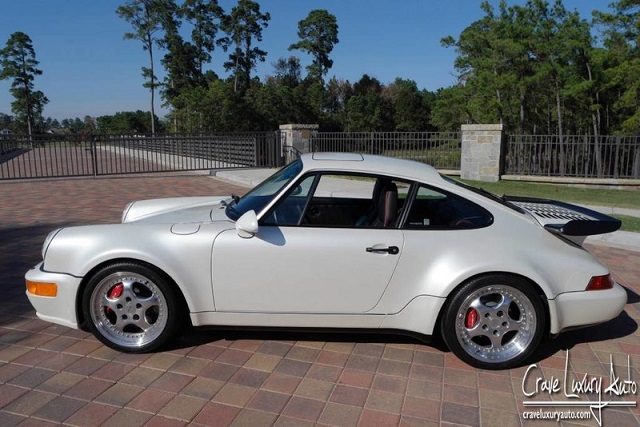 This is a car that will press many of us to ask, "Why?" The 964 Turbo is a favorite of many, whether it be one of the original 3.3 liter Turbos or the later 3.6 liter Turbo that raised the performance bar even further. These were the last standard Turbos Porsche produced with rear-wheel drive as all-wheel drive became the norm beginning with the 993. That makes them quite special and one of the 911s most capable of providing a thrilling, rewarding, and white knuckle experience for its drivers. To not take advantage of those capabilities by actually driving the darn thing tends to ruffle the feathers. That is the case with the Turbo we see here. I think we can see the impulse that got us here – this is a well-optioned and unique 911 intended for a collector – but it still rankles. Oh well.
That (massive) negative out of the way this really is a pretty unique opportunity and while it's difficult to be certain whether a particular car is the lowest mileage available, we can feel pretty confident that this one is close. Also, its absurdly low mileage is not its only selling point. Here we have a paint-to-sample Pearl White Metallic 1992 Porsche 911 Turbo, located in Texas, with Black interior and a scant 717 miles on it. A tour through the pictures will reveal many of the other options added to this 911.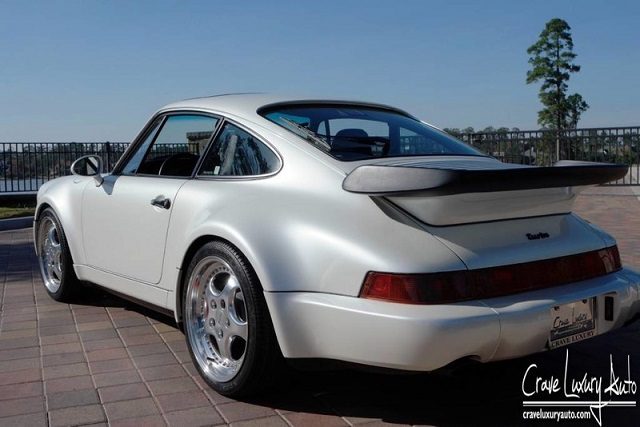 Year: 1992
Model: 911 Turbo
Engine: 3.3 liter turbocharged flat-6
Transmission: 5-speed manual
Mileage: 717 mi
Price: Reserve Auction ($495,000 Buy it Now)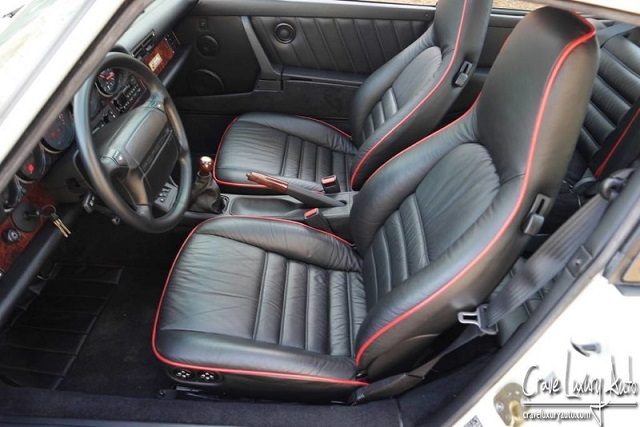 1992 Porsche 911 Turbo
Welcome to Crave Luxury Auto, one of the nation's premier marketers of high-line and luxury automobile dealers. The car you are viewing is ONE of ONE built. It is the only car built painted this color and is also the LAST 3.3 964 turbo built for the US market. The car was ordered through the Porsche SPECIAL WISHES department by an avid collector and meticulously-maintained. The interior is virtually flawless and is was ordered with every option you can think of as well as some others. With only 712 miles, this is arguably the BEST 964 3.3 turbo in existence.

Metallic paint to sample
All leather seats black
Velour floor mats black
Dark Rootwood shift lever knob
Rim cap with Porsche crest
Gear box tunnel leather
Leather tray behind parking brake
Leather ignition lock
Leather ignition door key
Leather sun visors with mirror
Leather seat belt locks and housing
Leather front seat hinges
Leather air conditioning adjustment
Leather rear safety belt locks
Leather covered caps
Special order Porsche speedline wheels
Additional lightning interior footwells
Special leather center console
Dark Rootwood dash
Park brake handle in Dark rootwood
Pearl white metallic paint
Electric sliding sunroof
Remote CD changer
Supple leather seats
Additional exclusive/Z options

-LAST US SPEC 3.3 TURBO BUILT
Bore and stroke: 97 x 74.4 mm (3.82 x 2.93 in)
Displacement: 3,299 cc.
Compression ratio: 7.0:1.
Power: 320 PS (235 kW; 316 hp) @ 5750 rpm.
Torque: 450 N·m (332 lb·ft) @ 4500 rpm.

We welcome any pre-buy inspections before purchase and can help facilitate door to door shipping to anywhere in the world at an affordable price.
Crave Luxury Auto is located in The Woodlands, TX (north side of Houston, TX). Call us and schedule an appointment to visit Crave Luxury Auto.

If you have any questions or would like to schedule A time to come see this vehicle, please call us anytime at 281.651.2101. If you have specific questions, please contact Karl Stomberg directly at 713-201-0856. Thank You for visiting another Crave Luxury Auto Listing! You can always view our online inventory direct at www.craveluxuryauto.com. If you prefer to communicate via email, one of our representatives are always available at craveluxury@gmail.com.
Crave Luxury Auto offers an extensive range of superb, low mile, exotic and luxury automobiles. Trade-in proposals are always welcome.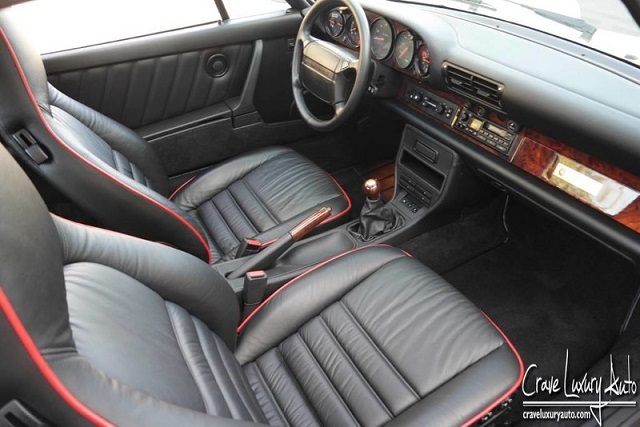 Have you ever gone to Porsche's website and played around with the configurator, adding just about everything imaginable, then looking at the price and laughed? The original buyer of this 911 must have done something similar (ignoring that whole problem of the internet not really being a thing in 1992), except at the point when I would laugh and close my browser, he looked at the salesman and said, "Yes, let's build that." This 911 has a lot of options. Some of those, like the red piping on the seats, are vexing. Others are wonderful. There's a lot of leather and a lot of wood in the interior and here it actually looks pretty good. But the exterior is where the key features reside. Wonderful Speedline wheels really provide a dose of aggression to contrast with what isn't a very aggressive exterior color, but it is a very pretty (and pretty unique) exterior color. I've rarely come across Pearl White and, unsurprisingly, haven't come across it on the 964. I like it and think it looks especially good on the extra curvy Turbo. This 911 is pretty much in like new condition and while the fact it hasn't been put to use is frustrating, it's rare to be able to see a 964 in such nice condition.
There is a price for all of this uniqueness though. A very high price: $495K. That's higher than any 3.6 liter Turbo I've seen, though still far from the prices of the super-rare 964 Turbo S. Can such a price be achieved? Honestly, I have no idea. Significant premiums for low mileage aren't new, but with most 3.3 liter 964 Turbos priced in the low $100Ks, this is a big leap. We'll definitely need thorough documentation to even have a chance, which isn't provided here but I assume must be available. This seller tends to have a lot of very interesting 911s at very high prices that I see listed for a very long time. I suspect this one will be no different and I'll continue to have an eye it. It is quite the car though!
-Rob