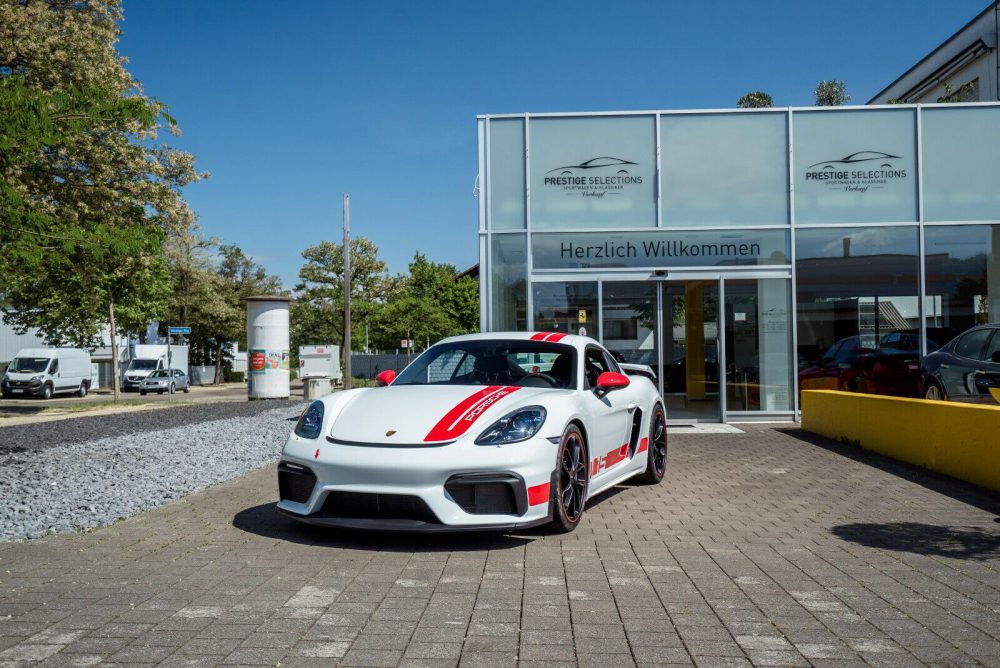 Usually when manufacturers start pumping out 'special editions' it is either at the beginning of the generation or knocking on death's door as a last grasp to get people to buy the aging model before retooling for the next model. Today, we have the former. This Porsche 718 Cayman GT4 is already a huge hit for Porsche fans as everyone guessed, and the European-market already has a 'special edition' to go with it. What is it? The Sports Cup Edition. You might be looking at that photo and thinking it is a track-focused model with a bunch of lightweight parts and more hardcore suspension. That would make total sense, right? Nope. Just some stickers.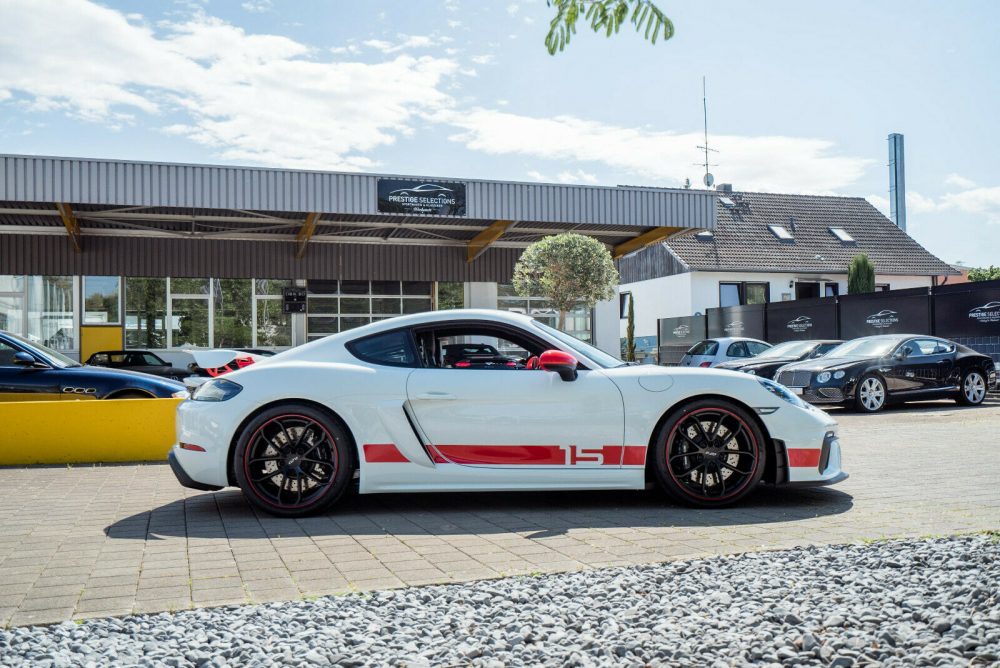 Year: 2020
Model: 718 Cayman GT4 Sports Cup Edition
VIN: N/A
Engine: 4.0 liter flat-6
Transmission: 6-speed manual
Mileage: 60 km (37 mi)
Location: Freiburg im Breisgau, Germany
Price: €147,900 ($172,068)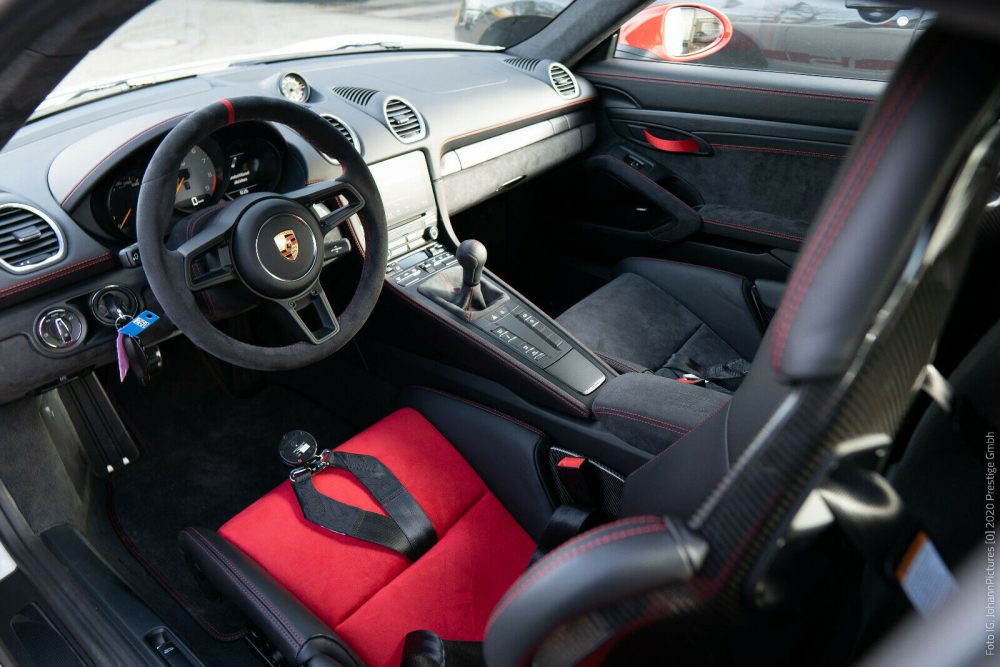 We offer you an absolutely special feature, a Porsche:

GT4 "SportsCup Edition"! One in 100!

Immediately ready for collection! With great equipment!

Be one of the few who can enjoy this absolute racing machine! The short, crisp manual gearshift is absolutely amazing and is just fun! The V6 vacuum cleaner is a pleasure for every ear and the pure classy interior design gives the racing machine the finishing touch!

Equipment:

leather interior
contrasting stitching in red
SWR caps in white
mirror caps in red
fuel tank cap in aluminum look
6-speed manual gearbox
brake calipers in black
seat center in Alcantara
Porsche logo painted in red
Satin-matt rims with red border 20 " Chrono Package with lap trigger Pre-installation for
navigation system with Porsche Connect
Steering ring with 12 o'clock marking, red Dimming
mirror & rain sensor
Fully LED headlights, adaptive
Windshield with gray wedge
Light Design package , Bluetooth
cruise control 6-point belts Club sport package, reversing camera, rear parking aid, speed limit display, Illuminated door sill, Alcantara interior package light / rain sensor logos embroidered red bucket seats extinguishers smoking packagebelts in Guards red 2 zone climate control
Sun visor in Alcantara
Steering wheel in Alcantara
Bose sound system
Mobile phone storage compartment
Digital radio

and much more …

If you have any questions, please do not hesitate to contact us!

We speak english, nous parlons francais.

We deliver throughout Europe with our company's own trailer!

We offer financing and insurance services.

Trade-in possible after consultation.

All information without guarantee!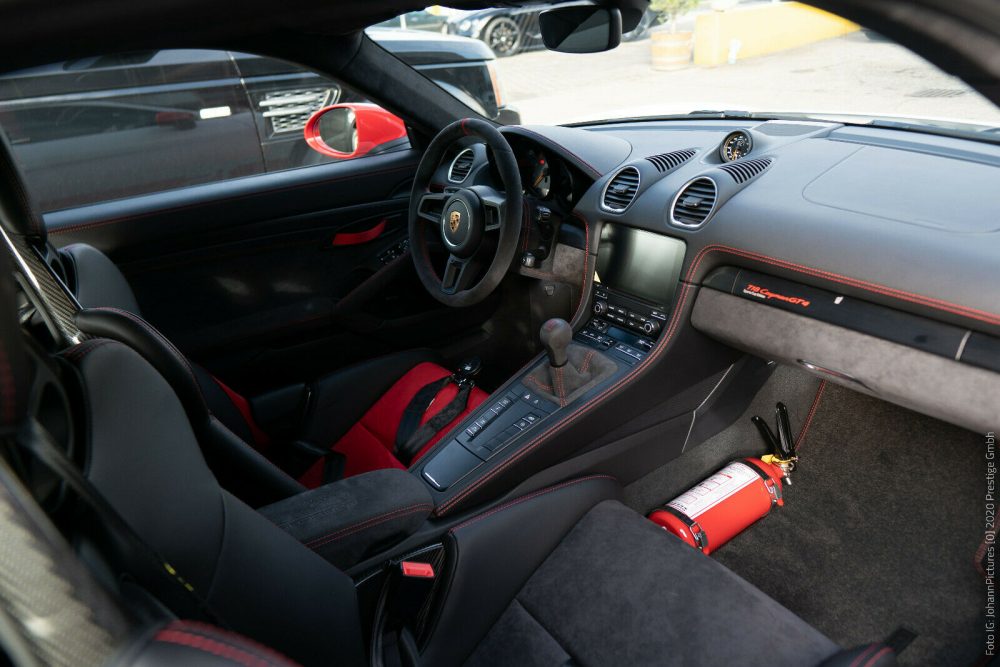 Seriously. Outside of some vinyl accents and a bunch of red trim on the interior, this is just a regular 718 Cayman GT4. Porsche produced the special edition to mark the 15th anniversary of the customer and club sport series "Porsche Sports Cup Germany", which totally explains why the US market didn't get these. That, and it is maybe a tough ask for someone to buy one of these considering the rather unconventional color scheme. Word is that only 100 of these were produced, so I doubt Porsche had grand plans for this one.
This example in Southern Germany has just 37 miles and carries a hefty asking price $172,000, or just shy of €148,000. That is a ton of money considering the new GT4 starts at €94,000 in Germany. Are there over €50,000 in options on this one? Not from what I see. Even more so considering it doesn't even have carbon ceramics. Fun to see, maybe to own on this one.
– Andrew