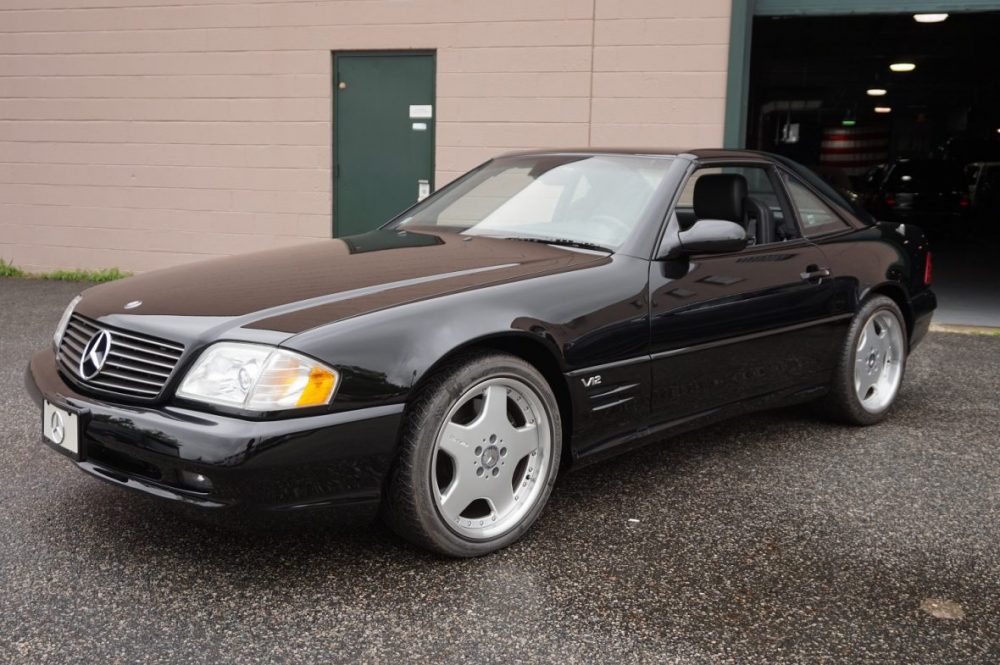 These ultra-low mileage cars that come out of the woodwork every so often can either can one of two ways. On one hand, they are stashed away with care and caution. Regular exercise, maintenance, and cleaning when necessary. On the other side, basically none of that. Just throw it in the corner under a cover and let it sit. Then bring it out and say it is perfect. That might be true in a loose definition, but not when it comes to really caring for the car. Today's car, a 2001 Mercedes-Benz SL600 for 427 miles, maybe is on the latter of those scenarios.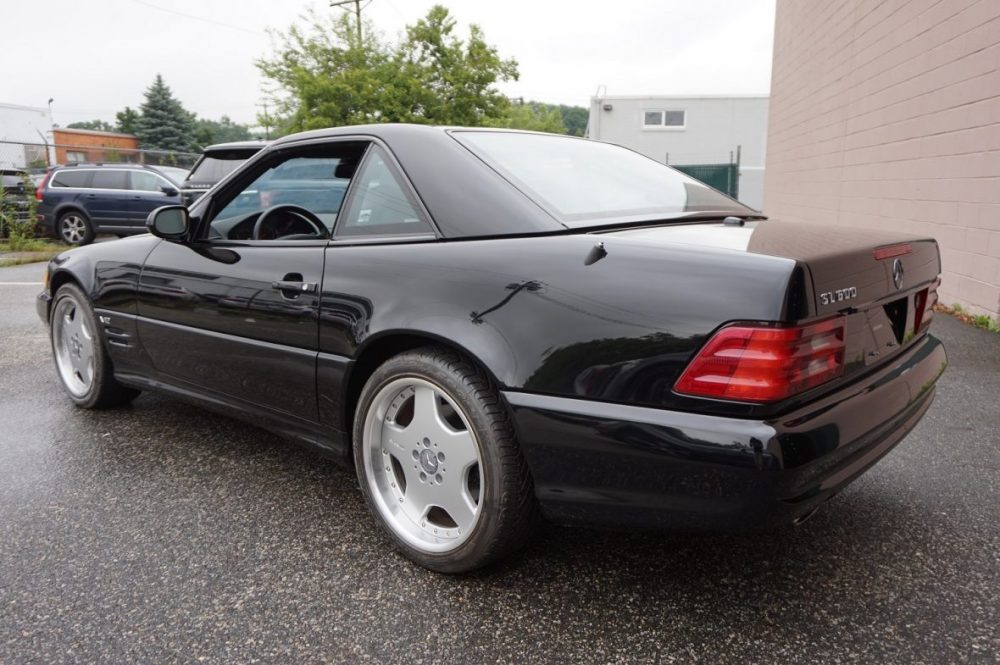 Year: 2001
Model: SL600
VIN: N/A
Engine: 6.0 liter V12
Transmission: 5-speed automatic
Mileage: 427 mi
Location: N/A
Price: $130,000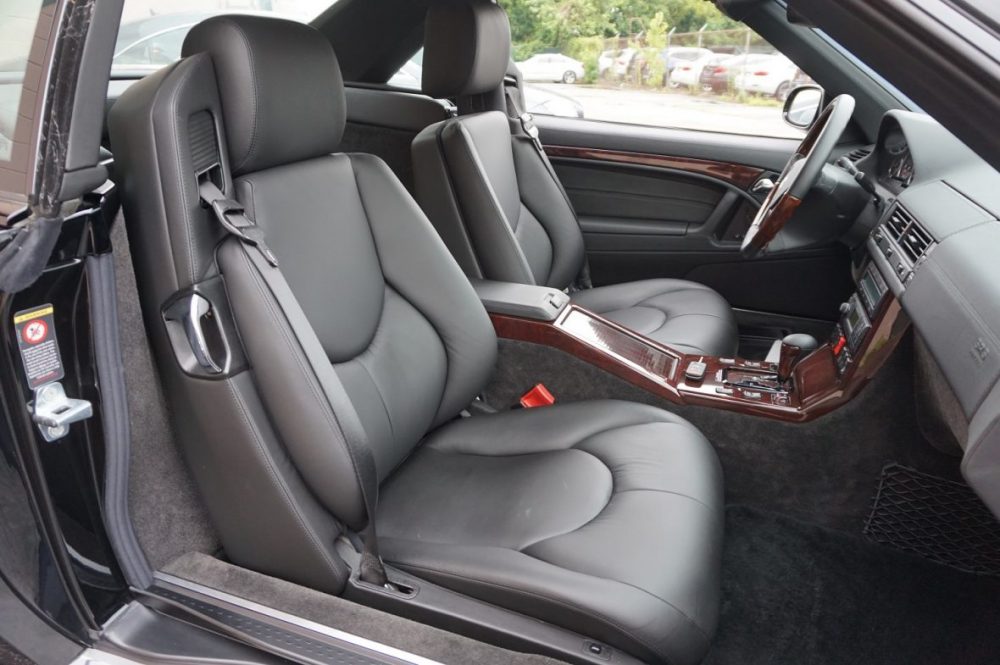 In October 1992, the dream of many a friend of the SL came true: three-and-a-half years after the presentation of the R 129 series, now it too became available with the 6.0-liter V12 engine which had already proven itself in the sedans and coupes of the 140-series S-Class. To further reduce emissions, the injection system was modified and full-load mixture enrichment dispensed with. In the 600 SL, in June 1993 designated SL600, the most powerful engine in the passenger car sales range delivered 394 hp and made brilliant performance possible: 0-62 mph in 6.1 seconds with the top speed limited to 155 mph. The twelve-cylinder engine was the epitome of smoothness and turbine-like power delivery. Above all, its imperturbability in high speed regions and the impressive and simultaneously refined manner in which it reached top speed were characteristic of the 600 SL.
The new top model of the series received a whole range of extras as standard equipment that could only be ordered at an additional charge in the other SL models. Externally, only the model designation badge and two "V12" badges in the vicinity of the air outlets behind the front wheel arches distinguished the 600 SL from its sister models.
The 1995 facelift brought improvements to the engines and transmissions of the SL500 and SL600 models. From September 1995, both featured a five-speed automatic transmission with torque converter lockup clutch, a completely new development that replaced the previous hydraulically-controlled transmission. The heart of this technical wonder was an electronic transmission control that swiftly and automatically adapted shifting behavior to every driving situation and permanently exchanged data with the electronic engine management. Apart from these forward-looking innovations the automatic transmission was appreciably more compact and lighter than comparable five-speed units.
The vehicle featured here has never been titled and it still retains its MSO (Manufacturer's Statement of Origin) documentation which we as a manufacturer provide to our new car dealerships to title a car to its first owner. It presents in incredible condition with a mere 427 miles from new and is ready for its first owner.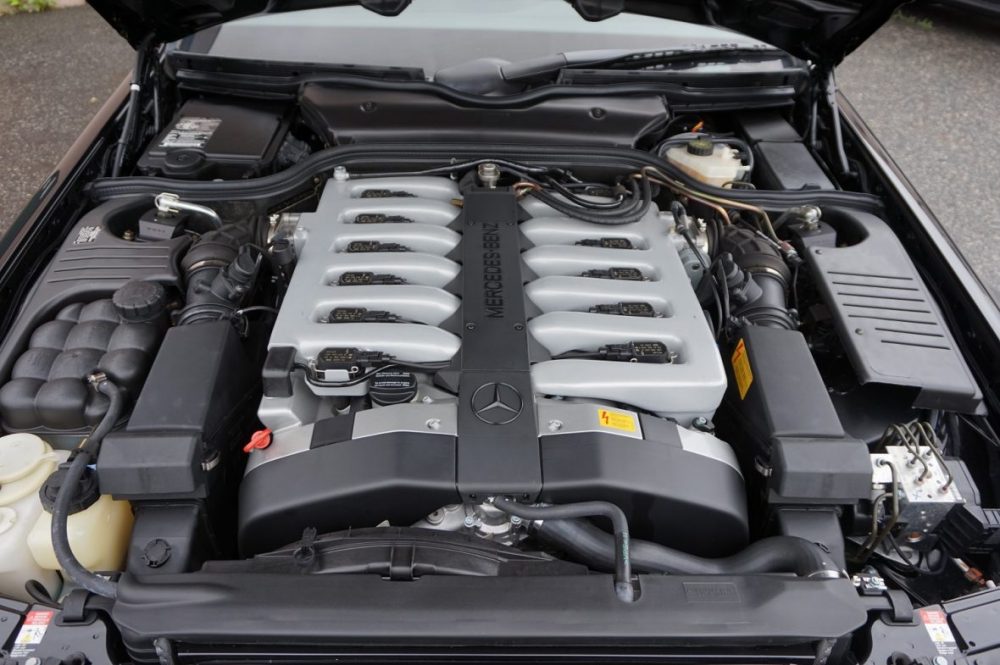 So this car is being represented by the Mercedes-Benz Classic Center. "Represented" being the key word here. All the information given is that it is still on the Manufacturer's Statement of Origin, also known has never officially sold or titled. That is it. Putting some clues together, it looks like it is stored right behind a new BMW dealer, so my guess is that someone at some dealer put this car away right off the lot and now it sees the light of day. Problem is, not so sunny, both figuratively and literally. Of all the days to photograph this car, it was in the rain and literally behind some barbed wire fences and weeds. The condition of the car is iffy as you have your typical dead bugs on the rear parcel shelf and cobwebs on the door trim. No photos of the hard top off or soft top. Disappointing all around.
Of course this one carries a huge asking price of $135,000. Is that pricey totally crazy? Not really. A 2002 SL500 Silver Arrow with 270 miles just sold last month for $127,000. However, that car is of course a rarer example being a Silver Arrow and had a full service before going up for sale. I don't know if I can say that about this example. If this was an eBay or Craigslist offering, I could understand the lack of effort given that is the standard. But Mercedes-Benz themselves? Not a great look.
– Andrew