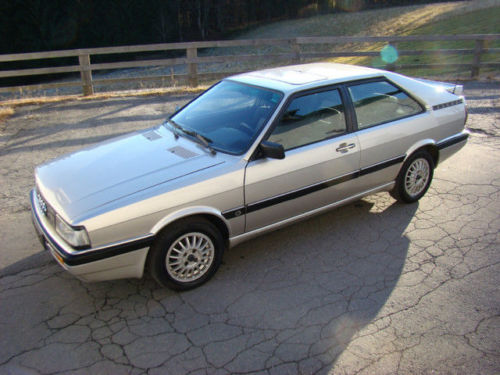 There are multitudes of Audis that didn't come to the U.S. that enthusiasts clamor over, and this car usually isn't one of them – but, it's one of the best in my opinion. Combining the fabulous looks of the Coupe GT with the made-from-granite 80 (4000 to you) quattro drive line, the Coupe Quattro offered most of the turbocharged big-brother's experience without the quite high entry fee of the original Quattro. As a sporty touring coupe, these cars offer plenty of room for 4, a trunk capable of carrying a solid load, reasonable fuel economy and sport. Most of all, though, the B2 cars make you feel much more special than the contemporary Volkswagen products did; they were quality offerings for those in the know. Sure, they weren't as quick as rival BMW models – until the weather turned! If you're lucky enough to get to a winter driving school featuring some older Audi products, you'll generally see them continuing to run circles around most of their competition and descendants – they're just that good.
While most covet the bigger brother Turbo and the box flares associated with it, the Coupe Quattro was also a rally champion in its own right. Though they're generally not as sought after outside of the Audi crowd, appreciation for these older Coupe Quattro models is rising and with it the entry price. Today's example is an all original model in pretty incredible shape, shown in the Zermatt Silver: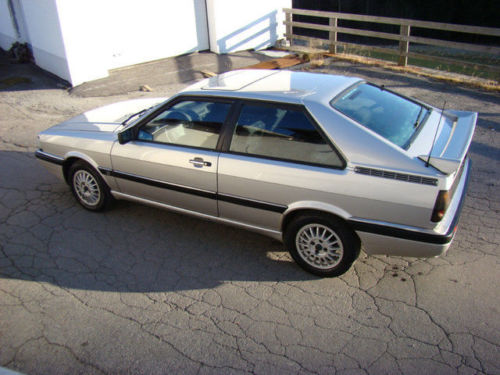 Year: 1987
Model: Coupe Quattro
Engine: 2.2 liter inline-5
Transmission: 5-speed manual
Mileage: 279,000 km (173,363 mi)
Price: E. 7,900 ($ 10,834.35 today)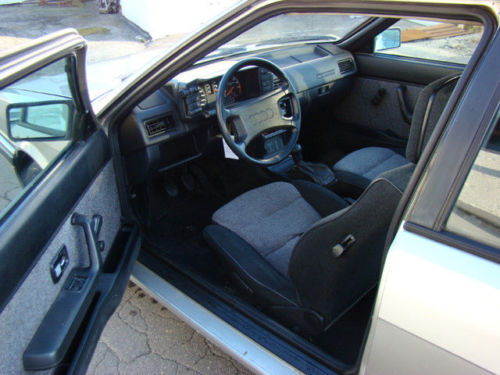 Vehicle description :
-> DESCRIPTION : Very rare Audi Coupe Quattro Type 85 with G- Kat from the factory. 120 hp 2.2 liter 5 cylinder
-> FEATURES : Permanent all-wheel drive with two selectable locking differentials, tinted glass, sunroof , sport seats, fog lights , sound system , sport package , sport suspension , Electric Side mirrors (heated), leather steering wheel , 14 " aluminum wheels , summer tires, Non smoking
-> CONDITION: well-preserved rarely encountered condition. Everything absolutely original as from the factory ! No corrosion, no holes, no welds and largely original paint . Even the little protection sticker in front of the wheel wells behind . All moldings, emblems, etc on it. Car is fully running
-> NEW PARTS : unknown , nothing for over 5 years
-> HISTORY : Audi is 2 Hand , orginale 282 tkm down . Full service history until 2004 240tkm
-> MISCELLANEOUS: TUV can be made ​​new. Also new paint , etc. possible. Complete restoration possible. Further Type 85 and parts

-> For more QUESTIONS You can reach us by phone. We will be happy ANY TIME BY PHONE
-> For inspection pick one MANDATORY APPOINTMENT please
-> From the new MOT on TAGS to TRANSFER ADMISSION and everything is POSSIBLE
-> Due to the age and the mileage is unfortunately NO WARRANTY POSSIBLE

-> Please VISIT ALSO OUR HOMEPAGE: www.MatthiasSimonis.de
-> There are waiting MANY MORE VEHICLES Quattro's and MANY NEW PARTS and USED

-> All DATA WITHOUT GUARANTEE , NON-BINDING and free quotation
More details on the car can be found here
Contact:
Motor trade Matthias Simonis
Phone: +49 1511 6510780
eMail: MatthiasSimonis@mobile.de
Contacts :
CONTACTS

Matthias Simonis Cars
Gewerbestraße 8
D – 94566 Riedlhutte

Phone: 0049 1511 6510780
Email Info@MatthiasSimonis.de
Web: www.MatthiasSimonis.de

Tax number: 15727460141
VAT no: DE262910218
Jurisdiction: D – 94078 Freyung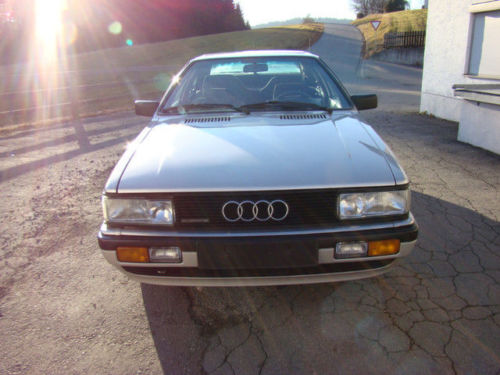 More than just a model we didn't get, the Euro cars had some features which aren't immediately apparent; for example, late in the run you could get ABS brakes. The post 1986 European market coupes also came with fiberglass trunk lids that were a few pounds lighter than the steel unit. Further, a close look at the front will show directional indicators in the place of the normal U.S. reflectors, and next to them fog lights to match those great dual beam H1/H4 headlights. This particular car is unique with optional extras like electric mirrors, alloys and sunroof but manual windows. Most of the 4000s and GTs came to the U.S. fully loaded with few options available, so it's interesting to see details like that. Along with interior options that weren't available in the U.S., little details like this set the European cars apart and make the Coupe and 4000 crowd smile every time they see one. The entry price for these smiles is quite high at just over $10,000 especially considering the higher miles, but as with some of the other 4000 Quattros we've featured recently finding them in mint condition is well more than half the battle. For the right person, they may not be scared away from the high pricing – though in all honesty that puts it square into the more desirable Turbo range. If it were a few thousand dollars less – around $6,000 to $7,000, I think it'd be on a few Audi fans' radar to import to the U.S.
-Carter