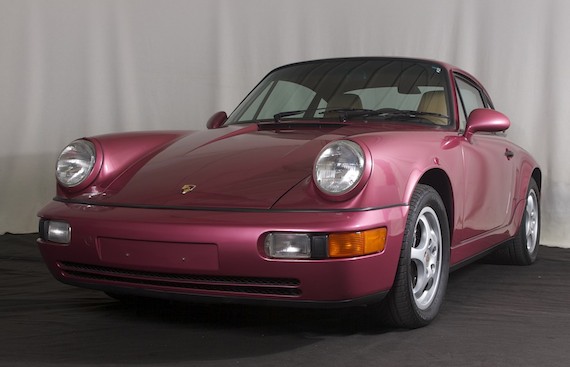 The 1990s brought a revolution in the Porsche lineup. While some developments were rather regrettable, such as the demise of the 968 and 928, the addition of all-wheel drive to the 911 range was a welcome relief to those who felt this classic sports car's handling was a bit too lairy for everyday use. This all-wheel drive system was derived from the system used in the 959, while this new Carrera 4 model had a high-pressure hydraulic brake system in comparison to the more conventional vacuum based system in the Carrera 2.
Over the years, the C4 has gotten mixed reviews, sometimes derided due to its complexity. The 964's all-wheel drive system wasn't the quickest to react, making the chassis geared to trailing throttle oversteer a bit of a handful at the limit. Couple this to a dual mass LUK flywheel in the 1989 and 1990 models that were a bit troublesome and you had some owners complaining. However, there are other reports that the AWD system is rather bulletproof, a claim not hard to believe given this was the same system developed for competition in the Paris Dakar Rally. This 1993 Carrera 4 for sale in California allows those living in the snow belt to keep on enjoying their 911 kicks through the cold months.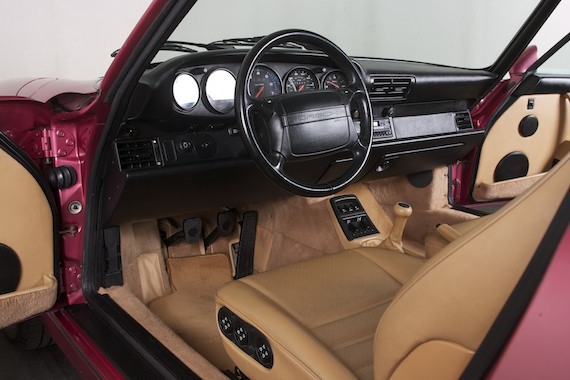 Year: 1993
Model: 911 Carrera 4
Engine: 3.4 liter flat-6
Transmission: 6-speed manual
Mileage: 75,229 mi
Price: $34,964
This 1993 Porsche Carrera 4 is in Raspberry Red Metallic with Tan/Beige. A 100% original and unmodifed 964 Carrera 4. Clear Carfax history. This car last changed hands in August of 2001 with 41,468 miles. Motor is strong. Clutch and synco's are as designed. No smoke on start up. No accident history. No paint work, with the exception of the left rear qtr panel.

Interior is very close to as new. Carpets, leather and panels are in great condition. A small imperfection on the drivers side door trim and on the passenger side rear shelf. All electrical works as designed. Sunroof, windows, radio, gauges, hood shocks are all in good working order. (Ashtray will not close.) Original Blupunkt Stuttgart radio.

A nonsmokers car. Air conditioning is cold. Headliner is perfect. No dash cracks. Stock wheels with new Continental tires all around. Wheels are in excellent condtion, no curb scratches. Some Service History on file:

– 12/99 40,789 miles Oil Service.

– 1/02 45,609 miles. 45k service performed.

– 6/02 48,729 miles. Front pads replaced.

– 9/03 54,961 miles Oil Service.

– 1/04 60,613 miles 60k service performed. Valve adjustment, full fluid flush, new deck lid shocks and rear brake pads.

– 10/04 62,394 miles ABS brake pump replaced. Install updated hand brake return springs. Replace Hydraulic pump.

– 4/05 63,124 miles Oil service. Recharge A/C system. Install ignition distributor update ventilation kit.

– 4/10 70,385 miles Oil service. Front brakes inspected. 70% remaining fronts pads and 75% remaining on the rear pads.

This car drives great and is in excellent condition. The books, compressor, tools and jack will be presented to the new owner. All inspections welcome. We ship world wide. Contact us at 831.373.3131 day or evening.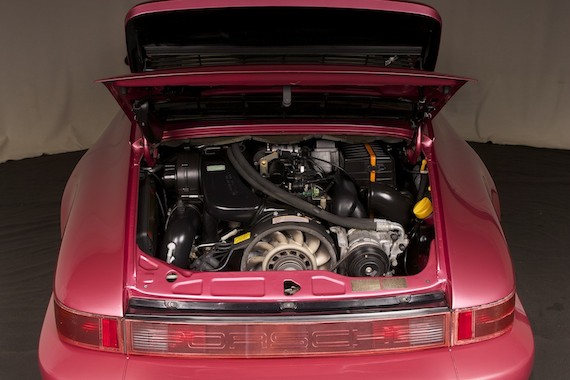 The color on this 911 might be a little loud for some, but this car has the advantage of being a later model. Earlier models had the flywheel issues mentioned above and were built without cylinder head gaskets, leaving many engines to leak. Cars built before late 1993, like this example, lacked the vent on the distributor, which would lead the rubber belt inside to break. This is a simple and cheap update, and from the looks of the servicing history, may have already been done. Given the condition and manual gearbox, the price is not far out of line with the market. If the buyer could negotiate $1,000 to $2,000 off, it would be well bought.
-Paul