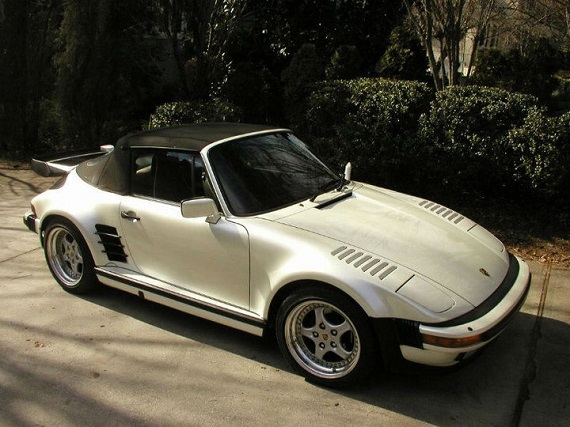 During the decade in a half that the Porsche 930 was produced the turbocharged 3.0 liter, and later 3.3 liter, flat-six was mated to a 4-speed manual transmission, even though the 911 had been available for years with a 5-speed manual. It was only in the final year of production, in 1989, that the 930 received the G50, 5-speed manual, transmission, and as such cars from that production year tend to be prized a bit more than their predecessors. For buyers who found the standard looks of the 930 too tame, Porsche also offered a Slantnose version through their Sonderwunsch program. Any Slantnose 911 is a bit of a rarity but when combined with a 1989 930 we then have a confluence of rarities. The car featured here is a 1989 Porsche 930 Slantnose Cabriolet located in California. Not only is this car pretty rare amongst '80s Porsches, but it is also low mileage and is on auction with no reserve.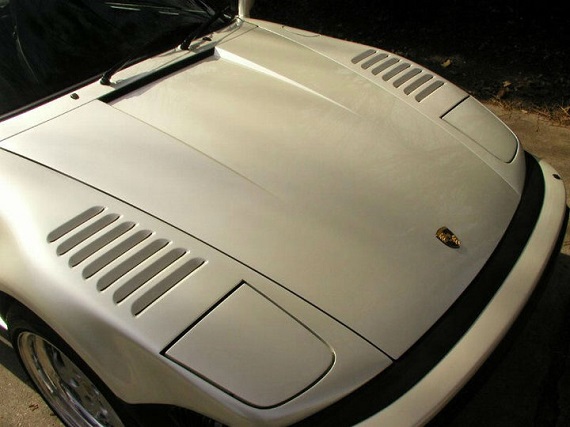 Year: 1989
Model: 930 Slantnose Cabriolet
Engine: 3.3 liter turbocharged flat-6
Transmission: 5-speed manual
Mileage: 38,500 mi
Price: Auction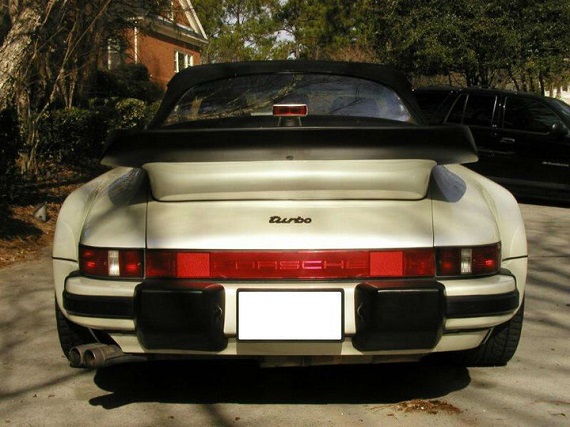 Only modifications are Stereo (ADS amp & speakers) and 17″ Kenisis Super Cup wheels (original wheels included).
RARE & UNIQUE Pearl White Metallic with Dark Grey/Black interior with off white piping. G50 5-speed trans. You will not find a more unique 930S Cabriolet in any nicer condition than this car! Well cared for by Porsche enthusiasts its entire life, never abused & rarely out in rainy weather (no winter weather). No known issues or recurring problems and needs absolutely nothing. This 930S has recently had a 9k service, new tires & alignment.

AC upgraded & converted with new compressor, fan, drier, etc. and is ice cold. Also included are two boots, car cover and front end Porsche Mask. Overall, the paint is in fantastic condition. Fastidiously maintained and documented. The car has never been damaged and the paint is original except for the rocker panels. It needs nothing, all service up to date. I reserve the right to end this auction early. I will not accept any trades, so please do not contact me about that.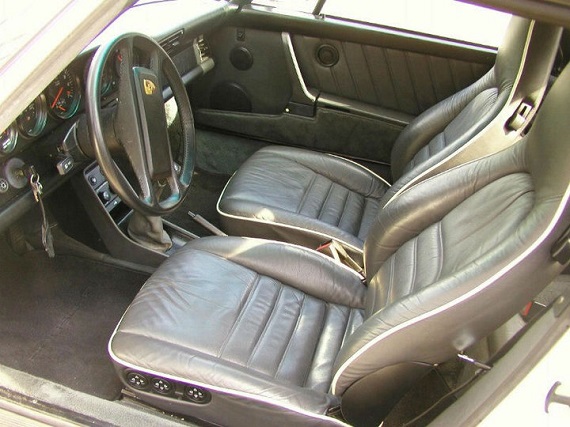 It is difficult to find a car more befitting of '80s style than a Slantnose Cabriolet. The overall lines of the beast are so incongruous that it's difficult to take the whole thing in with one viewing. Add to that the raucous tail-happiness of the 930 and the total package presents an excellent example of '80s excess and flamboyance. It's not for everyone, but any driver seen in this car will attract all the attention he may desire. I'll be honest, while I love the look of the Slantnose, I find it far more appealing on a coupe than a Cabriolet. Oh well. In the world of the 930, a Cabriolet will many times sell for more than a Coupe, a Slantnose will sell for more than the standard design, and an '89 model will sell for more than any other year. So what does that mean for this car here? Possibly a sale price north of $80,000 assuming that everything checks out with the car and that it's in the condition in which it's described. The pictures in this ad are not really of the quality befitting the rarity (and likely price) of the car and perhaps that will hold this auction back slightly. Still, there aren't a lot of these Porsches out there so for anyone who really wants '80s style it's tough to top this.
-Rob