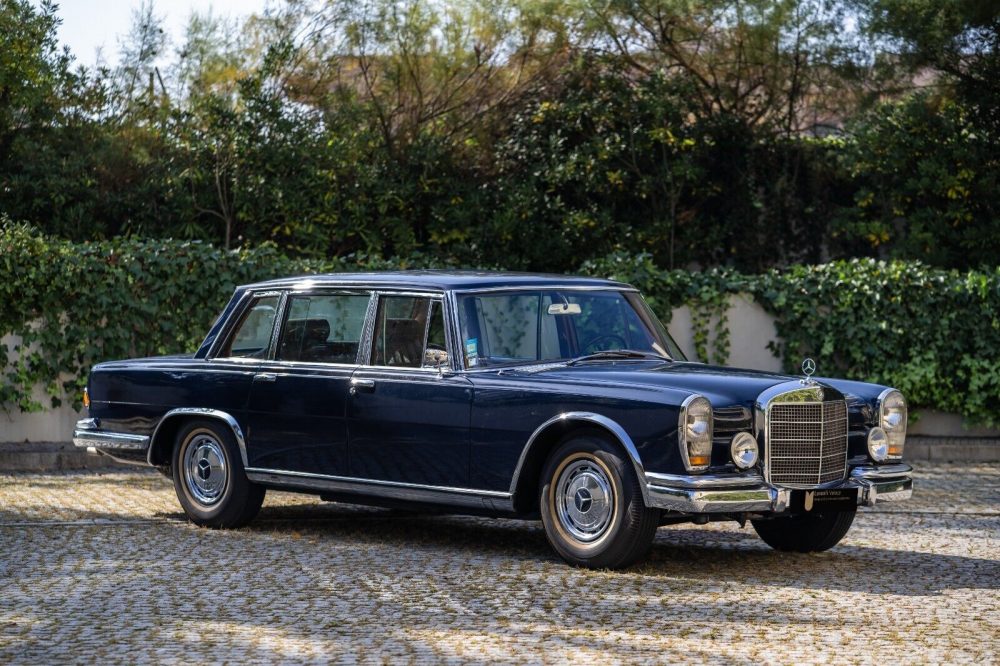 There is no greater example of a car I love but have no interest in owning than the Mercedes-Benz 600. I've opined for years about them and every time I see one for sale it's a new treat. Today's example, a 1966 up for sale in Portugal, has its surprises and little fun features that always impress me. It also carries a hefty price tag too.
Year: 1966
Model: 600
VIN: 10001212000586
Engine: 6.3 liter V8
Transmission: 4-speed automatic
Mileage: 10,914 km (6,781 mi)
Location: Oliveira de Azemeis, Portugal
Price: £150,500 ($181,578)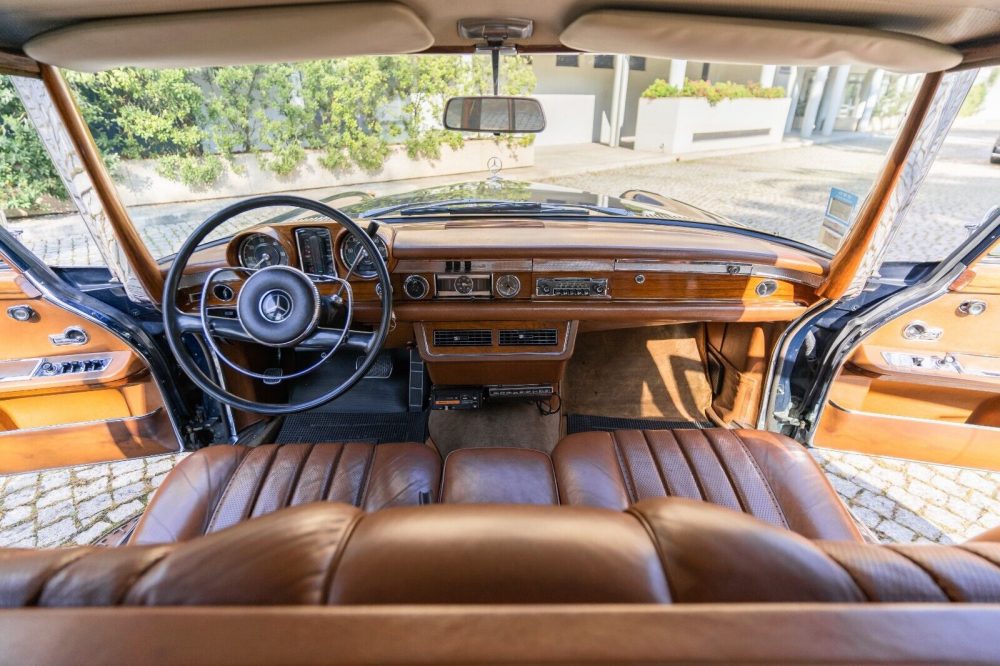 "600 and 600 Pullman (W 100), 1963 – 1981

The presentation of the 600 model at the International Motor Show in Frankfurt created real sensation. Since the new top model had been designed as an exclusive representative car, intended to fulfill the highest demands, it was serially equipped with many technical details, which taken together, stood for the highest standard that could be achieved in technological terms at the time.

For the first time in the history of Daimler-Benz, a V8 injection-engine was used which delivered maximum power of 250 hp from a 6.3-liter cubic capacity and maximum torque of 51 mkg. In connection with the standard automatic transmission this car achieved a driving perfomance, typical for a sports car. The 600 model, weighing almost two and a half tons, reached a maximum speed of of 205 kph and accelerated in 10 seconds from 0 to 100 kph

Shock absorbers, which could be adjusted at the steering column during the ride as well as air-pressure supported dual circuit brakes offered a maximum of safety. All four wheels were equipped with disk brakes. The front wheels had moreover been fitted with two double jaw brakes each.

The extemely generous basic equipment of the 600 model, air suspension, powerbrakes, central lock systems and an electronic heating and airing system afforded a maximum of ride comfort and easy handling. Unique hydraulics for extra comfort ensured automatic operation of the following functions: horizontal and vertical adjustment of the front seats, inclination control of the back of the seat, adjustment of the rear seats in longitudinal direction, opening and closing of the vehicle doors, the boot lid, the optional sliding sunroof as well as of the side windows.

Serial production of the \\\\\\\"Grand Mercedes\\\\\\\" began in September 1964. Apart from a five- and six-seated sedan with 3200 mm wheelbase, three seven- and eight-seated Pullman versions with 3900 mm wheelbase were available: a four-door Pullman limousine with rear seating in a face-to-face arrangement, a six-door Pullman limousine with rear seats and additional folding tables in driving direction and a Pullman landaulet. The last was available in four different versions. The standard version had four doors, rear seating in a face-to-face arrangement and a hood, reaching to the front edges of the rear doors. As a special design, a six-door version with rear seats and additional fold-down chairs in driving direction was also available. As with the six-door Pullman limousine, the doors in the middle could also be ordered without handles. Both landaulets, the four-door as well as the six-door version were also available with an long hood, which extended to the middle partition.

The last 600 was produced in Sindelfingen in June 1981; during a 17-year production run a total of 2,677 of these cars were built, 429 of which were Pullman limousines and 59 landaulets."

We are extremely delighted to Offer this Unique Vehicle:

1966 Mercedes Benz 600SWB – Original 10.350 Kms !!!

Original delivered Portuguese Car

First Registered in 5th August 1966

Two Portuguese Owners from New

First Owner from 1966 to 1971

Second Owner from 1971.

Never Restored.

More than 50.000€ spent in Maintenance in the last 20 Years.

(Mercedes Official dealers/ Mercedes Specialists)

This specific car was cover of a Portuguese Classic car Magazine with a very detailed test and detailed car history

Large File of Invoices/Road Inspection History/Magazine Test / Pictures of the car.

The Second owner of this car is an extremely well Know Portuguese Company – with worldwide presence – that used the car only in very important situations with VIP clients or even with official visits of Royal Families – Like the visit of the Swedish royal family to Portugal in the 80's (Photos to proof).

This car its possible one of the kind with this original Kms /History/Condition.
All the photos were taken without any kind of car detailing in order to understand the real original condition of the car.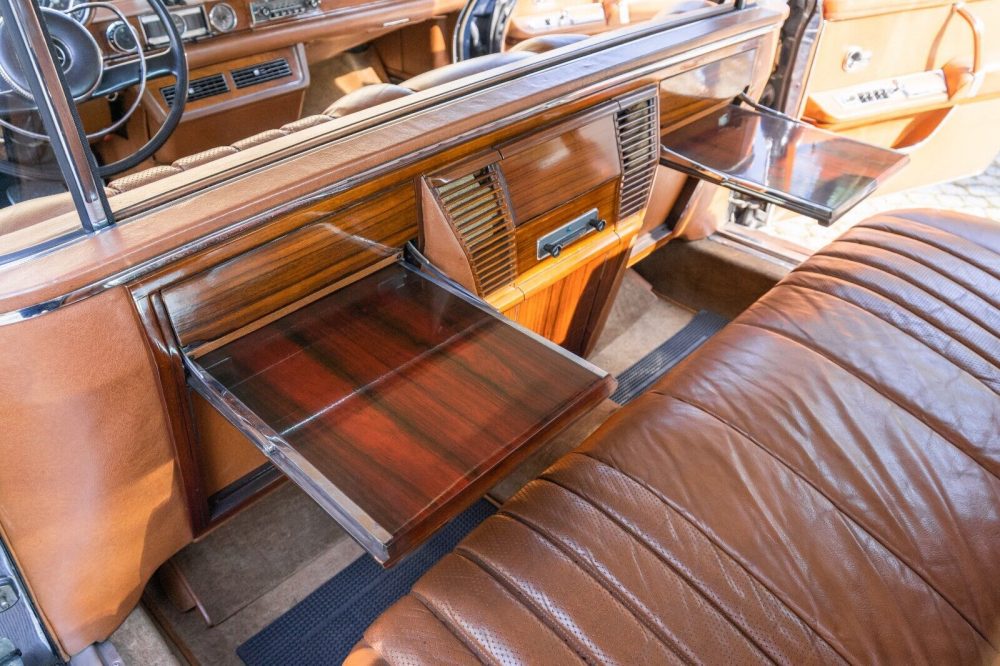 This a standard-wheelbase 600 with a center divider. Generally, those were reserved for the long-wheelbase cars as they were more chauffeur driven, but you do see the divider from time to time. It was unlikely this was made for private ownership but rather business use as the government cars are usually accounted for already. This one has fold-out tables that look excellent as well as a radio, rear vents, and the amazing drinks cabinet. This is reportedly a Portuguese car from new and according to the selling dealer, more than €50,000 was spent on maintenance in the last 20 years. I think they probably got off cheap with that number.
Nearly $180,000 is a big asking price here, but I think this is maybe the market in Portugal. I can't imagine too many of them are there and probably none with this mileage. I don't think this would be the first example I buy if I was looking for one, especially since the divider limits rear legroom. But as always, a fun dive into.
– Andrew