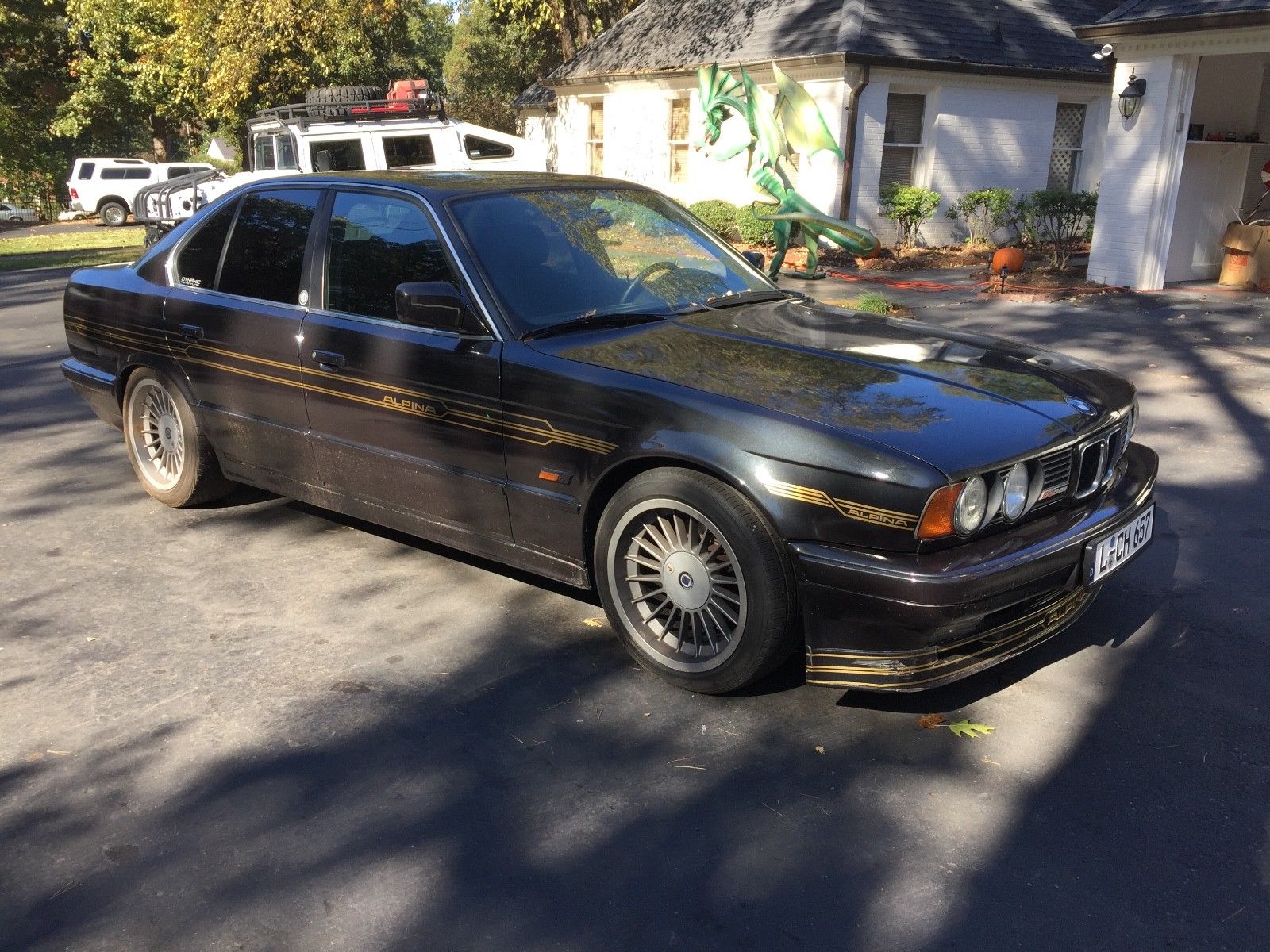 Update 6/15/18: After not selling last year with a $14,500 Buy It Now, the Alpina B10 3.5/1 part of this duo is back up for sale having finally been washed at the same asking price. Will it find a buyer this time around?
Just because it's got an exotic name or badge doesn't mean it's automatically out of your reach. That's the lesson for today's twin E34s. If you're willing to undertake a bit of a project you can certainly save money up front. Just like we saw with the S65 AMG Andrew wrote up, the initial cost you pay only going to be part of your total outlay but for the price of a small economy car, you can grab another league of luxury, performance and exclusivity that a Nissan Versa could never dream of matching. So which of these project E34s is the one you'd chose, or are both busts?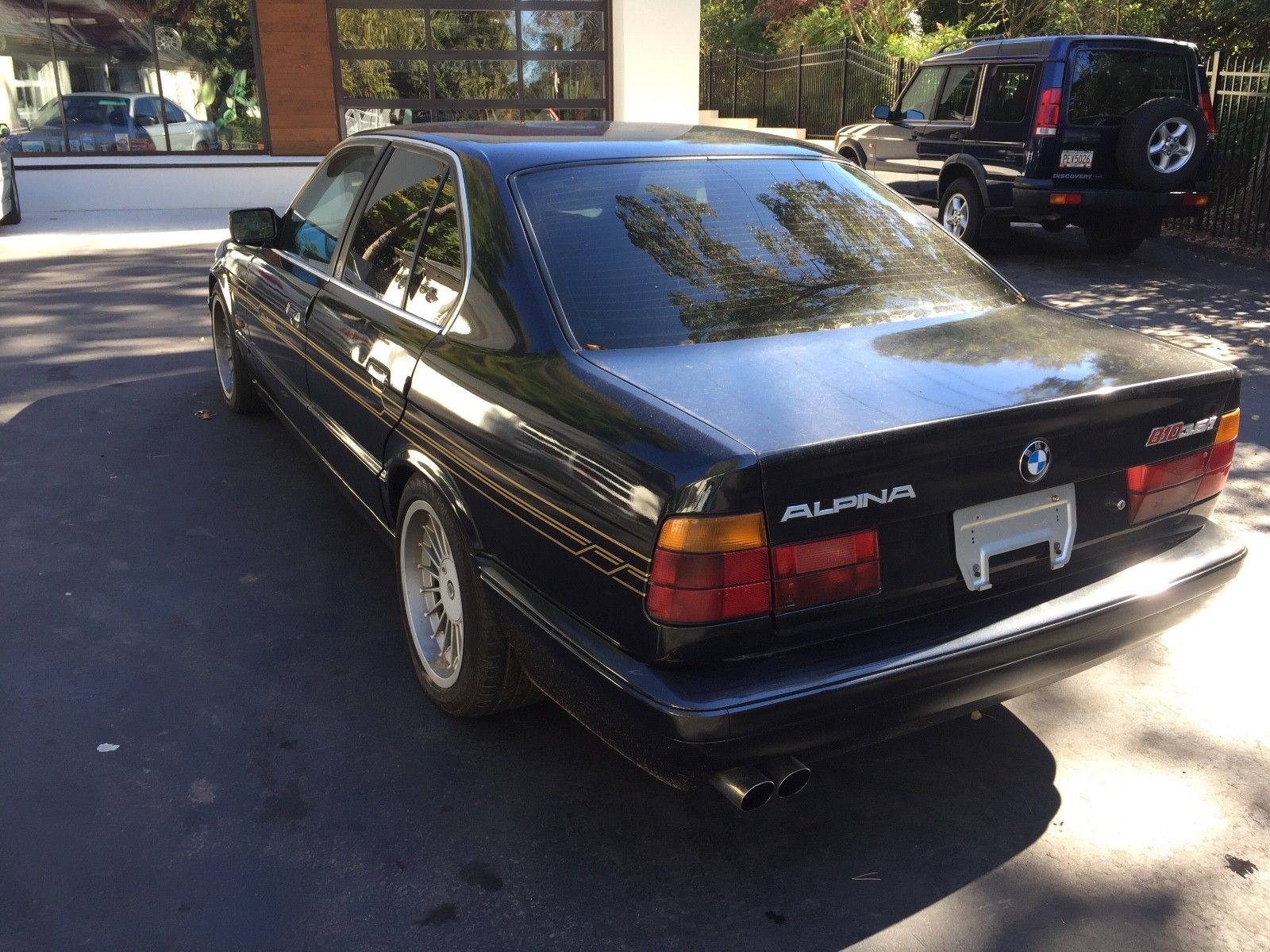 Year: 1990
Model: B10 3.5/1
Engine: 3.5 liter inline-6
Transmission: 4-speed automatic
Mileage: 110,660 mi
Price: $14,500 Buy It Now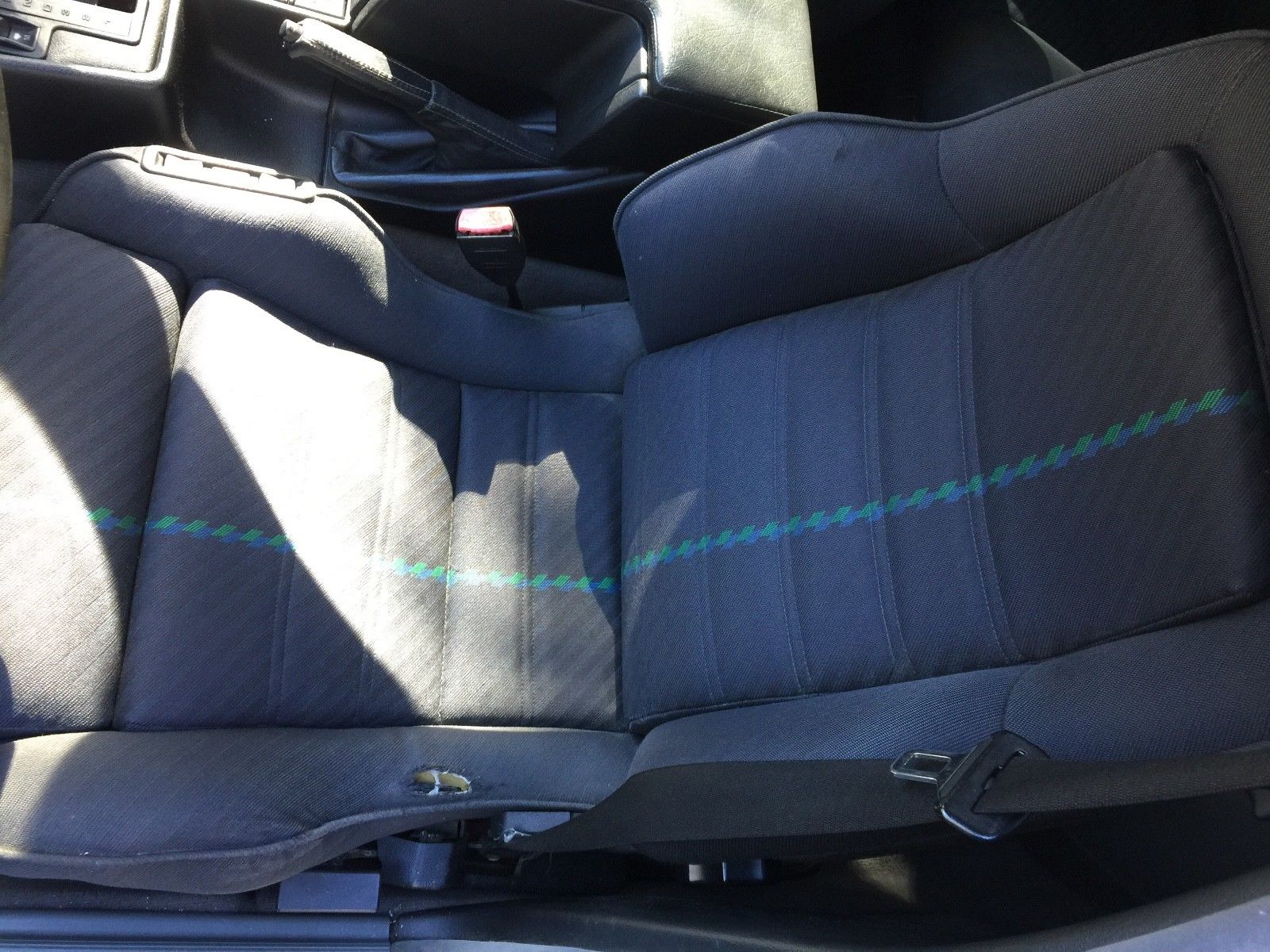 Rare 1990 BMW Alpina b10. Car is in need of restoration to make it 100% perfect I bought this car and did all of the mechanical issues which have been addressed. gear oil differential change, trunk struts, Swaybar links, throttle body mount, mass air meter boot, Idle control valve hose, expansion tank, all new belts, new resistor, both catch levers lower and upper, headlamp switch, wiper arms, both front stabilizer links, all fluids changed. Cold air conditioning. Items that need attention are; center console , all four door panels show some sort of wear or warping, small tear in the driver seat, car has been repainted but not a good job, all trim was painted and gaskets, included in the sale are all new trim, rear tail lights side markers and front turn signals and new automatic shifter knob. The car runs out and drives very strong no smoking or abnormal noises,. This is part of 36 car collection I'm selling three cars you can view my other auctions. I simply don't have time to finish these cars anymore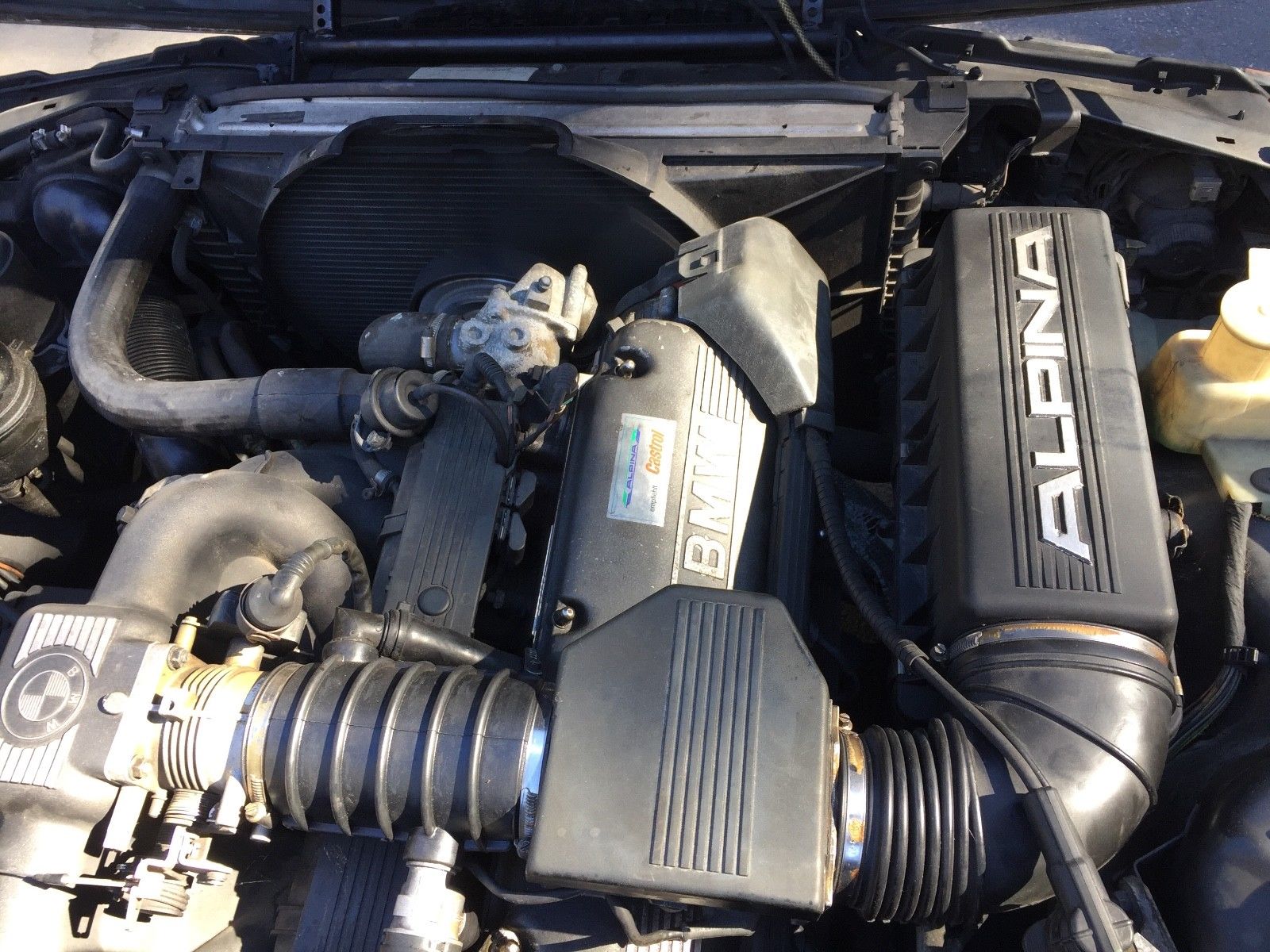 My first thought when I saw this example was "Is it a real Alpina?" I've become so accustomed to seeing asking prices with six figures – or, at the very least, far in excess of what most sane people would pay for another version of the same chassis. But this one? $14,500. Immediately, I scrambled to my most recent bank statement to see if I had enough liquid currency to submit a bid. Alas, I didn't, so instead I did what I should have done to start with – actually look at the pictures. The B10 was more than just a pretty face, with a 254 horsepower version of the M30 under the hood. Lower, stiffer suspension, 17″ wheels and special interior treatments were all part of what you'd come to expect from Buchloe. This 1990 falls right in the middle of the 572 production examples and appears to have been an original Japanese-market car. Number 344 appears in the Alpina Archives from 2013 in much better shape. Diamond Black Metallic with gold decor and Alpina cloth is a great understated combination. The current seller has gone through the car mechanically to help it out, but there's still a lot of work to do on presentation, including paint and interior freshening. But the big question is do you want to undertake this work for an automatic E34 for what will end up being north of $20,000 most likely? What's the opportunity cost?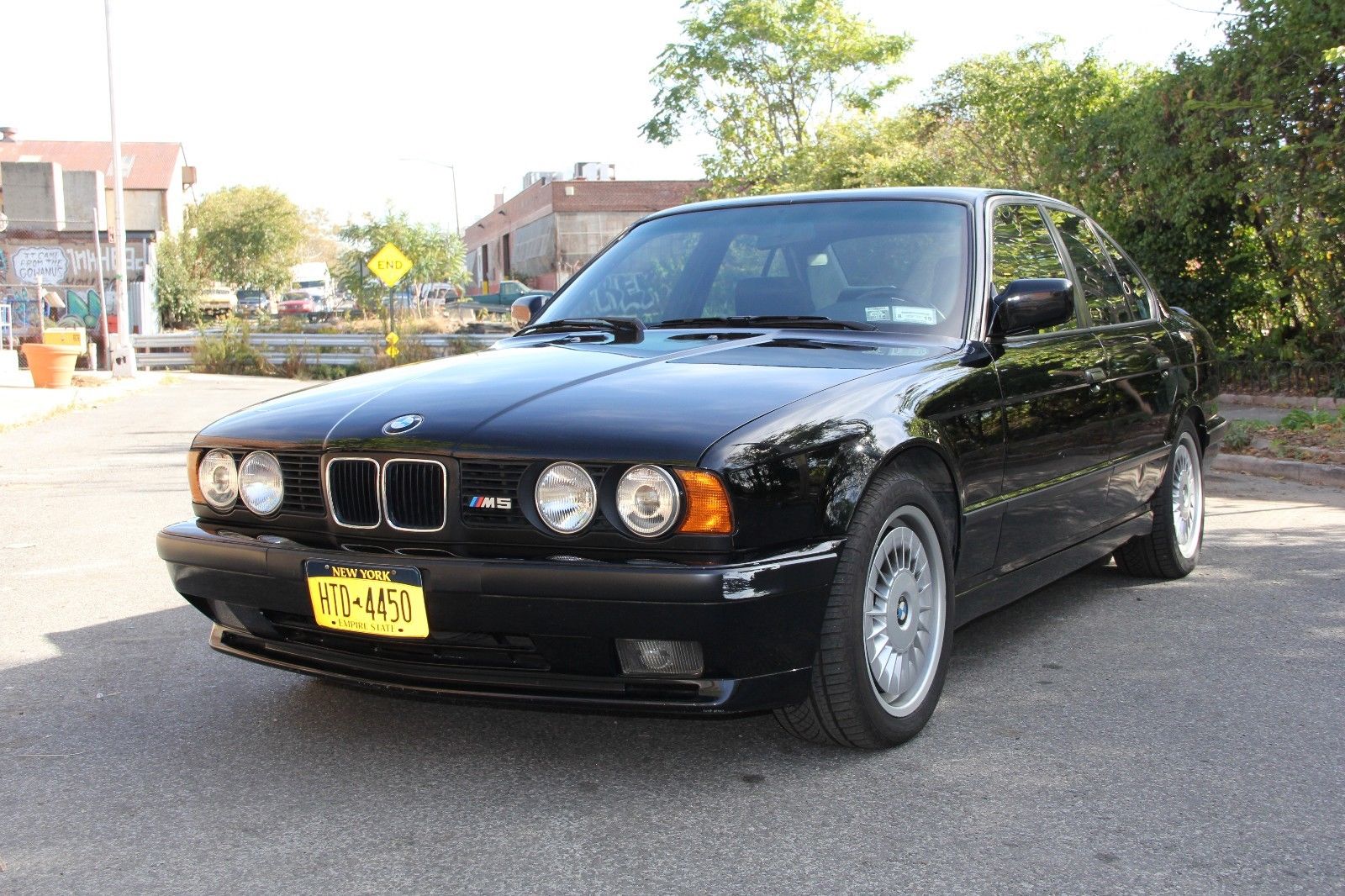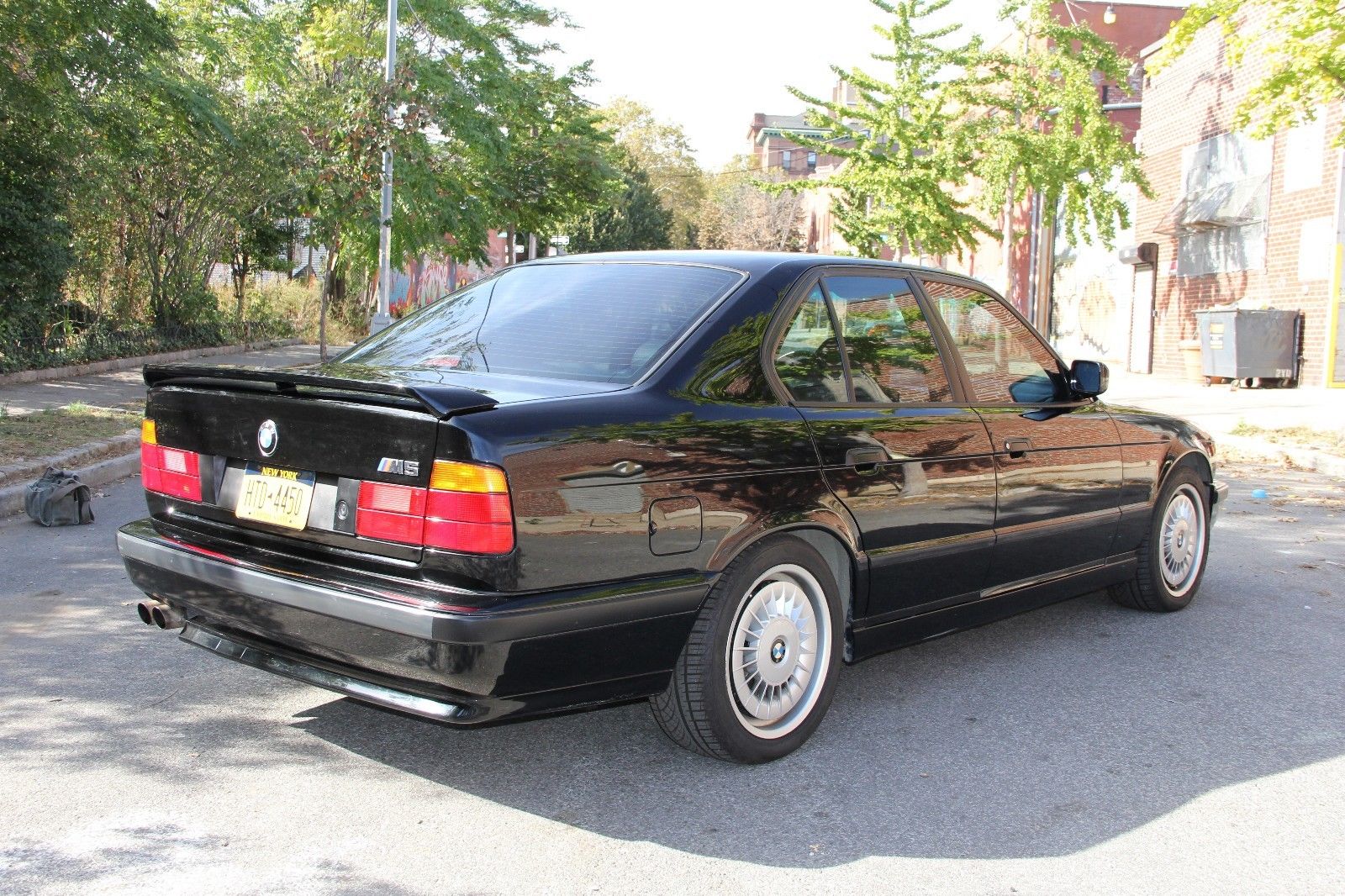 Year: 1991
Model: M5
Engine: 3.5 liter inline-6
Transmission: 5-speed manual
Mileage: 161,581 mi
Price: $8,999 Buy It Now
Up for sale is my 1991 BMW M5. The car has a clean title and approximately 161,550 miles and is located in Brooklyn, NY. This is an opportunity to get a rare legend — the last of the hand built BMW M cars (1296 made for the U.S. in 1991) at a very cheap price. Better yet, this is a west coast car (Washington State 1999-2017 and before that, Texas).

Please read the entire advertisement before bidding.

Importantly, please note that the primary reason that the car is up for sale is due to a noise that is coming from the engine off-idle (over 1,500 RPM) and according to my mechanic, the rod and crank bearings require replacement. I have received two quotes for this job — one from a BMW specialist for $3,400 and one from a European only repair shop for $3,500. Aside from that, the car runs and drives great — it idles smoothly and rides nicely. I have two sets of keys. Just this month I had the valve adjustment completed and the service bill was approximately $1,000, although that also included attempting to diagnose the lower-end issue. A picture of this bill is included in the gallery. The car has been parked and is not to be driven until this issue is resolved to prevent any further damage. This means that the wining bidder should have a flat bed arranged, unless they are local to NYC and want to risk bringing it back to their home. Aside from the engine noise, the only other issues I could find are some paint chipping on the passenger right front fender by the headlight (picture included), a few small rust bubbles below the passenger tail light (picture included) and a small tear on the rear bench seat. The AC also needs to be serviced. If you send me your email address, I will reply with a link to download 60+ recent pictures.

A video of the engine rattle can be found here: https://www.youtube.com/watch?v=sWtNTyNl2A0&feature=em-upload_owner

And a video of the start up and idle can be found here: https://www.youtube.com/watch?v=vJ9kzrXWiyA&feature=em-upload_owner

For the sake of convenience, the car's good, and not so good points are summarized below:

The Good:

Nice paint
Correct M-System II wheels with Turbines
Valve adjustment just completed
Approximately 7k miles on tires
Just passed NY safety inspection
Clean engine compartment
Valve cover nicely refurbished
SLS delete kit, replaced with 535 springs and Bilstein shocks
Euro "smilely" headlights
Only rust I can find is a few small bubbles under the driver's side taillight
September 2013 compression test: 200, 195, 200, 195, 195, 195
E36 M3 Steering Wheel with M-tricolor stitching
Idles smoothly
Strong brakes
Updated suspension (see below)
Custom suede shift and parking brake boots with M tricolor stitching

The not so good:

While the valves were being adjusted, it was discovered that the car was making a rattling sound from the bottom end. According to mechanic, the car needs main and/or rod bearings, which can be done with engine in place. The estimate for him to do it was $3,400 — mostly labor. Only makes the sounds off-idle, but the car is parked and is not being driven until this is repaired. Video of noise available.
AC needs to be serviced
No spare
Rust bubbles under driver's side tail light
Rear driver's side door lock stuck
A few parking lot dings and scrapes
The front passenger door card is a little loose and has been re-glued at one point
Front passager seat has "seat lean" — there are many DIYs on how to fix this, it is not difficult.
A few (two?) very small chips in windshield. It is *not* cracked. There is a picture in the gallery.

Recent service history:

2017:

Valves adjusted, general inspection ($1,000)

2015:

New air intake boot
Shift mechanism rebuilt
Transmission + LSD fluid flushed and refilled with Redline
Alternator
Battery
Throttle bodies balanced

2014:

Lower steering coupler joint
Rear doglinks
Driveshaft center support bearing

2013:

Air filter
Motor mounts
Spark plugs
Conforti performance chip
New coolant temp sensor
swaybar end links
Brake fluid
trunk strut
Exhaust hangers and seals
Steering coupler assembly
Variable intake control rebuilt
Euro smilely headlights
535i springs x4
Coolant hoses
Belt tensioner bracket
Airflow sensor mounts
Crankcase vent hose

Please note: there is a non-refundable $500 PayPal deposit due at within 24 hours of auction end, and the car must be retrieved within seven days afterwards, with the balance due in cash at that time.

Additionally, all bidders must have at least 5 positive reviews prior to bidding — bids placed that do not meet these requirements are subject to cancellation, unless a prior request to bid is messaged to me.

Information from the BMW M Registry FAQ about this special model: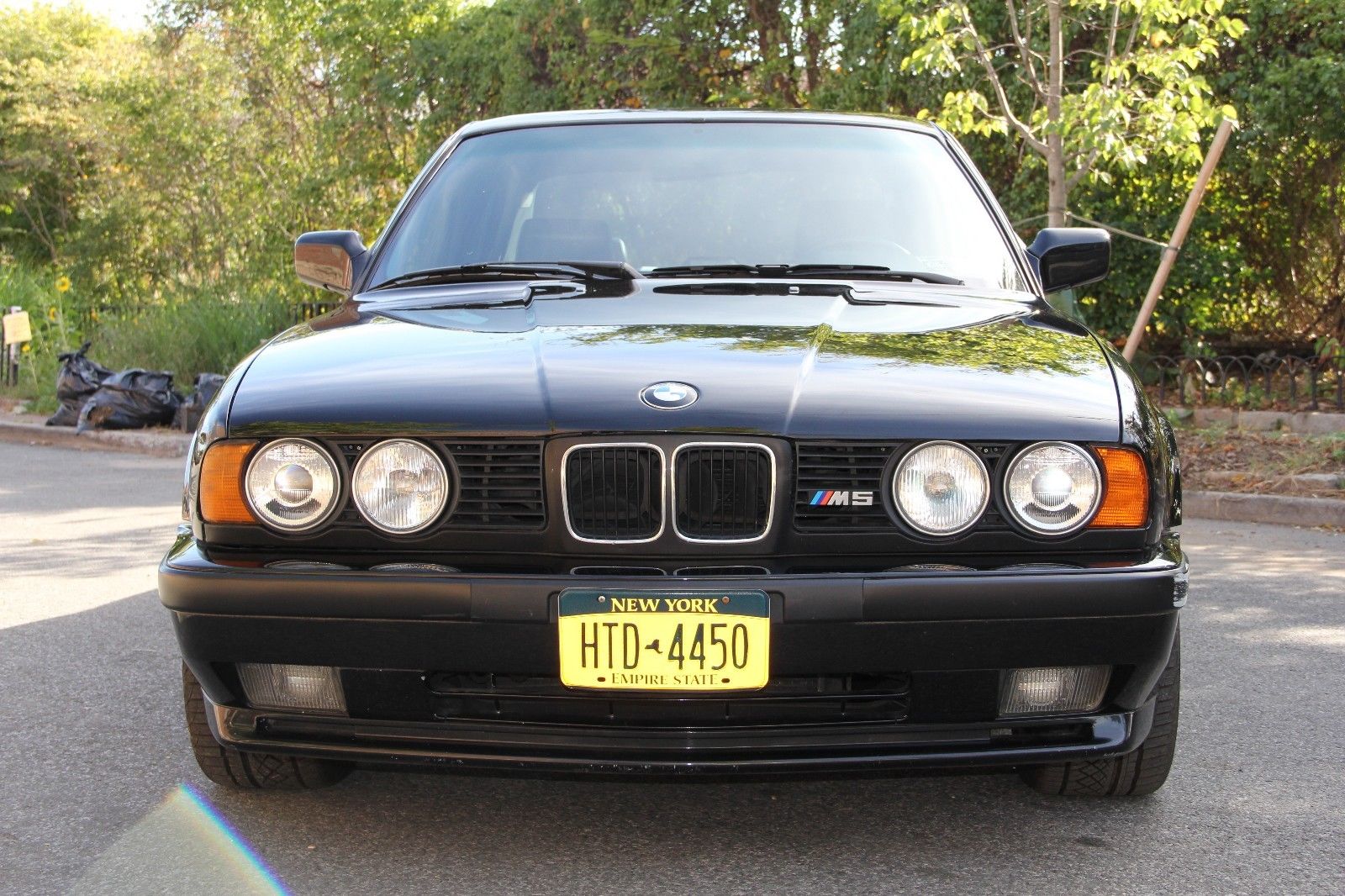 For a little more than half the asking price of the Alpina, you can own another legend from Bavaria. This M5 isn't perfect – like the Alpina, if you want a perfect example you'll need to pay more. But what you get is a good base. Like the B10, it's got 17″ wheels, a performance oriented suspension and special interior, but of course under the hood lies that magical S38B36 good for 310 horsepower. The exterior still shows well despite some rust creeping through in a few spots. The wheels are the original (and still controversial) M-System 1 forged/fanned Turbine units that I for one love though many don't. The color is classic bad-to-the-bones M5 "you can have any color you want as long as it's black". And the seller has done a fair amount of expensive work to keep the car in driving condition. There's more that needs to be completed; the seller is up front that there are both physical and mechanical reasons why this car is affordably priced and it's got more miles than the B10. But at only $9,000, there's room in the budget to make this one a nice driver for less than the Alpina.
Which is the winner? As usual, a lot depends on priorities. The M seems to need more immediate mechanical attention than the Alpina, but presents a bit better overall. Visually the Alpina might get more attention, but the M5 will be a better driver.
-Carter