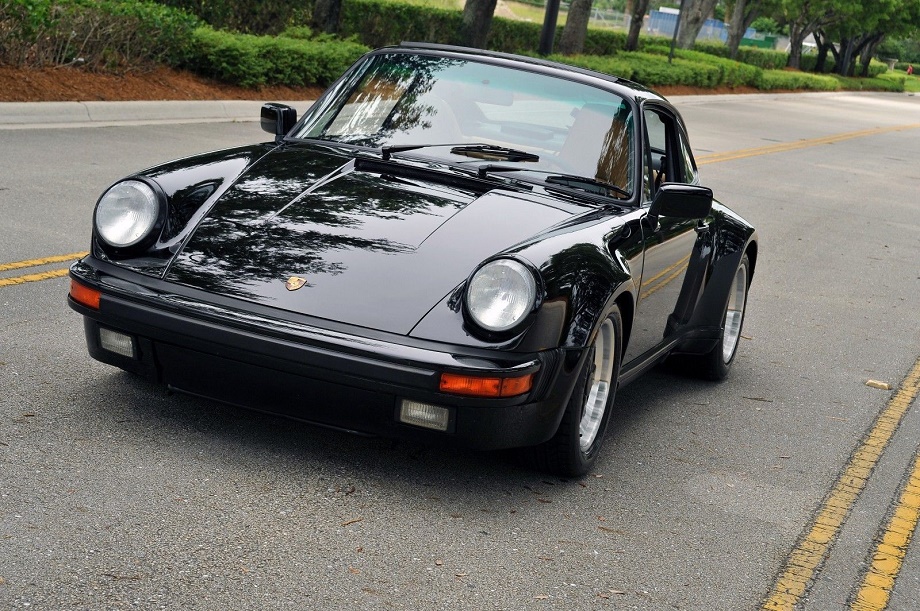 I have featured a lot of rare 911s over the years, but I have never featured one of these. I'm not even sure I have seen one for sale. This is just about as rare as they come. I have featured examples that are more rare due to paint-to-sample or other custom options and I guess the reason this 911 is rare is for similar reasons. The model itself, the 3.2 Carrera, is not especially rare, but an '89 Carrera equipped with the M491 Turbo-look package is a rare thing indeed.
Production of the Turbo-look package gradually waned as the '80s wore on and once the 930 had returned to U.S. shores. Somewhat strangely those who still opted for the package tended to select it on the Carrera Cabriolet rather than the Coupe or Targa. :shrug: Determining accurate production numbers has been difficult; a long-circulated letter from PCNA themselves has been shown to be very inaccurate. Perseverance pays off and the best numbers now show there were 15 M491 Coupes produced in 1989. That's not very many.
But what really makes this example rare isn't just the M491 Turbo-look package. It is the other even more rare M470 front and rear spoiler delete package. Of the 15 M491 Coupes produced in 1989 only 5 also had the M470 package. There were only 2 Targas equipped as such so this isn't the rarest, but 1 of 5 will have to suffice. It's stunning!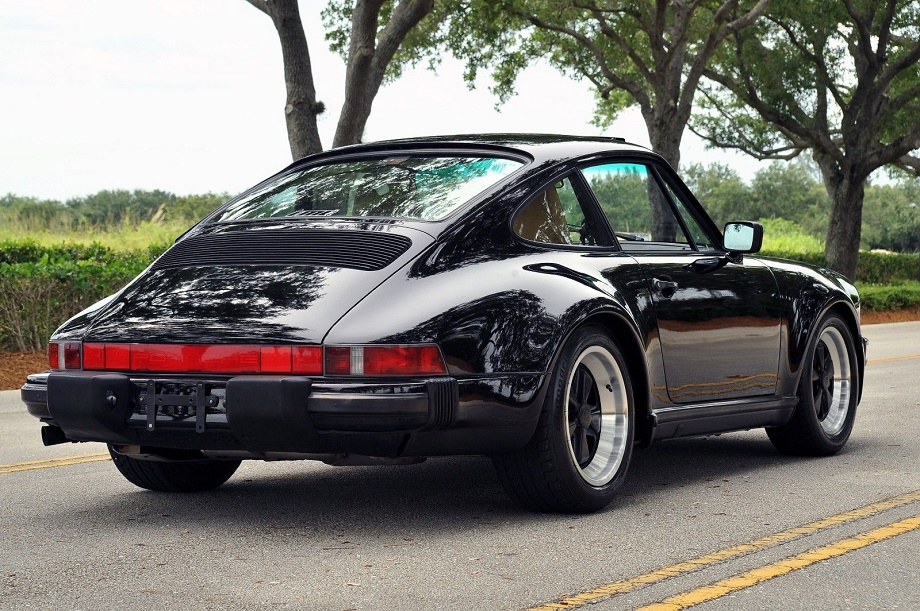 Year: 1989
Model: 911 Carrera
Engine: 3.2 liter flat-6
Transmission: 5-speed manual
Mileage: 76,073 mi
Price: $109,500 Buy It Now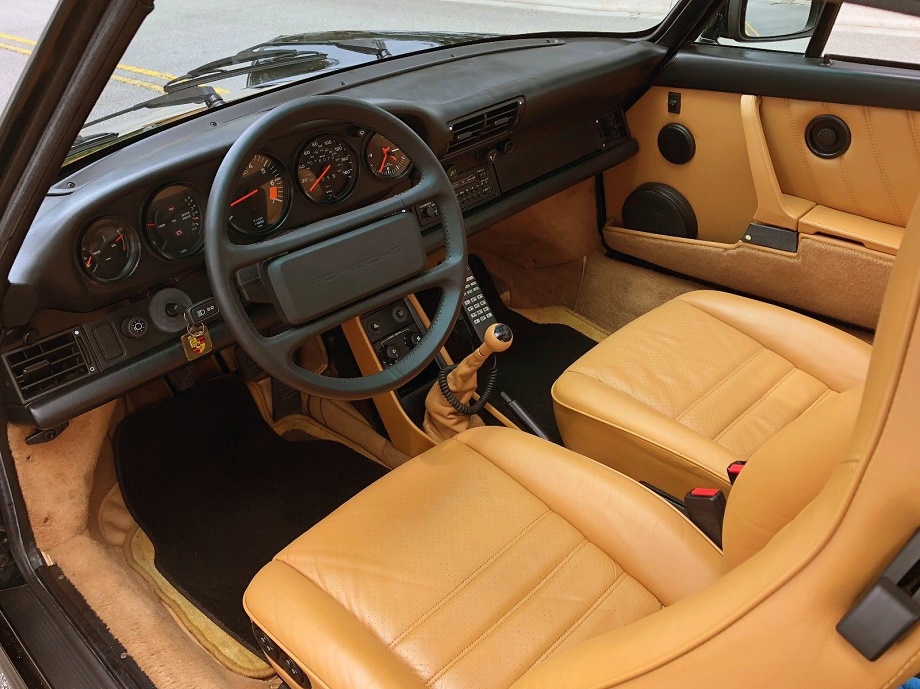 Amazing 1989 Porsche 911 Carrera Turbolook M491

Very rare 1 of 5 factory M491/470 cars made, spectacular condition, impressive street presence.

We are very proud to present such a rare and impeccable – Same owner since 1991 – Carrera M491. This incredibly looking, traffic stopper car was ordered with a lot of options from the factory. It was fitted also early on with an Audiovox cellphone that is still installed in the car, boosting its nostalgic and impeccable appearance. The car spent the last 20 years in storage, which vouches for the impressive condition in which it is.

The 16" Fuchs wheels are genuine and in perfect condition. This Carrera is absolutely rust free and shows its original paint. The engine and transmission are leak free and still have all the original stampings. Pictures of the mint undercarriage are available on request.

Production 11/1988, it makes it eligible and a great option for export to Europe and South America.

The original beige interior is in mint condition, second to none. The car drives and feels very solid and consistent to the visual condition and the major service performed by us before offering it for sale.

Options include:

– M018 Sports steering wheel

– M158 Blaupunkt radio

– M437/438 Comfort power seats left and right

– M454 Automatic speed control

– M470 Without front and rear spoiler

– M490 Sound package

– M491 Turbo look wide body

– M650 Power Sunroof

Air condition blows cold. The fresh major service performed includes:

– New clutch

– New tires

– Fresh fluids

– New fuel system including tank

– New brake pads, calipers and rotors

This is a true opportunity for the collector that is looking for rare and impeccable finds, don't let this one go!

Serious inquiries Call

305-443-7626 Bernard

305-527-6867 Eddie

Follow us on Instagram for live updates!

@rmcmiami
Can Ship (Insured) Anywhere Worldwide if Needed.
Located in Miami, Florida 33126
Financing Available with Approved Credit
Trades Always Welcomed (UP or DOWN)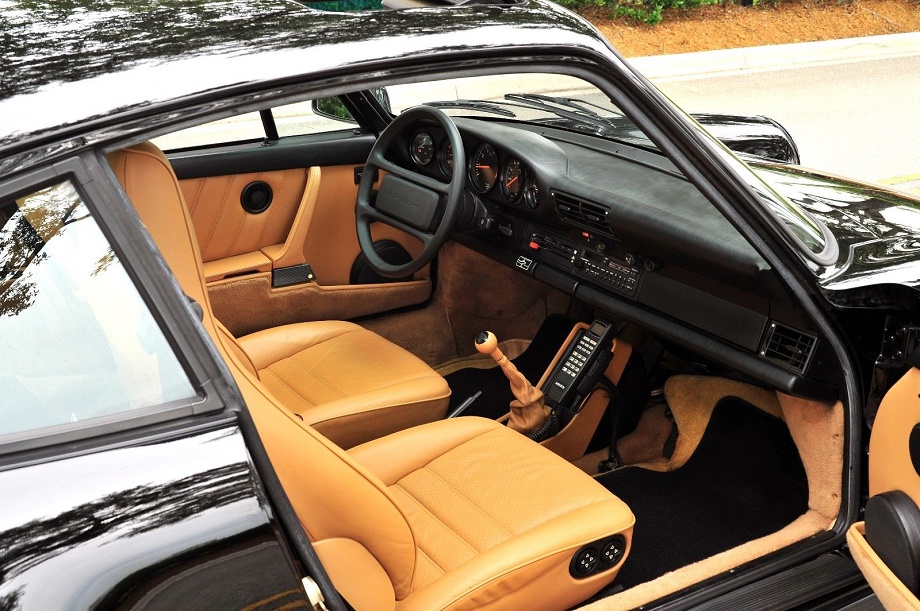 Obviously such a rare air-cooled 911 does not come cheaply. With an asking price of $114,500 you could easily find a true 930 in very good condition for this price. (Probably not an '89 930 in this condition, but definitely one of the earlier model years.) So you have to be committed to the Turbo-look. There are many who are committed. The Turbo-look Carrera itself is a wonderful machine and with the spoiler delete you have one of the best looking Carreras available. I have always been a whale tail guy, but the wider Turbo rear sans tail fits the 911's lines just about to perfection.
As far as this particular example goes: it looks great inside and out. Everything is said to be original and the mileage is quite reasonable. It even has its old mobile phone installed. With a car like this verification of its originality and documentation are key. Everything here looks as we'd expect though if I wanted to quibble I'd say the interior almost looks too good. I do wonder whether it has been reupholstered. The lines are too crisp and the color is darker than we typically see on a 3.2 Carrera. We aren't told the actual interior color (just Tan) so it could be Cork or Cinnamon or one of the other darker tans Porsche has produced. I'd want to know exactly what it is. As I said, this could just be quibbling so as to be sure, but with a six-figure Carrera you want to be sure.
The last thing to consider is that you might need to act fast. The price definitely is very high even considering this Carrera's rarity. I wouldn't say you should throw caution to the wind and accept the condition as described, but if this configuration and color combination checks all the right boxes for you then it could be worth the premium. Do your due diligence and know what you're looking for, but if you're interested, I don't think I'd wait around before at least seeing how flexible they might be on price.
-Rob