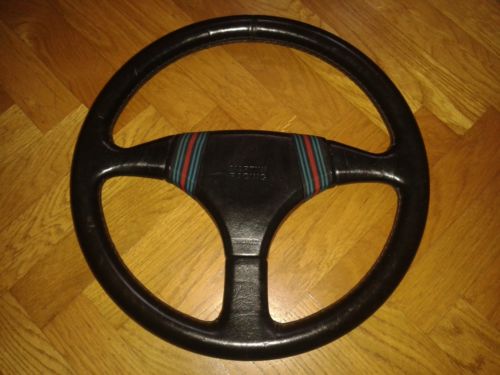 Martini Racing stripes make the world a better place, no matter where they appear. However, today's application is something really special to put your unique project over the top. Martini Racing licensed MOMO to make a run of both street and racing competition steering wheels. These wheels were rare and expensive when new, though obviously cherished by at least a few owners and can be found for sale today. This particular model is a racing variant which sported a smaller diameter and quick-release ready bolt circle. In just about perfect shape, it's just awaiting it's next race:
Year: N/A
Model: MOMO Martini Racing
Condition: Used
Price: $499 Buy It Now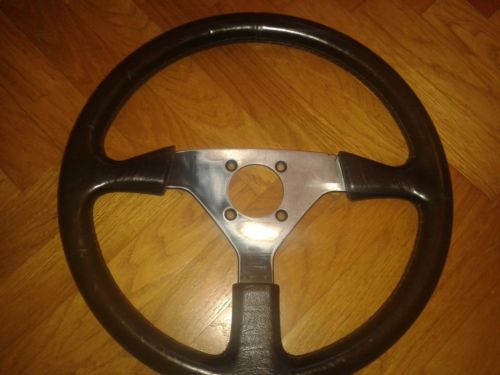 Original Vintage flat spokes Momo Martini in most desirable diameter (15 inches – 38 centimetres)
In the 80's Momo produced this steering in street version and different diameters.

On special order was available a competition version similar to stock production and made on racing requirements.

Wheel for sale is a ultra rare competition version – you recognise from the 4 holes pattern specific for racing hub of the '80's.

Even with this specific pattern (4x70mm PCD) this steering take easily the standard MOMO adapter hub (6x70mm PCD) and standard horn button (that honks when you press the center of the pad).

You don't have to modifie the steering! – just drill 2 more holes in the hub (the PCD is exacly the same).

I had these wheel years ago from "scuderia" who ran with Porsche, Lancia, Ferrari, Carma, Alba in top American (Imsa) and European competitions.

Unrestored and in very good conditions despite it's 25 years. No significant scratches, scuffs or others on leather but the surface of alu spokes is discoloured.

Regard on this, I would remember that this part is absolutly invisible when center cover is properly fitted!

Perfect for your vintage Porsche Martini inspired or Lancia, BMW, Alfa Romeo, or any other period correct classic car.

Last two pictures are only for display purpose.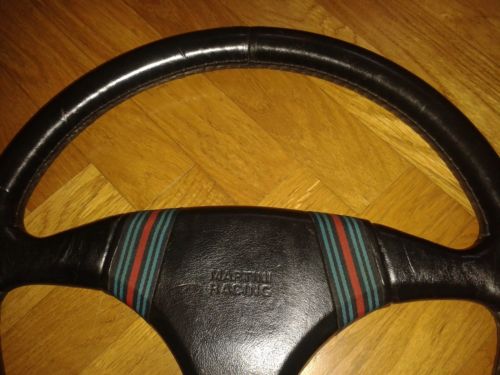 I love the execution of the stripes on the wheel – to me, the perfect accent to a late 1970s – 1980s Porsche. The seller agrees, including a few shots of some famous Martini-sponsored cars in their listing. While buying this wheel won't get you full factory support, it's a neat detail that is period correct. It's also not particularly cheap, but put it in perspective – buying a Martini-sponsored car from that time period would set you back a minimum of a few hundred thousand dollars. In comparison, then, this is a steal and you can use it all the time – of just hang it on the wall as a special piece of automotive art from a magical time in racing history!
-Carter