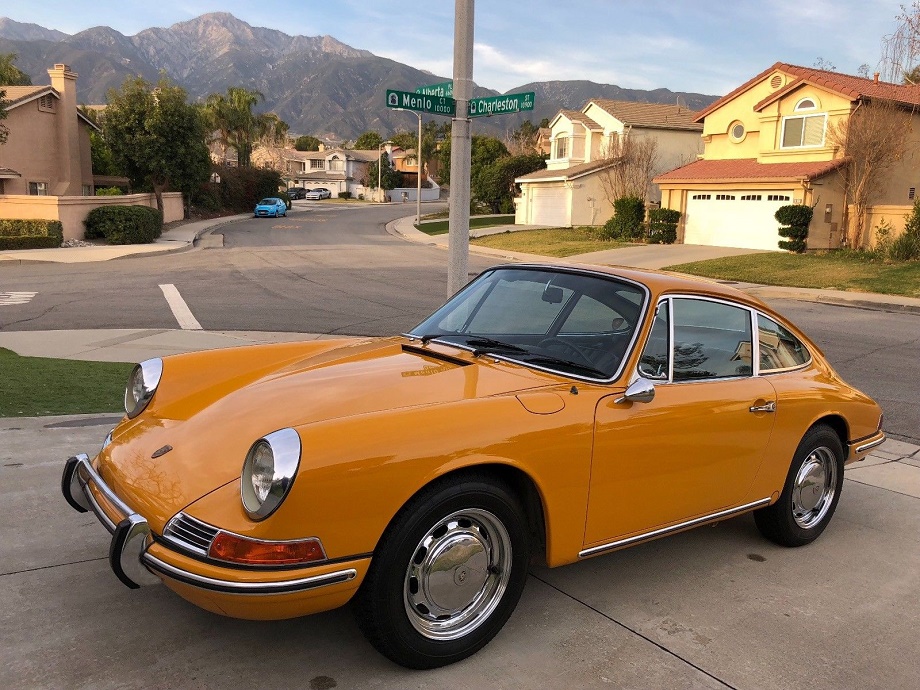 I don't know what my most commonly featured 912 color is, but if you told me it was Bahama Yellow I wouldn't be surprised. It's an absolutely wonderful color that possesses tons of character, but it isn't so bright you have to worry about blinding your friends and neighbors. So let's look at another one: this one-owner (sort of) 1968 Porsche 912 Coupe, located in California, with a reported 51,545 miles on it. It's said to be matching numbers and with a full history since new. The paint isn't original, but the 20+ year-old respray still looks quite good. Just a lovely car!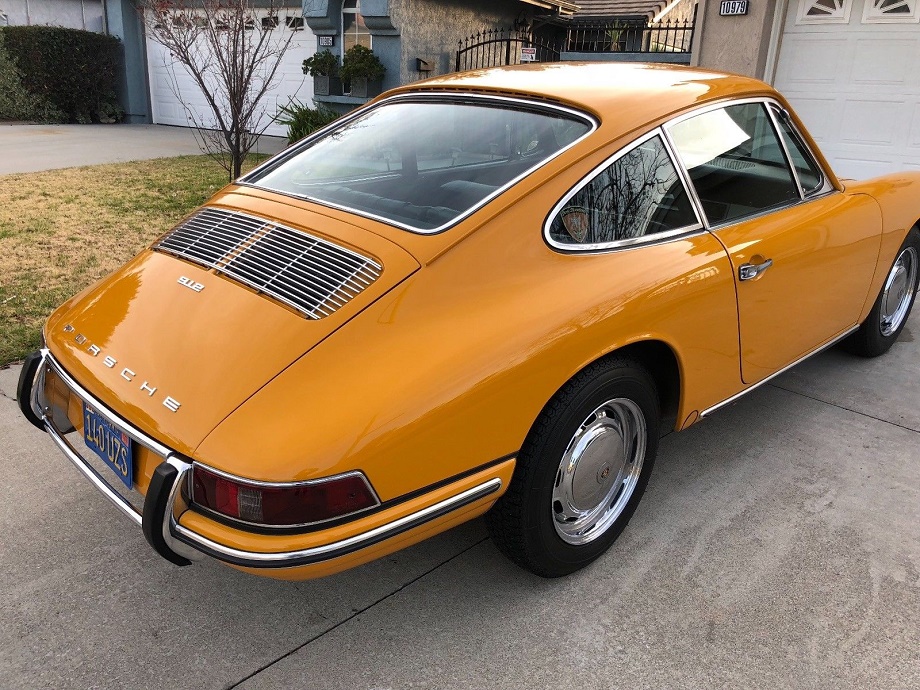 Year: 1968
Model: 912
Engine: 1.6 liter flat-4
Transmission: 4-speed manual
Mileage: 51,545 mi
Price: Auction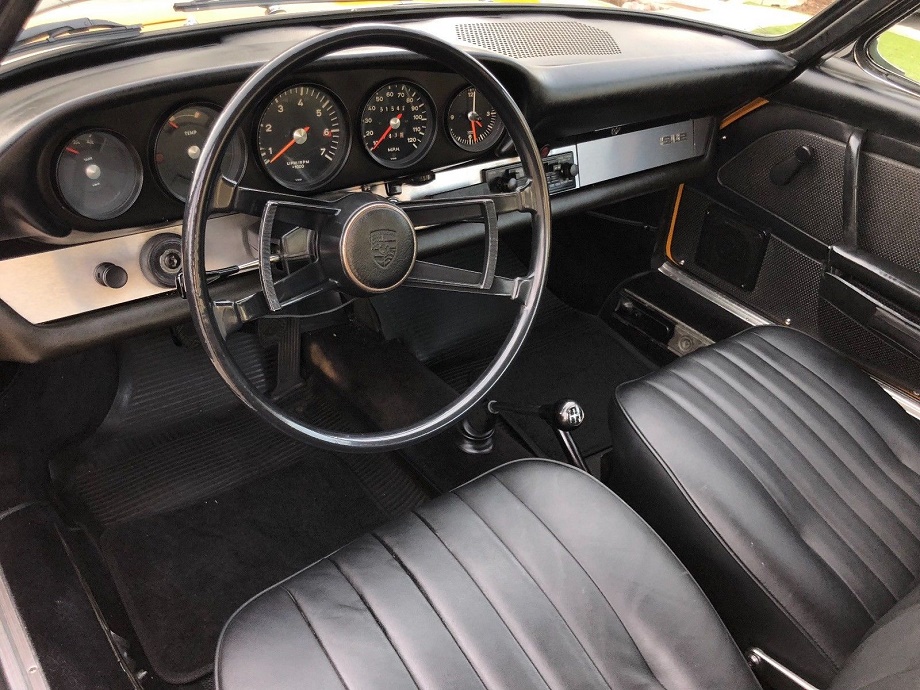 **NO RESERVE 5 DAY AUTION**
SOLD TO THE HIGHEST BIDDER

!!!! 1-Owner !!!!

1968 Porsche 912 Coupe Matching Numbers Car

Vin Number 12800503 – Engine Number 1080038

Runs Drives Shifts and Looks Amazing!

Ready For Its The New Owner

Has Factory Heater

( 100% Rust Free Factory Floors )

Original Color Bahama Yellow Code 6805 Over Black

Records Since New!!!

This Car is Super Nice!!! Maybe one of the nicest 912 I Ever seen. Feel Free To Come and drive and see it your self
and I promise you will not be disappointed….

Seats + Dash + Head Liner + Paint + Body is 100% GOOD

NO Dents No Major Scratchs Paint is Nice

1-Owner Car This was the Owners Baby Loved it more then anyone..
then the Original owner Passed And went to his son and the son took good care of it for over 10 Years and decided to let her go

Vary Nice And Straight Accident Free All Vin Tags Are Still There and Matching.
With 1 Glass Out Repaint Took Down to Bear Metal Then Sprayed To Perfection Same Color
Same Color Back In The Year Of 1995.
Nice Gaps All Around All Factory Fenders and Factory Quarter Panels
Tires Still Has Plenty Meet on Them
This Car Was Babied All its Life Here in California And Never Left the state of California

Over $20,000 Just in Records.

Motor Was Redone about 3000 Miles Ago By Smith Volvo in San Luis Obispo Ca
According To All The Records This Car Was Serviced By Smith Volvo Since New also the Same Mechanic is Still alive And Still Works There. And he Told Me he Gave This 912 its First Oil Change Back in 1968 Amazing!!!

Comes With Factor booklets Owners Manuel, Spare Tire, Jack. Full Tool set.

Clean Title in Hand

Car Located in Rancho Cucamonga ca 91730.

Good Luck!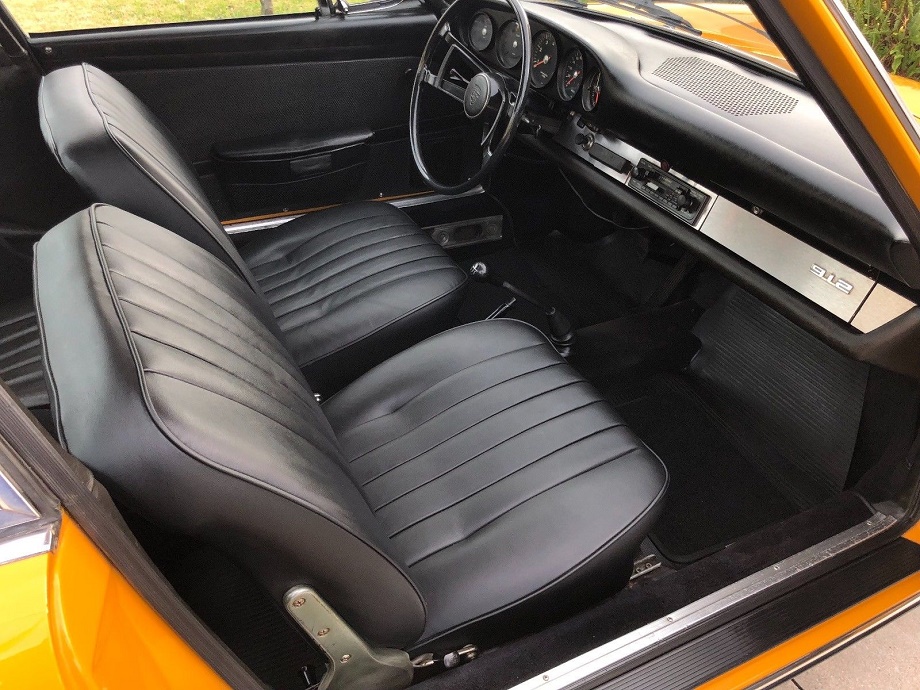 About the ownership: this isn't quite a one-owner 912 since the original owner passed away a while back. His son got the car. Perhaps it was never retitled in the son's name, thus making it appear to be one owner, I don't know. Regardless, it seems to at least be one family and that can be just as good from a service records and historical documents perspective. It would help account for it coming with records since it was new. It's also said to have been serviced by the same dealer (interestingly, a Volvo dealer) for its entire life. At least some mechanic should be familiar with it!
Overall this is a nice looking example. The paint looks in nice shape all around and the interior presents well. There don't appear to be any major concerns and the engine was said to have been rebuilt only 3K miles ago. I'd imagine for those searching for a 912, especially one in Bahama Yellow, it should make a good one to pursue. Regarding that pursuit: there have already been 113 bids on this 912. That's mostly from one bidder presumably being bid up by another interested bidder, but however we got here it sure seems like someone is quite interested. It wouldn't shock me if this no-reserve auction ended in a sale prior to auction's end.
I will be quite curious at what price this sells because it was another Bahama Yellow 912 that shocked me with its sale price one year ago: $114K. For a 912! That was an exceptional example so I wouldn't expect something similar here. However, that high price came about because of two bidders refusing to let the other have the car. Up and up the bidding went. While I don't expect a similar price, might we see a similar phenomenon here?
-Rob