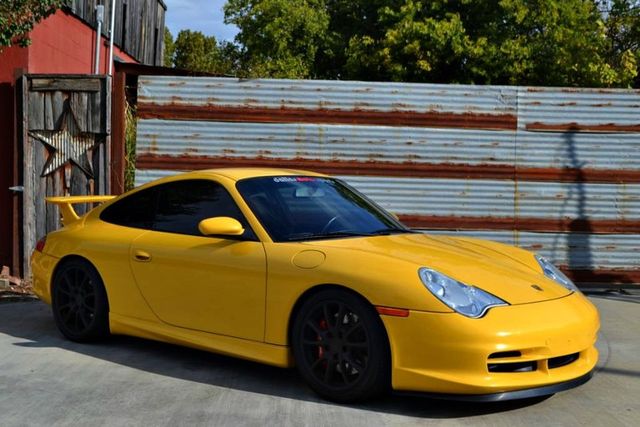 The 996 GT3 remains one of my favorite Porsches. I like any GT3 – I mean, how could you not? – but the 996 has always held precedence for me as the first GT3 Porsche produced. I think I also tend to particularly like it because the GT3 and GT3 RS are the two 996 models where I don't mind the appearance. With its revised lines I actually think the 996 GT3 is a good looking machine, while I remain bothered by the standard 996 offerings.
Over the past year I've looked at these GT3s a lot. I've long thought they were a nice value and with the values of our perennial performance-value favorite, the 996TT, on the rise the GT3 suddenly started to make even more sense. I think those days are (slowly) coming to an end. Asking prices for the GT3 appear to be steadily rising. I guess the cat is out of the bag and buyers are recognizing the value these represent. They're also one of the few 996 models where collectors are likely to take notice.
Value still exists though so long as we allow for higher mileage. There aren't a ton of higher mileage GT3s out there so at the moment opportunities are scarce, but they do exist. Like this one: a Speed Yellow 2004 Porsche 911 GT3, located in Dallas, with 86,410 miles on it.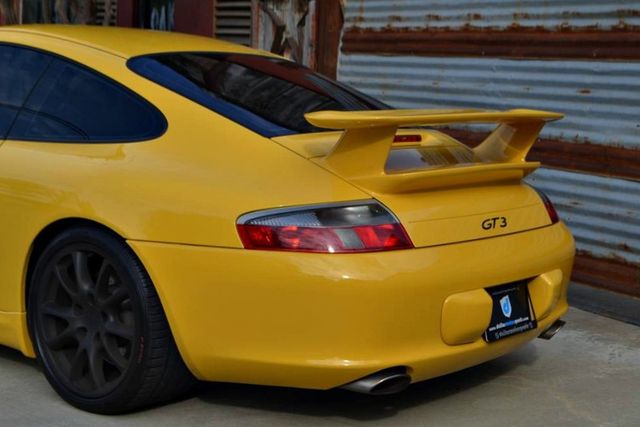 Year: 2004
Model: 911 GT3
Engine: 3.6 liter flat-6
Transmission: 6-speed manual
Mileage: 86,410 mi
Price: $61,900 Buy It Now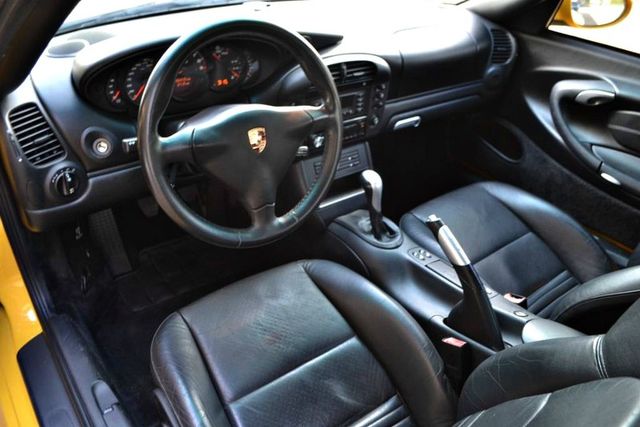 Dallas Motorsports presents this 2004 Porsche 996 GT3 that has just arrived at our facility!

When most people think of a 996 GT3, they think of a thoroughbred track car. In their mind, they picture a car that screams down the straight away shifting through the gears at 8,200RPM, leaving its track mates in a cloud of dust and rubber! Now picture yourself in the driver seat, coming off the straight away going into the next turn AND itching to stay on the throttle completely through the turn! Oh yes, the car will most definitely stay on the track, because this is what it was built for! After you finish your first lap, all you can think about is what could possibly be more fun than this!? In the automotive world, the answer is nothing! The 996 GT3 can be described as the perfectly set up 911. Eliminating tracking control, stability control, and the sunroof, you (the driver) are in control of every aspect of a more rigid, aero-dynamic car!

Even if you are not a track guy, the 996 GT3 is also unique in and of itself because it can also be a fun street car as well! Still maintaining modern car luxuries such as: Leather Seats, A/C, Cruise Control, and a Radio you can consider this a fun car for each end of the spectrum! I would not hesitate to take this car on a fun road trip for the weekend! Not having a backseat definitely has its advantages, (more space for bags!) We have walked around the car with a paint meter and physically confirmed that it is original factory Speed Yellow!

Factory options for this GT3 include:

Racing Yellow
Black Leather Interior
Sport Seats Left and Right
Xenon Headlights
Yellow Seat Belts
Cruise Control
A/C with full Climate Control
With the 6-Speed Manual phasing out and being replaced with the 'PDK' transmission in the 991 GT3, these limited production 996 GT3's are continuously increasing in value! With the demand at an all-time high, it would almost be considered a mistake not to put yourself behind the wheel of one before they all end up in private collections!

Call or Text Jonathan Peck at 214-289-8915 for more information regarding this GT3, or email sales@dallasmotorsports.com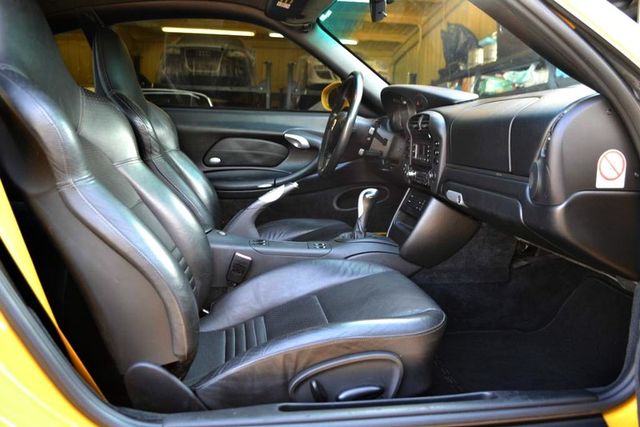 Averaging over 6K miles per year this GT3 certainly has been well used. That's nice to see and there are enough miles here that we might even wonder if this GT3 has served as someone's daily driver. I can't decide if that's insane or inspired! Either way higher miles on a car like the GT3 means a more careful inspection of servicing and a thorough PPI are a must. Maintenance costs for a car like the GT3 always will be higher, but you obviously want to make sure you aren't stepping into something where you'll see significant costs almost immediately. The ad doesn't address available records so that's where questions should begin.
The pictures provided here aren't the best, but the general condition of this GT3 looks pretty good. The hope, of course, is that sort of care will have carried over to its servicing. It has sports seats, which are always highly desired in a car like this, and the interior shows little wear. I really, really, dislike these black painted wheels, but that's an issue that can be fixed. Basically, from all appearances this GT3 looks just fine given its mileage so its mechanical condition really is what we need to know.
With an asking price of $61,900 this is on the lower end of the GT3 spectrum and I'd wager you could get a bit more knocked off that price given the high miles. If a PPI reveals no issues I think that's a fantastic way to spend that sort of money.
-Rob