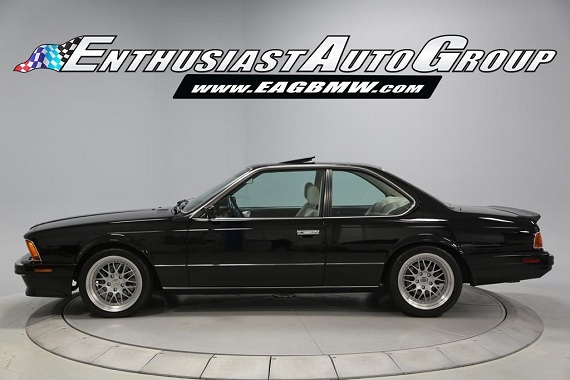 If you want a grand coupe, room for 4 in a pinch, looks to melt hearts and minds and a race car soundtrack, the E24 M6 and M635CSi are one of the few options for you. A supreme autobahn blitzer capable of hanging with sports cars on back roads, the M6 has a pretty unique skill set hidden beneath that flowing exterior. Right now, there are five great condition Ms up on Ebay, so I thought it was time to do a roundup of what was available and take a look at the options. The first is probably the best one money can buy, and not a stranger to these pages. We saw this ultra-low mile museum piece as part of the 1980s BMW M "Holy Trinity" post I did last fall, and while the location and seller has changed, the condition hasn't: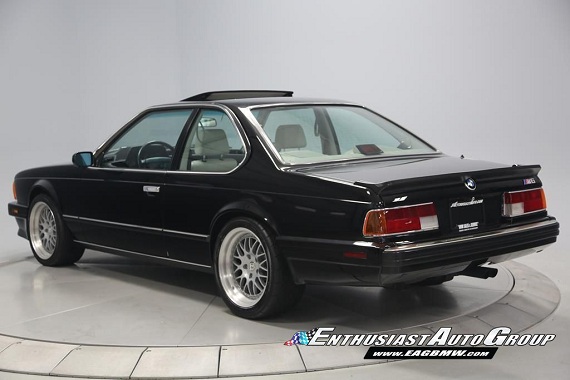 Year: 1988
Model: M6
Engine: 3.5 liter inline-6
Transmission: 5-speed manual
Mileage: 5,952 mi
Price: Reserve Auction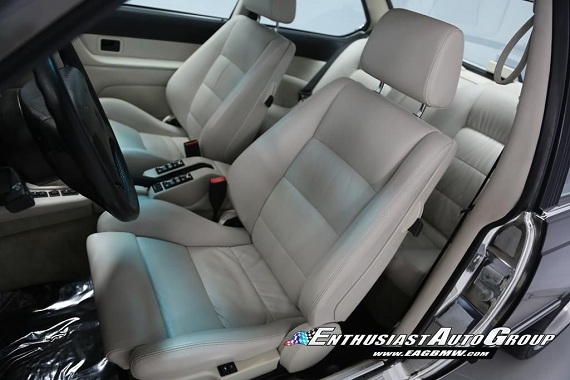 Why buy from Enthusiast Auto Group?

Enthusiast Auto Group (EAG) is unlike any other dealership you've dealt with to date. We are BMW enthusiasts that have turned our passion and hobby into a career. You'll find that our inventory reflects that we are VERY specialized with M-Cars, hand selecting only the best examples – then performing all necessary maintenance (including preventative) to ensure you will enjoy the best possible used car ownership experience.

How We Buy: We have sourced, sorted-out and sold over 5,000 M-Cars to date. This volume of BMWs gives us a unique expertise and knowledge within our niche market. We have identified patterns, problems and service forecasts for each model. This careful analysis drives our acquisitions into the right models and configurations and helps us to inspect for specific issues and trouble spots. You can confidently browse our inventory knowing you're seeing the best examples of the brand as a benefit of our extensive due diligence, experience and attention to detail.

How We "Sort Out": Upon arrival, each M-Car is inspected by a senior technician. Work orders are generated and completed, bringing a car up to EAG standards prior to sale. We aim to "reset the baseline" of a used car bringing it as close to new as realistically possible. This investment in every car we sell ensures they are 100% turn-key in every respect, while our extensive background, model-specific knowledge and "Old School" business ethics deliver results above and beyond any other dealership.

How We Sell: Nearly eighty percent of our cars are sold out-of-state, often sight unseen and shipped to our clients. This is a result of our reputation for consistent quality, vast experience and full disclosure. We're passionate about providing you with your ideal vehicle whether you're here in town our across the country. We arrange enclosed fully insured shipping services for our clients ensuring the vehicles arrive safely and at the best rate possible. We'll be happy to provide you an accurate quote if desired.

How We Build and Maintain Trust: A pre-owned vehicle purchase is about delivering on two concepts: Value and Trust. Value is readily tangible, but Trust is more complex. Delivering information you can rely on in order to understand your car's value requires an unwavering commitment to full disclosure, accuracy and truthfulness. Prior to purchase, our goal is to educate clients to the fullest extent about all relevant information, allowing you to make a prudent decision about Value.

Maintaining your trust means confidently backing every vehicle that carries our name and reputation. We're so confident in our cars, that we request the first right of refusal to make a reasonable cash offer when you are finished enjoying the vehicle. This unique policy should give you additional confidence about our high standards. Our rate and quantity of *Repeat Visitors* is evidence that we recognize and provide value on both sides of the desk. We have purchased 99% of the vehicles offered back to us. This commitment also exemplifies the quality level you'll find in EAG cars; frankly, we only deal in the nicest BMW's in the marketplace.

1988 BMW M6 Description:

*Repeat Visitor* Schwarz Black over Lotus White Leather, Concours, Original E24 M6! All Original Panels with VIN Tags Intact! This investment-grade M6 is an honest, low-mileage and properly cared-for example! This E24 is incredibly rare and quickly becoming a desirable icon of the M car lineup! This car resided in Washington state until EAG purchased it from the original owner in January 2013 at 5,080 miles. Since then, it has resided in a repeat EAG client's collection in California and received many service updates by the accredited Bavarian Workshop of West Hills, CA. Preventative replacements include: engine oil + filter change, coolant expansion tank, hoses + flush, transmission + differential flush, brake fluid flush, fuel filter replacement, air conditioning R134 retrofit + system charge, thrust arm bushings and upper control arms. This M6 has been upgraded with staggered Fikse FM-10 wheels, Alpine CD Player, short shift lever and a Turner Motorsport performance chip. This rare investment grade vehicle has resided in a climate controlled garage its whole life and this car is truly a garage queen! Super clean body + undercarriage with no rust or corrosion anywhere! Never seen inclement weather! Super nice interior with clean carpets, crack-free dash and supple leather upholstery. This car will not disappoint the pickiest of collectors or enthusiasts! This E24 M6 is one of the best examples left in existence! Clean Vehicle History with No Accidents, No Paintwork + No Stories. Serious Inquiries from US Residents Only – Exportation of EAG cars breaks our strict buy-back policy. Please Call or email to obtain a Pre-Purchase Inspection Report, Build Sheet, Condition Related Details, Vehicle History and 50+ Detailed Photos; 513.554.1BMW (1269)

For more information about this M6 or any of 80+ Specialty BMWs, please call 513.554.1BMW (1269) or visit our website.

Email: EK @ EABMW dot co m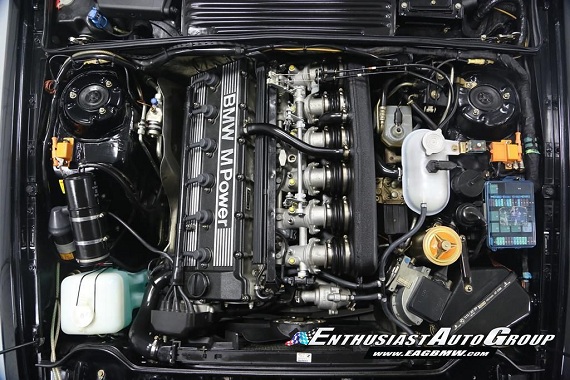 Last time around, the seller was asking a staggering $158,500 for this car. From the standpoint of recreating the condition, at that point you could take a lesser example and refresh it to condition one; however, it would take years, you can't fix the low mile problem, and why would you? So this car is a smarter option, even at six figure prices? Well, not really – unless you're looking to start a museum. Part of the value is the ultra-low mileage and if you tried to drive this car that value would disappear. So it's not worth buying this car, then? Well, hang on – because there's another way to look at it. $60,000 in 1988 – about what it would have cost you to get into one of these cars – is today inflation corrected to about $120,000. Want a brand new 1988 M6? You're paying roughly what the market value was when it was new, and that fits the condition. It may be a strange justification, but it's a not unreasonable way to look at it. Still not convinced? Well, let's move on then…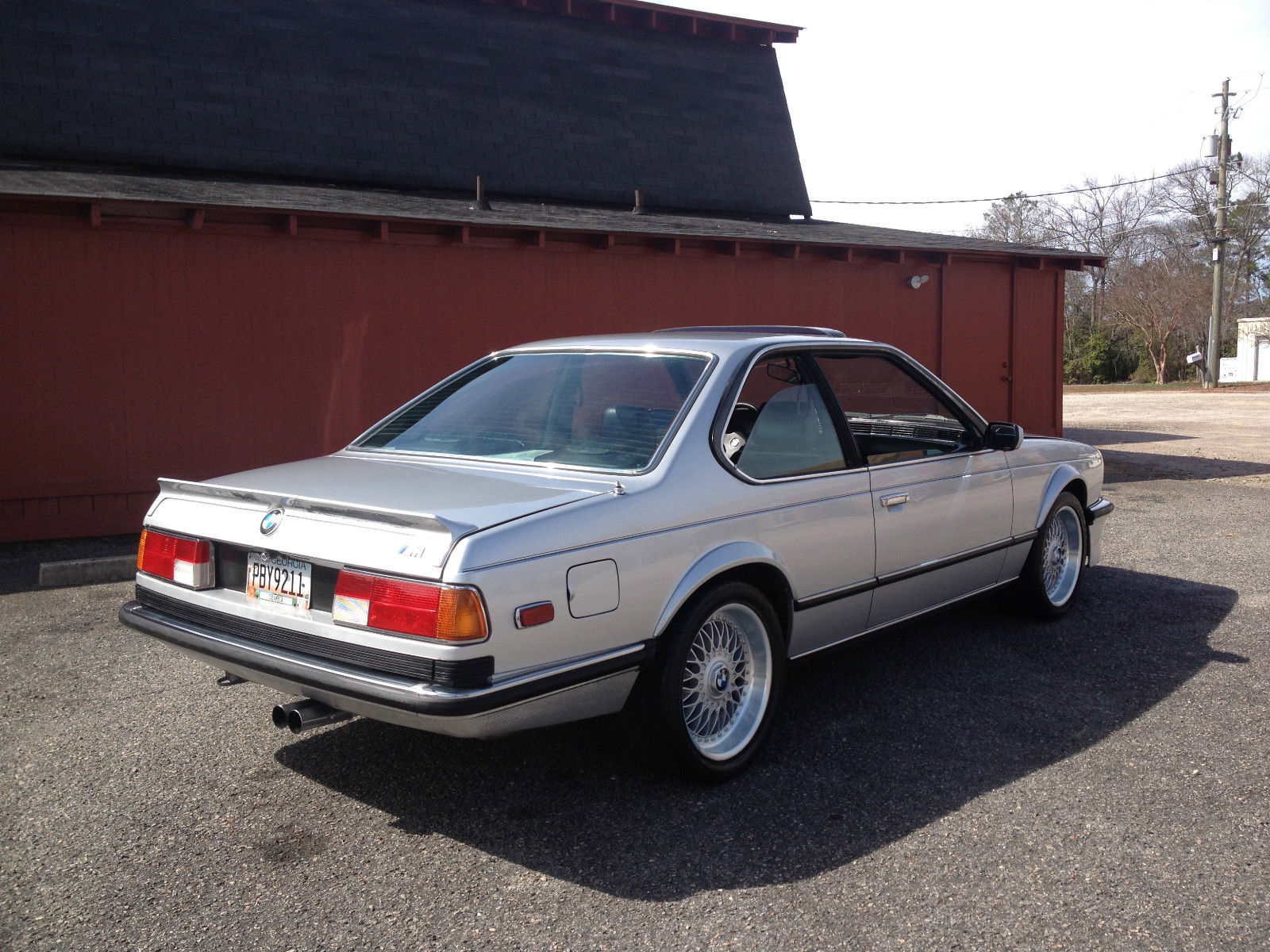 The M635CSi got the full-fat M88 motor under its hood without cats and with a few more horsepower. It also came with the much better looking European bumpers that make the 6 look much thinner and lighter on its feet. With only 81,600 miles on the clock this model appears to be in very good condition overall: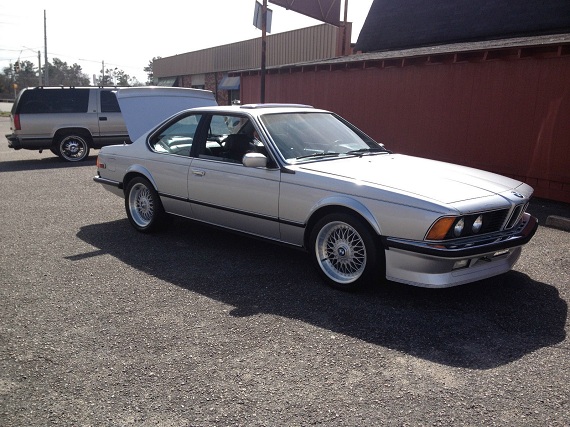 Year: 1984
Model: M635CSi
Engine: 3.5 liter inline-6
Transmission: 5-speed manual
Mileage: 81,634 mi
Price: $16,000 Buy It Now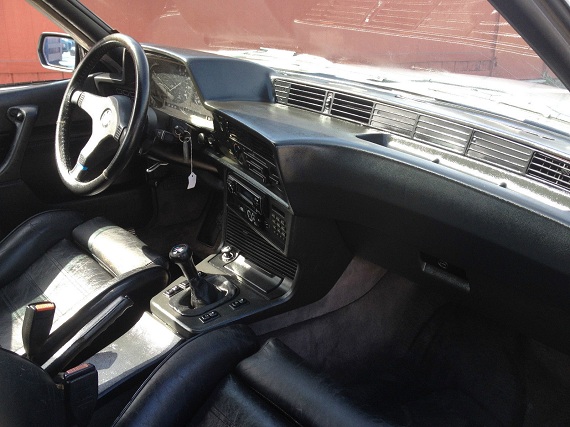 THIS 1984 BMW IS CLEAN THE OWNER DO TO CANCER PAST AWAY 2 YEARS AGO AND THE WIFE DONT WANT TO SEE THE CAR ANY MORE SHE SAID THAT WAS HIS BABY . THE M6 WAS CRITICALLY ACCLAIMED THROUGHOUT ITS ELEGANT, AGGRESSIVE " SHARK-NOSE"STYLING,ITS LUXURY EQUIPMENT,AND ITS PERFORMANCE.A TOP SPEED OF 158 MPH MAKES THE EUROPEAN VERSION THE SECOND FASTES BMW EVER BUILT NEXT TO THE M1 THIS IS DO TO ALL OTHER BMW MODELS BEING ELECTRONICALLY RESTRICTED TO 250 KM/H [155 MPH] M6 CAN BE DISTINGUISHED FROM OTHERE 24 MODELS BY A LARGER FRONT AIR DAM,A REAR SPOILER, BBS WHEELS, THIS CAR IS NICE JUST MINOR AIGIN STUFF THIS CAR IS BELOW THE BOOK VALUE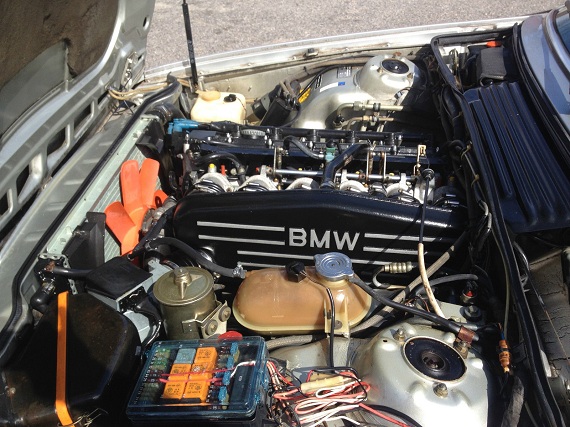 Not much is offered in terms of maintenance and the photos aren't the best, but the condition of the car seems to be quite good. At less than a tenth of the asking price of the previous example, this car is a driver and perhaps more true to the original form of the E24 than the later M6s were. I'd want to make sure the proper EPA paperwork was lined up to get it registered, though in some states because it's well over 25 years old it probably wouldn't be as much of an issue. Silver is a great color on these cars, and coupled with the iconic BBS Style 5 RCs and Euro bits this is a great looker – I'd just want to make sure it was also a great driver, but the pricing is right for what it is. Not convinced?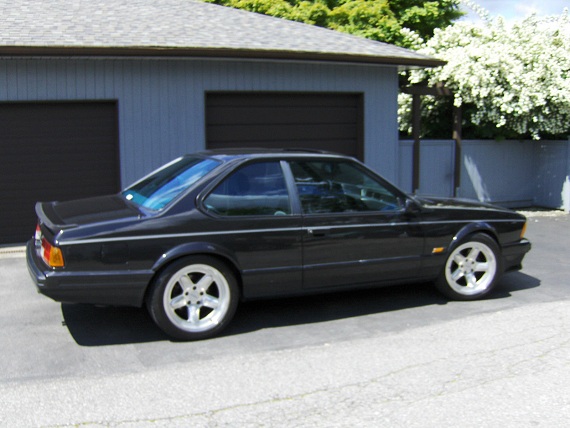 This car also isn't a stranger to GCFSB – I put it up a few weeks ago on our Facebook Fan Page as a teaser. It didn't sell despite a pretty low price and rare 1989 status. Of note is the rare M-Cloth interior; I'm pretty sure that this car wasn't originally a U.S. car and the "BMW Japan" sticker on the back seems to back that up. I'm also not really a fan of the "stealth" look this car took, but most of the items are reversible and the price is compelling:
Year: 1989
Model: M6
Engine: 3.5 liter inline-6
Transmission: 5-speed manual
Mileage: 70,306 mi
Price: $14,900 Buy It Now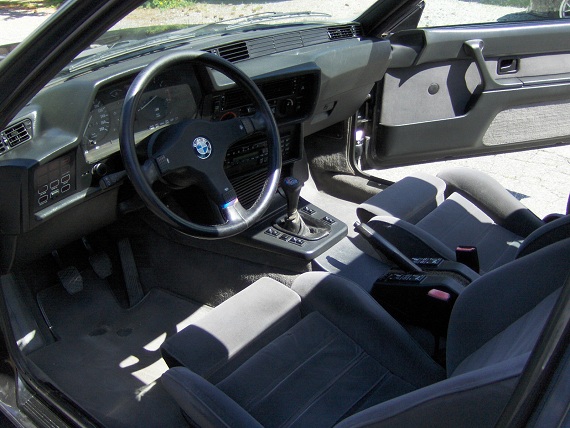 ORIGINAL E24 M6, last production year model, overall very good condition, mechanically sound, rust free body,factory "Shadowline" very rare option (body colored bumpers, black grille & trim). M cloth interior in great shape except for tear in left rear seat (was there when bought car) and small crack on dash. Bought the car in spring 2011, the car has been reliable and never let me down. Selling due to expanding collection. Sad to sell the Shark but it has been fun.

Check out my youtube video – Stealth BMW E24 M6

* 5 speed manual
* Catalyzed S38B35 motor 256 HP
* New cross drilled brake rotors fitted with Pagid Ceramic brake pads
* New H&R Sport Springs (removed SLS system [parts incl] with elimination kit) resulting a lowered balance stance
* Plus any worn bushings, suspension parts replaced
* New Bilstein Sport shock absorbers
* 18″ AC Schnitzer Alloys by OZ Racing (clear coat starting to peel, no pitting/curb rash, needs to be refinished, original or black?)
* New Nitto NeoGen 235/40ZR/18 tires
* Full tuneup, valves re-shimmed
* New fuel regulator
* Full Synthetic Engine oil
* Coco mats and dash cover

This M6 is truly a great collector condition car requiring absolutely nothing to enjoy daily. Over the past years I have been fortunate to sell my cars through ebay to many happy buyers. This car is awesome value for a true classic which is becoming more difficult to find in original clean condition. Contact me to discuss shipping and delivery options. Happy driving.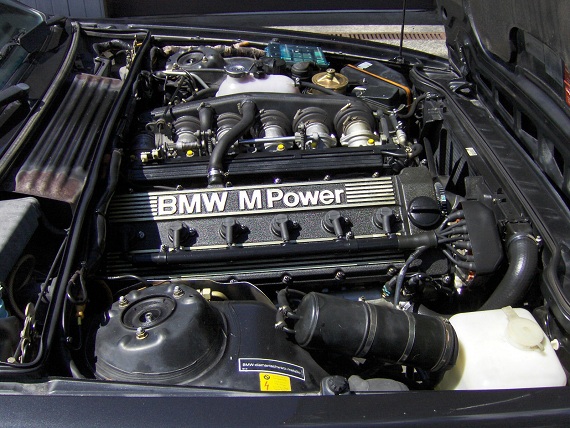 I'm also not really a fan of the Schnitzer wheels on this car; they look a little large and out of place. I think some more open 17″ designs would fit better and would probably have the car handling and riding better as well. The self-leveling suspension was yanked in favor of H&R springs, but otherwise the car appears pretty much as it came originally. If you want a unique M6, this might be the one and the price and miles are where you'd want to grab it. Frankly, at $14,000 I'm surprised it's still around. Perhaps something a little more bright your style, though?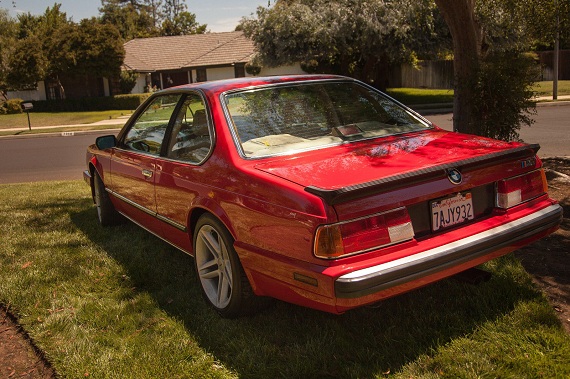 One of the wonderful aspects of the M6 that I prefer over the M5 is that you could get colors other than black, and this red example is a shining example of why that was a good thing. With the slightly more desirable late 88 upgrades to bumpers and headlights, it sure looks like a good example: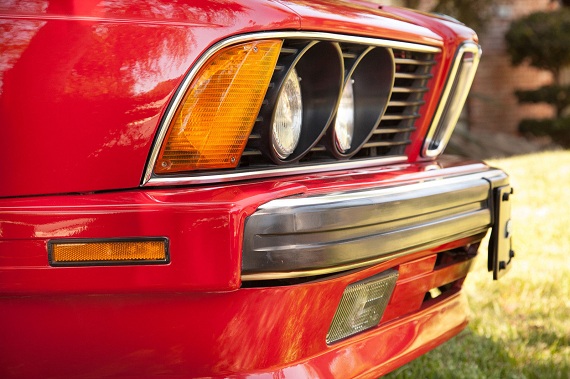 Year: 1988
Model: M6
Engine: 3.5 liter inline-6
Transmission: 5-speed manual
Mileage: 89,000 mi
Price: $24,500 Buy It Now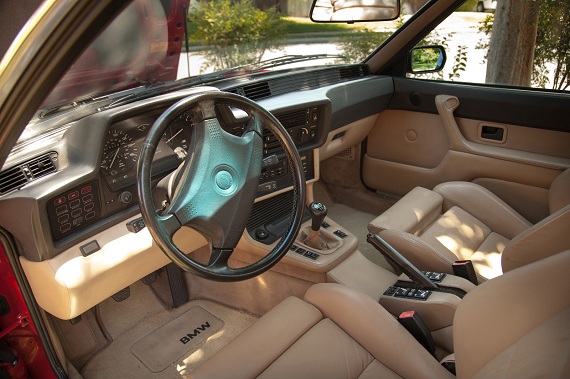 California Car, second owner.

In pristine condition, currently it has 89000 miles

New powder coated cross-drilled rotors and brake pads.

#245 M5/M6 5spd transmission from metric mechanic

Replaced clutch, pressure plate t.o. bearing

Polyurethane suspension bushings

Polished aluminum shock tower brace,

New battery

17" momo aero wheels, Michelin pilot sport tires.

Original forged light alloy wheels 195 TR 415

Factory hydraulic self-leveling system

Electric sunroof.
I have original getrag 5sp transmission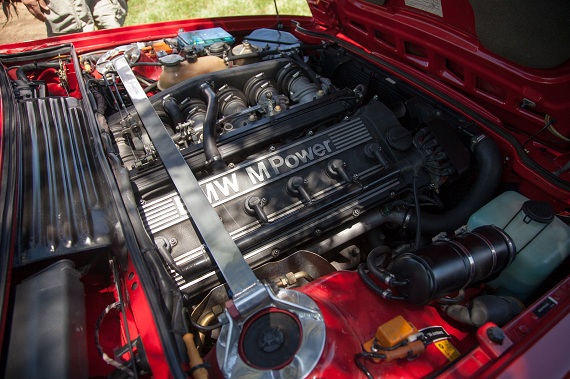 Again, I'm not a huge fan of the Momo wheels but the original TRX units are included. Unlike the previous model, the SLS has been retained but the transmission interestingly was swapped for a Metric Mechanics unit; the original is included. Like the others, there is recent maintenance outlined and the miles are right, but the price for this is car is a bit higher at $24,500. That's higher than most of the M6s have been selling though not by much and likely where the market is heading. Is red a little too bright for you? Perhaps, like me, blue is your favorite shade on these M6s: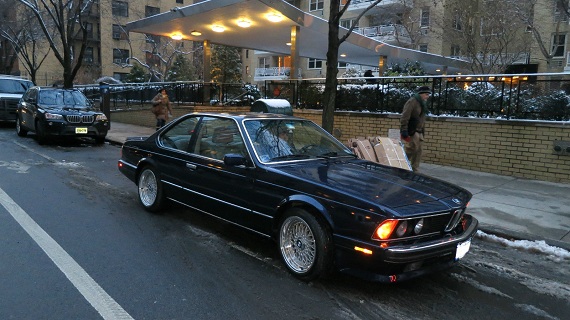 Everytime I see one, I have to stop and stare. To me, the E24 was made to be in this color combination. It's stunning. Couple that with the desirable and correct-looking BBS RC "Style 5" wheels and you have the look nailed: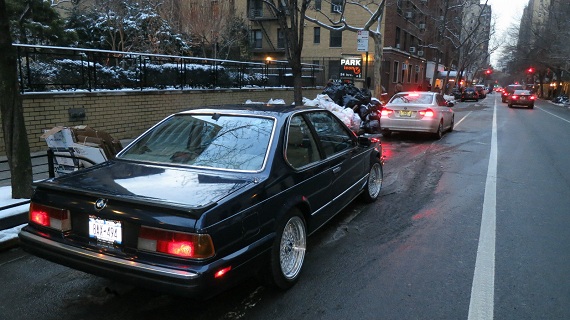 Year: 1988
Model: M6
Engine: 3.5 liter inline-6
Transmission: 5-speed manual
Mileage: 82,480 mi
Price: No Reserve Auction ($30,000 opening bid)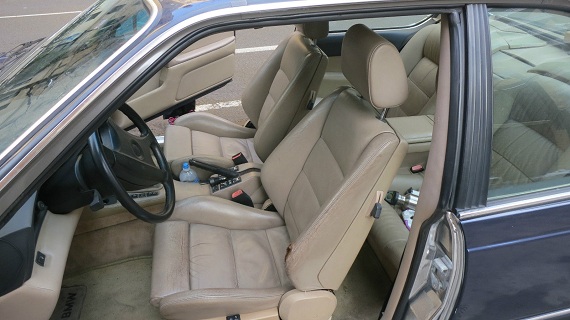 You are bidding on a 1988 BMW M6 Series with $82K original miles being sold by the original owner. This BMW is a collector's dream, there weren't a whole lot of these cars manufactured in 1988. Remember the car Robert Ulrich use to drive in the TV Series Spencer For Hire…well if you dreamed of owning that car now is your chance! With power locks, power seats, power windows, new rims and a 5 speed transmission this car attracts a lot of attention!

This BMW does have one minor ding in the front corner panel as you can see from the pics. It also has some wear and tear to the interior it is after all, 26 years old! Original interior is still in tact. The M6 has been painted through out the years keeping up with the traditional navy color. This car has been garaged kept and is located in NYC by the same original owner who kept the maintenance up throughout the years. It also has a shut off battery switch to save power when it is not in use. Thank you and happy bidding!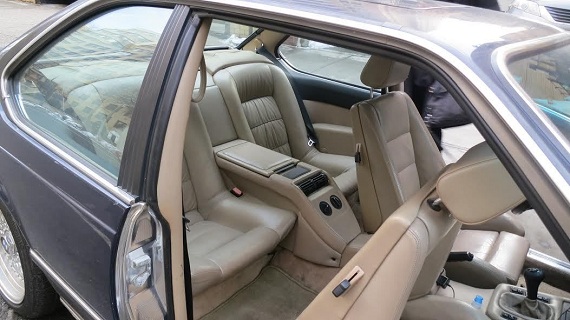 Like many of these 1980s BMWs, this car apparently has some electrical drains and the shutoff switch is a practical addition. Otherwise, there isn't much outlining maintenance on this car, nor is the condition particularly outstanding. This is especially true in the interior where the driver's seat shows serious wear and I wonder how many New York encounters have resulted in the car being "painted throughout the years". What does that even mean? Despite this, the price is one of the highest I've seen with an opening bid at $30,000; I highly doubt this car will garner any bids. It's beautiful and the right combination, but the miles and the condition aren't good enough to justify that price.
For me, the winners are probably the M635CSi or the rare 89 with cloth; either one allows you to have a great driver with enough money left over to keep a maintenance fund going. For me, the silver Euro 84 does it but either would offer a unique grand tourer that will draw smiles from you and the crowd wherever you go!
-Carter