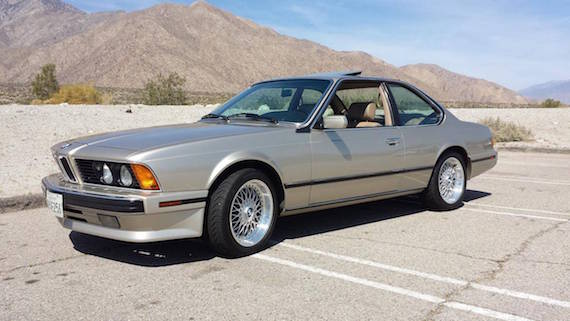 With its sharply raked front fascia, long hood and tapering rear end, the E24 6-series is arguably one of the most beautiful BMWs ever made. The grand tourer first arrived in the US in 1977 as the 630, powered by a 3.0 liter M30 engine that produced a not-terribly-impressive 176 hp. While a series of improvements and changes to the lineup would improve things little by little – the 630 was replaced by the 633 in 1978, then the 635 in 1985, and an M6 would arrive in 1987 – the American models would remain saddled with performance-sapping emissions equipment and engines with lower compression ratios than their European counterparts. It wasn't the end of the world: the E24 was not really about out-and-out performance anyway. Instead, it was for loping across vast stretches of road in comfort and style while conspicuously showing off your wealth. The US-spec 635CSi appeared 1985, bringing with it the 3.4 liter version of the M30 engine and Motronic engine management. Still underpowered in comparison with its European cousin, it was at least significantly torquier than the 633 it replaced. And the performance gap would close almost entirely by 1987 when power output on US-models was bumped to 208 hp. For today's post, I've selected two lovely looking examples of the 635. Both wear Bronzitbeige Metallic paint and come equipped with manual gearboxes. One is a high-milage US-spec example, the other is a low-mileage Euro-spec car with a significant price premium attached.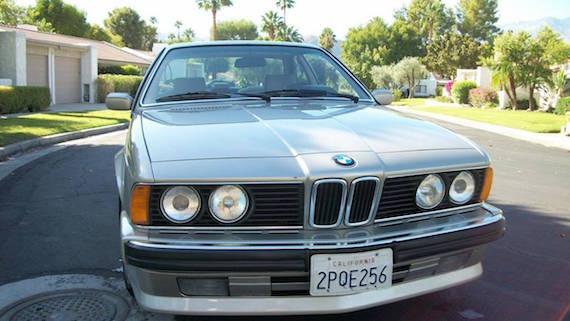 Year: 1989
Model: 635CSi
Engine: 3.4 liter inline-6
Transmission: 5-speed manual
Mileage: 190,100 mi
Price: $11,900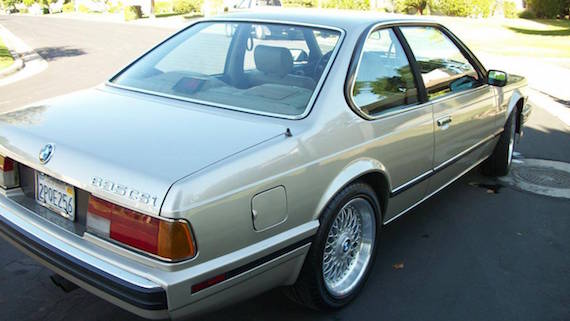 I am the second owner of this car, bought it 10 years ago. It has been in California its whole life and always garaged. Shorty after I bought it at 145K I had the cylinder head resurfaced and all new valves, valve guides and seals, hoses, water pump, fan clutch, and a new radiator. New clutch and master and slave cylinders replaced at 151K. Rear self leveling replaced with Bilstein shocks and suspension kit. Recently a new A/C compressor and conversion to R-134, front brake pads, new power steering pump, Inspection II done by La Jolla Independent at 188K . Michelin AS sport pilot tires at 184K. New leather on front seats, all the rest of the interior is in excellent condition. Some minor paint chips and blemishes. Everything works, the car looks and drives great. All documents and maintenance & repair receipts since day one. You can be proud to own this car, one of the last of the E24 series with only 45 more manual transmission cars built for the US market after this one.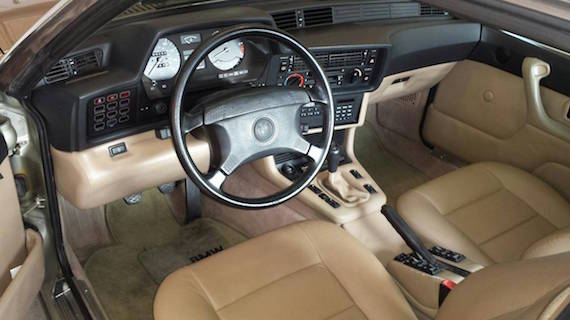 First up is this US-spec car, a high-mileage example for sale in California. Despite the 190k miles on the odometer, it presents very well both inside and out. The photos show a lovely finish to the paint (a few minor blemishes are mentioned in the ad copy) and the deep dish, style 5 BBS rims are, in my opinion, a lovely touch. A final year model, the car has ellipsoid headlights and the more attractive "worldwide" front bumper standard from 1987 onward. The car received a head job some 45k miles ago and is said to run and drive excellently. At $12k this is quite a compelling package.
If, on the other hand, you have a bit more cash to spend then perhaps you'll want to have a look at this neat, Euro-spec car for sale in Chicago.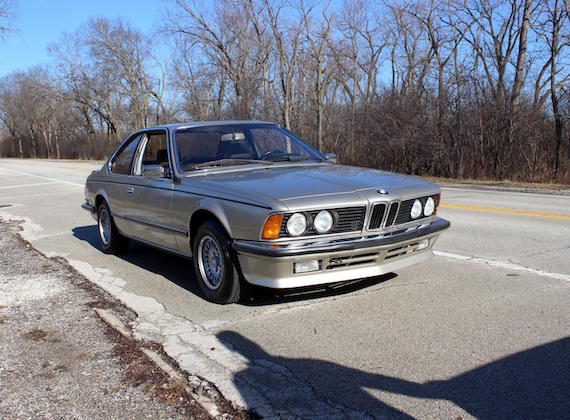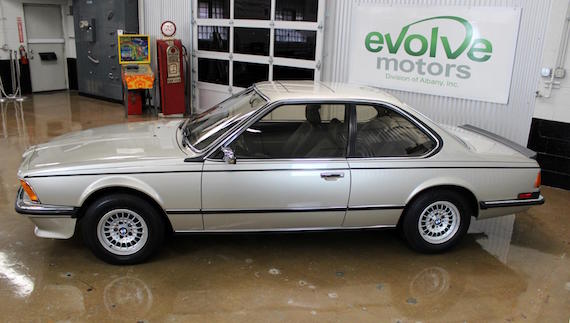 Year: 1984
Model: 635CSi
Engine: 3.4 liter inline-6
Transmission: 5-speed manual
Mileage: 55,502 mi
Price: $30,500 Buy It Now or Make Offer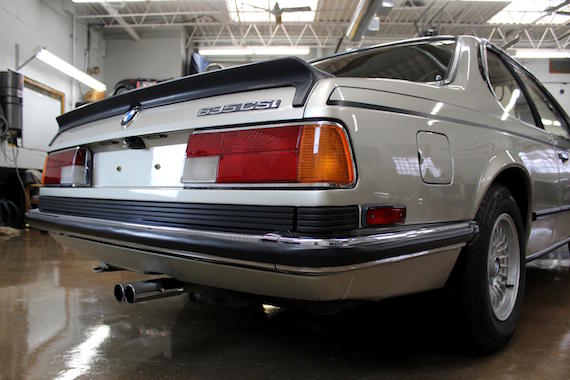 1984 BMW 635csi Euro

ONE OWNER
ORIGINAL BRONZITBEIGE METALLIC EXTERIOR & NUTRIA 0157 SPORT INTERIOR!!!
600 Miles Since Complete Mechanical Rebuild
55,000 Mile Euro-Market E24
MINT!!!

CALL TODAY 773-267-2684
WE SHIP WORLDWIDE!

VIN: WBAEC7100D8173543
Color: 139 – Bronzitbeige Metallic
Upholstery: 0157 – Nutria Leather Sport Seats

Options:
301: Anti-Theft Lock
314: Heated Windscreen Washer Nozzles
401: Sliding/Vent Sunroof
481: Sport Seats Driver/Passenger
664: Bavaria Electronic (Radio)
680: Manual Antenna
690: Cassette Box
915: Without Special Conservation Exterior

Production date: August 31st, 1983

Evolve Motors is pleased to present this 1984 BMW 635CSI Euro!

This is one of those nicely spec'd, stunningly well-preserved examples that us BMW enthusiasts dream about. Immediately upon picking the car up from the original owner, we took it for a 100 mile stretch-of-the-legs along the Lake Michigan waterfront. The car feels absolutely phenomenal in every respect; as it should, considering that the car was treated to a complete mechanical rebuild (to the tune of $30k!) by renown BMW specialist The Werk Shop (Libertyville, IL) just 500 miles prior.

What We Know:
The original and only owner of the car ordered it new while living in California in the early 1980s. The car was purchased from Autohaus Brüning KG Fürth (dealer in Germany); after importing the car, the owner drove it for a handful of years, racking up about 54,000 miles. He then moved to Chicago around 1990 and stored the car at a climate-controlled automotive storage facility, where the car was almost never driven. There it remained until 2014, when the owner received a call and was informed that the facility was closing up shop, and that he needed to come get his car. Instead of driving the car home, he had the car sent to The Werk Shop, a well-respected BMW restoration shop just north of Chicago. There he had the car gone through in its entirety. The total cost for the mechanical restoration – $30k; please see the photo of the receipt, a 5-page-long list of parts. The rebuild was done at 54,899 miles; we bought the car shortly after, and the odometer now reads 55,502. The restoration was strictly mechanical; The Werk Shop did not do any exterior work.

Exterior:
The car retains its original Bronzitbeige Metallic (139) paint, which presents very, very well. The nose panel was resprayed early on in the car's life, and the passenger rear fender was resprayed last month at our body shop, Albany Auto Chicago, following the correction of a bubble on the lower portion of the wheel well. Aside from those two spots, paint is original. Bronzitbeige Metallic is a gorgeous color and shines bright; the light copper contrasts very well with the car's black pinstriping. There are absolutely no dings, dents, or scuffs on the car. There are a couple of minor blemishes, all of which we've provided close-up photos of. Most noteworthy of the blemishes is a small blister on the hood (less than half an inch in size). All plastic trim is in great shape, with no cracking or graying. Chrome is in great shape as well, there is no oxidation in the slightest. Chrome is mirror-like and has a great shine to it. Lights, emblems, and glass are all clear and crack-free. BMW bottlecap wheels have never been refinished and are in nice shape, with no curb damage. Overall, this 635csi is as nicely-presented as we've seen. Even at its lowest, most vulnerable points, this car presents in impressive condition. In person, it's nothing short of stunning.

Interior:
This 635csi features the very desirable and hard-to-come-by Nutria leather interior, with sport seats to boot. Nutria leather was only available for a short period in 1984, and is a real treat to see in excellent, unrestored condition. Nutria is a lovely shade of dark brown with tones of olive, which looks just perfect against the bronzitbeige exterior. Both front seats are in great shape; the driver's seat shows some light wear along the outside, while the passenger seat is close-to-new. The dash shows no aging whatsoever, with no fading, cracking, scratches, or sunbleaching. Carpeting is excellent throughout, as it has been protected by the factory-optioned velour floormats, which are also stain-and-tear-free. Back seats seem as if they've never been sat in. Headliner is tight and tear free. A/C and heat are functional. Radio sounds great, head unit is a Pioneer Mixtrax and speakers are ITT units. As this is a European-Market car, dash text and warning lights are all in German, which is a cool reminder of the cars roots.

Under The Hood:
Please see the photo of work completed during the winter of 2014-2015 at The Werk Shop. Since the rebuild of the Euro-spec 3.5L M30B34, the car has seen just 600 miles of road. Having put over 100 of those miles on the car myself, I can vouch for the car's excellent road manners. The car stays cool, tracks straight, pulls hard, and shifts smoothly. I actually had the chance to jump out of this car and into a well-sorted e30 M3 and to be honest, I'd have a very difficult time choosing a preference. The 635csi may not be quite as eager to attack the tighter corners, but it feels sophisticated, capable, and confidence-inspiring. Exhaust note suits the very gentlemanly 6er perfectly; it's quiet around town but shows some life when you get moving. Blips from third gear down to second often result in a very subtle crackle, which while minor, are sure to put a smile on the driver's face. There are absolutely no tendencies or noises of concern, this car is dialed in and ready to be enjoyed by its next owner. Michelin Defender tires are new at all four corners.

Underbody:
Anyone who knows these cars will tell you, they are extremely prone to rust. More often than not, e24s will be covered in rust bubbles and there will be at least a couple holes to be found underneath. This is not the case with this car; with the exception of some surface rust on the original exhaust, there is absolutely no rust underneath. There are no leaks either, with no evidence of any fluids strewn about the underbody. Many of the suspension components still have the BMW part number stickers on them. Floor pans and rocker panels are excellent. Undercoating is beginning to flake on the forward-most portion of the frame rails, revealing clean and smooth metal underneath. Please take a look through the photos, as the underbody is documented in detail.

Overall, this is a phenomenally clean and nicely spec'd example of one of the highlights of what is arguably BMW's "golden age". With the original bronzitbeige metallic paint, rare nutria 0157 sport interior, documented one-owner history, and only 600 miles since a full mechanical rebuild, this '84 Euro 635csi is truly as good as they get. Buy with confidence; this car is sure to make the next owner, whether that be a collector or a driver, very, very happy.

Please take a good look through the photos, as every inch of the car has been photographed. There are close-up photos of every bump, bruise, or blemish.

Reach out to Jake at 773-267-2684 if you have any further questions, requests, or if you would like to discuss purchasing.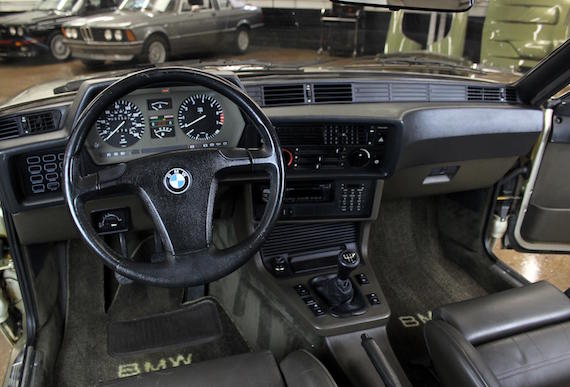 The car's history as relayed in the ad is pretty interesting. Imported from Germany to California in the 80s, it was driven for 55k miles before being put into storage in Chicago in 1990. Retrieved in 2014, the car underwent a $30k mechanical restoration bringing it back to nearly-new condition. The exterior looks very good: though mostly original, the paint has been retouched in a couple of places up front, while there remains a small paint blister on the hood. The nutria brown leather interior looks gorgeous and I think is the more preferable of the two. The car is said to drive as if it were new, which is no surprise given the extensive mechanical work.
While it may be the more "original" of the two, whether it's worth the $30k asking price is debatable. Since late model US-spec cars offer basically the same levels of performance, and can be had for less money, the case for spending so much on the Euro-spec car is hard to make. Of the two, I'd buy the US-spec car.
– Craig