Between 1974 and 1977, Porsche produced 1,633 of its Carrera 2.7 MFI models. This was a follow-up to the legendary 911RS model and carried over much of the look and suspension, along with the punch of the 911/83 2.7 flat-6 rated at 210 horsepower into the G-Body impact bumper models. Though not as valuable as the original 911RS (a good example of which will set you back about $700,000 today), the equally limited 'Euro Carrera' MFI cars aren't exactly cheap. You're still looking at ponying up between $150,000 and $200,000 for a decent example. Cheap compared to the 911RS, yes, but firmly in wish-land for most.
But there's a solution for the enthusiast. Ryan Snodgrass has produced an extensive history of the model in his work Carrera 2.7. I was lucky enough to get a copy of the Limited Edition version of the book as an early Christmas present. And opening the box was just like it was that gift-giving holiday morning; a let out an audible 'whoa' as I lifted the hefty tome from its packaging. The presentation is outstanding; a stark black cover with immediately recognizable bright shades of the early Porsches underscoring that iconic silhouette.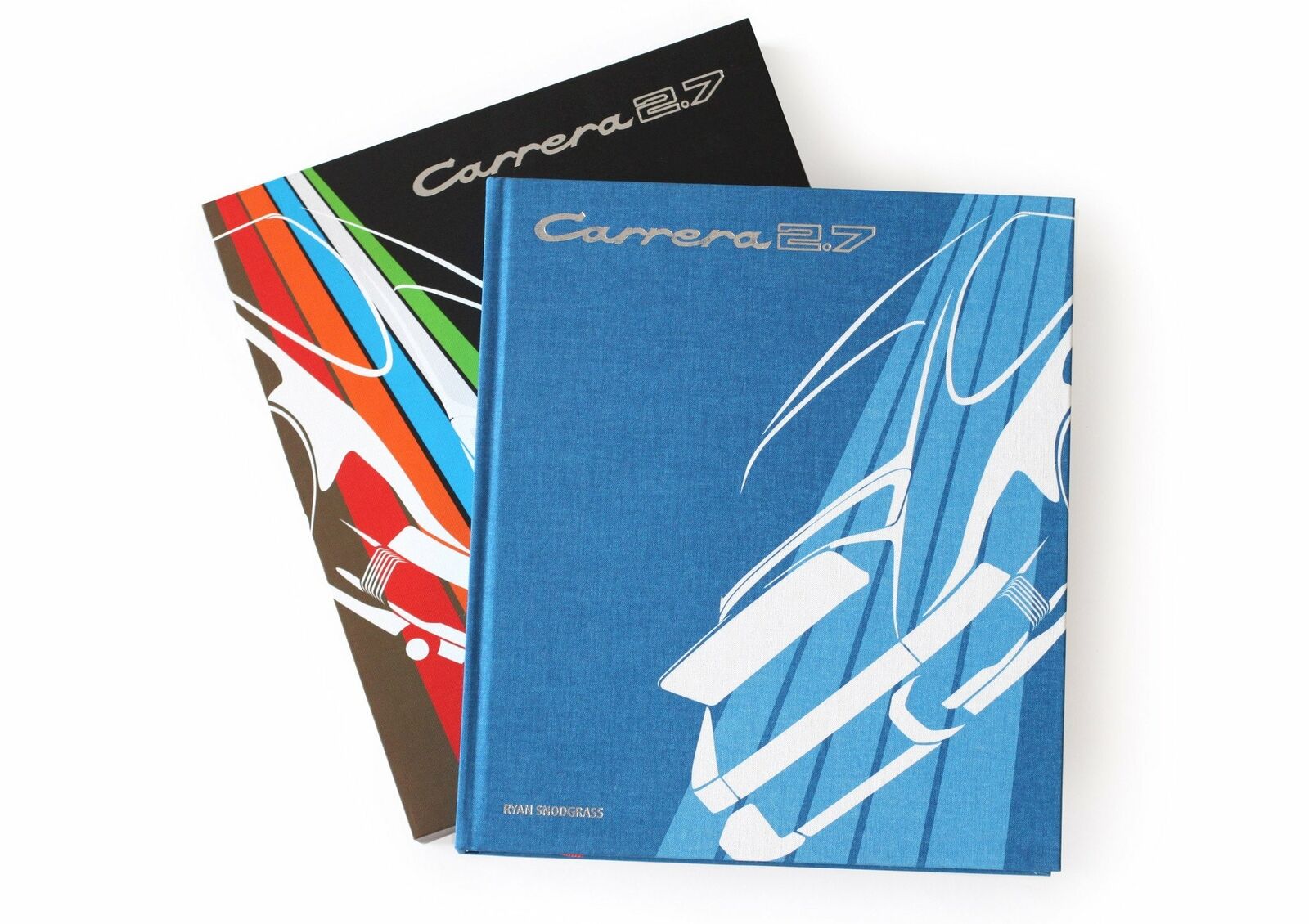 Removed from its slip cover and flipped open, the book immerses the reader in every conceivable facet of the MFI; its development, technical specifications, options, colors – if you can think of it, it's covered. But it's not a drab technical read; each page grabs the reader's attention with thoughtful detail and exquisite photography.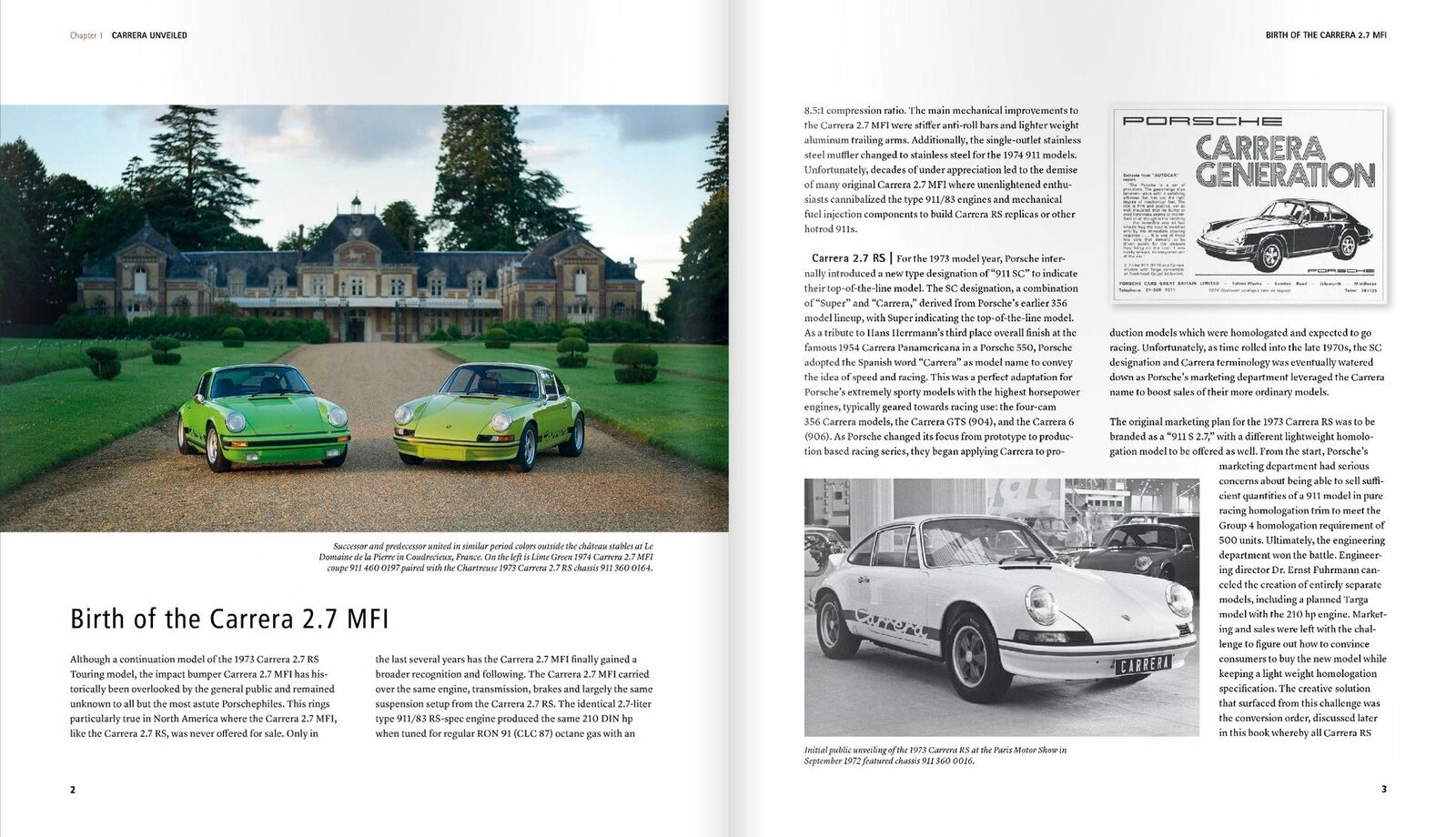 Snodgrass covers the special motor show examples, too, along with the racing history of the model and accompanying chassis in the mid-1970s – one of my favorite aspects of the book. Accessories, aerodynamic trim, every option available with part numbers and descriptions – all there. But this is so much more than just a list of details; the author's attention to minutiae is perhaps fascinating enough to someone who does something similar on a daily basis, but interspersing each section with period photos invigorates the examination into a powerful iconographic display.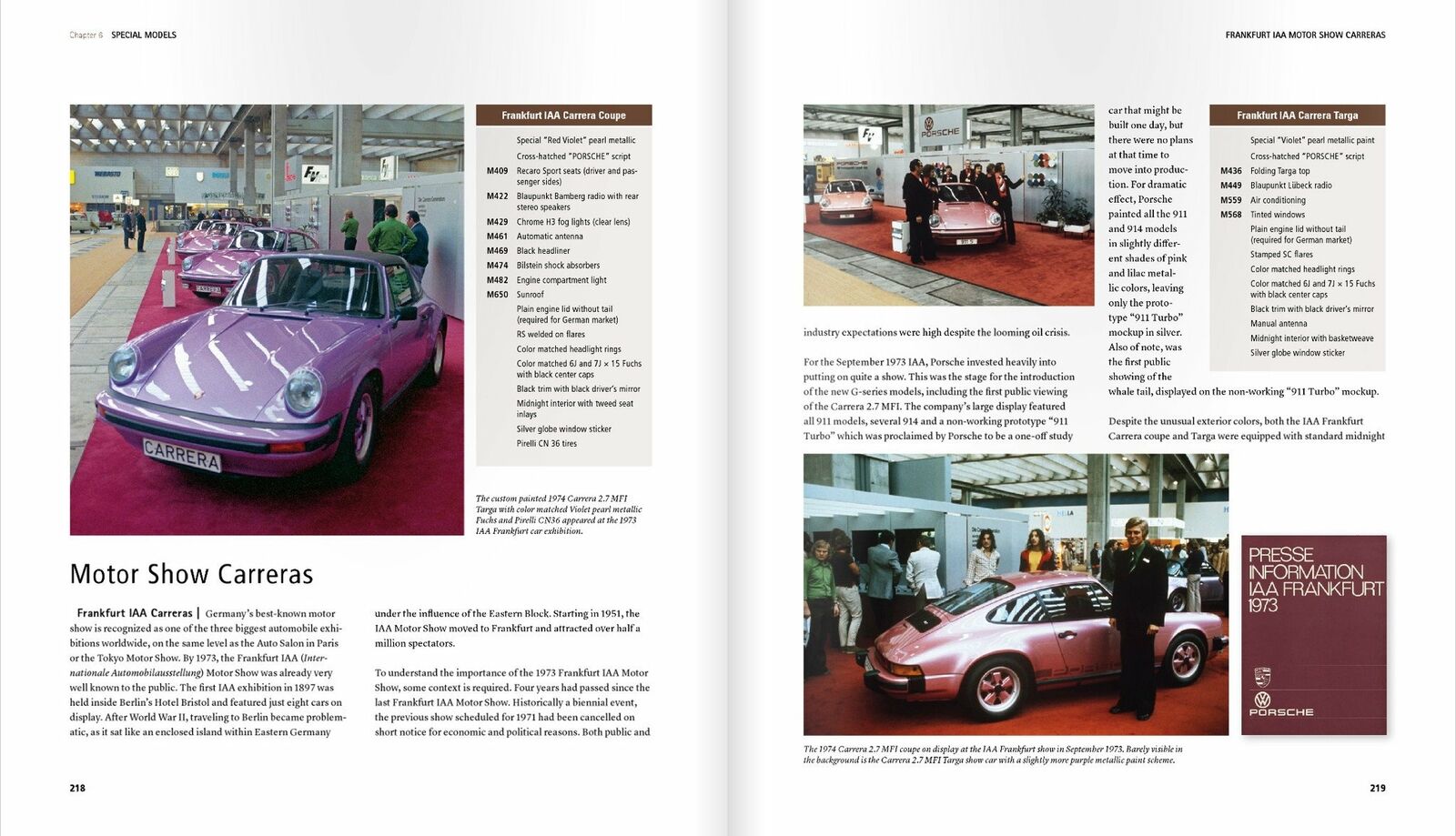 Page by page I remained astonished by the compilation, which certainly must be considered the definitive history of this particular model. Having spent time in scholarly research on automotive history I can attest that there are countless hours that go into properly sorting through all of the information necessary to produce a work like this. To do it well, and to this level in particular, is a singular achievement by Snodgrass.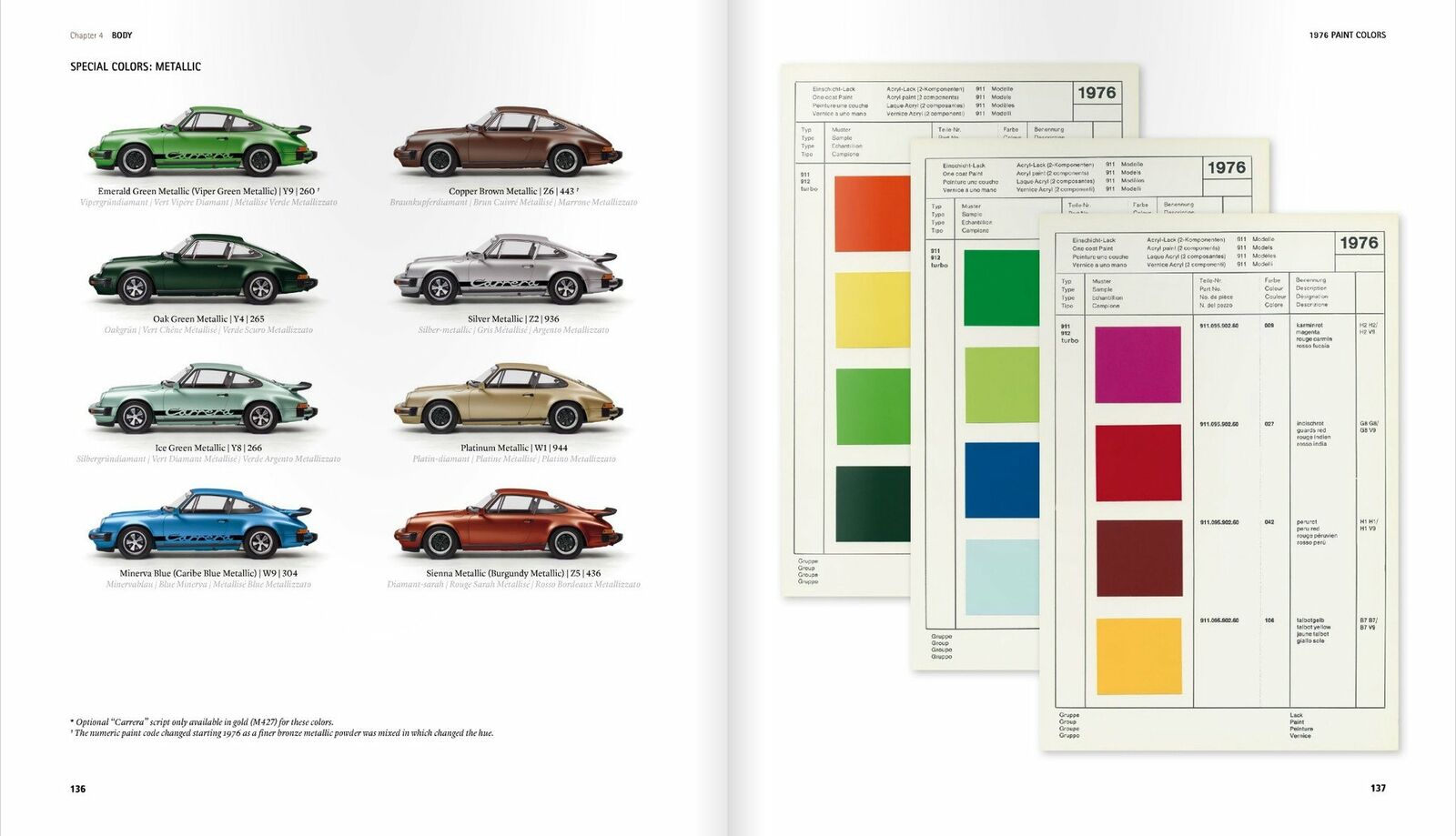 It is simply beautifully laid out, beautifully finished, and thoroughly engaging. It's the type of book that even someone not interested in cars is impressed by. And if you're a fan of the marque and the 911 model range in particular, it's a must-see.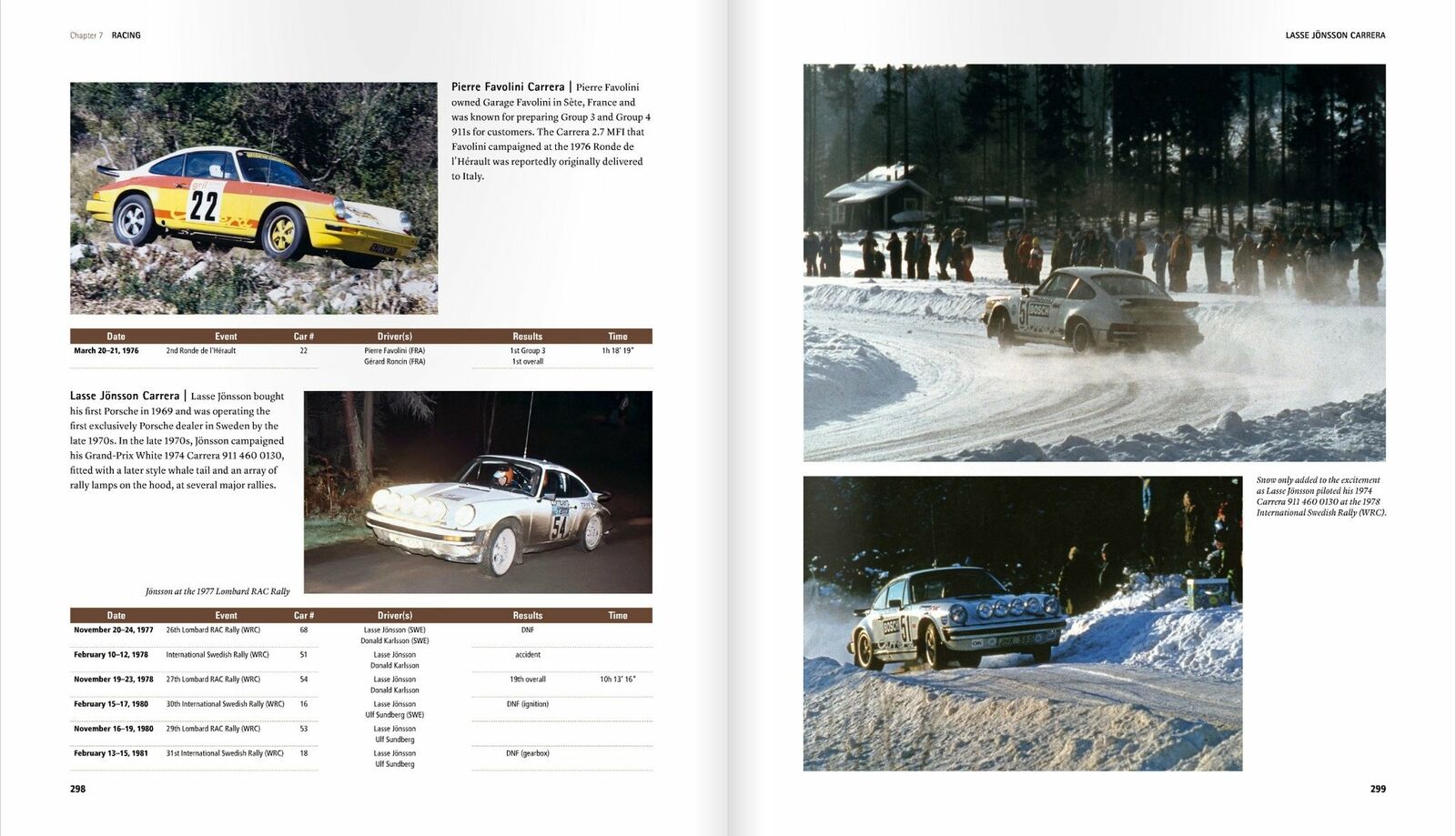 In an age where increasingly people are turning away from books, this deep dive of model history replete with vivid images is a refreshing escape from the online world. Snodgrass's ambitious attempt to summarize what can be a confusing model history is simply a triumph. At $250, I'd consider it a bargain for the amount of unparalleled information included and the beauty of how it delivers that knowledge.
You can buy this book directly from Parabolica Press for $250 HERE, or find it on eBay for $275 with free shipping HERE.. It's as close to owning one of these cars as most of us are likely to ever get.
Ryan Snodgrass also has published a similar history of the Turbo 3.0 I hope to get next!
If you're a fan of Porsches and have someone bugging you for gift ideas, point them in this direction. You won't be disappointed.
-Carter