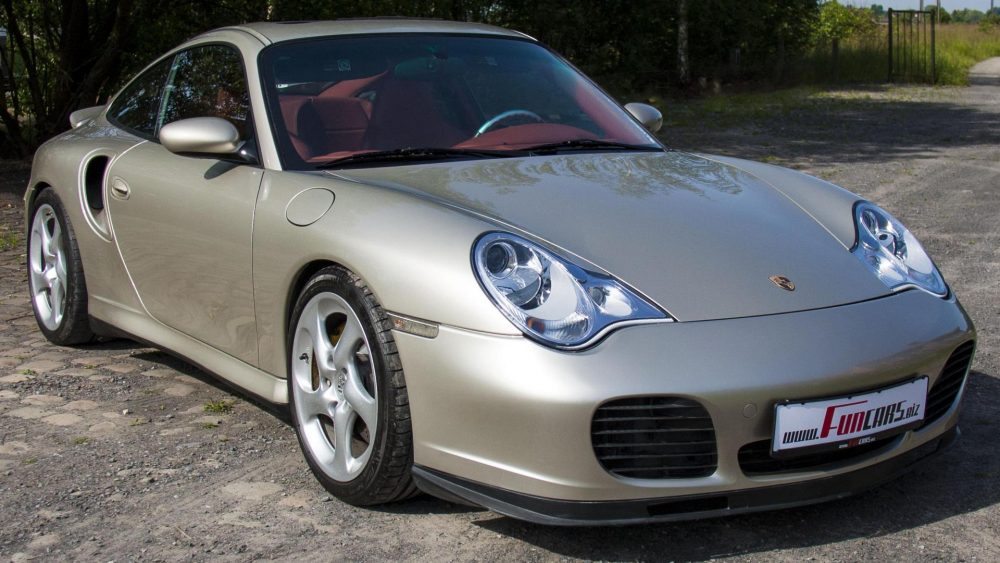 As fun and as much as I love paint to sample and exclusive options on Porsche 911s, there of course is the potential for those to go very wrong. A few months ago Carter looked at a 2003 911 Turbo that was fine on the outside with a Speed Yellow exterior, but you opened the door to a Nephrite Green full leather interior. I like Speed Yellow and I think Nephrite Green would be awesome compared to the standard black or grey leather, but I don't think its awesome to combine the two. That leads me to today's car that I happen to find on a whim, a 2005 911 Turbo S up for sale in Belgium.
This car is finished on the outside in paint to sample Linen, which is a gold and beige kind of color. Different, but not offensive. Inside, you have a Boxster Red leather interior with a healthy dose of aluminum-look trim everywhere. Why this color combo? I have no idea. Although I'm almost positive it had something to do with the car being delivered new to a customer in Muscat, Oman.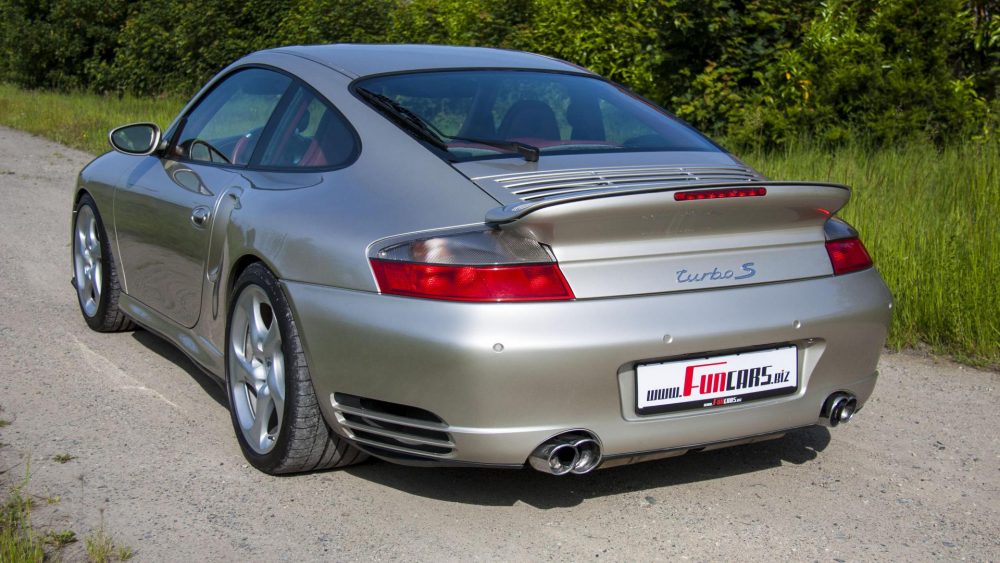 Year: 2005
Model: 911 Turbo
VIN: N/A
Engine: 3.6 liter twin-turbocharged flat-6
Transmission: 6-speed manual
Mileage: 87,741 km (54,519 mi)
Location: Dendermonde, Belgium
Price: €89.000 ($98,434)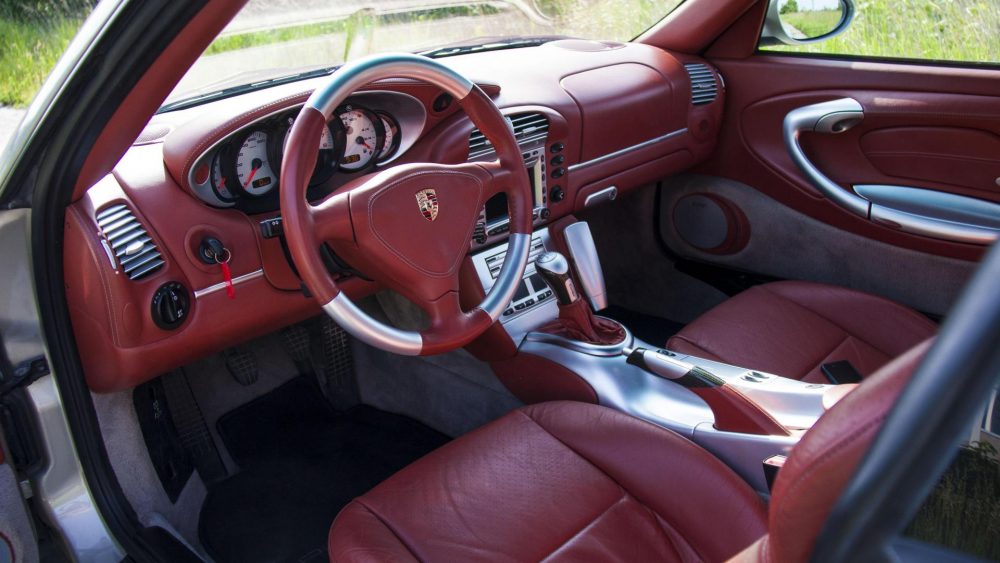 The 911 (996) Turbo offers genuine supercar performance in a compact and practical package. The turbocharged version of the 996 appeared in 2000, three years after the normally aspirated 996 had replaced the much loved 993. Arriving with four-wheel drive as standard, a water-cooled engine, a new bodyshell and a radically updated cabin, the new 996 Turbo was a thoroughly sophisticated, all-weather, competent supercar and although it went out of production in 2005, in real terms it's still as quick as anything on the road.

Like the GT3, the new Turbo engine was derived from the engine used in the 1998 Le Mans winning 911 GT1 race car and, like its predecessor, featured twin-turbos and now developed 420 hp. In 2002, the X50 package was offered as an option on the Turbo that included larger K24 turbochargers and intercoolers, a revised ECU and quad-pipe exhaust which raised power output to 331 kW (450 hp). With the X50 package, the car could accelerate from 0-100km/h in 3.9 seconds. Later-on towards the end of the 996 life cycle, the Turbo S arrived, having the X50 package standard. The Turbo S with a limited production-run and a remarkable top-speed of 317km/h has become a very collectable car in recent years.

Out of a total production of 600 Turbo S coupés build, 186 manual transmission cars left the factory, however only ONE was delivered in the color Leinen metallic. Leinen metallic was available for 911'sin the 80's.

This remarkable Turbo S, was delivered in January 2005 by Sata llc. In Oman. The car is fully Porsche dealer maintained which is documented by its original maintenance book and invoices. From its first owner in Oman the car went to its second owner in Abu Dhabi. Today, the car is offered with a recorded mileage of 87.000km. Not much considering the use that these cars are accusstomed to due to their reliability and practicality!

A thorough maintenance was just carried out. The car comes with a 1 year warranty.

Collectors, do not let this opportunity for owning a unique 911 slip away!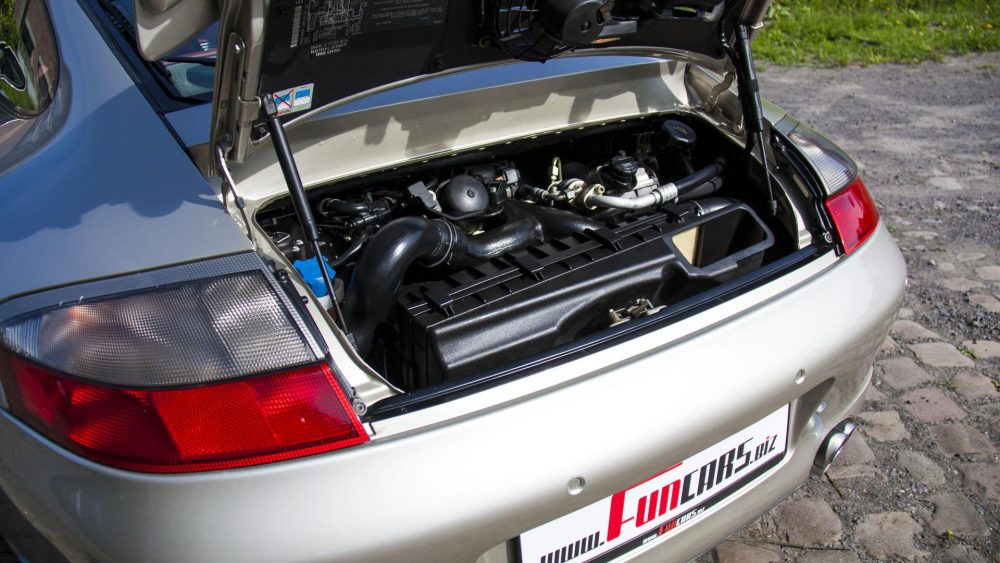 My goodness. Like mentioned, I don't hate the Linen paint. I think I'd take it over Seal Grey or black just to be different, but that interior just doesn't work with any exterior color. Not only do the carpets clash, but the aluminum-look is a should be renamed "terrible-look." I know it was the new millennium and everything, but there is nothing classic about miles of silver-painted plastic all over an interior. Even worse, they did this to the rare Turbo S. Coupe Turbo S examples are very hard to come by and now we know one of them has the about the worst color combo every created.
Even crazier, this dealer in Belgium is asking nearly $100,000 for this car. As rare as they are, only 186 Coupes came to the US, they really don't command a big premium. In my opinion the Turbo S is a massive disappointment in terms of additional equipment vs the Turbo X50 as the only thing you received extra as standard were carbon ceramic brakes. This ends up being a giant negative as the current market price for a set of new front carbon ceramic rotors is $11,500. That isn't a typo. The rears are just expensive at $11,250. Thankfully you can buy a kit to convert to steel rotors but even that is $2,000. The miles aren't even that low on this car at 55,000, so you aren't getting a cream puff for the extra premium. All in all, nothing to like about this deal.
– Andrew