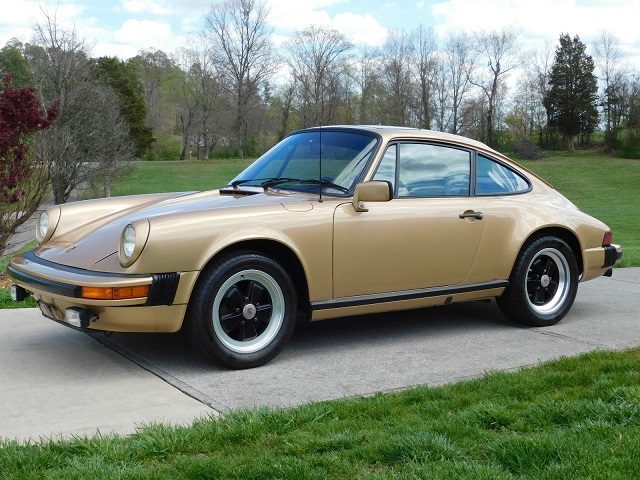 It almost seems as if these days I can't venture into the classifieds without tripping over a Porsche in a rare color. Taken a step further, I've even been coming across colors I have either never come across previously or at most come across once or twice. Earlier this week we had the Raspberry Carrera Targa and now we have this Casablanca Beige Metallic 1980 Porsche 911SC Coupe, located in Tennessee. Unlike Raspberry, this color isn't likely to make some prospective buyers immediately turn the other way. It's a lovely golden metallic, similar to the Platinum Metallic of this 930, that contrasts well with the various chrome and black trim pieces of the 911SC.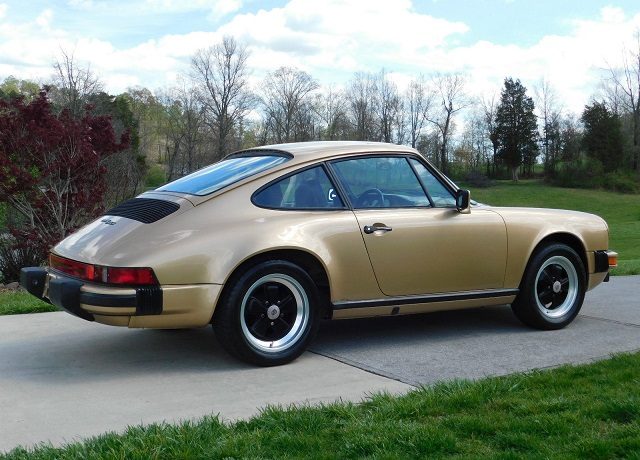 Year: 1980
Model: 911SC
Engine: 3.0 liter flat-6
Transmission: 5-speed manual
Mileage: 119,098 mi
Price: Auction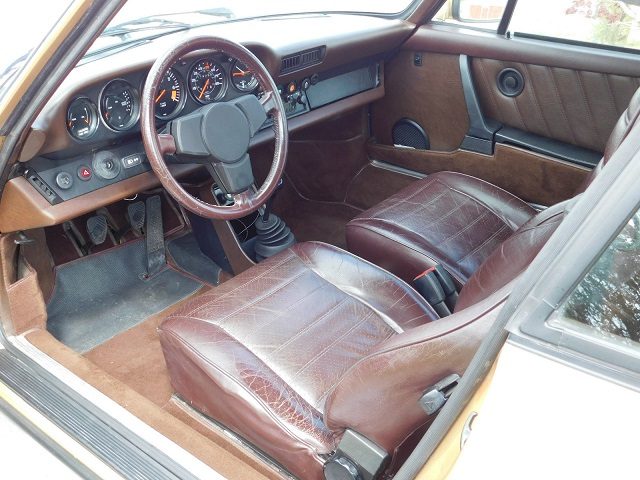 You are bidding on a 1980 Porsche 911SC. It is Casablanca Beige (Gold) with Brown Leather interior, Factory 16 inch Fuch Wheels, New Tires, and Cold Air Conditioning. The engine has just had a complete professional rebuild along with a New Fuel Tank, and complete fuel system including fuel injectors, fuel distributor, fuel accumulator, fuel filter and fuel pump. It has 1000 miles on it since the rebuild and comes with a Pre-Purchase Inspection. While the car was in for the Pre – Purchase inspection I had them change the oil and filter and do a 1000 mile check up on the car. The car also comes with the Porsche Certificate of Authenticity stating the car left the Factory with the following factory options.

Model Year/Type Engine Number/Type
1980 911SC Coupe 6403371

Production Completion Date Transmission Number/Type
05/20/1980 403457

Exterior Paint Color/Code
Casablanca Beige/X4

Interior Material Color/Type
Brown Partial Leather/44

Optional Equipment
US Standard Emissions Sport Shocks
Electric Sliding Sunroof Rear Speakers
Electric Mirror – Right Fog Lights
16" Fuch Rims Pirelli Tires
Cruise Control

The car was Purchased new by Dr. John Pryce an Orthodontist in Knoxville Tennessee on November 19 1980 with 195 miles on it. He purchased the car from Rodgers Porsche Audi Knoxville Tennessee (now Harpers Porsche, Jaguar). The car was always Garage Kept. Dr. Pryce had the car Professionally repainted 1988. He Later sold the car in 2015 to a Mr. Irwin of Andersonville TN. I purchased the car in January of 2016. The Original Owner owned this car until 2 years ago.

This is a great car. The paint is very nice and the Original Interior is in great shape. The sun roof, power mirrors, Power windows, Factory Radio, heat and AC works great. All the gauges work. I have the complete Pre – Purchase Inspection That was Performed on March 29 2017 that I will gladly email interested buyers. You can fly in and drive this car home.

The car is selling with NO RESERVE so Please feel free to email or call 865-621-4012 with any questions.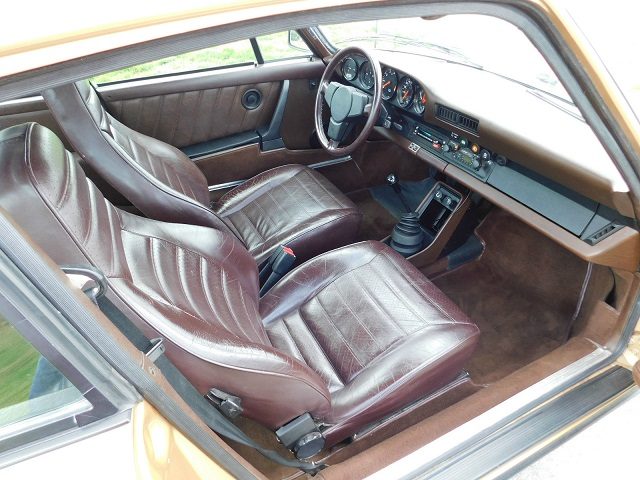 While I know not everyone prefers them, I strongly feel that this SC needs the chin spoiler and whale tail. One thing that really stands out to me when looking at this 911 compared with the similar colored 930 is the way the trim pieces complement the gold color so well. So I think this SC needs more of them.
Otherwise, for its age and mileage this 911SC presents pretty well. The seats show a decent bit of wear though there don't appear to be any significant cracks or tears. It shows as clean, but a little worn. Besides a recent service receipt we don't hear too much about documentation. The original owner had this 911 until 2015 so perhaps there is more available than revealed here, but we're probably going to have to be content with that recent service. All in all, this is not a bad looking 911SC and it's an interesting and period-correct color combination. With bidding on the no reserve auction sitting currently at $25,600 it may end up selling for a pretty reasonable price as well. There's some time left so we'll have to see how much more bidding rises, but I don't expect this one to get out of hand.
-Rob